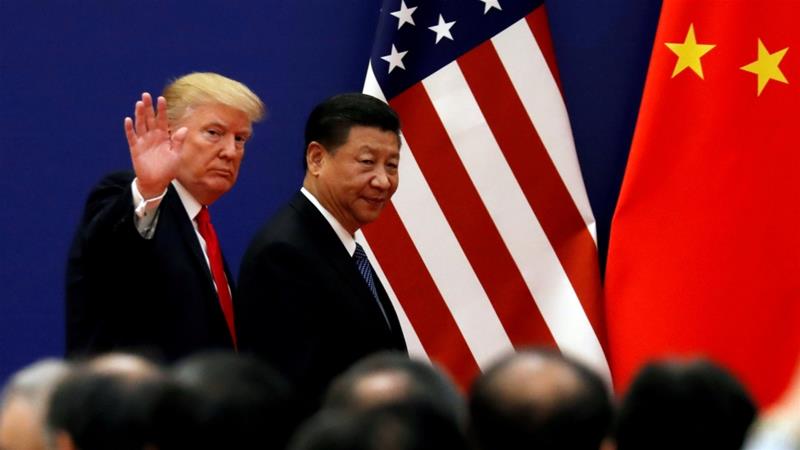 I've been following the US China Trade war with much interest, and I wanted to take the opportunity to pen down 3 quick observations:
1. China is using this Trade War to define their relationship with the West for the 21st Century
To recap, in 2018, Trump levied tariffs on China, China retaliated, and this tanked the US and Chinese economy (and stock market). China and US agreed to a brief "ceasefire" in which they spent 6 months negotiating a "deal". During this time, China also injected large stimulus into their domestic economy, the Feds paused all rate hikes in 2019, and the stock market recovered significantly. In May 2019, China US talks broke down, leading to Trump imposing additional tariffs on China. The official reason given by the US was that China had reneged on earlier promises, while China's official reason was that they had 3 non-negotiable points that were essential to any deal signed (Beijing's demand for the US to remove all additional tariffs; the target set by the US on goods purchased by China; and the wording of the agreement's text).
Initially, the entire sequence of events, particularly from China, puzzled me. I spent some time going through the onshore onshore Chinese Media and talking to people on the ground. My conclusion, whether rightly or wrongly, is that China views this trade war as the first salvo in a century long battle, that will come to define their relationship with the US, and with the west, for the 21st century.
In some ways, it is Opium War Part II, and this time, China cannot be seen to bow to the will of the west, at the expense of domestic interests.
If this reasoning is right, it could be a troubling one. This would mean that China is prepared to sit through a few years of domestic pain, because to them, to give in to trump now would define their relationship with the US for the rest of the 21st century, and is an unacceptable step. The fact that they publicly came out to announce their 3 non-negotiable conditions for any trade deal, would lend further credence to this theory, as they now cannot sign a deal with these 3 conditions or they will be seen to "lose face" in the eyes of the international audience, and domestic population.
2. This could stay ugly for a while
Continuing on this train of thought, China is not going to sign any trade deal that doesn't contain these 3 conditions.
For a trade deal to be signed therefore, Trump has to give in slightly. And with the 2020 elections coming up, and much of his campaign predicated on being tough on China, that could also be a tough ask.
Personally, I suspect a deal will eventually be signed, because Trump is too much of a pragmatist to allow the global economy to languish (and stock markets with it) when the remedy is as simple as giving in on certain points to China – especially given his upcoming 2020 elections, and his love for pegging the success of his presidency to the stock market.
When that happens though, is going to be tricky, and it might be a game of chicken at least for the next few months, as both China and Trump wait for the other to give in. The next scheduled meeting between the two is at the G20 in end June, and there's a lot of time between now and then.
In the short term therefore, this could mean further uncertainty and volatility for markets.
3. Central bank / govt responses are key
In early 2019, it was the Federal Reserve's decision to pause all rate hikes in 2019 (and the China stimulus package) that really led to the risk-on mentality for markets.
Regardless of the outcome of the trade war, the next round of central bank / govt responses will be key for the next sustained move in stocks. If there is a trade war, but both the US and China govt inject massive stimulus packages into the domestic economy (including appropriate rate cuts), that could potentially offset the impact of the trade war. If the trade war gets resolved, and there is a mild stimulus package, that could really drive stocks up.
That said, the current round of tariffs are large ones, so a fairly large stimulus will be required to offset their impacts, and it remains to be seen whether stimulus of such a scale and size are even feasible.
How to trade this?
I previously wrote that a better buying opportunity for China stocks will emerge towards the middle of 2019. It remains to be seen whether stocks will fall to the levels we saw in Dec 2018, but personally, I will look to build additional exposure to China in the coming months as this trade war saga plays out.
Will be updating the FH Stock Watch on my personal stock ideas in the coming months.
Note: This article is a modified version of the article that first appeared on Patron. Hope that you enjoy it!
Share your thoughts in the comments section below! I respond personally to all comments!
---
Enjoyed this article? Do consider supporting the site as a Patron and receive exclusive content. Big shoutout to all Patrons for their generous support, and for helping to keep this site going!
Like our Facebook Page and join the Facebook Group to continue the discussion! Do also join our private Telegram Group for a friendly chat on any investing related!