Okay for some reason I have been getting a flood of questions on Comfort Delgro.
I'm not the biggest fan of this stock, but what loyal FH readers want – loyal FH readers get.
Comfort Delgro stock is down 53% since it's pre-COVID highs.
The last time the stock price was this low – was in 2013, a whopping 10 years ago.
At this price, it trades at a 5.3% dividend, which frankly is not too shabby.
So… will I buy Comfort Delgro stock?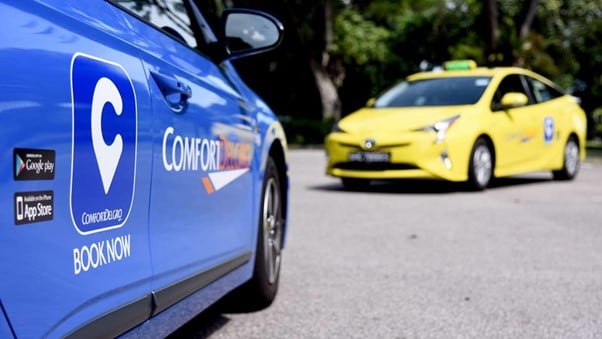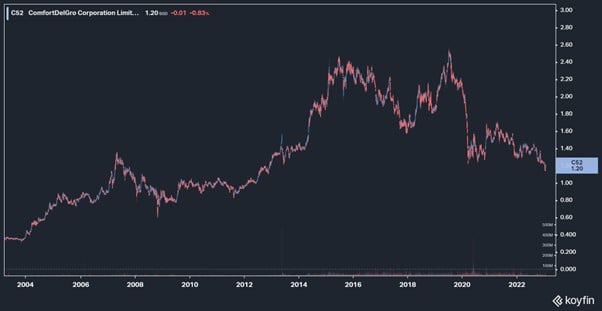 What is Comfort Delgro?
I don't think Comfort Delgro needs any introduction for Singaporeans.
What might surprise you though, is that Comfort Delgro is not just a taxi company.
In fact these days, their biggest revenue generator is public transport: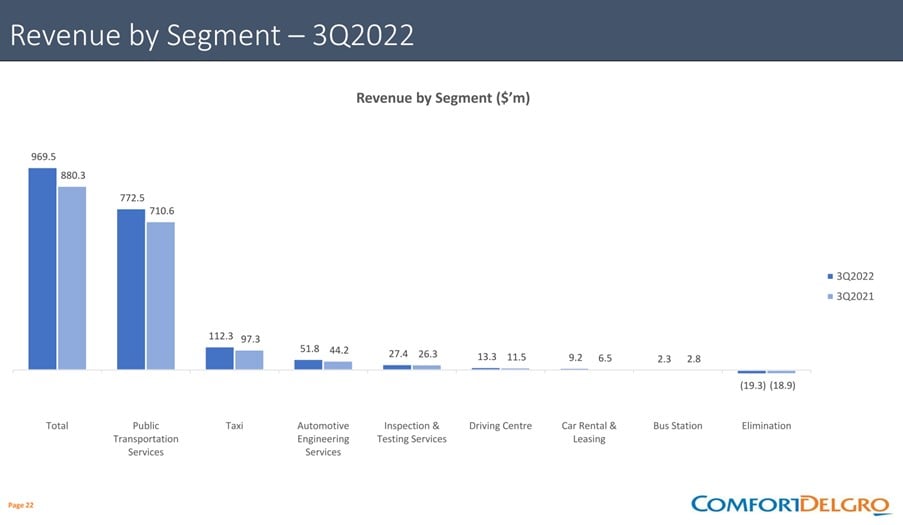 This comes in the form of their 75% ownership of SBS Transit (Singapore), and their ownership of bus companies in Australia, UK and Ireland: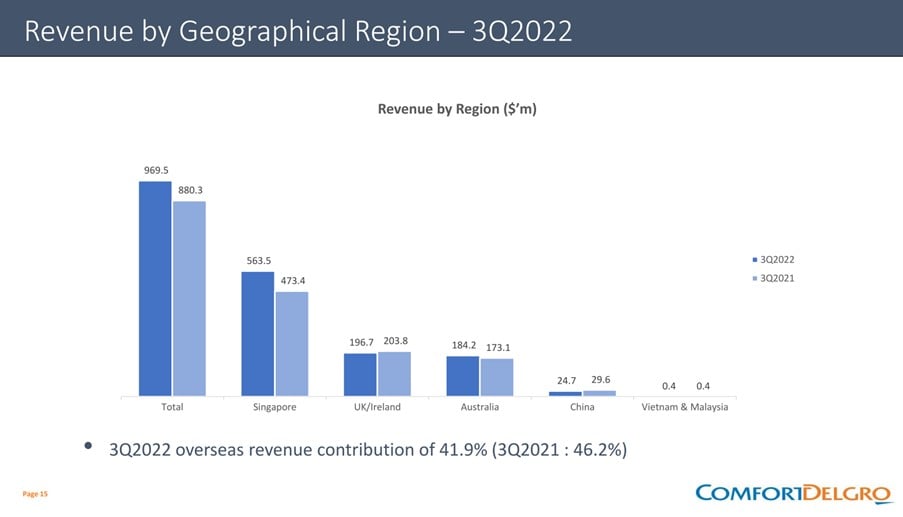 So the core business is (1) public transport, and (2) taxis.
And they also have a whole bunch of miscellaneous services such as vehicle inspection (67% stake in VICOM), automotive engineering, driving schools, car rental etc.
Bull story for Comfort Delgro – COVID reopening
Now I get the bull case for Comfort Delgro.
This is a transport company, emerging from COVID lockdowns.
Demand for transport services is bound to recover strongly going forward.
Here's the recovery in Grab demand for reference: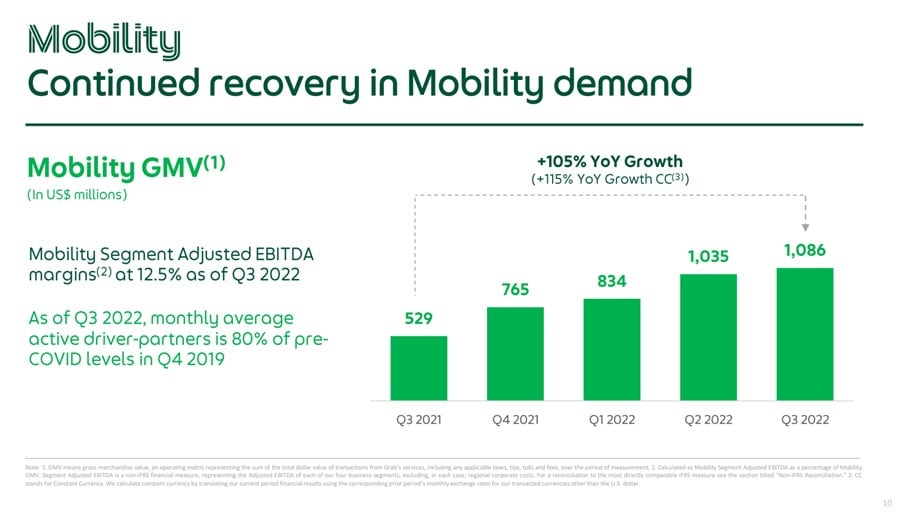 And yet while other transport stocks have recovered, Comfort Delgro has not.
You can look at Comfort Delgro (blue) against SIA (green) below.
The difference in performance is astounding.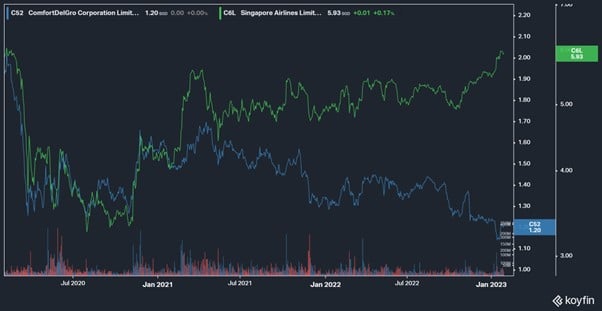 In fact if you look at Comfort Delgro's P&L, you see meaningful recovery across the board.
Revenue and Profit are both up very strongly.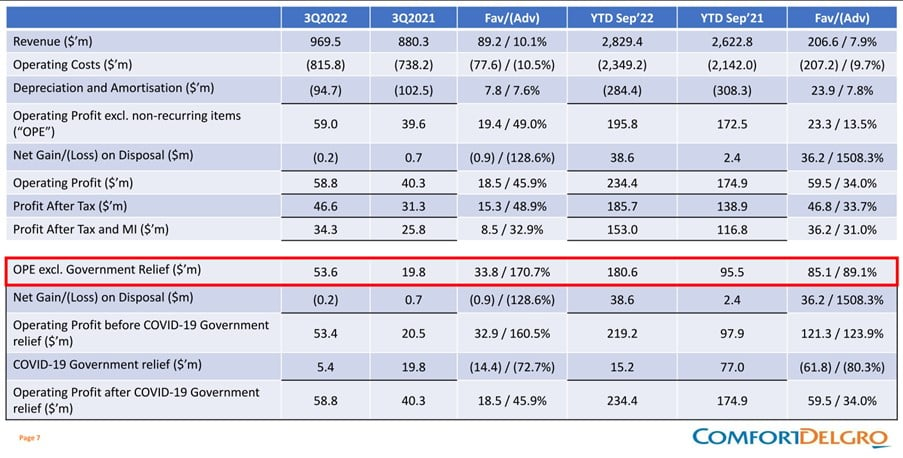 3 big concerns I have with Comfort Delgro
Investing is a funny game in that the only way you make money, is by being able to see value where the market doesn't.
And yet the market is very efficient, and most of the time if a stock is selling off, there is a good reason why.
So good investors need to have the right blend of ego (to believe strongly that they are right), and humility (to recognise when they are wrong).
This is as much an art as a science.
When I look at Comfort Delgro, there are 3 big concerns that come to mind:
Inflation will result in higher operating expenses
Does Comfort Delgro have pricing power (economic moats)?
What is the strategic vision of Comfort Delgro?
Inflation will result in higher operating expenses
From RHB Research (emphasis mine):
"Overseas operations surprised us on cost pressure, and weakness expected to persist into 4Q22. Overseas contribution accounted for 21% of 3Q22 operating profits, vs 30-40% typically. Stripping out SBS Transit (SGX:S61)'s 3Q22 operating profit excluding government relief (OPE), its UK and Australia public transport businesses' 3Q22 OPE declined from S$15.0m to S$3.5m, a 77% decline.
Management highlighted that UK business was the main cause of the OPE decline and stated that it was due to cost indexation and timing issues which is expected to persist into 4Q22. Discussions with the transport authority on those issues are in the final stages."
To put it simply – Comfort Delgro is getting hit by a double whammy of higher petrol cost, and higher wages.
Don't forget that a big part of their bus operations are in UK/Ireland.
A country where tough wage negotiations and threats to strike are just known as Mondays.
You can see this reflected below, where operating earnings dropped from $38.6 million in Q2 to $22.5 million in Q3.
If you ask me, this is probably the biggest reason why the stock sold off after the Q3 earnings.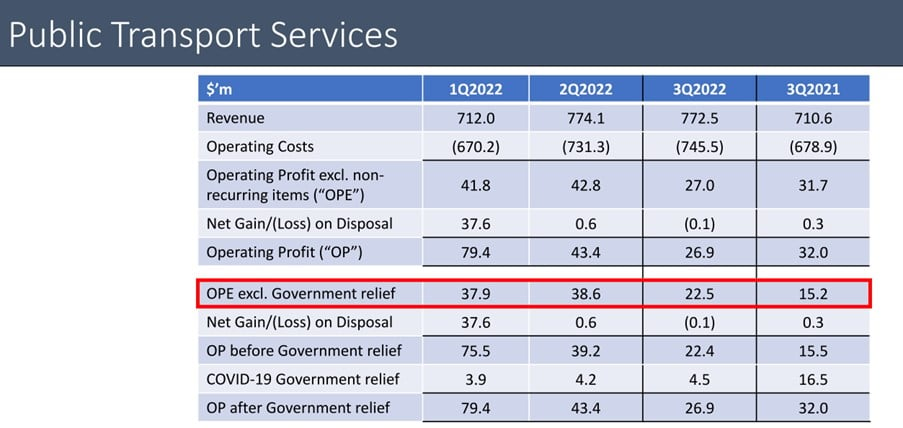 Now Comfort Delgro says that the reason was one of timing.
They're basically saying that they need to pay higher wages today, and they only get to raise ticket prices tomorrow.
So today's earnings looks bad, but tomorrow's earnings will get better don't worry.
Boy, if I had a penny for every time I heard that argument in capital markets.
Which brings us to the next problem.
Does Comfort Delgro have pricing power (economic moats)?
Now nobody is denying that inflation is a problem.
In fact higher inflation is the exact reason why you would even consider a stock like Comfort Delgro instead of going all-in tech stocks.
In a higher inflation climate, what you want to own are companies with (1) strong cash flow, and (2) pricing power.
Nobody denies that Comfort Delgro has strong cash flow.
When you operate a public transport and taxi company, your cash flow is absolutely ridiculous.
The million dollar question – is pricing power.
Also known as economic moats, or competitive advantage.
Ie. – in a climate where expenses are going up, can Comfort Delgro raise prices to protect profit margins?
Public Transport Business of Comfort Delgro
From DBS Research:
CD reported a sharp decline in its public transport's EBIT in 3Q22 due to weakness in its overseas public transport operations.
The UK public transport business reported higher operating costs as well as a mismatch in the timing and correlation of contract cost indexation. The group indicated that the timing mismatch could persist in 4Q22 as well. We are taking the opportunity to lower public transport margin for 4Q22 and the early part of 2023.
In 2021, five of Singapore's bus contracts were extended at lower service fees, which came into effect on 1 Sep 2022.
The recent extension of CD's Sydney bus contract came in with lower margin.
In Singapore, Bukit Merah and Jurong West Bus Packages, which are currently operated by CD's wholly owned subsidiary, have been put up for tender by the Land Transport Authority.
While our base case is for the group to retain the bus packages, there remains a risk that the margin could come under pressure. Our estimates have yet to reflect this scenario.
Looking at the above, it does raise some concerns.
Public transport is always tricky because this is meant to be mass market transport.
In an era where consumers are getting squeezed from higher cost of living, can Comfort Delgro raise prices that much going forward?
For now, it seems that Comfort Delgro is looking at lower margins on both their Singapore and Australia bus contracts.
While UK remains a question mark.
For what it's worth, the market is concerned about this – you see SBS Transit's price not doing so well of late too: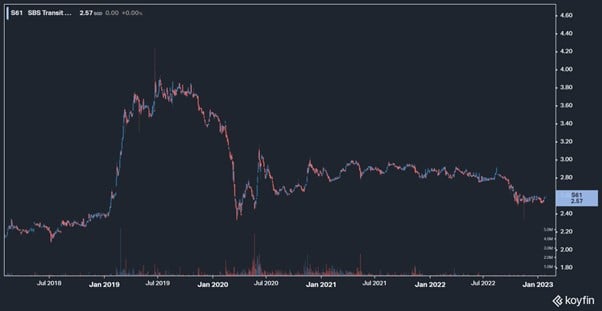 Taxi Business of Comfort Delgro
Can the Taxi business make up for the Public Transport business?
From RHB Research:
In Dec 2022, CD announced that it extended the daily rental waiver of 15% for Singapore taxi drivers until 31 Mar 2023. When it extended the rental waiver to end-2022, the group announced an increase in the commission rate for call bookings to 5% from 4%. This was expected to partially help offset the extension of the rental waiver. However, the latest extension did not come with any changes to commission fees. This has led to a downward revision to our taxi earnings estimates for 2023
This doesn't look very bullish for taxi rental demand.
This is in line with latest news reports of Grab Singapore facing problems with driver shortages.
The story seems to be that:
"RIDE-HAILING operator Grab has been finding ways to recruit more drivers and improve productivity in Singapore as it attempts to ramp up a supply that is only at 70 to 80 per cent of pre-pandemic days.
A wave of drivers across South-east Asia left the ride-hailing industry from 2020 onwards, after Covid-19 restrictions caused a sharp drop in ridership and earnings.
While ridership in Singapore across all platforms has returned to 80 per cent of pre-pandemic levels, higher than 74 per cent in 2021, the supply of drivers has not been able to meet demand.
"Increasing the supply of rides is the top problem we're trying to solve," said Grab Singapore managing director Yee Wee Tang on Wednesday"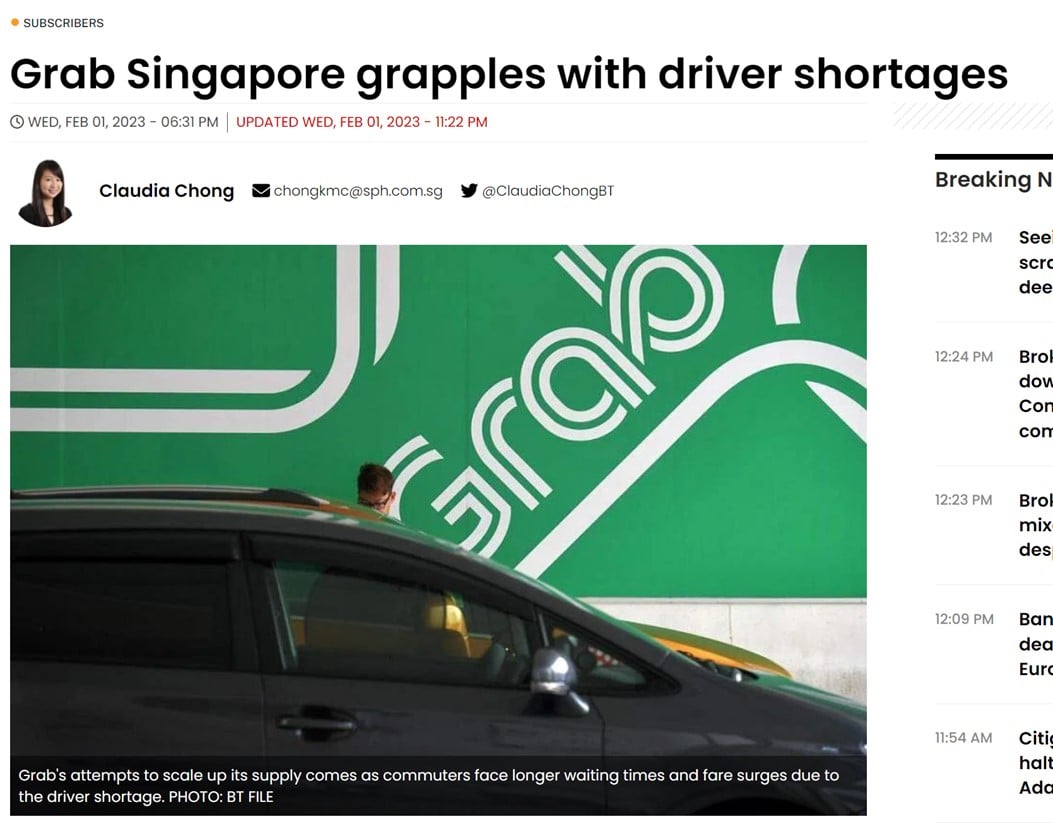 Not very good news if you're a taxi operator.
Don't forget that if you do want to drive a taxi these days, you can choose between renting a taxi from Comfort, or just driving for Grab or GoJek instead.
In fact some of the Grab drivers I was talking to recently said that they plan to switch over to GoJek because of better incentive payments.
Which just goes to show you there is very little loyalty in this industry (can't say I blame them frankly).
The drivers will just go to whoever pays them the most.
So how much economic moat / pricing power Comfort Delgro has in their 2 core businesses is really a bit questionable.
BTW – we share commentary on Singapore Investments every week, so do join our Telegram Channel (or Telegram Group), Facebook and Instagram to stay up to date!

I also share great tips on Twitter.
Don't forget to sign up for our free weekly newsletter too!
[mc4wp_form id="173″]
What is the long term vision of this company?
Now in equities markets, you need a story to sell.
This is not like bonds where investors are very rational and spend time poring over stuff like cash flow and balance sheet.
With stocks, investors want to buy into a story.
With Grab there is a story of the South East Asia super-app.
With Sea there is a story of the South East Asia gaming and ecommerce giant.
With Comfort Delgro… what exactly is the story here?
Comfort Delgro invests in Self Driving… ?
It turns out, that story much just be self-driving (they call it autonomous vehicle):
In March last year, ComfortDelGro established the S$30-million AV CoE to focus on research and development of AV-related capabilities over the next five years. Prior to that, the Group had also trialled an autonomous shuttle bus service in real traffic conditions at the National University of Singapore's Kent Ridge campus in 2019 for about slightly more than a year.
And they recently pumped US$ 4 million into an Israeli company to develop self driving software.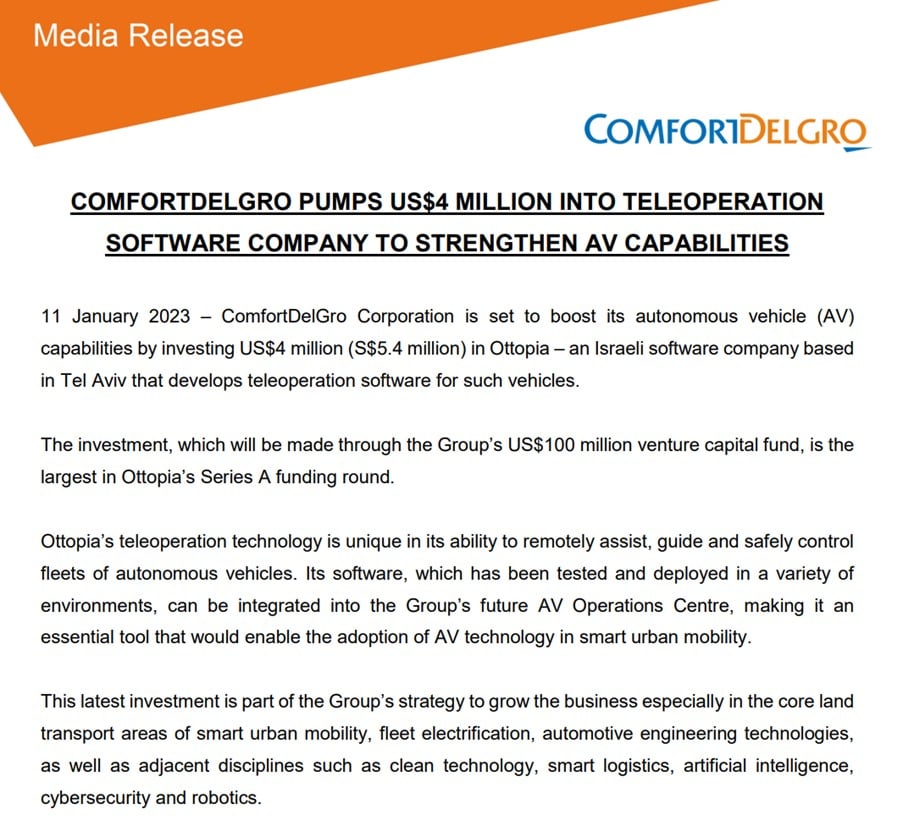 I suppose if Comfort can pull off self-driving for real, this would be a hundred billion dollar company easy.
The biggest problem with the taxi / ride hailing business is that paying the drivers erodes a big chunk of your profit margin.
If the cars / buses can drive themselves, it becomes a very different company overnight.
The challenge of course, is that self-driving is not an easy technology to master.
Even Elon Musk has been working on it for years, and the technology just isn't there yet.
So whether this investment can pay off remains to be seen.
But FH… this is already priced in
Now I know that you guys will say.
You will tell me that all the concerns above are already known by the market.
And they are already priced in.
Fair enough – let's evaluate this argument.
Is this priced in? Comfort Delgro trading close to book value?
Comfort Delgro's book value is $1.196.
At current price of $1.2, Comfort Delgro is trading at book value.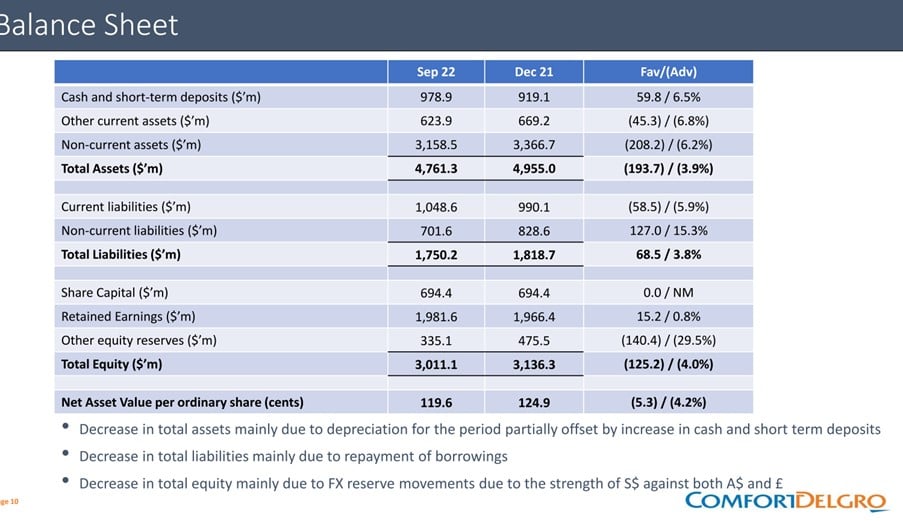 And they hold $978 million in cash on their balance sheet, which is absolutely astounding considering that this is a $2.6 billion market cap company.
They're basically holding close to 40% of their market cap in cash on the balance sheet.
Crazy stuff.
P/E of 16.5x looks reasonable too, below it's 10 year average (20.7x).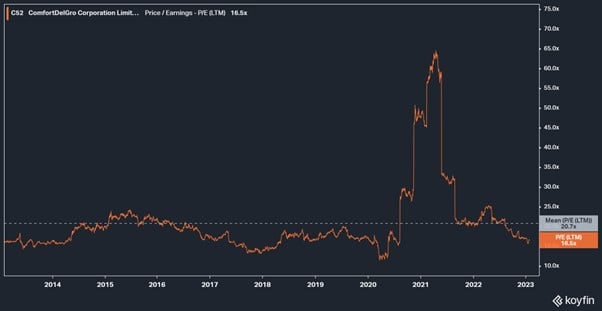 Dividend Yield of 5.3%
Trailing twelve month dividend is 5.3%.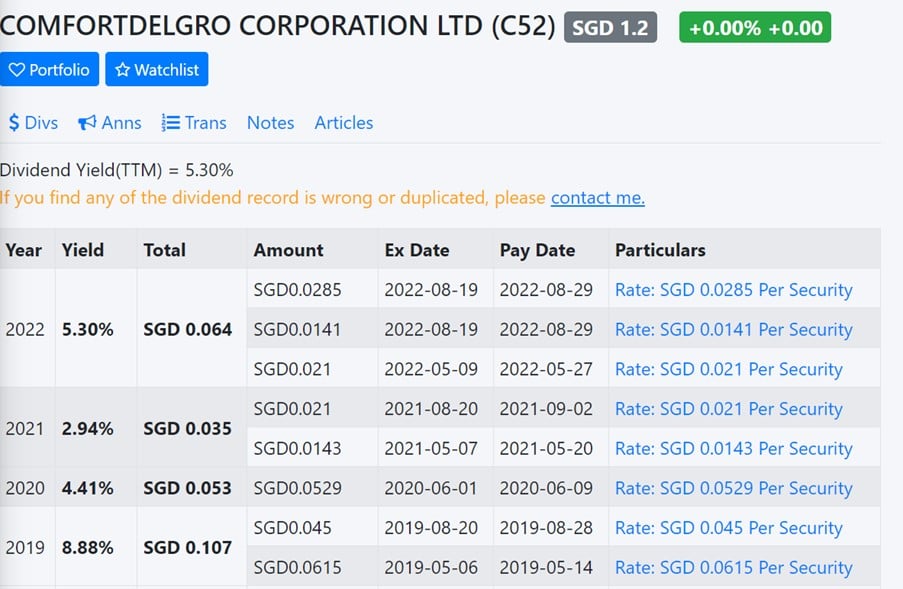 At 57% dividend payout ratio, there may be room to raise the dividend going forward as earnings start to recover post COVID.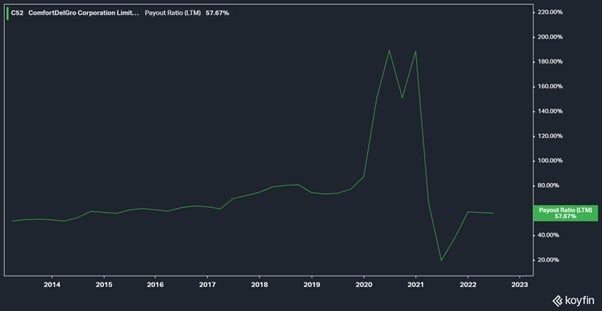 Research analysts are calling for a potential recovery to a 6-7% dividend (at current price) going forward.
I think this is a reasonable call.
So I suppose if you look at it this way, then from a fundamentals perspective the downside at this price is limited.
Technical analysis for Comfort Delgro stock
Now I'm not the biggest believer in technical analysis, but I do find that for stocks like this where I'm on the fence technical analysis does help.
Short term signals are still show the stock on a clear downtrend, although there might be a chance to reverse if the stock continues to rally.
Comfort Delgro stock is very close to it's 50 day moving average, so it will be key to watch if it breaks that resistance.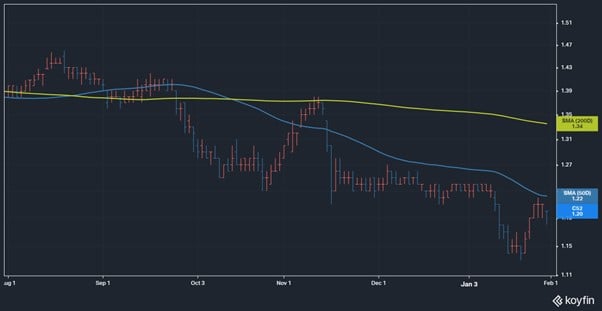 There is also long term support at the $1.1ish range.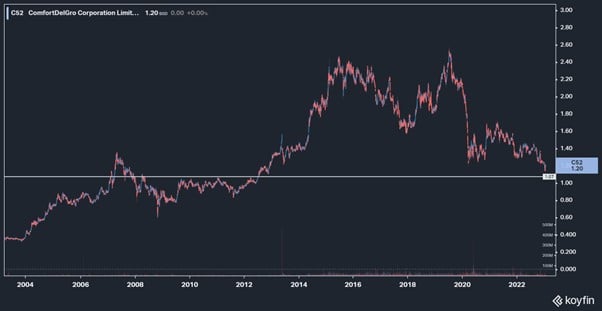 So to sum up, if the current levels hold and start to break out, it could be quite bullish for the stock.
Will I buy Comfort Delgro stock?
Full Disclosure that I don't hold any position in Comfort Delgro currently.
I have traded in and out of this stock in the past, most recently during COVID where I traded it on the reopening news.
But I've never really liked Comfort Delgro as a long term holding, for the concerns shared above.
And after having relooked at Comfort Delgro, I still stand by my views.
Short Term (trading)
I think Comfort Delgro could be a good candidate for a short term trading position.
At these prices the downside is probably limited.
And if current support levels hold, and start to break out, you could see a meaningful rally.
All while improving earnings over the next few quarters as the COVID recovery plays out could further support such a rally.
As shared previously, I think the market is pricing in a recession too early.
Short term, we could see a meaningful recovery in economic growth, which could be bullish for stocks like Comfort Delgro.
So it might be worth watching this stock for a breakout, and adding if it happens. With a tight stop loss in place.
Long Term (investing)
But as a long term buy and hold, I don't really see a place for Comfort Delgro in my portfolio.
The main concern is that I'm just not very sure where the pricing power comes from.
Public transport is a sensitive business because of the direct impact it has on cost of living.
If inflation stays sticky, will government sit by and allow Comfort Delgro to raise prices to protect margins, or do they implement price caps.
And taxi – this is just a cut throat business with little loyalty, as drivers will switch to Grab / Gojek depending on which pays best.
So long term, unless something changes, I don't really see myself owning this stock.
If you are keen, you can view my full personal portfolio and stocks / REITs I am keen to pick up on Patreon.
Trust Bank Account (Partnership between Standard Chartered and NTUC)
Sign up for a Trust Bank Account and get:
$35 NTUC voucher
1.5% base interest on your first $75,000 (up to 2.5%)
Whole bunch of freebies
 Fully SDIC insured as well.
It's worth it in my view, a lot of freebies for very little effort.
Full review here, or use Promo Code N0D61KGY when you sign up to get the vouchers!
WeBull Account – Free USD150 ($212) cash voucher
I did a review on WeBull and I really like this brokerage – Free US Stock, Options and ETF trading, in a very easy to use platform.
I use it for my own trades in fact.
They're running a promo now with a free USD 150 (S$212) cash voucher.
You just need to:
Sign up here and fund S$2000
Make 1 US Stock or ETF trade (you get USD100)
Make 1 Options trade (you get USD50)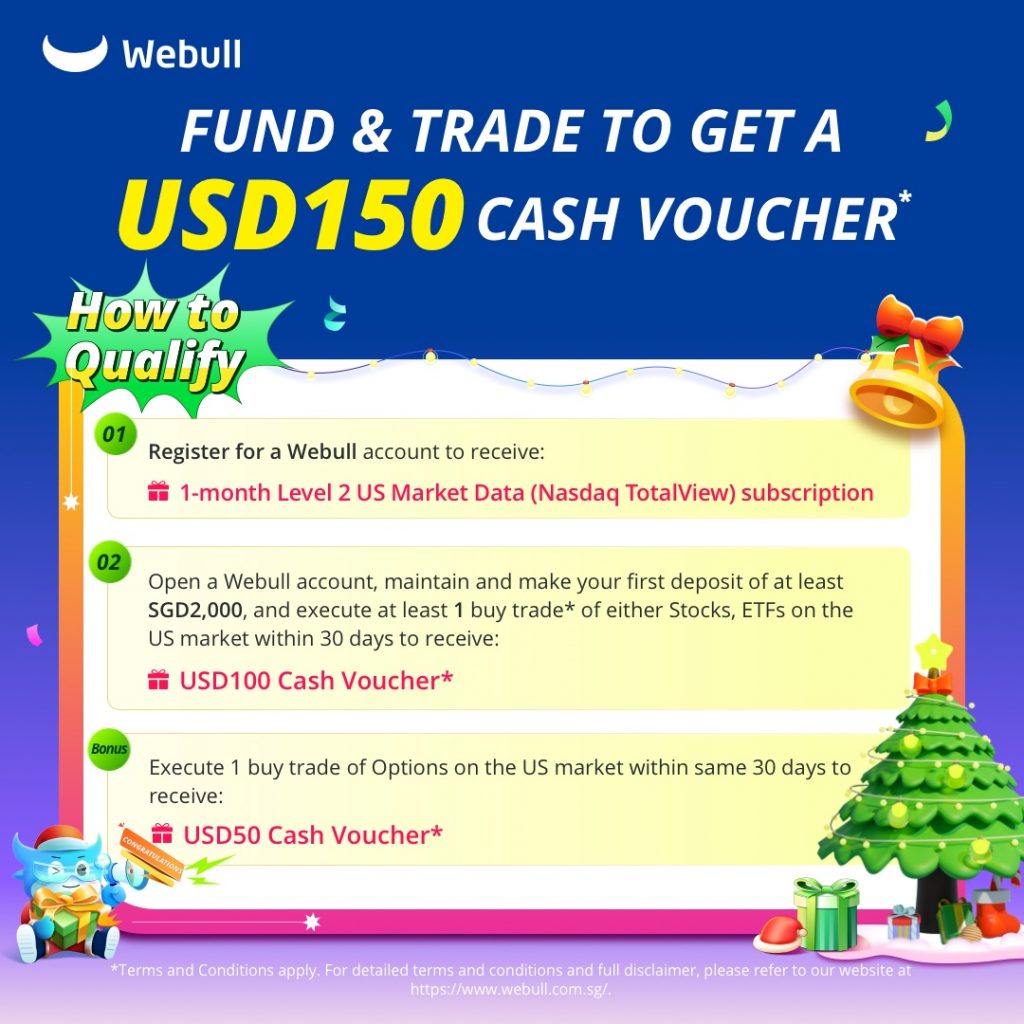 Looking for a low cost broker to buy US, China or Singapore stocks?
Get a free stock and commission free trading Webull.
Get a free stock and commission free trading with MooMoo.
Get a free stock and commission free trading with Tiger Brokers.
Special account opening bonus for Saxo Brokers too (drop email to [email protected] for full steps).
Or Interactive Brokers for competitive FX and commissions.
Do like and follow our Facebook and Instagram, or join the Telegram Channel. Never miss another post from Financial Horse!
Looking for a comprehensive guide to investing that covers stocks, REITs, bonds, CPF and asset allocation? Check out the FH Complete Guide to Investing.
Or if you're a more advanced investor, check out the REITs Investing Masterclass, which goes in-depth into REITs investing – everything from how much REITs to own, which economic conditions to buy REITs, how to pick REITs etc.
Want to learn everything there is to know about stocks? Check out our Stocks Masterclass – learn how to pick growth and dividend stocks, how to position size, when to buy stocks, how to use options to supercharge returns, and more!
All are THE best quality investment courses available to Singapore investors out there!