After the recent article on best Fixed Deposits, quite a few of you have pointed out that DBS has really attractive USD Fixed Deposit rates.
This was new to me as well.
But I took a look, and they really are attractive indeed.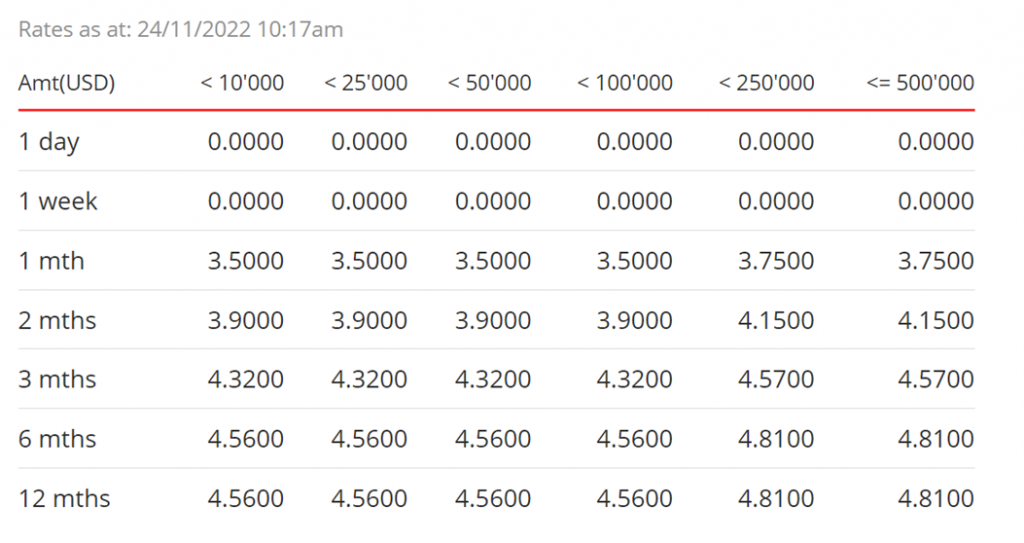 DBS USD Fixed Deposit Interest Rates – up to 4.81% for 6 months
The DBS Fixed Deposit Interest rates for USD are set out below, and you can get 4.81% for 6 months with $100,000 USD.
That's really very good, considering the latest US 2 Year Treasury trades at 4.44%.
Even if you don't have so much USD, you can still get 4.56% for 6 months on amounts below $10,000 USD.

Is it worth it to convert SGD into USD for the higher interest rates?
Now I know many of you will think whether it makes sense to convert SGD into USD, to enjoy the higher Fixed Deposit Interest Rates.
My simple answer is that probably not, unless you really know what you're doing.
The problem with doing so is that you will lose a small spread on the Forex, both when you convert SGD -> USD, and back from USD -> SGD.
Even if it's a small spread, with large sums of money it can add up.
And whatever excess interest rate returns you make, you're making because you're taking on the risk of USD/SGD FX movements.
Here's the 3 year chart of the USD/SGD, and you can see how it bounces around from time to time.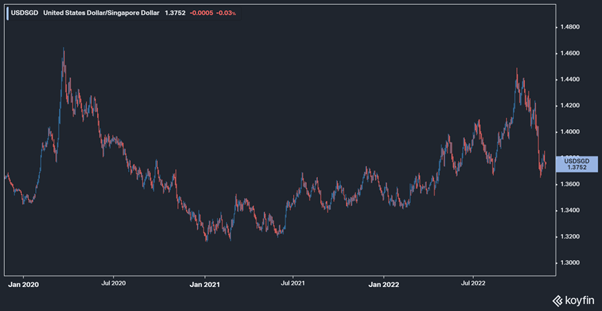 Sure, you can make money on the USD FX, but you can also lose money.
So unless you're a sophisticated trader looking to bet on USD/SGD price movements (in which case you're going to be using leverage anyway), I really don't think it makes sense to convert SGD into USD just for the higher interest rates.
BTW – we share commentary on Singapore Investments every week, so do join our Telegram Channel (or Telegram Group), Facebook and Instagram to stay up to date!

I also share great tips on Twitter.
Don't forget to sign up for our free weekly newsletter too!
[mc4wp_form id="173″]
When does it make sense to use DBS Foreign Currency Fixed Deposit?
Where the DBS Foreign Currency Fixed Deposit really makes sense though, is if you have spare USD (or other foreign currency) lying around earning 0% yield.
Take me for example.
I use DBS Vickers Securities to buy/sell my Singapore listed CDP stocks.
You can actually link DBS Vickers to your DBS Multiplier account, such that when you sell a SGX listed USD stock, you get the USD directly back into your multiplier account.
So because of this I have a bunch of USD sitting around in my multiplier account, earning 0% interest.
I didn't want to change it back into SGD just yet because I do anticipate myself deploying the funds in future, and the timing of the USD peak this cycle is still very unclear.
So for me, it made a lot of sense to just place the USD into a 3 months fixed deposit, and earn an easy 4.32% on that money risk free.
DBS Fixed Deposit Interest Rates for other Foreign Currency are also attractive
You can see the full list of Fixed Deposit Interest Rates here.
Some notable ones are up to 3.86% for GBP:
And up to 4.4% for HKD:
So if you don't have any USD lying around but some other foreign currency, it might pay to check out the rates and whether it makes sense to place them into a DBS Foreign Currency Fixed Deposit.
How to deposit money into DBS Foreign Currency Fixed Deposit?
The steps are very simple, and can be done fully online.
Just login to DBS, go to Apply -> Place Fixed Deposit:
If you don't have a Fixed Deposit account the system will prompt you to open one, which can be done fully online and instantly.
And after that you just fill in the details of how much you want to place into Fixed Deposit, from what account, which currency, and so on:
And all done:
Do note that the Fixed Deposit Premature Withdrawal function doesn't work for foreign currency fixed deposits though.
So if you want to withdraw the funds prematurely, you will need to speak to a customer service officer to assist.
Trust Bank Account (Partnership between Standard Chartered and NTUC)
Sign up for a Trust Bank Account and get:
$35 NTUC voucher
1.5% base interest on your first $75,000 (up to 2.5%)
Whole bunch of freebies
 Fully SDIC insured as well.
It's worth it in my view, a lot of freebies for very little effort.
Full review here, or use Promo Code N0D61KGY when you sign up to get the vouchers!
WeBull Account – Free USD150 ($212) cash voucher
I did a review on WeBull and I really like this brokerage – Free US Stock, Options and ETF trading, in a very easy to use platform.
I use it for my own trades in fact.
They're running a promo now with a free USD 150 (S$212) cash voucher.
You just need to:
Sign up here and fund S$2000
Make 1 US Stock or ETF trade (you get USD100)
Make 1 Options trade (you get USD50)
Looking for a low cost broker to buy US, China or Singapore stocks?
Get a free stock and commission free trading Webull.
Get a free stock and commission free trading with MooMoo.
Get a free stock and commission free trading with Tiger Brokers.
Special account opening bonus for Saxo Brokers too (drop email to [email protected] for full steps).
Or Interactive Brokers for competitive FX and commissions.
 Looking to buy Bitcoin, Ethereum, or Crypto?
Check out our guide to the best Crypto Exchange here.
 Do like and follow our Facebook and Instagram, or join the Telegram Channel. Never miss another post from Financial Horse!
Looking for a comprehensive guide to investing that covers stocks, REITs, bonds, CPF and asset allocation? Check out the FH Complete Guide to Investing.
Or if you're a more advanced investor, check out the REITs Investing Masterclass, which goes in-depth into REITs investing – everything from how much REITs to own, which economic conditions to buy REITs, how to pick REITs etc.
Want to learn everything there is to know about stocks? Check out our Stocks Masterclass – learn how to pick growth and dividend stocks, how to position size, when to buy stocks, how to use options to supercharge returns, and more!
All are THE best quality investment courses available to Singapore investors out there!
FYI – We just launched the FH Property Series. Everything you need to know to buy a property in Singapore, completely free of charge.
For more personal finance & investing content, follow Financial Horse on Social Media!