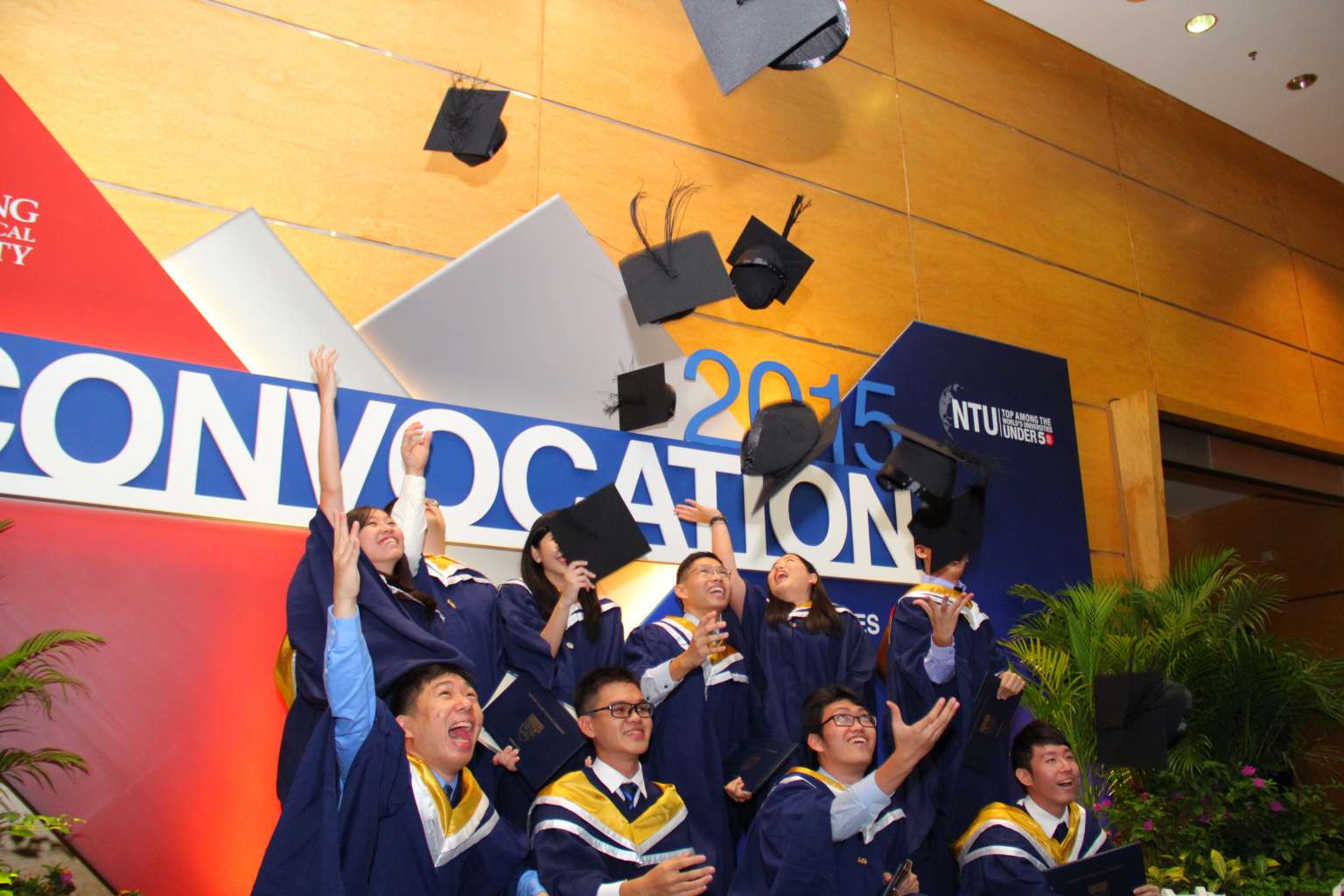 This article was submitted by a 

Guest Contributor.

If you would like to submit an essay, email 

[email protected]

!
Earlier this year, the four autonomous universities in Singapore (NTU, NUS, SMU and SUSS) released the results of the Graduate Employment Survey 2020, giving us valuable information about the labour market for fresh graduates, and the impact of the COVID-19 pandemic.
This article explores some interesting data & trends.
Median gross monthly salary stable but full-time employment rate falls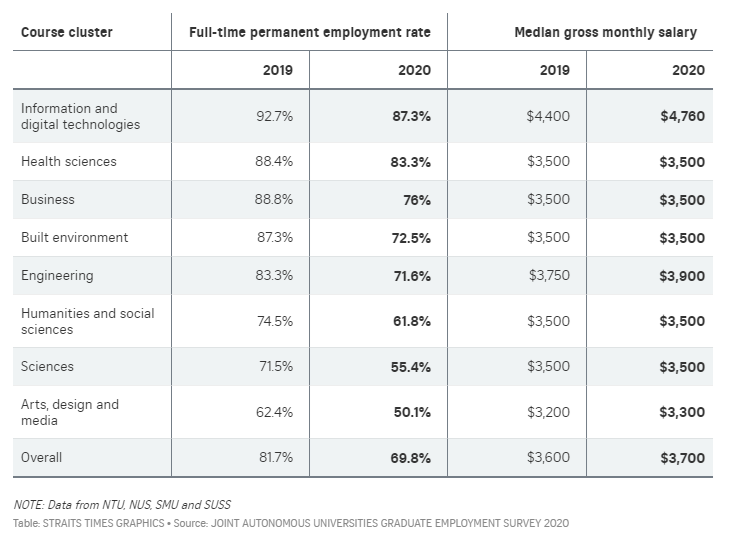 Median gross month salary for full-timers have increased by about $100 every year from 2018, reaching S$3,700 in the latest report. From the table above, we observe that the Median gross monthly salaries have either remained constant or increased. However, employment rates have decreased in all industries/courses.
While the data suggest that fresh graduates are still commanding higher median salaries, it does not consider graduates who are working on a part-time or temporary basis, a proportion that has increased by 3x amid the Covid-19 pandemic.
Temporary employment rates experienced more than a threefold increase from 7% to 22.3%. This increase could be attributed to the successful rollout of SGUnited Traineeship programmes that make up 3/4 of those under temporary employment as mentioned by The Straits Times.
This reflects the very challenging labour market that fresh graduates are facing in attaining full-time employment amidst the pandemic.
Medicine and Law no longer the highest earners
The only University that offers a trio of Medicine, Law and Computing is NUS and comparing the median salaries of the top earning courses, we observe some interesting data.

In the 6 courses whose median salary is above $5000 (excluding Yale-NUS), 4 out of the 6 courses are in based in computing, overtaking traditionally higher paying courses like Business and Engineering degrees.
If you are considering which course you should undertake, it is important to also take note of the number of available course places.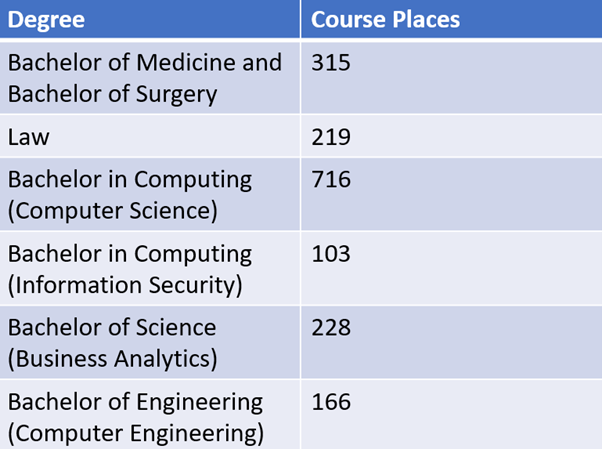 While some Computing related courses have less course places than Medicine or Law, in total, there are almost 1,200 places in Computing related courses, compared to the 500+ places in Law / Medicine.
Hence, if you are looking to enter into a high paying career + trying to maximize your chance of acceptance into your desired university course, computing is worth looking into.
Does the University matter?

The QS World University Rankings were released with NUS taking the top spot overall in Singapore.
But do the rankings translate to higher pay?
Interestingly, because universities like SMU and SUTD traditionally have smaller cohorts and tailor courses to fit market trends, the median starting pay of these Universities can actually surpass that of other higher-ranking Universities like NUS or NTU.
Rather than focusing on the overall ranking, it is also important to look at the specific course. Is the university well-known for this course? Who are the faculty & what will you be learning? Does the university have a strong alumni network? 
Employers increasingly look for work experience and practical skills (which you can learn on your own!) rather than just pure paper qualifications. This is why many students also choose to take a gap year to explore the world, take on longer-term internships and learn new skills. 
Overall, the 2020 data provides us with insightful data on the industries most affected by the pandemic and gives us a clearer picture of the labour market. Employment and salaries are among the top concerns of parents and students in choosing their university, and as the economy rebounds, we can look forward to more optimistic labour data in 2021.
This article was submitted by a 

Guest Contributor.

If you would like to submit an essay, email 

[email protected]

!
The opinions expressed in this publication are those of the Guest Author/Contributor. They do not purport to reflect the views or opinions of the Financial Horse Team. 
---
Follow Financial Horse on Telegram for weekly updates! For video content, check out our Instagram & YouTube Channel!