After last week's article on buying a property vs buying stocks / REITs, a lot of you wrote in with fantastic comments.
Absolute kudos to the community out there.
In particular – I received a very interesting question from a Patreon:
****************************************************************
So I'm considering stopping my business.
I plan to rely on my properties for rental income. They total $10k/month.
From the selling of my business, I'm considering putting them into Netlink for 5% dividends, which will yield me $12k/month.
My ideal will be $25k in total, but I can live with $22k/month.
I still have one property with a loan repayment of $8k/month.
So from this arrangement, I will nett $22-8= $14k /month.
My time horizon is 17 years (before I hit 65) for my Netlink investments.
Is putting money in Netlink for 17 years something logical?
I'm thinking mid term I may need to adapt depending on the viability of cable. Should I consider splitting them into REITs too looking at the current lows.
I'm ok to be a little active but I don't want to be risky for more than 20% of this portfolio.
My objective is a stable income and safe place for capital.
Of the $2m, $200k must be very liquid for emergency funds just in case. My risk appetite is on the lower side and I can't manage more than 6 counters.
I'm 48yo. I do still have 500k in cpf split evenly OA and SA.
So if you would include what to do with them at 55yo, it will be great too. I figure they should complement my move with the 2m. I also don't want to buy anymore properties.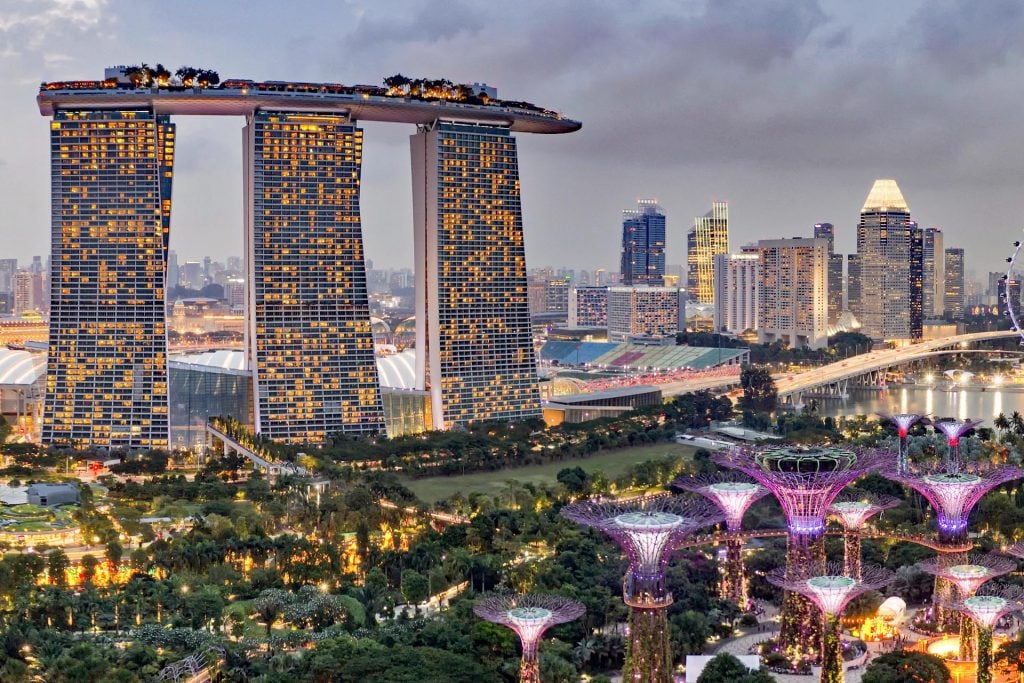 How to invest $3 million in a Dividend Stock / REIT portfolio in 2022 (as a Singapore Investor)
The more I thought about it, the more I realised this was quite a nuanced question (just like last week's).
Answer is not so straightforward.
And I figured the thought process could be helpful for others out there facing a similar problem.
How big is the dividend portfolio?
Some rough numbers.
$12,000 a month from a pure Netlink trust portfolio, means $144,000 a year in dividends.
At 5% yield, that's about a $2 – 3 million dollar portfolio from the sale of business that we get to play with.
Is putting $3 million into 1 dividend stock risky?
Let's deal with the elephant in the room.
If you sell your business for $3 million, and put it all into 1 dividend stock to retire off the income.
Is that risky?
I think the answer is going to be yes.
Now I'm not saying that you should never put all your money into 1 stock.
For those aggressively trying to build wealth – doing a ton of due diligence on a stock, identifying an undervalued stock, and going all-in is a great way to build wealth.
It's what Warren Buffet did in his early days too.
But this is a high risk-high reward kind of play, which requires careful due diligence and risk management.
For someone who is selling his business to retire, it just strikes me that spending his retirement actively monitoring stocks is probably not his idea of fun (otherwise he would just continue running the business).
So I'm going to put it out there and say that it would probably make sense to diversify a little.
You don't want a situation where Netlink implodes for some reason, and you lose a good chunk of that $3 million.
How would I invest the $3 million in dividend stocks / REITs?
So… with:
$3 million
In a low risk portfolio
Target yield of 5%
Designed to last the next 10 years at least
With minimal active investing
This might be how I would do it:
Ascendas REIT – S$500,000.00
CapitaLand Integrated Commercial Trust – S$500,000.00
Lendlease REIT – S$300,000.00
DBS Bank – S$500,000.00
Netlink Trust – S$500,000.00
Shell – S$400,000.00
Singapore Savings Bond (or SGS) – S$300,000.00
What is the difference between this and a pure Netlink Trust portfolio?
And then it suddenly hit me.
What I was trying to build – was an equity style dividend portfolio with 5% yield.
While what the reader was trying to build – was a fixed income style portfolio with 5% yield.
The differences are a bit nuanced, so it's worth spending some time to talk it through.
What is the biggest risk with the reader's portfolio?
Okay I get that the biggest risk with a pure Netlink Trust portfolio is individual stock risk.
But let's say you diversify that away.
Let's say over the next 12 months, you take the opportunity with higher yields to build a fixed income portfolio.
Singapore Savings Bonds, Astrea Bonds, Netlink Trust, some investment grade corporate bonds.
You could probably hit a 4-5% yield.
What's the biggest risk with that portfolio, over the next 10 years?
Inflation.
With a fixed income portfolio like this, the 5% yield is pretty much set in stone.
Rain or shine, you're going to get the 5% yield.
Nothing more, nothing less.
If the cost of living goes up, but the $12,000 a month dividend doesn't (and it probably won't), you're effectively getting poorer each year.
Which is why inflation is every retiree's worst nightmare.
But FH… $14,000 a month is more than enough to get by…
Now you may say that $14,000 a month (with rental income and minus off mortgage repayment) is more than enough to get by, over the next 10 years.
And that's probably true.
But ultimately – this is a question only you can answer yourself.
Some people are used to a certain lifestyle, and cannot survive on anything less than $20,000 a month.
Others could do $3,000 a month.
It really depends on you.
I fear an inflationary decade
But… and I keep going on and on about this – I fear that this decade may be one of inflation.
I fear a decade of start-stop inflation.
It goes away when the Feds hike, and when the Feds cut it comes back.
So that $14,000 a month seems okay now.
But think how much $14,000 could buy you a decade ago, in 2012.
And think how much less that buys you today.
If I am right about inflation – could you stomach a similar fall in purchasing power by the end of this decade?
BTW – we share commentary on Singapore Investments every week, so do join our Telegram Channel (or Telegram Group), Facebook and Instagram to stay up to date!
I also share great nuggets of wisdom on Twitter.
Don't forget to sign up for our free weekly newsletter too!
[mc4wp_form id="173″]
With that in mind… I built an equity style dividend portfolio
It was with that in mind that I built my equity style dividend portfolio.
I added in REITs because the underlying real estate and rentals can protect against inflation.
I added commodities (Shell) because oil hedges against very extreme inflation events.
And I added in DBS Bank for some protection against rising interest rates.
What is the biggest risk with the equity portfolio?
But of course, there is no free lunch in this world.
What is the biggest risk I foresee with this equity style dividend portfolio?
Stagflation.
If interest rates move too much too fast, it will wreck the Netlink and REIT positions.
If economic growth slows, the DBS position will get wrecked.
If inflation is high, the Singapore Savings Bonds will lose purchasing power.
In other words – with this portfolio, there is a real risk of capital loss.
Whereas with the fixed income portfolio, if you're careful in only buying bonds / utilities from rock solid issuers with solid cash flows, I think the chance of capital loss is much lower.
Fixed Income vs Equity Portfolio
To sum it up:
With the fixed income portfolio – you get very stable dividends, and lower risk of capital loss.
But there is virtually no growth.
No matter how much prices go up in the real world due to inflation, it's unlikely that your dividends go up by much.
With the equity portfolio – you can rest assured that the dividends can go up over time, to protect against inflation.
But there is a real risk of capital loss, and a real risk of dividend cuts in a recession.
Which is more suitable for a Singapore investor?
Ultimately – this has to be a personal question.
And trust me, I completely get why the reader picked a fixed income style portfolio.
When you have $14,000 a month just from buying bonds/utilities, why risk it?
Why take the chance of a capital loss / dividend cut, that might affect your standard of living?
I think that's perfectly reasonable.
How big is the reader's real estate portfolio?
If you think about it, that $10,000 in rental income each month is $120,000 a year.
If you assume conservatively a 3% rental yield, that means there's also a real estate portfolio worth $4 million behind that.
So you can argue that the real estate portfolio is the true inflation hedge here.
If inflation gets bad, the value of the real estate goes up, and the mortgage gets eroded away.
It hedges inflation – so no need for the dividend portfolio to serve a similar function.
Back to last week's problem – do you want to play defence, or play offence?
In some ways, it's the same problem faced by last week's reader.
Are you playing to win? Or are you playing to not lose.
Do you want to get rich-er?
Or do you want to not get poor-er?
Last week's reader wanted to build wealth aggressively to support her children, which requires taking on a certain level of risk.
This week's reader already has his net egg, and just wants to protect it, and live off the income.
And frankly, there's no right or wrong here.
If it were me, in this scenario?
That being said – if this were me?
I still think I go with the equities portfolio.
I think attack is the best form of defence, especially this decade.
As shared last week, I think in the short term, the Feds are going to hike us into a global slowdown.
But mid term, the supply chain problems are still around.
And mid term, the Western central banks won't be able to stomach the pain of tightening monetary policy.
Which means that at some point, when the S&P500 is down 30%, 40%, 50%, they are going to pivot.
And they are going to print money into stagflation.
Because of this, I think running a pure fixed income style portfolio can be dangerous this decade, unless you're prepared to watch purchasing power get eroded.
In fact if this were me, without the constraints as to number of stocks / risk, I might even go a bit further and do something like the below:
Ascendas REIT   500,000.00
CapitaLand Integrated Commercial Trust             300,000.00
Lendlease REIT  200,000.00
DBS Bank            250,000.00
Netlink Trust     350,000.00
CapitaLand China Trust  300,000.00
ICBC      200,000.00
Shell      400,000.00
Singapore Savings Bond (or SGS)              500,000.00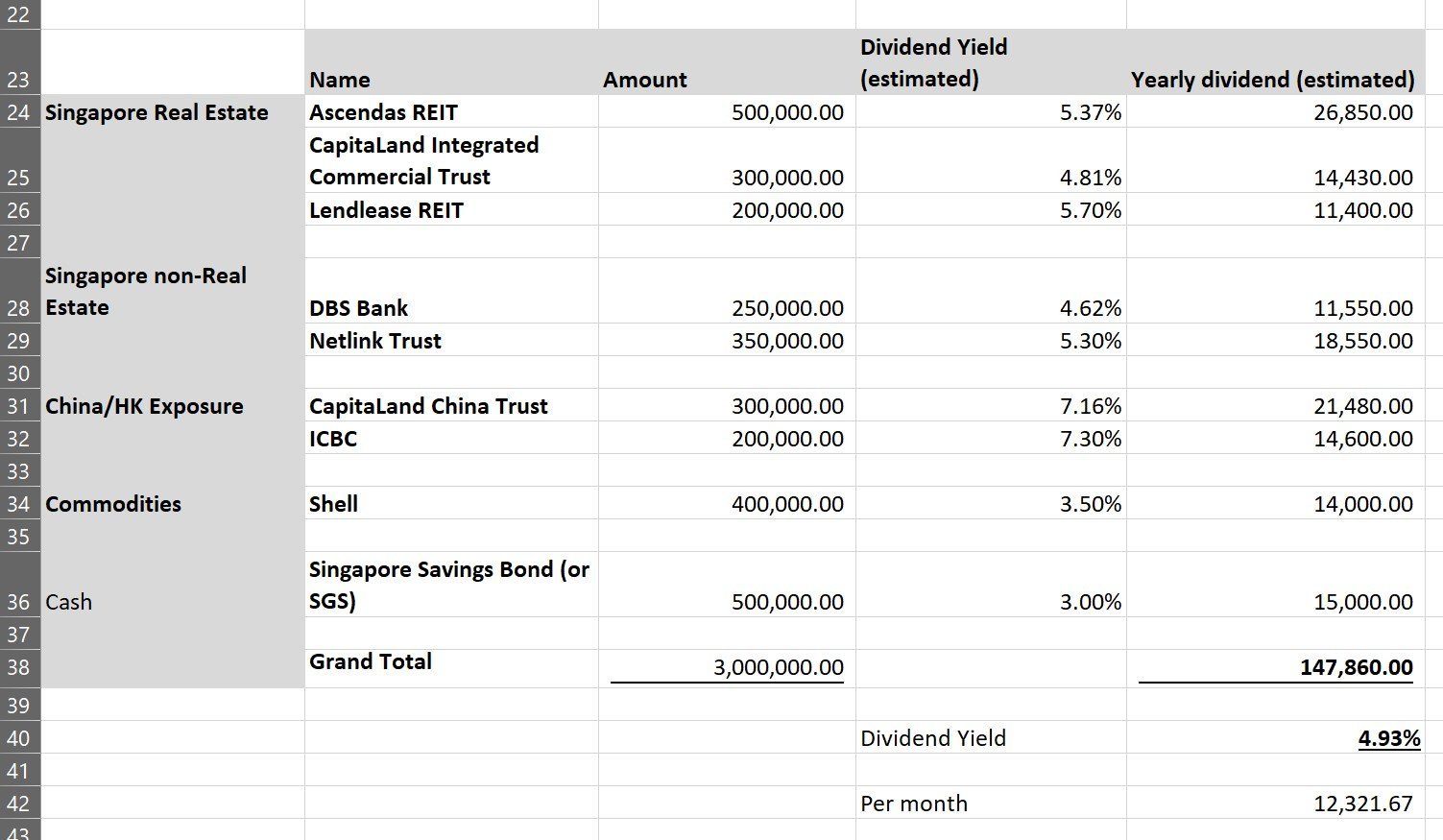 I basically increased the cash position drastically to $500,000, to allow me to tide through any volatility and give me peace of mind.
There is a $200,000 limit for SSBs, for the rest can be via Singapore Government Securities direct from MAS or on the open market.
With the CPF position, that's almost $1 million in low risk, relatively liquid assets.
And with the rest I basically go into more risky names like ICBC, CapitaLand China Trust and Lendlease REIT to juice the yield further.
Depends on individual risk appetite
But really – that's just me.
These are names I am comfortable with, and which I think I can manage risk on.
The same may not apply for you, and I don't blame you for playing it safe
You could build a portfolio from Netlink Trust, A-REIT, CICT, Astrea Bonds, and some low risk corporate bonds. Chuck the rest in SSBs or SGS over the next few months.
And you're looking at 4-5% yield a year, with quite low risk.
I mean just look at the latest SSB yields at 3% over 10 years.
You can put the $3 million just into Singapore Savings Bonds / Singapore Government Securities and get $7,500 in dividends each month – for ZERO risk.
Yes there is a $200,000 cap on Singapore Savings Bonds, but you can put the rest into Singapore Government Securities, which SSB yields track anyway.
That just has to be your baseline here.
What to do with the CPF?
For the CPF – I probably wouldn't get too fancy with it.
I would probably just leave it there for the risk free return, as liquid cash.
Of course, that's unless the SGS yield is above CPF's 4% yield, but I don't see that as likely for now.
In any case, this decision should be made much closer to the time of withdrawal.
If stocks are crushed, one can withdraw to average into stocks.
If stocks are high, no harm keeping it in CPF for the risk-free return.
How to invest the $3 million in dividend stocks / REITs in Singapore?
It's probably wise to talk a little about timing.
Do you all-in, or do you average in?
Fixed Income Portfolio (bonds)
Personal view – I think we are close to the peak in bond yields.
So for those who want to build fixed income portfolios, I would look to seriously allocate money over the next 6 months.
With rising rates, the next few months of Singapore Savings Bonds are going to be very attractive, and I see myself redeeming a lot of my 2018 SSBs to swap them out for the new 2022 SSBs.
Equity Portfolio (dividend stocks / REITs)
That said, for the equity portion of the portfolio, I think it may pay to watch how things play out first.
I wouldn't be comfortable deploying serious capital until I see the Feds pivot, or I see signs of a Fed pivot.
Sure you can trade the up and down.
But for long term, 10 – 20 year portfolios?
Might be better off waiting for the Feds to give you the all-clear to buy.
For a long term portfolio, there's really no need to catch the bottom exactly.
Just escaping a big part of the decline is probably already good enough, when you're starting off with a $3 million portfolio.
You can follow me on Patreon for updated views on macro timing, including my full stock watchlist and personal portfolio.
Closing Thoughts: How to protect a dividend portfolio against stagflation?
The final issue I wanted to discuss – how to protect a dividend portfolio against inflation, in this decade.
And frankly, I don't have any easy answers for this.
I would probably add in more commodities exposure. More oil, and some miners perhaps.
I might also add in some gold exposure.
But there's no denying that would come at the cost of the dividend yield.
Once you start mixing such things in, you're probably sacrificing the 5% yield.
You could argue for more active investing – but that also means you can get it wrong, and it also requires more effort.
So it really comes back to the core question.
What matters more to you – getting the $12,000 a month dividend income. Or hedging inflation?
Refinancing tool
With rapidly rising interest rates – it might pay off to look into refinancing if your loan is coming due.
I know a lot of you have been writing in for my views on fixed vs floating loans, and I plan to write a full article for this.
But in this market – I think you're pretty much forced into taking floating. The banks themselves know interest rates are going up quick, so the fixed rate loans are priced in such a way that they aren't sufficiently attractive (in my view).
In the meantime, there's a fantastic tool by Property Guru.
Do give it a try if you're close to refinancing.
It's completely free – you just input your mortgage details, and the tool lets you know whether you'll save money by refinancing.
If the answer is yes, they'll give you recommendations on what loan to take.
If the answer is no, you can set up a reminder for the tool to remind you when its time to refinance.
I set up the reminders for my own properties just this week and it's pretty neat.
Do give it a try here.
As always, this article is written on 1 July 2022 and will not be updated going forward.
If you are keen, my full REIT and stock watchlist (with price targets) is available on Patreon. You can access my full personal portfolio to check out how I am positioned for the coming downturn too.
Looking for a low cost broker to buy US, China or Singapore stocks?
Get 100 USD in Apple Shares with Webull, a zero commission broker.
Get a free stock and commission free trading with MooMoo.
Get a free stock and commission free trading with Tiger Brokers.
Special account opening bonus for Saxo Brokers too (drop email to [email protected] for full steps).
Or Interactive Brokers for competitive FX and commissions.
Looking to buy Bitcoin, Ethereum, or Crypto?
Check out our guide to the best Crypto Exchange here.
Do like and follow our Facebook and Instagram, or join the Telegram Channel. Never miss another post from Financial Horse!
Looking for a comprehensive guide to investing that covers stocks, REITs, bonds, CPF and asset allocation? Check out the FH Complete Guide to Investing.
Or if you're a more advanced investor, check out the REITs Investing Masterclass, which goes in-depth into REITs investing – everything from how much REITs to own, which economic conditions to buy REITs, how to pick REITs etc.
Want to learn everything there is to know about stocks? Check out our Stocks Masterclass – learn how to pick growth and dividend stocks, how to position size, when to buy stocks, how to use options to supercharge returns, and more!
All are THE best quality investment courses available to Singapore investors out there!
FYI – We just launched the FH Property Series. Everything you need to know to buy a property in Singapore, completely free of charge.