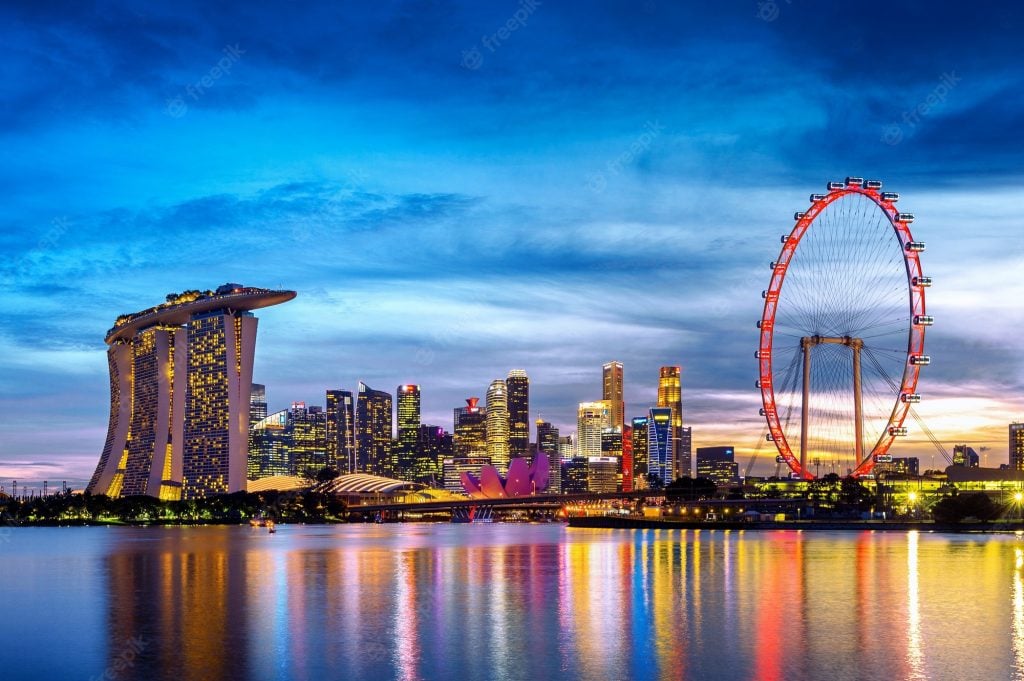 I've been getting a lot of questions about how to invest during 2022's Inflation.
Whether through climbing the corporate ladder or running a business, a lot of you have accumulated your pot of gold.
As you watch your pot of gold getting eroded away by inflation and soaring prices, you're understandably getting worried.
There are also concerns about the Fed hiking into a 2022/2023 global recession.
What's an investor to do in times like that?
I don't profess to be absolutely on point on this, but I wanted to share some of my views in this article, and hopefully it would help you in your investing journey.
Note: This post is sponsored by DBS Treasures. All views and opinions expressed in this post are from Financial Horse.
One of the trickiest macro environments in 40 years
Legendary investor Stanley Druckenmiller gave a great interview recently.
In it – he commented that in his 45 years as a chief investment officer, today's macro environment has no historical equivalent for the first time ever.
And he said that he is humble about his predictive power, and remains open minded about how the path forward could play out.
I completely agree.
I see a lot of investors talking about a 2023 recession like it's a done deal.
I hear investors talking about how stock markets are going to collapse, and how they're going to short it all the way down.
I hear investors talking about how they're selling all their stocks now, so they can buy it back cheaper 6 months later.
Such absolute thinking worries me.
This is the time to remain open minded about what could come next.
Central bank policy is diverging for the first time in a decade and a half.
We have the US Federal Reserve on an aggressive interest rate hiking path to combat inflation.
The ECB is still behind the curve on inflation, and has to play catch up.
The BOJ is still implementing yield curve control to fix the 10-year Japanese yield at 0.25%.
And the PBOC is easing.
Volatility in interest rates and inflation are at 40-year highs.
What's an investor to do in times like that?
If you only take away one thing from this article, let it be this – However certain you are of your views on how the market will play out going forward, try to think about how you could be absolutely wrong.
Seek out alternative opinions from experts, bounce ideas off other investors – especially those that don't agree with you.
Be open-minded to different viewpoints so you can make better investing decisions.
How to invest during 2022's Inflation?
This is ultimately a subjective question.
In asset allocation, there's no right or wrong, only that which is right for you.
I've tried to illustrate that with the recent articles on Financial Horse.
The 40-year-old with 2 kids, choosing between buying a new 2-bedroom property or buying stocks/REITs.
The 47-year-old business owner with a $4 million real estate portfolio, looking to sell his business for $3 million and live off the dividend income.
The 30 year old with a $240,000 annual income, deciding between buying a matrimonial home or investing in markets.
The right asset allocation for each of them, is fundamentally different.
This is crucial to understand.
General Principles
That said, here are some general principles I wanted to share to guide you in your investment journey:
Hold enough cash to survive the short-term volatility
Hedge for an inflationary future
Stay Open-Minded
Hold enough cash to survive the short-term volatility
When you start investing, the advice is always to hold enough cash to cover 12 months of living expenses.
The thinking is that if something goes wrong with your investments, at least this buys you enough time to sort matters out.
Or if emergency expenses come up like a big medical expense, at least you'll have the liquidity.
In times like this, I think that advice is golden.
The higher the volatility in financial markets, the more cash you want to hold.
Don't underestimate the peace of mind that comes with this.
And don't forget that if the markets do go down, you need cash to buy when it drops.
So in times like this, you may want to consider prioritising assets that give you liquidity, that can be converted to cash at a moment's notice.
But of course, this depends on your income status and age.
A 30-year-old who is rapidly rising in his career, and a 60-year-old preparing to retire – both have very different cash requirements.
Adapt accordingly.
Hedge for an inflationary future
Most Singaporeans will have realised that inflation is a problem.
Food, housing, car, petrol, electricity.
You name it, it's going up.
All except salaries that is.
Just look at the COE numbers – Cat A is up 37% since the start of the year, and Cat B is up 30%.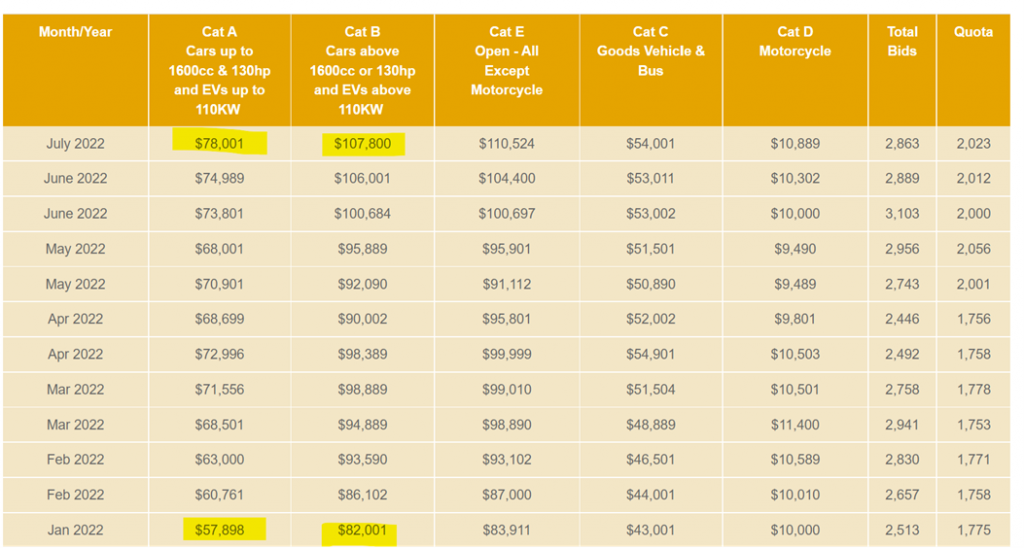 Yet most investors seem to be preparing for inflation to be high for a year or two, and then go away.
But – what if inflation stays, for the next 5 – 10 years?
What if we get stop-go inflation, because of poor central bank policies?
So inflation is high for a year or two, then goes away due to high interest rates.
But when the Feds cut interest rates, inflation soars back.
Think about what a decade like that would do to your portfolio, and purchasing power?
Given all the trends about deglobalisation, ESG, and lack of investment into fossil fuels / commodities, one should at least be prepared for that possibility.
I know that I said that the first rule was to hold lots of cash.
But in this second rule, you don't want to overdo it.
You can hold cash to tide through the volatility in the short term, but don't make the mistake of holding too much cash for this decade.
Because if indeed inflation sticks around, the cost could be very high.
Stay Open Minded
I know I talked about the virtues of staying open minded above.
But I really wanted to emphasise this.
This is not the decade of easy liquidity we saw the past 10 years. This is not the kind of climate to just buy FAANG and chill for 10 years.
Okay, maybe it is, but you at least want to question whether you might be wrong about it.
Seek out alternative opinions. Bounce your ideas off others.
Consult with experts, especially those that share different views from yours.
Stay open minded, stay nimble.
DBS Treasures: Wealth management powered by expert insights
In uncertain times like this, a trusted wealth management partner is vital.
Especially one that can offer a diverse range of expert opinions, that can inform your decision-making holistically.
DBS Treasures can help you to:
Make better decisions with personalised expert advice
Make faster, relevant moves with DBS' intelligent wealth app
Make Smart Moves with DBS' Intelligent Wealth App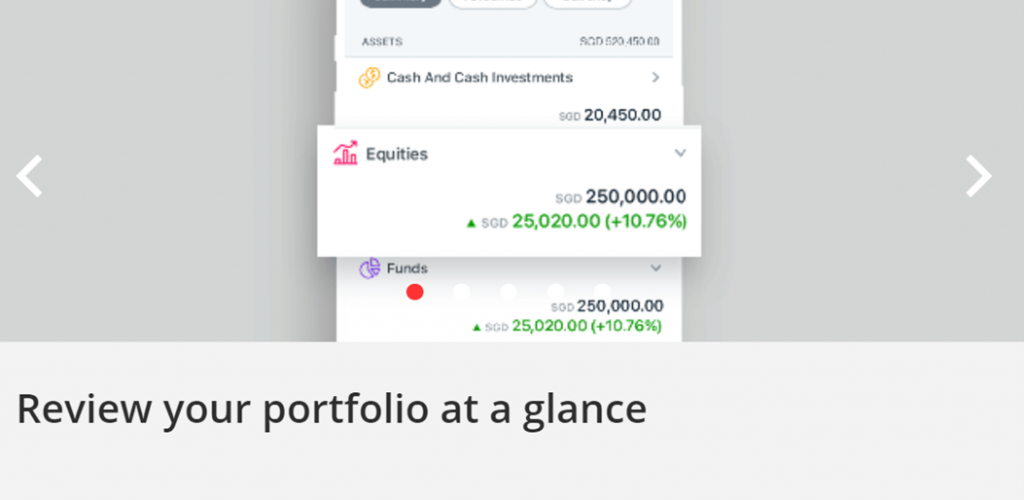 With DBS' intelligent wealth app, you can manage your assets efficiently and effectively.
From personal experience, DBS digibank app is very intuitive and smartly designed. It comes as no surprise that they have won multiple awards on this front, including several for excellence in digital innovation.
Wealth Management Account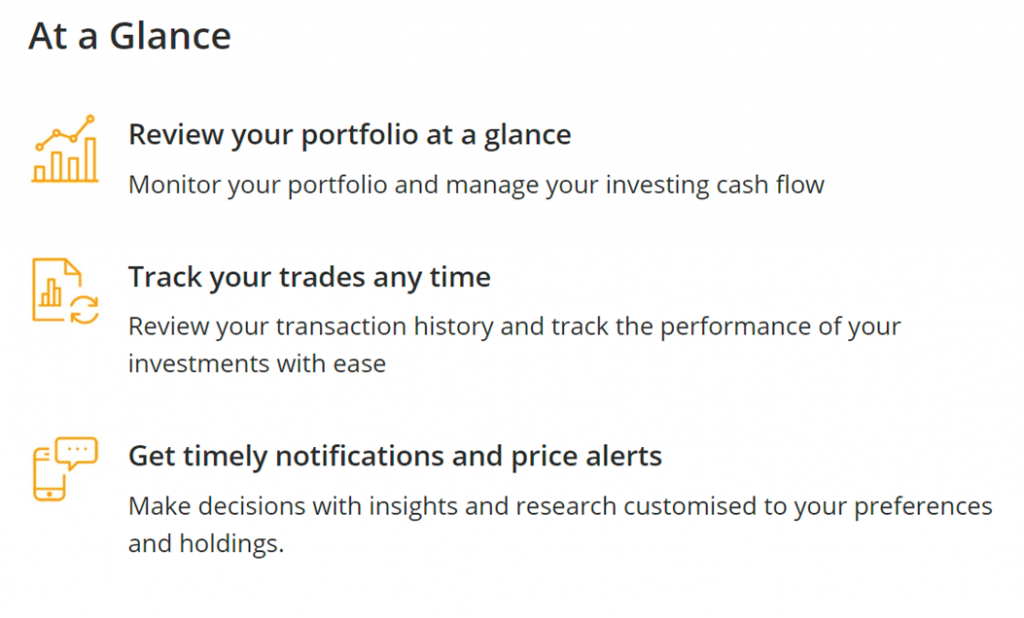 Having a DBS wealth management account allows you to manage and track the performance of your investments, on-the-go.
Through the digibank app, you can:
Get a big picture view of your finances
Manage your investing cashflow and review your portfolio at a glance.
Look at your income and expenses.
Access information on maturity, coupon and redemption for bonds.
Track your investments according to asset class, currency, sector and more.
The digibank app gives you the big picture view, then allows you to zoom into individual details.
Get personalized insights powered by human expertise
DBS Chief Investment Office picks out research based on your preferences. You just need to swipe up and tap on 'Curated for You' before you log in.
DBS Chief Investment Office also publishes quarterly model portfolios for various risk appetites —conservative, moderate, balanced and aggressive.
Use these expert insights to customize a portfolio that works for you.
From your Wealth Management Account, create watchlists and price alerts, set limits and stop orders, and more.
Get timely alerts on major equity price movements and favourable FX rates, so you don't miss out on any opportunity.
Multi-currency, multi-opportunity
DBS Wealth Management Account's multi-currency capability allows you to store up to 9 currencies.
This allows you to efficiently tap on investing opportunities in different currencies, all with a few clicks of a button.
Make Smart Decisions with Personalized Expert Advice
DBS offers a portfolio-focused approach that's customized to your needs.
From managing your portfolio to planning a holistic retirement, DBS Treasures is here for you.
Supported by digital intelligence, your RM has an in-depth view of your wealth needs, to help you take advantage of market opportunities in a timely manner.
Through DBS, you can gain access to investments customized to your specific risk-return objectives.
DBS offers easy-to-start solutions like digiPortfolio, and also professionally-managed products and solutions for Accredited Investors.
Sophisticated products for Accredited Investors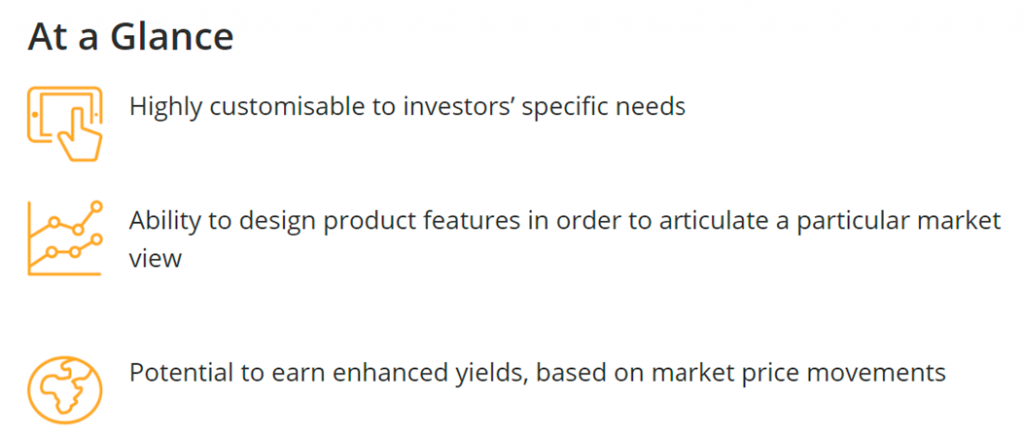 DBS also offers sophisticated products to support accredited investors in growing their wealth.
Some examples of structured notes offered in Singapore include:
Equity Linked Notes (ELNs)
Reverse Equity Linked Notes (RELNs)
Fixed Coupon Notes (FCNs)
Bull-bear Notes (BBNs)
Step-Down Auto-Callable Notes (SANs)
Gold-Linked Notes (GLNs)
Invest in 200+ unit trusts and funds online
DBS offers access to over 200 unit trusts and funds online.
Investors can conveniently manage their funds portfolio and unit trusts holdings through DBS digibank app or online banking.
Through the mobile app, you can search for and access funds easily. Browse by investment theme, asset class, geography, sector and more.
Choose from over 200 funds
Access DBS Focus Funds, which are selected funds based on the Chief Investment Office's market outlook
Identify the best performing funds by asset class
Attractive fee

Invest online at a sales charge of 0.82%
Choice to buy restricted funds online

For Accredited Investors, you can buy funds online at any time and any place
You can even set up a regular savings plan (RSP) to dollar cost average into your choice funds.
Make Smart Moves with DBS Treasures today
In these uncertain financial times, you will want to have a trusted wealth management partner by your side, so you can make informed investing decisions.
Start your wealth journey as an accredited investor with DBS Treasures with investible assets of S$350,000.
For new DBS Treasures clients who sign up from 1 July 2022 to 30 September 2022, there is also a deposit top-up welcome reward!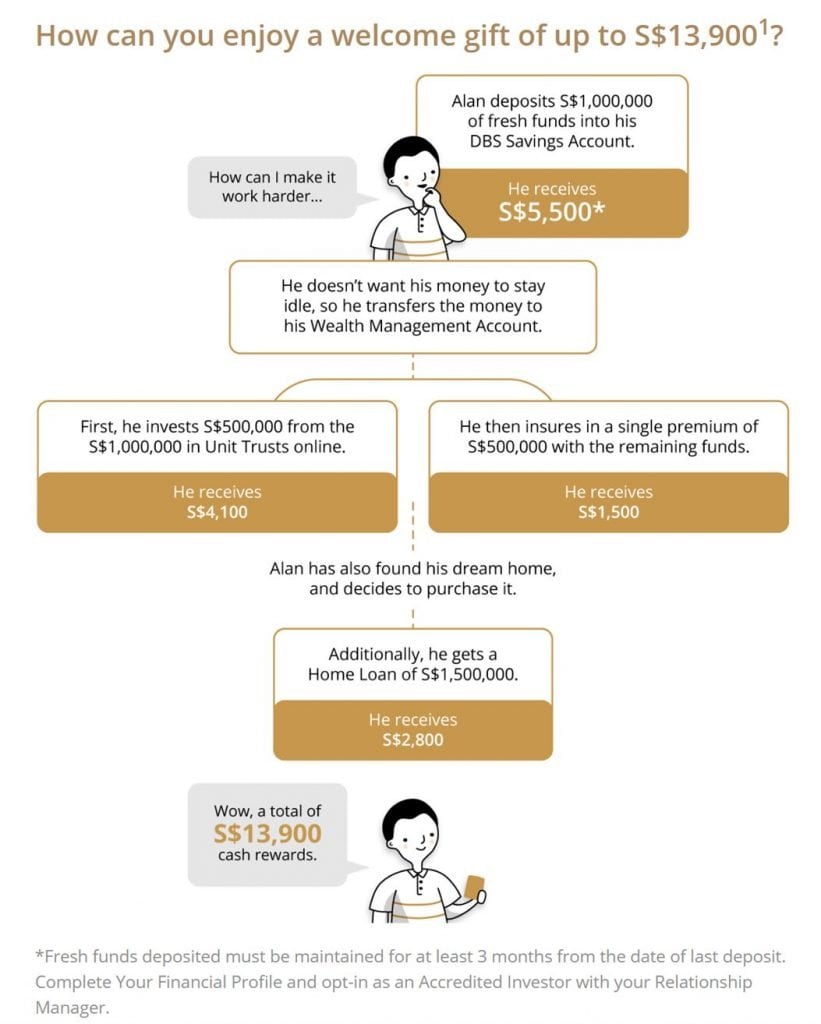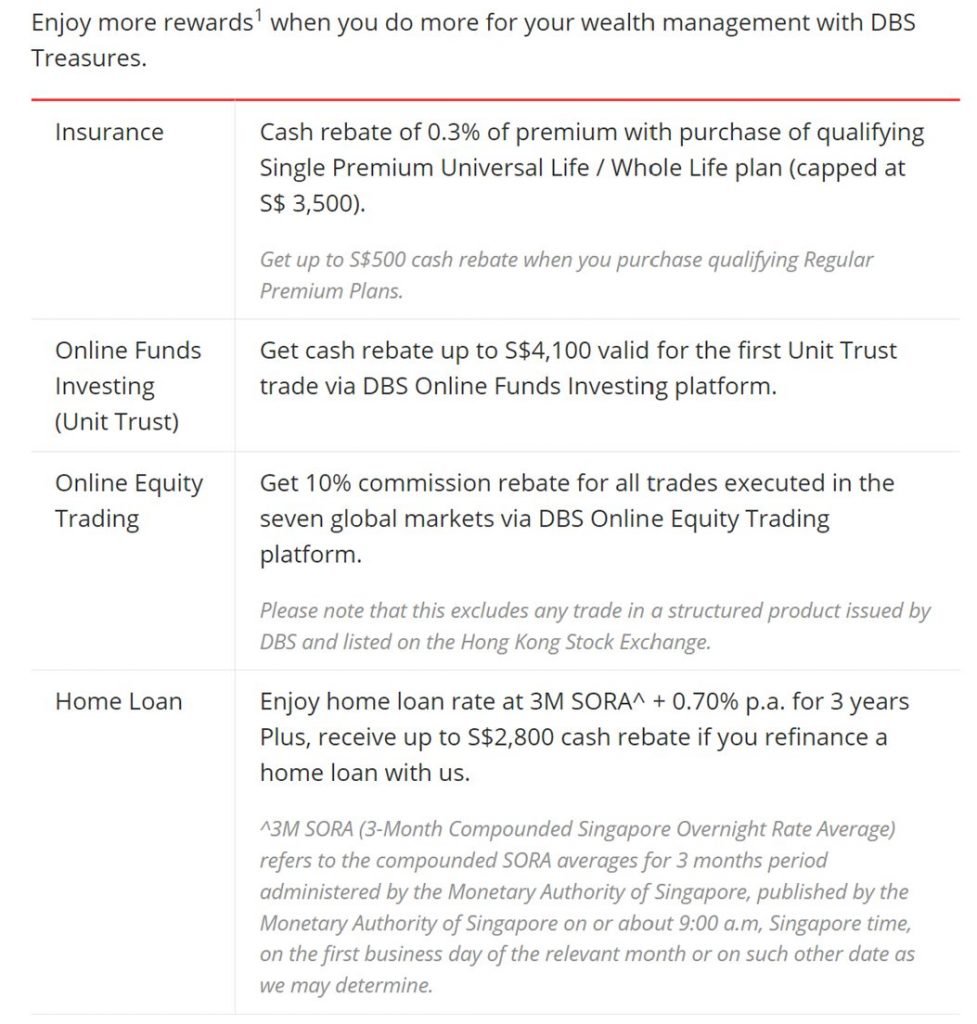 1 All offers are open to new DBS Treasures clients who sign up from 1 July 2022 to 30 September 2022. Full terms and conditions and important notes regarding all offers apply.

Deposit Top Up Offer reward is open to existing non-Accredited Investors of DBS Treasures who declare Accredited Investor status within 1 July 2022 to 30 September 2022. Full terms and conditions and important notes apply.
Find out more about DBS Treasures here!
Note: This post is sponsored by DBS Treasures. All views and opinions expressed in this post are from Financial Horse.