New day, new restructuring for a GLC.
This horse just can't catch a break!
But I kid – Keppel buying out SPH is a very interesting deal, and I was very excited to dive into it. More so than lazing around in the barn. ;')
BTW – We just launched a national day promo for FH Investing Courses. Want to learn how to invest seriously? Check it out here!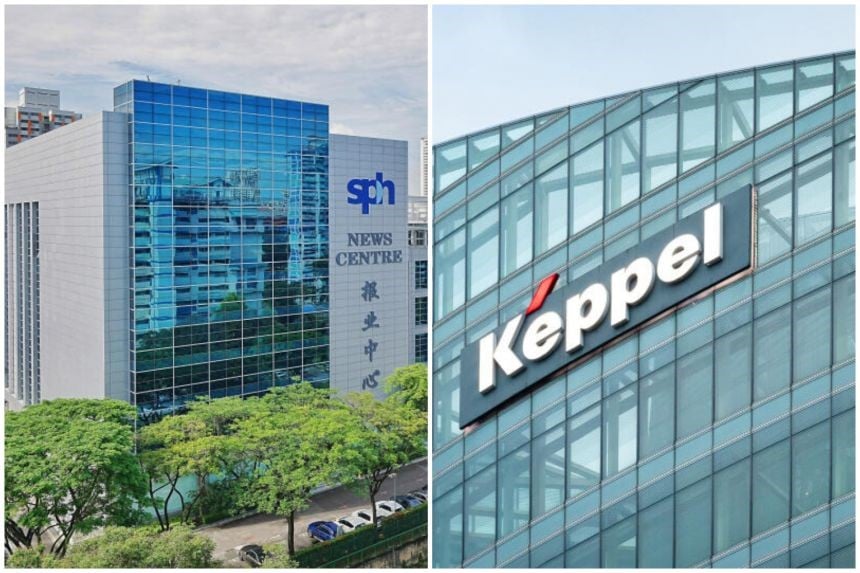 SPH's and Keppel's restructuring?
To say that SPH and Keppel have had an eventful year is a bit of an understatement.
For Keppel:
October 2019 – Temasek launched a $4.1b offer to buy a majority stake in Keppel
September 2020 – Temasek pulled the offer due to the financial impact from COVID
June 2021 – Keppel announces they are in talks with Sembcorp Marine to merge Keppel O&M and Sembcorp Marine
For SPH:
May 2021 – They announced that they will be privatizing the media business at -$110 million. CEO goes viral for "taking umbrage".
Under Singapore law, no foreigner can own a newspaper in Singapore.
So in May 2021, I speculated that SPH was spinning off the newspaper business, so that a third party can come in and buy out SPH.
I didn't expect it to be done this fast though.
I had expected them to wait for the shareholder approvals, and the spin off to be completed, before selling SPH.
So today's news really surprised me. In a good way.
Big kudos to them.
Basics: Keppel to buy out (privatise) SPH for $3.4 billion
Long story short – Keppel will buy out (privatise) SPH at $2.099 per share.
SPH's share price was $1.88 on Friday, so this is a 11.6% premium to last done.
If you're a SPH shareholder, for every 1000 shares you hold (worth $1880 at Friday's price), you will get:
$668 in cash
596 units in Keppel REIT (worth $715)
782 units in SPH REIT (worth $716)
Totalling $2099.
Keppel Privatisation Deal is conditional on SPH's media restructuring
One big caveat is that this buyout is conditional on SPH successfully divesting their media business.
If for whatever reason SPH can't get shareholder approval to sell their media business, then Keppel will not buy out SPH.
Timeline of the Keppel's buyout of SPH
2 steps to this process.
First SPH will spin off the SPH Media business.
Then Keppel will come in and buy out SPH.
Timeline wise, we're looking at late 2021, probably around December 2021 for completion of the deal.
Very very quick, much faster than I had expected.
Why did SPH pick Keppel?
So the official story is that SPH was looking to sell the business, and they were exploring a bunch of options, including a part sale of the assets.
Then Keppel came in with a proposal to buyout SPH entirely.
And SPH really liked the Keppel offer, because:
It was a sale for the entire SPH – solving the problem of them having to a buyer for each of the assets
Deal certainty – Keppel being Keppel, the deal was very certain, with minimal regulatory approvals required
Price was decent – Price was decent, very close to the book value of SPH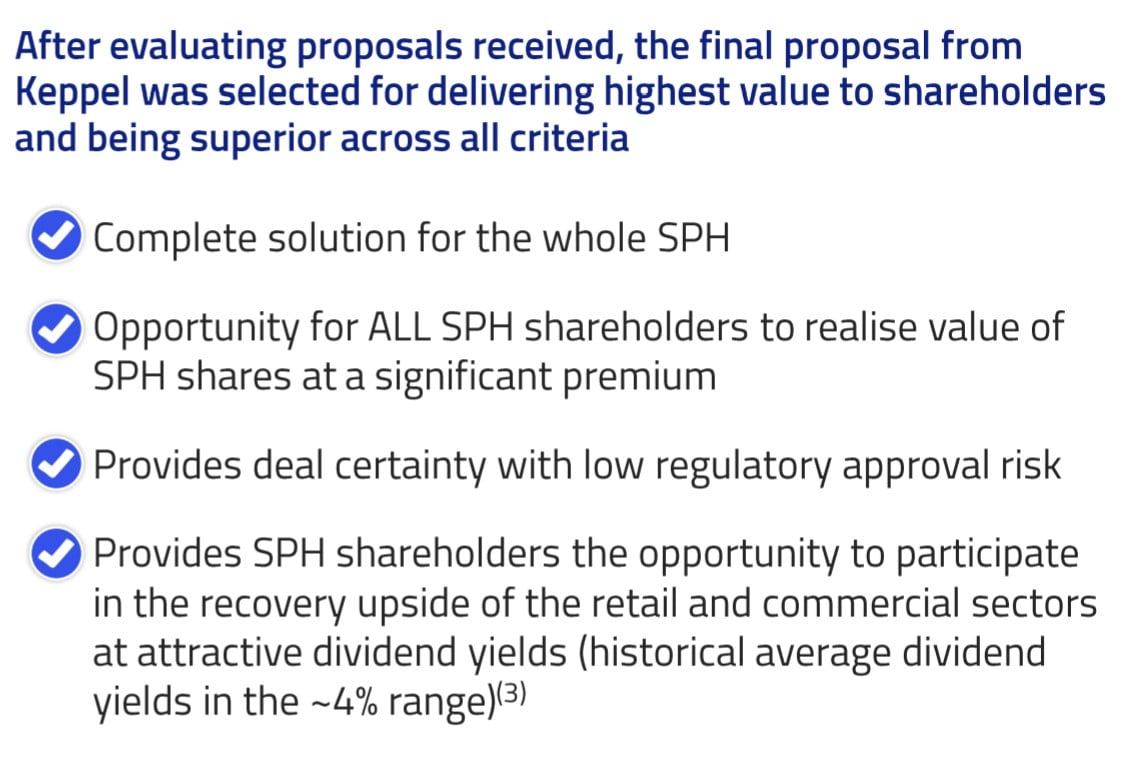 Why did Keppel buy SPH?
As for Keppel?
Their reasoning is that:
Keppel is uniquely positioned to unlock value of SPH's portfolio – can consolidate ownership with SPH in M1 and Genting Lane data center
Expand into student accom, senior living and retail
Builds scale in asset management platform
Synergies and cost efficiencies
Fair enough.
Who wins from this deal?
SPH Shareholders
When I valued SPH back in June, the book value I arrived at was $2.00.
You can see the breakdown below: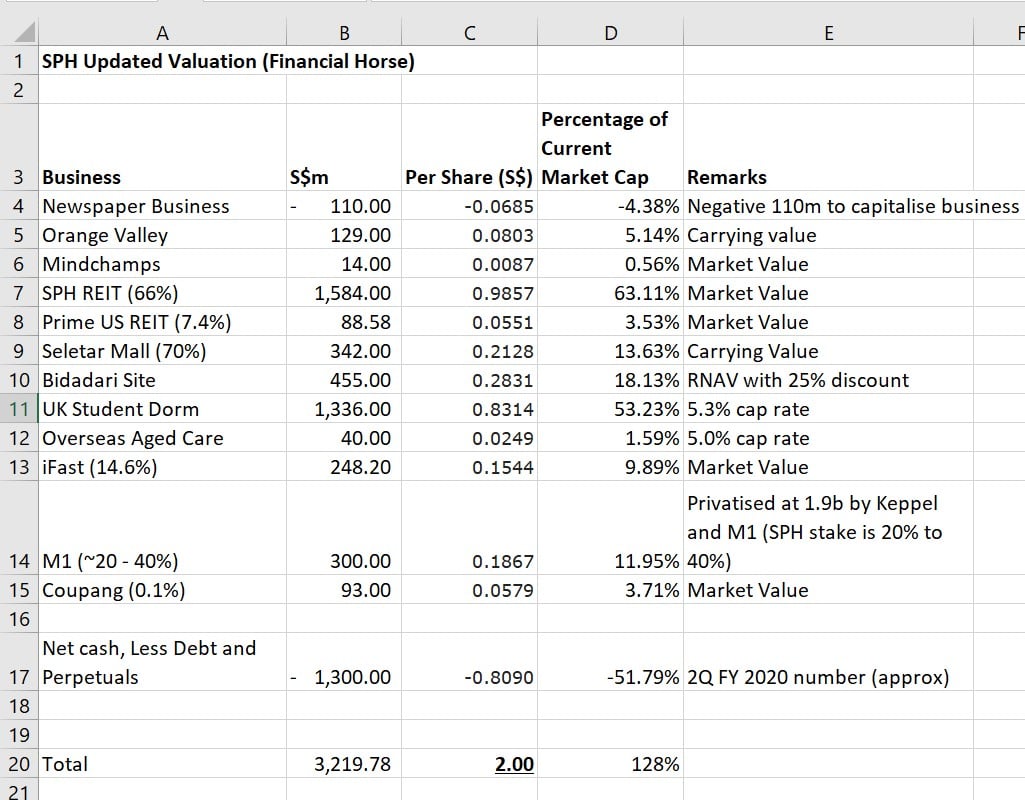 But I had assumed that the deal would take a long time to complete, with no certainty that they get a good prize for their "rojak" portfolio.
I mean let's face it, SPH owns a bunch of student dorms, some residential properties, some nursing homes, a Telco (M1) and some retail malls. Who would pay a premium price for a portfolio like that?
This Keppel deal solves both problems.
If things go well, the deal will close by Dec 2021. And the price frankly is decent too, it's already a small premium to my internal fair valuation for SPH.
If they go to the open market, it would take much longer to close, and no guarantees they get a better price for the whole portfolio.
So I'd say this is a win for SPH.
Share price should go to about $2+ tomorrow, with a small discount priced in for deal uncertainty.
BTW – we share commentary on financial markets every week, so do sign up for our mailing list.
Don't forget to join our Telegram Channel and Instagram  (or our Reddit Community)!
[mc4wp_form id="173″]
What about Long Term SPH Shareholders?
That said, this is a good deal only if you bought into SPH in 2020.
If you had bought SPH any time before 2020, this privatisation at $2.099 would still mean you're losing a ton of money.
My heart goes out to the long term SPH shareholders out there. It really sucks when a share you buy gets privatised like this.
Usually there's some hold that if you hold long enough you can recover your money. With a privatisation – those hopes are gone.
What about Keppel Shareholders?
From Keppel's perspective, they're only paying $688 cash for $2080 worth of real estate
The rest is in Keppel REIT and SPH REIT units.
I'd say it's a pretty decent deal for Keppel too, especially when you realise that some of the big assets like M1 and the data centres are co-owned by SPH and Keppel. This buyout allows Keppel to consolidate those interests.
And Keppel themselves have a pretty "rojak" portfolio, so they might be the best placed to integrate SPH into their business. As opposed to someone like CapitaLand or Mapletree.
As a Keppel Shareholder, you're basically selling the loss-making Keppel O&M business, and buying the SPH assets in exchange. Pretty decent when you look at it that way.
Closing Thoughts: CEO is an interesting guy…
Here's what I extracted from Mothership about the SPH CEO:
He was the former CEO of Neptune Orient Lines (NOL) prior to his role in SPH.
Prior to him joining SPH, Ng was the group president and CEO of Neptune Orient Lines (NOL) from October 2011 to June 2016.
Ng was the CEO for five years and his last four years saw NOL accumulate more than S$1.5 billion in losses, although it has managed to reduce its losses year-on-year.
In mid-2016, NOL was sold to France's CMA CGM, the world's third-largest shipping line and was delisted from the Singapore Exchange in late June that year.
So… when he was CEO at NOL, NOL was sold. When he was CEO at SPH, SPH was sold.
I mean… I can only imagine what the guys over at Hardwarezone are saying about this.
Personally I'm not vested in either company, so I don't have skin in the game here.
Love to hear your thoughts! Are you a SPH or Keppel shareholder? What do you think of this deal?
BTW – We just launched a national day promo for FH Investing Courses. Want to learn how to invest seriously? Check it out here!
---
Looking for a broker to buy stocks? Get a Free Apple stock (worth S$200) when you open a new account with MooMoo or Tiger Brokers. Check out our review on MooMoo here.
Special account opening bonus if you're new to Saxo Brokers too (drop email to [email protected] for full steps).
As always, this article is written on 2 August 2021 and will not be updated going forward. Latest thoughts (and my stock watch and personal portfolio) are available on Patreon.
Join our Reddit community at r/SingaporeInvestments.
Do like and follow our Facebook and Instagram, or join the Telegram Channel. Never miss another post from Financial Horse!
Looking for a comprehensive guide to investing that covers stocks, REITs, bonds, CPF and asset allocation? Check out the FH Complete Guide to Investing.
Or if you're a more advanced investor, check out the REITs Investing Masterclass, which goes in-depth into REITs investing – everything from how much REITs to own, which economic conditions to buy REITs, how to pick REITs etc.
Both are THE best quality investment courses available to Singapore investors out there!