Okay so the next T-Bills auction is on 2 March 2023.
Interestingly, the last T-Bills auction picked up in yield (went up to 3.93% vs 3.88% the previous auction).
Global interest rates have also gone up quite a bit from the Jan lows (driven by stronger US inflation and economic data).
Which raises the possibility that T-Bills yields may start going up again.
So let's look a bit more into this.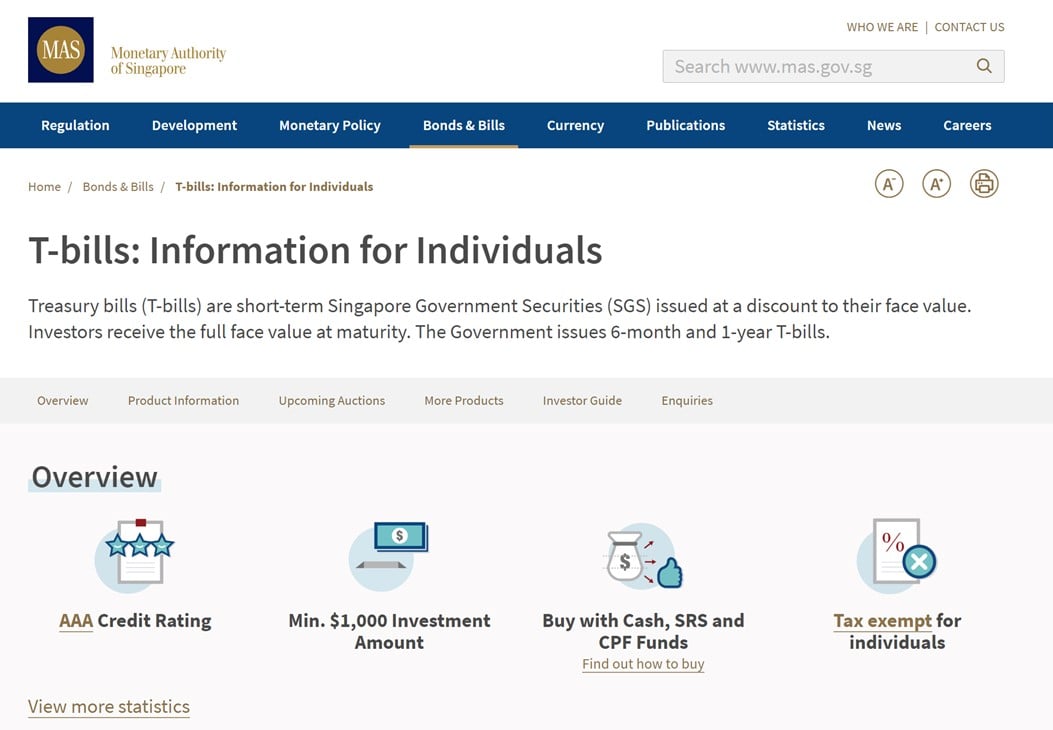 What is the estimated yield on the next T-Bills auction?
SGS Yields – 3.91%
Latest 6 month T-Bills are trading at 3.91% on the open market: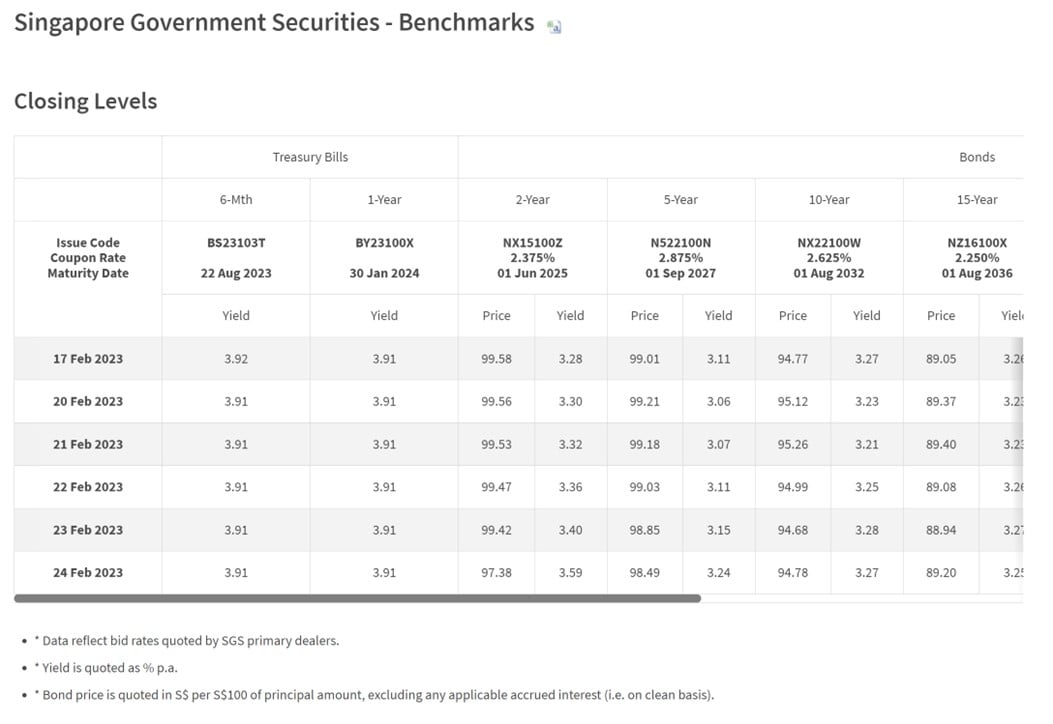 12 week MAS Bills – 3.98%
Whereas the institutional only 12 week MAS bills trade at 3.98%:
Interest Rate Trend is firmly up
Interest rate trend is firmly up though.
The market is now pricing in a peak Fed Funds Rate of 5.25% – 5.5% by mid 2023, with no more rate hikes forecasted for 2023.
This is a big change from just a few weeks ago, when the market was predicting a 4.75% – 5.00% peak, with rate cuts in the second half of 2023.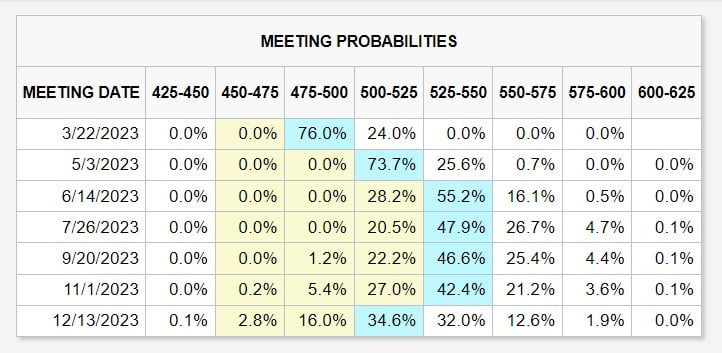 I talked about this in my Jan articles, on how rates need to go even higher in 2023 because of the Fed mistake in easing their foot off the pedal too early – creating the conditions for economic growth and inflation to reaccelerate.
The market has clearly realised this too, and this is being priced into the interest rate curve.
Although that said, I think market is still under pricing the tightening slightly, I think we may have to go as high as 6% this cycle because of the Fed's mistake in Jan.
So 1 – 2 more rate hikes to be priced in for terminal.
BTW – we share commentary on Singapore Investments every week, so do join our Telegram Channel (or Telegram Group), Facebook and Instagram to stay up to date!

I also share great tips on Twitter.
Don't forget to sign up for our free weekly newsletter too!
[mc4wp_form id="173″]
For T-Bills, wildcard is retail demand
For T-Bills though, the wildcard is going to be retail demand.
This can come from 2 sources.
The first being retail investors buying T-Bills using CPF-OA.
When you're buying with CPF-OA, frankly anything more than 3.00% and you already make good money even after factoring in the lost CPF-OA interest.
And secondly, bank fixed deposit rates have been dropping quite sharply from the earlier highs.
So it's possible that a lot of investors may start buying T-Bills instead of Fixed Deposit, driving demand up.
You can see the recent T-Bills application amounts plotted below.
The latest T-Bills auction saw $11.0 billion in demand, quite a bit lower than the previous auction's $12.8 billion.
So the million dollar question is whether the demand will continue to drop, sending yields higher.
Estimated yield of 3.85 – 4.0% for the next T-Bills?
Because of the factors above, I think there's a bit of uncertainty over retail demand, that could offset the higher interest rate trend.
So I might go with a slightly broader range.
Estimated yield might be 3.85% – 4.00% for me, for the next T-Bill auction.
T-Bills a Must buy with CPF-OA?
Now that you can buy T-Bills with CPF-OA online (for DBS CPFIS holders only for now).
It's pretty much a no brainer to buy higher yielding T-Bills with dormant CPF-OA funds (unless of course you think that CPF-OA rate will be increased).
Assuming CPF-OA rates stay the same, and you put $100,000 of CPF-OA into T-Bills at the last auction's 3.93%, you're getting an extra $506 in interest over that 6 months.
That's even after accounting for the 1 month lost CPF-OA interest.
Not too bad frankly, considering it's just a couple of clicks now that you can do it online.
How to minimise lost CPF-OA interest when buying T-Bills?
Speaking about lost CPF-OA interest.
If you want to avoid losing an additional month of CPF-OA interest, it's usually a good idea to buy the T-Bills at the start of the month.
This gives you sufficient time to roll over the T-Bills into new T-Bills on maturity, or transfer back to CPF-OA.
So this next round of T-Bills are a good candidate, because the issue date is 7 March 2023.
This means the T-Bills will mature on 6 September 2023, which gives you plenty of time in September 2023 to decide what to do with the funds when they mature.

CPF-OA Bidding  – Money only deducted from CPF-OA if your bid is successful
Been getting some questions on this, so just to clarify – the CPF-OA funds are only deducted from your CPF-OA account if you are successful in your bidding.
This means that if you bid competitive at 4.2%, and the T-Bills are issued at 3.95% and you get nothing.
Then you don't need to pay for the application fee.
And the CPF-OA money's are NOT deducted from your CPF-OA account (and you don't lose any CPF-OA interest).
So yeah… CPF-OA is no longer an excuse to submit low ball bids, especially when the opportunity cost is just a couple minutes of your time online.
OCBC Fixed Deposit is the most attractive in the market now (for both CPF-OA and Cash)
In the spirit of showing you all possible alternatives.
Do note that OCBC's fixed deposit is the most attractive alternative now, both for CPF-OA and cash.
On CPF-OA you're looking at 3.88% on OCBC's 8 month Fixed Deposit:
Whereas with cash you can get 4.08% with OCBC's Fixed Deposit.
Which is better for Cash Applications – T-Bills vs Fixed Deposit
I doubt if this round of T-Bills will come in as high as 4.08%.
So if you're buying with cash I think OCBC's Fixed Deposit is probably a better bet.
Fixe Deposit gives you the option to break early if you really need the cash back too (although you will likely lose all the interest).
Which is better for CPF-OA Applications – T-Bills vs Fixed Deposit
For CPF-OA though, do note that if you want the OCBC Fixed Deposit you do need to go down to the bank in person to queue for it.
I'm hearing that if you get an online queue number and do something else before your turn, you can get it done as quick as 5 minutes when it comes to your turn (note that you don't need to have your CPFIS account with OCBC, but you do need to have a CPFIS account already).
So frankly, it goes back to whether you want to go down to the bank and queue.
For me, I'm a sucker for convenience, and looking at the interest rate trend (going up) I'll probably rather take my chances with T-Bills, now that I can buy them online with CPF-OA.
But hey – it's your call really.
Next T-Bill Auction on 2 March 2023 – Estimated yield of 3.85% – 4.00%
In any case, the next T-Bills auction is on 2 March 2023.
If you're buying using cash, do get your applications in by 9pm on 1 March 2023.
And for CPF, you'll want to get it done by noon on 28 Feb.

Trust Bank Account (Partnership between Standard Chartered and NTUC)
Sign up for a Trust Bank Account and get:
$35 NTUC voucher
1.5% base interest on your first $75,000 (up to 2.5%)
Whole bunch of freebies
 Fully SDIC insured as well.
It's worth it in my view, a lot of freebies for very little effort.
Full review here, or use Promo Code N0D61KGY when you sign up to get the vouchers!
WeBull Account – Get up to USD 500 worth of fractional shares
I did a review on WeBull and I really like this brokerage – Free US Stock, Options and ETF trading, in a very easy to use platform.
I use it for my own trades in fact.
They're running a promo now with up to USD 500 free fractional shares.
You just need to:
Sign up here and fund any amount
Maintain for 30 days
 Looking for a low cost broker to buy US, China or Singapore stocks?
Get a free stock and commission free trading Webull.
Get a free stock and commission free trading with MooMoo.
Get a free stock and commission free trading with Tiger Brokers.
Special account opening bonus for Saxo Brokers too (drop email to [email protected] for full steps).
Or Interactive Brokers for competitive FX and commissions.
Do like and follow our Facebook and Instagram, or join the Telegram Channel. Never miss another post from Financial Horse!
Looking for a comprehensive guide to investing that covers stocks, REITs, bonds, CPF and asset allocation? Check out the FH Complete Guide to Investing.
Or if you're a more advanced investor, check out the REITs Investing Masterclass, which goes in-depth into REITs investing – everything from how much REITs to own, which economic conditions to buy REITs, how to pick REITs etc.
Want to learn everything there is to know about stocks? Check out our Stocks Masterclass – learn how to pick growth and dividend stocks, how to position size, when to buy stocks, how to use options to supercharge returns, and more!
All are THE best quality investment courses available to Singapore investors out there!