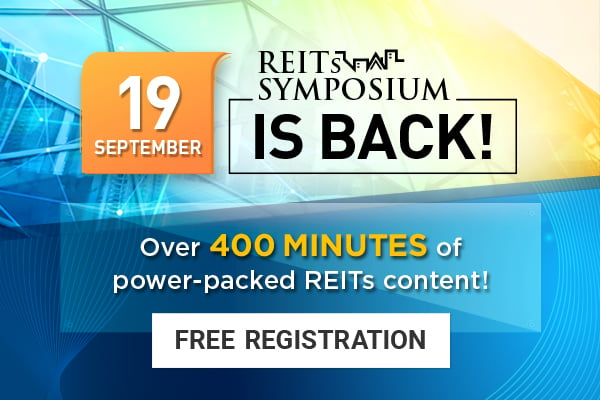 REITs Symposium is back!
I attended almost every REITs Symposium the past few years, and I've found them to be pretty useful events.
You go down on a weekend, you get freebies, you can talk to representatives from the REIT, and you get presentations and Q&A from REIT management. And great panel discussions.
It's a great way to get some live face time with REIT management and hear them speak for yourself, especially for those who can't make the time to attend AGMs/EGMs on weekdays.
This year, because of COVID-19, REITs Symposium is going fully online. So you can live stream all the talks from the comfort of your home.
Oh, and it's absolutely free this year.
Basics: What were past REIT Symposiums like?
In the past, this used to be a full day event at Marina Bay Sands where they invite the bigger REITs down for a presentation, and senior management and VIPs will come together for a panel discussion.
The Investor Relations (IR) teams from the bigger REITs will also each have a booth there (much like the PC show), so you also get the chance to ask them questions.
Couple of pictures from last year's event for your reference.
REIT Symposium 2020
In 2020, REIT Symposium is going fully virtual, and fully free.
No more excuse to miss it.
Event Details
Date: 19 September 2020, Saturday
Time: 9.30am – 5.30pm [Virtual Programme]
Register for REITs Symposium 2020 here!

Schedule
The full day event of more than 400 minutes of power-packed content is below, and you get:
Presentations by REITs:

ESR-REIT
Keppel Capital
OUE Commercial REIT
Dasin Retail Trust
Nikko Asset Management
ARA LOGOS Logistics Trust
United Hampshire US REIT

Live chat rooms to ask the REIT management any burning questions you may have
Fireside chats

Fireside Chat with Simon Garing from Cromwell European REIT
Fireside Chat with David Kuo from The Smart Investor on "Managing a REITs Portfolio"
Fireside Chat with Geoff Howie from SGX on "Covid19 Crisis – Impact and Outlook on REITs"
Fireside Chat with Derek Tan from DBS Group on "REITs Outlook – What sector to look out for?"

Panel discussion on "Are REITs still a safe buy now?"

With Alvin Chow (Dr Wealth), Chan Kum Kong (SGX), Jonathan Koh (UOB Kay Hian) and Nupur Joshi (REIT Association)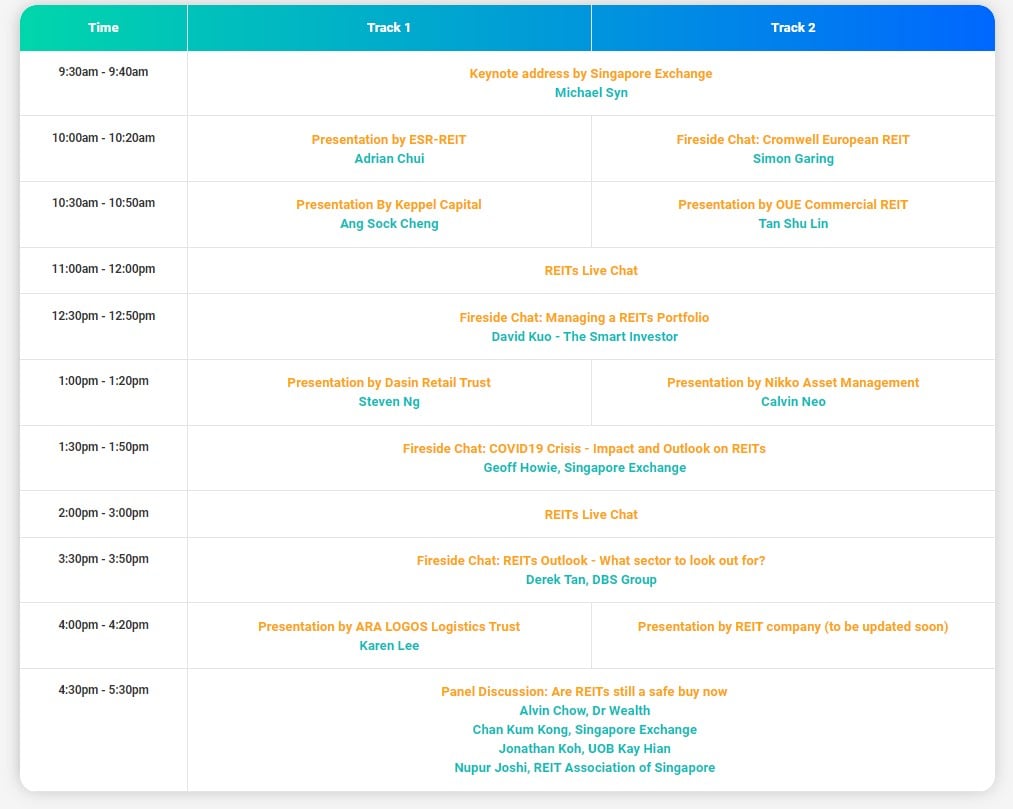 Unlike 2019's event where it was a lot of big CapitaLand/Mapletree type REITs coming in, this year's event focuses more on the small to mid-cap REITs.
That could be a good thing actually.
Smaller cap REITs have much lesser coverage by investment houses and media, so having the opportunity to hear from their management directly can be great simply because information on them is harder to come by.
Lots of opportunity in the small cap REIT space right now because of COVID19 (as compared to the big cap REITs which have rallied a fair bit), so if you're interested in any of these REITs, it's actually a great time to jump in and hear what they have to say.
Lucky Draw
Registering for the event and attending the live sessions will also allow you to participate in a Lucky Draw.
The prizes are actually really good: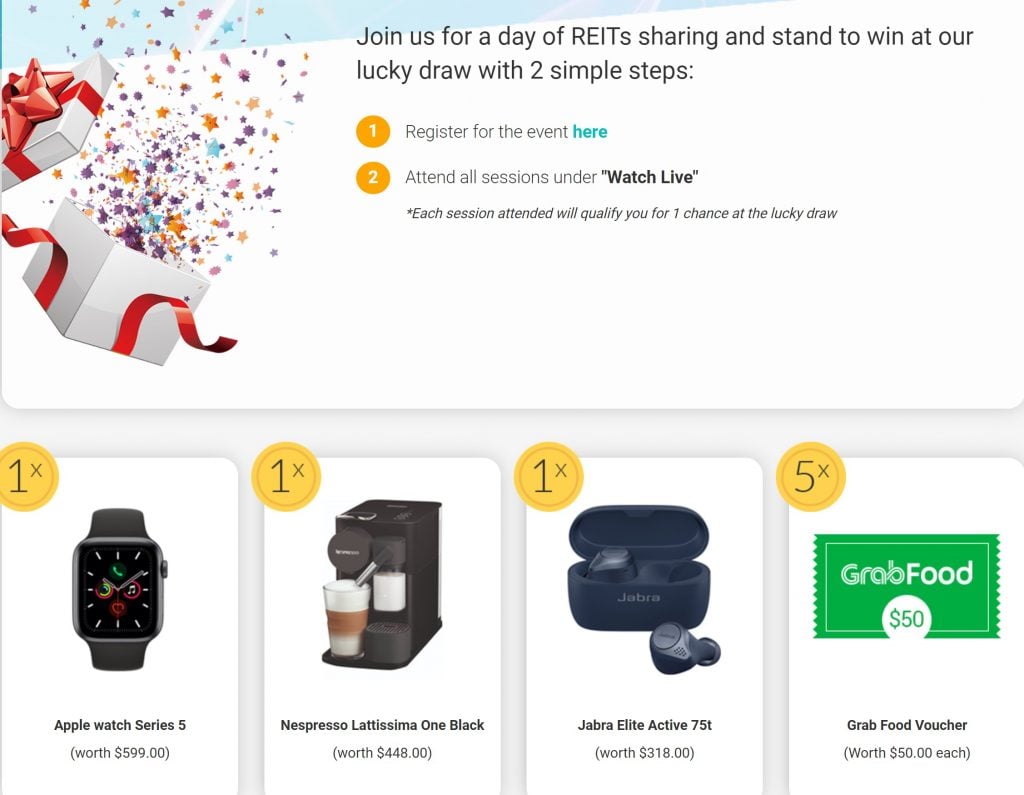 Is it worth your time?
Of course, the million dollar is going to be whether it's worth your time.
Personally, I would say the answer is a yes. I've always found that it helps to hear from the management team themselves, to listen to what they have to say, and even something as small as the way they speak. I've found this helps to attach a human side to the REIT I'm investing in, beyond just the hard financials and valuations.
If you're a big institutional fund investor throwing S$50 million worth of investment around each time, you could probably schedule a meeting with the REIT management and they'll even come down to your office.
For retail investors like us though, we're stuck with things like AGMs and EGMs, which are annoying because they're usually held on weekdays, making it challenging for those of us who are working full time. The next best thing really, is an event like this.
You get to hear presentations from the management team, and you also post questions to them to address any burning questions you may have.
And of course, the panel discussion is always great too. I've always like panel discussions because it's a quick way to expose yourself to multiple, differing points of view, something that is incredibly important in investing.
The more you disagree with a fellow investor, the more you should listen to what he has to say, because he just may have seen something that you haven't.
What's more. For both panel discussion and the 4 fireside chats, you will be able to post questions to the speakers virtually.
Fully Virtual
In the past, when the REIT Symposium was a paid event and you had to go down to the physical venue for a day, I get that it was not suitable for everyone. Sometimes you had stuff on that day, or the venue wasn't convenient for you.
This year though, the REIT Symposium is completely free, and completely virtual, so I think there's very little excuse not to just check it out for a while. Just dial in during the event that you like, and see if it's useful for you. If it isn't, you didn't waste any time. If it is, who knows, you may just learn something new.
The best part? If you miss the actual event, you can watch the replay as well on the website as long as you pre-register before 19 September. So don't forget to pre-register.
Register for REITs Symposium 2020 here!