How do you know if a company is a startup?
Find the line in the job description that says: "Come and join the rocketship!"
It's a cliched but apt metaphor. A startup, as Paul Graham defines it, is "a company designed to grow fast." Growth is all that matters. Everything else – advanced technology, venture funding, fancy pantries – is window dressing.
And so, joining a high-growth startup is an opportunity to get things done in a fast-moving and rapidly changing environment.
But there are over 4,000 startups in Singapore alone. How do you make sure you're boarding a rocketship bound for the moon and not one that explodes upon launch?
Here are some important things you need to consider.
How do you make sure you're boarding a rocketship bound for the moon and not one that explodes upon launch?
This article was submitted by a Guest Contributor. The opinions expressed in this publication are those of the Guest Contributor.
What Are the Benefits of Working at a Startup?
A job at a startup is vastly different from one at an established company.
There are many benefits to working at a young, high-growth company.
Marc Andreessen explained it so well in his excellent blog on career planning, that it is worth quoting in full:
You'll get to do lots of stuff. There will be so much stuff to do in the company that you'll be able to do as much of it as you can possibly handle. Which means you'll gain skills and experience very quickly.
You'll probably get promoted quickly. Fast-growing companies are characterized by a chronic lack of people who can step up to all the important new leadership jobs that are being created all the time. If you are aggressive and performing well, promotions will come quickly and easily.
You'll get used to being in a high-energy, rapidly-changing environment with sharp people and high expectations. It's like training for a marathon while wearing ankle weights—if you ever end up going to a big company, you'll blow everyone away. And if you ever go to a startup, you'll be ready for the intensity.
Reputational benefit. Having Silicon Graphics from the early 90's, or Netscape from the mid-90's, or eBay from the late 90's, or Paypal from the early 00's, or Google from the mid-00's on your resume is as valuable as any advanced degree—it's a permanent source of credibility.
Pick an industry, not a job
In 1994, Jeff Bezos came across a startling statistic: Internet usage was growing 2300% per year.
He'd never seen anything that grew that fast and wanted to participate in what he believed to be a revolutionary technology. He quit his high-paying hedge fund job to start Amazon – and well, you know the rest of the story.
The lesson is this: take advantage of rising trends and opportunities.
Choosing the right industry can generate huge career momentum. Joining a company in a great market will create plenty of opportunities within your organisation or companies in the same market.
Some hot sectors now, according to Reid Hoffman, co-founder of LinkedIn:
AI, Biotech, Cloud computing, crypto and blockchain.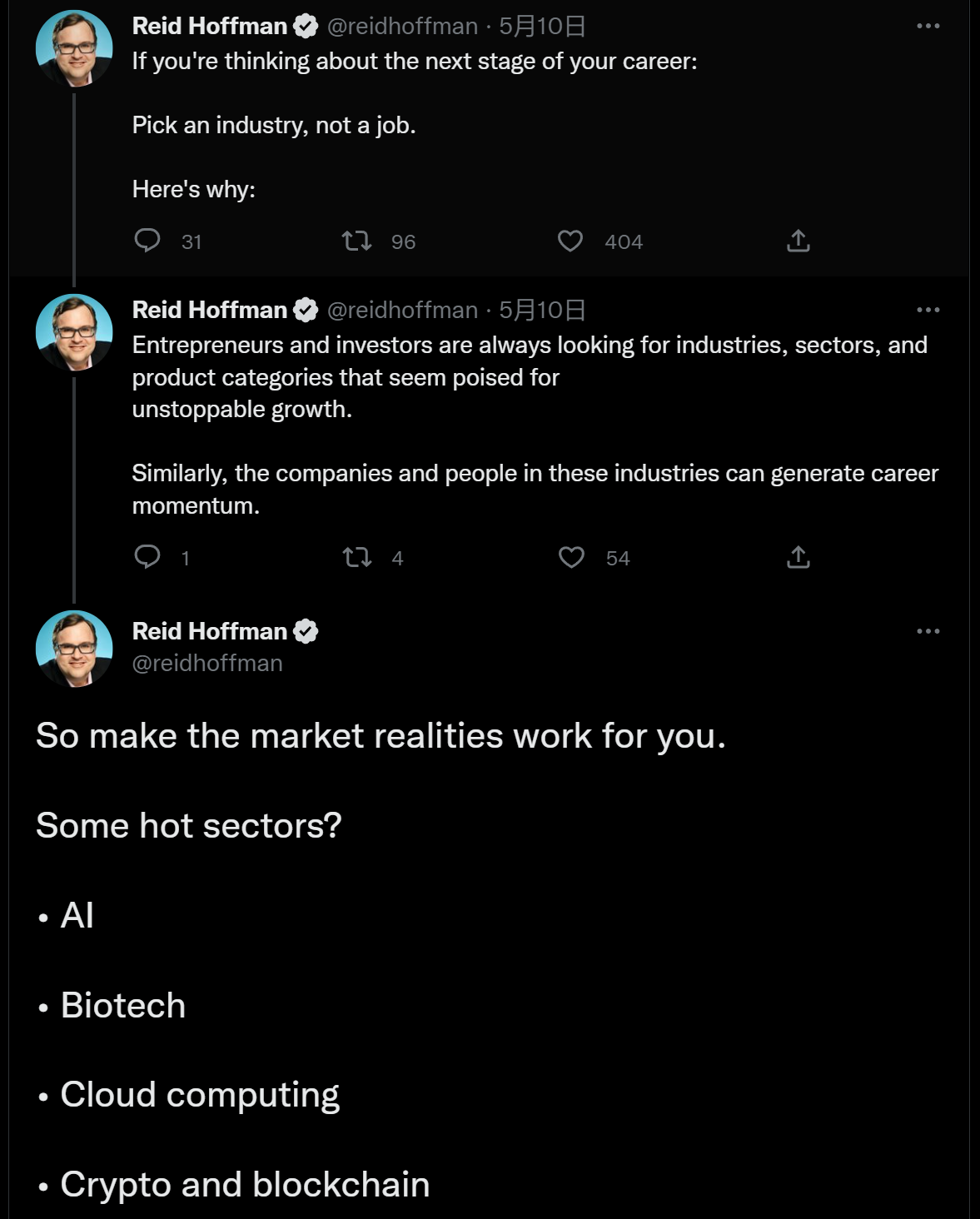 Important Considerations Before Joining a Startup
Once you've honed in on a sector, you have to evaluate a startup's potential. It can be tricky to identify a rocketship startup, but there are some important signs to look out for.
Fundraising
One of the biggest green flags are the quality of a startup's investors, as well as the size and frequency they are raising rounds.
Good VCs cut their losses early and double down on their winners. And so, it's a great sign if a top-tier firm like Sequoia or Golden Gate Ventures writes a big check.
Financials
Apart from fundraising, you also need to make sure the startup is going to last. There are two financial data points you need:
Growth Rate

Look at top line metrics like revenue or user growth. High growth creates more opportunities for you. And it also means the company is in a good market.

Cash Runway

The longer the runway, the more financially stable the company is. In this tough environment, GGV's Jenny Lee advises startups to have between 24 to 36 months of cash runway.
Do You Believe In The Vision?
Even if VCs think the startup you're thinking of joining is great, you're the one who has to do the job.
Startups need people who work long, hard, and smart. It is hard to stay motivated if you're not excited about the mission and the product.
One simple but effective mental model to guide your decision is Derek Siver' rule: Hell Yeah or No.
After learning about the company, how do you feel thinking about the role and the company? If you don't go "Hell yeah!" – then you probably shouldn't join the company. 
Is a mid-stage startup your best bet?
If you're looking to strike a balance between job stability and growth opportunities, joining a mid-stage startup might be your best bet.
We can roughly define mid-stage as a Series B or C company.
To illustrate this idea, let's look at an S-curve. This mathematical function helps us understand the technology adoption life cycle.
A successful startup goes through three phases.
Early days

An initial period of low numbers and low growth, while the startup tries to figure out what it's doing.

Product-market fit

Once the startup reaches product-market-fit, it hits an inflection point and there's a period of rapid growth.

Plateau


Growth reaches a maximum rate and the curve looks linear for awhile. 
A Series B or C company is in the goldilocks zone. The company has achieved product-market fit, and is poised for rapid growth. 
The company has figured out a sustainable business model but it is still in the early stages of rapid expansion.
The company is eager to hire, to reach the hypergrowth stage where there's urgency and risk to execute.
Joining a company at these stages may very well help you strike the best balance.
Of course, competition to get in will also be tougher, and there will be high pressure to perform. There is after all, no free lunch in this world. 
Conclusion
Sheryl Sandberg, the former COO of Meta, once said: "If you're offered a seat on a rocket ship, don't ask what seat. Just get on."
Joining a startup inherently means accepting some level of uncertainty and risk. But if you're passionate about its mission – then it might be getting on board for a wild ride.
If you're offered a seat on a rocket ship, don't ask what seat. Just get on!
This article was submitted by a Guest Contributor. The opinions expressed in this publication are those of the Guest Contributor.
For more personal finance & investing content, follow Financial Horse on Social Media!