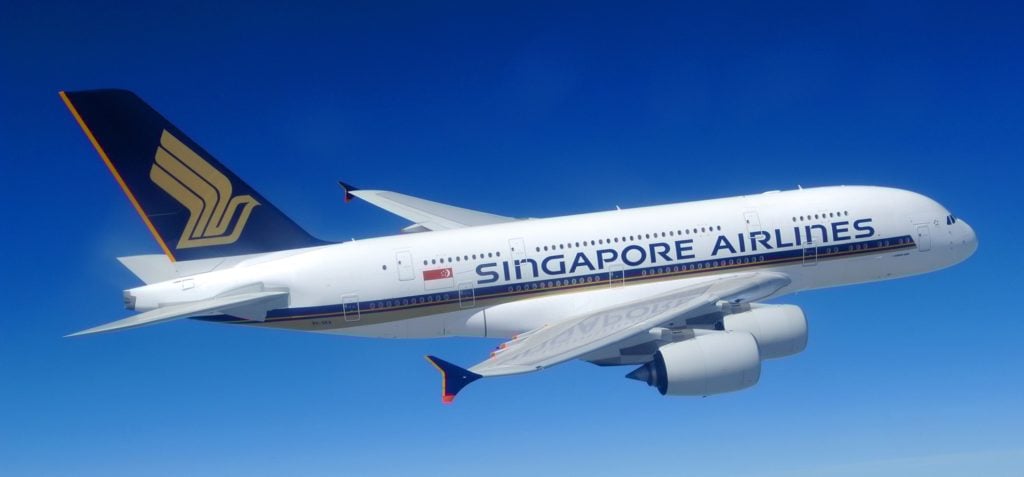 I've been doing a lot of macro, asset allocation related posts recently. So boy, does it feel great to go back to basics today with a simple question: Is it time to invest in Singapore Airlines shares?
Basics: Singapore Airlines
Singapore Airlines needs no introduction to any Singaporean. From Wikipedia:
Singapore Airlines Limited (SIA; SGX: C6L) is the flag carrier airline of Singapore with its hub at Singapore Changi Airport. The airline uses the Singapore Girl as its central figure in corporate branding. It is ranked as the world's best airline, since 2018, while winning the top spot in three other categories in the same year including "Best First Class", "Best First Class Airline Seat" and "Best Airline in Asia".
The Singapore Airlines group includes many airline-related subsidiaries. SIA Engineering Company handles maintenance, repair and overhaul (MRO) business across nine countries, with a portfolio of 27 joint ventures, including with Boeing and Rolls-Royce. Singapore Airlines Cargo operates SIA's freighter fleet and manages the cargo-hold capacity in SIA's passenger aircraft. It has two subsidiaries: SilkAir operates regional flights to secondary cities, while Scoot operates as a low-cost carrier.
Singapore Airlines was the launch customer for the Airbus A380 – the world's largest passenger aircraft – as well as the Boeing 787-10 and the long-range version of the Airbus A350-900. It ranks amongst the top 15 carriers worldwide in terms of revenue passenger kilometers, and is ranked 10th in the world for international passengers carried.
Singapore Airlines is majority-owned by the Singapore government investment and holding company Temasek Holdings, which holds 56% of voting stock.
Singapore Airlines hold stakes in SIA Engineering Company (SIAEC) and SIA Cargo, but the bulk of their earnings (about 80%) still comes from the core business of flying passengers around. They own Singapore airlines, Silkair, and Scoot (now merged with Tiger), but the bulk of earnings comes from Singapore airlines.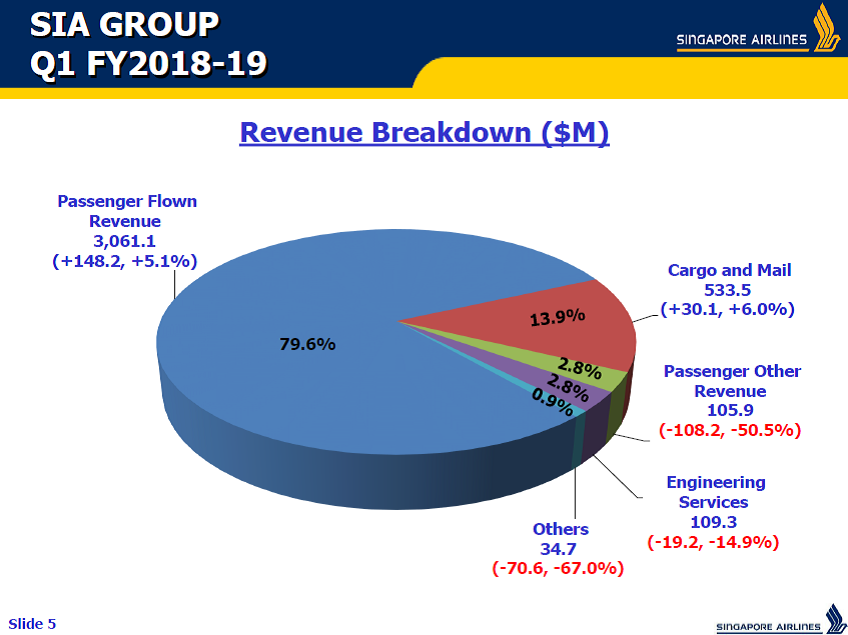 Chart
The 20 year chart of Singapore Airlines is set out below. It doesn't take into account dividends, so an investment in SIA hasn't been as bad as it would seem from the chart. But the fact remains – the share price of SIA (9.52 as at 9 November 2018) is ridiculously close to its 2008 financial crisis low.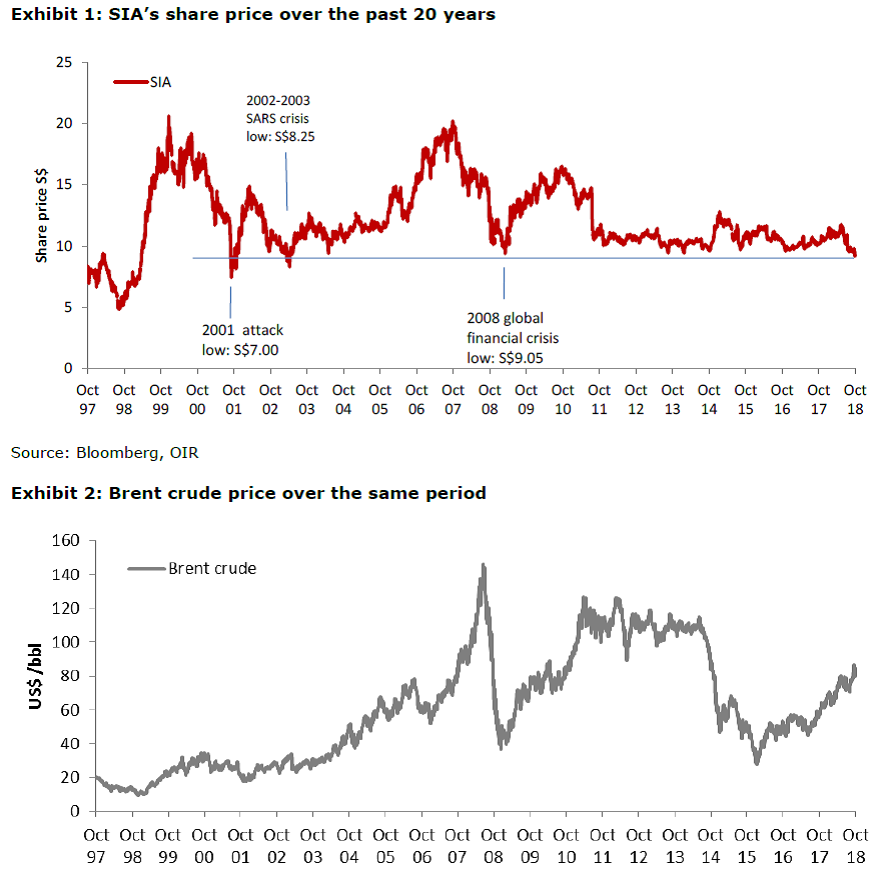 Valuation
Morningstar has done a great peer comparison of valuations, as set out below.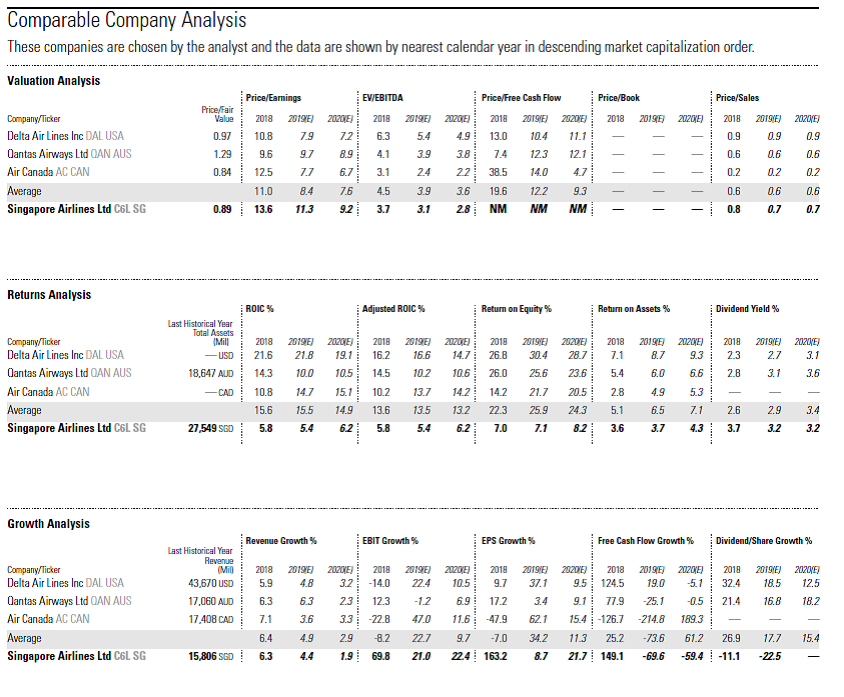 This comparison is against Canadian, Australian and American airlines, all of which do not trade on the SGX, so this is not a perfect comparison. But it's still useful as a starting point. Couple of takeaways:
From a valuations analysis, Singapore Airlines is trading well within its peer range. Which indicates that the market as a whole may be discounting airlines. Is this related to volatility over fuel prices, or caution in general over the slowing economy and the rise of middle east and Chinese carriers?
Singapore Airline's return on equity and return on invested capital are significantly poorer than that of its peers. In fact when it comes to ROE, SIA's ROE is about one third that of larger carriers like Delta or Qantas. Unfortunately, I don't have any good reasons why this is the case.
Industry
There is no doubt that air travel is going to experience unprecedented growth the next 20 years. The rise of Asia is going to create a rising middle class hundreds of millions strong, and as this middle class gets richer, they are going to want to travel and see the world:
The International Air Transport Association (IATA) expects 7.8 billion passengers to travel in 2036, a near doubling of the 4 billion air travelers expected to fly this year. The prediction is based on a 3.6% average Compound Annual Growth Rate (CAGR) noted in the release of the latest update to the association's 20-Year Air Passenger Forecast. 
"All indicators lead to growing demand for global connectivity. The world needs to prepare for a doubling of passengers in the next 20 years. It's fantastic news for innovation and prosperity, which is driven by air links. It is also a huge challenge for governments and industry to ensure we can successfully meet this essential demand," said Alexandre de Juniac, IATA's Director General and CEO.
But just because the pie is growing, does not mean that SIA will be able to capture a bigger slice of the pie. Here's what MorningStar has to say:
Morningstar: "In our view, Singapore Airlines does not possess an economic moat. Nonexistent switching costs, low entry barriers, and intense competition essentially gives airline carriers no pricing powers. Singapore Airlines has been known as a premier carrier rendering best-of-breed service, with great variety of in-flight meals and the Krisworld in-flight entertainment system, available for both economy class and premium passengers. Despite our belief that Singapore Airlines differentiates itself, we don't think the brand is strong enough to warrant and sustain a significant pricing difference, especially when business-related travel is still slowly returning to its pre-crisis growth levels, while more cost-sensitive economy-class passengers pay more attention to fare prices.
Singapore Airlines' average adjusted return on invested capital in the next five years is 7.4%, significantly lower than our estimate of a 9.8% cost of capital. These metrics confirm our no-moat rating."
The main problem with the airline industry, is the competition from the Middle East airlines (Emirates, Qatar, Etihad) and the Big 3 China airlines (China Southern, Air China and China Eastern). These are big boys with deep pockets. They are state owned airlines, with access to cheap state funding. And the respective states for both have strong incentives to build up a powerful and iconic national carrier, so I expect their governments to bankroll their expenditure for the foreseeable future.
So how does SIA compete in kind of environment? There are 2 ways: price competition, or product differentiation.
Price competition is straightforward. You cut prices, trigger a race to the bottom, and hope to be the last guy standing so that you reap all the gains. Now I get the irony of SIA complaining about cheap state funding (they are 56% owned by Temasek, and leveraged on this in their early days), but you do have to recognise that if you're trying to outcompete with someone like Emirates or Air China in a price war, there's only going to be one winner, and it's not going to be SIA. So very clearly, price competition is out of the question.
Which leaves us with product differentiation, which is what SIA has adopted. They've recently launched a three year transformation plan that is pretty extensive:
Customer Advocacy

Leveraging Customer Experience Design
New Cabin Products
KrisWorld In-Flight Entertainment System

Digital Enabler

Digital Innovation Blueprint
Revenue Management System

Operational Excellence and Efficiency

Integrated Crew Operations & Planning
Working Differently with Strategic Partners
Improving Fuel Efficiency
In other words, they're trying to improve customer stickiness by creating a premium product that differs from their competitors (KrisWorld, premium cabin experience, digital innovation) while improving operational efficiency (through RMS, crew operations, fuel efficiency). At the same time, they also took up a stake in Indian carrier Vistara, and are trying to set up hubs in India, and Thailand.
It's clear that they're well aware of the threat from the Middle East and Big 3 China Airlines, and the response is to consolidate their existing customer base, while trying to focus their efforts on targeting South Asian hubs.
Frankly, it's a very admirable strategy. But as the saying goes, "everyone has a plan, until they get punched in the face". As with any transformation plan, execution is the key. Don't forget that the Emirates, Qatars, Air Chinas, are not going to be sitting still while SIA executes its transformation plan. It's going to be intense competition for the next 10 years, and you're going to have to fight tooth and nail to defend market share.
As a millennial myself, I can personally say that things like brand differentiation mean absolutely nothing to me. When I want to get to Shanghai, I'm going on Skyscanner to check for the cheapest air ticket that will get me there in one piece, and I'm booking that flight. It's really as simple as that. Of course, many people out there don't feel the same way, and these are mainly the older generations who prefer travelling SIA over other airlines. Over time, as millennials grow up and constitute a larger proportion of the customer base, this will start to become a bigger problem.
So after this long discussion, what are my thoughts on SIA? I think that at a macro level, because Asian air travel is growing so quickly, it will be a case of a rising tide lifting all boats. Singapore Airlines as a premium brand will capture the premium and long haul market, while Scoot will capture the mass market. Singapore Airlines doesn't have a strong economic moat, but they do enjoy some limited branding power, among certain groups of customers such as premium business travellers, and wealthy South East Asians. And this should be sufficient for the short term. In the longer term, it really depends on how well they can execute on the transformation program, and how quickly the rest of the airlines catch up. My gut feel is that it's going to be single digit growth for the foreseeable future.
Fuel Prices
So that's the top line. The other critical issue with an airline, is fuel prices. SIA adopts a hedging strategy, and for FY19, about 45% of SIA's fuel needs are hedged (jet fuel 20% at US$65 on average, and Brent 25% at US$54 on average). But that's still a 55% of fuel needs that are exposed to prevailing market prices.
Predicting the price of oil will take a full article by itself (and I will likely be absolutely wrong), so I'm going to stay away from this foolish endeavour. But what is clear, is that 30% of their costs comes from fuel costs post hedging, so if fuel prices are going to go up, that's going to directly impact the bottom line, and reduce profitability.
Silk Air and Scoot
It's interesting that how despite all the diversification into Scoot, SIA Engineering and SIA cargo, the bulk of the earnings still comes from Singapore Airlines. Silk Air is not doing too well these days, and there's talk from management to merge it into Scoot, which should be a good move to further improve efficiency, and bolster Scoot as an operating brand.

Anecdotally, I am very impressed by Scoot. As a budget carrier, they are my number one choice (if I have a choice). The flight are punctual, the airline seats are decent, and you get to the destination without too much hassle. It has razer thin margins because it operates as a budget airline, but I think the potential of Scoot to target the rising middle class in Asia is amazing.
Dividend yield
The dividend for 2017/2018 was S$0.40, which works out to about a 4.2% trailing yield. That's actually pretty decent.
It's worth nothing that SIA does cut the dividend quite drastically in certain years when their earnings are impacted, so don't buy this expecting a REIT with consistent dividend payouts. At a S$0.20 dividend per share, that's only a 2.2% yield.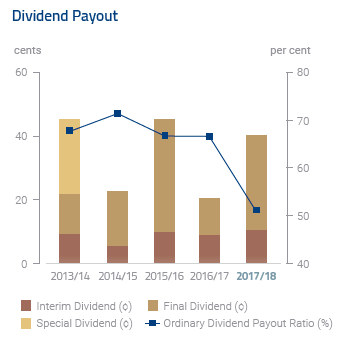 Quarterly earnings
The latest Q1 results were generally uneventful. Morningstar has a good summary of how the Q1 earnings panned out:
No-moat Singapore Airlines, or SIA, reported a first-quarter fiscal 2019 result in line with our expectation. While passenger yield was down 3.2% for the period, the negative impact was primarily offset by an 8.3% increase in traffic. Management expects passenger traffic to continue to grow in the near term while citing rising fuel price pressures to the group's bottom line. We are maintaining our fair value estimate at SGD 11, and view company shares as fairly valued.
The group's robust performance coming out of its cargo segment was an operational highlight. Cargo revenue was up 6% year over year aided by an almost-10% increase in yield. We believe demand for Singapore Airline's cargo service will remain steady over the next couple of years, despite management citing the looming trade war which could adversely impact the segment in the long term.
During the first quarter, the average jet fuel price increased by almost 40%, leading to a SGD 154 million reduction in operating income. While fuel costs will continue to be a headwind for airlines over the next two years, we think the Brent oil price will decline to a midcycle price of USD 60 per barrel by 2023.
SIA is on track for a sustained recovery, and we believe the company should see stabilizing yield ahead. Relative to Cathay Pacific, SIA has broader exposure to the rapidly growing mainland market via its budget labels. Its main passenger operation will continue to face intense competition, in our view, driven by rapid international market expansion by China's Big Three and the entrance of premium Middle Eastern competitors in Southeast Asia, SIA's traditional stronghold.
Short term rebound?
Frankly speaking, I don't see any reason why SIA is trading at such depressed prices. As Morgan Stanley notes, SIA is now trading at 0.8 time book value, which is where it was during the 2008 financial crisis. Personally, I don't think this is justified.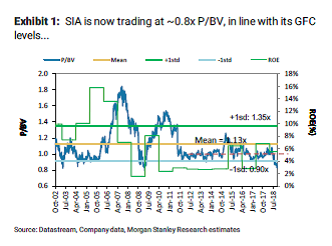 I think that barring a recession coming out of China, sometime in the next 2 to 3 years this stock will likely rebound to about 1 times book value, which translates to the S$11 range. Of course, if this trade war gets worse, the stock can easily go to the 7 or 8s in the short term, but I am still cautiously optimistic that it will pick up in the mid-term.
Conclusion
When I first looked into Singapore Airlines, I was expecting an old world, legacy business. But to my surprise, I actually like Singapore Airlines a lot. I think that the core brand of Singapore Airlines remains strong, and they will still be able to attract loyal customers through their premium products, and the loyalty miles program. I think that Scoot has huge potential in the coming years. There will be intense competition from Middle East and the Big 3 China Airlines, but I also think that the growth of air travel in Asia the next 10 to 20 years is big enough to accomodate Singapore Airlines. Even if the going gets really tough, given Temasek's 56% stake in Singapore Airlines, and the strategic importance for Singapore to maintain a national carrier, there shouldn't be a situation where Singapore Airlines is allowed to fail entirely.
The valuations are also attractive. It's trading at a 20% discount to book value, equivalent to its GFC levels, and I don't see compelling reasons why this should be the case. If you've ever wanted to get some exposure to the airline industry, it's a decent time to do it.
But don't buy this stock expecting blistering growth like a Netflix. It's not. It's an airline company, and they fly people from point A to point B for a price. That puts physical limits on how quickly they can scale, and the intense competition means that they're never going to grow into a global monopoly.
I'm giving SIA a 3 Financial Horse rating. I think it's a decent long term investment at current valuations. There's definitely some uncertainty as to fuel prices, and long term growth given the competition, but investing is about weighing risk and reward. At 0.80 times book value, I think the downside is limited, and a simple rerating of the stock to 1 times book value is a nice 20% gain in price. At the worst case, you're getting about a 4.2% dividend a year, which is still acceptable.
Till next time, Financial Horse, signing out!
Singapore Airlines: Financial Horse Rating







---
Financial Horse has a set of 7 Commandments for Successful Investing, that I ask myself before making every investment, and that I will never break regardless of the situation. Enter your email below to receive a copy in your inbox!
[mc4wp_form id="173″]
Enjoyed this article? Like our Facebook Page for more great articles, or join the Facebook Group to continue the discussion!