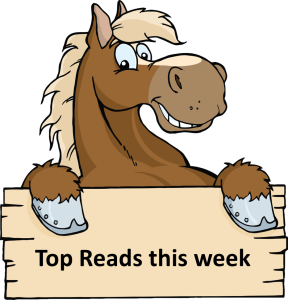 Rounding up top investing articles from around the web, including articles shared by fellow investors in the Financial Horse Facebook Group.
---
---
A good dividend yield varies depending on market conditions and the company's ability to pay dividend. Here are 5 Singapore small mid cap companies :  
CSE Global Limited (SGX: 544)
Fu Yu Corporation Limited (SGX: F13)
Maxi-Cash Financial Services Corporation Limited (SGX: 5UF)
Hotung Investment Holdings Limited (SGX: TY3)
Hafary Holdings Limited (SGX: 5VS) 
---
Singapore will raise the retirement age to 63 and the re-employment age to 68 from 1 July 2022.
The public service will raise the ages one year ahead of legislation for its roughly 146,000 officers on 1 July 2021, which will help to keep the country on track to increase the retirement age to 65 and the re-employment age to 70 by end of 2030, according to Manpower minister Josephine Teo.
The raising of Central Provident Fund (CPF) contribution rates for senior workers will also go ahead on 1 January 2022. The increase was originally to have taken place on 1 January 2021 but was deferred by a year to manage costs related to the Covid-19 pandemic.
---
A bilateral investment treaty between Singapore and Indonesia has come into force after being ratified in a virtual meeting on Tuesday (March 9). The treaty establishes rules on the treatment of investors and investments from both countries. It will also grant investors from both countries additional protection on their investments.
---
NEW condominium launches continued to drive demand in the secondary market in February. Resale prices rose by 1 per cent in the month, climbing for the seventh straight month in Singapore. 
Year on year, overall resale prices advanced 4.4 per cent, flash figures from real estate portal SRX Property showed on Wednesday.
---
Eric Yuan, chief executive officer of Zoom Video Communications, donated more than a third of his stake in the company, filings show. Mr Yuan gifted almost 18 million shares of the conferencing-technology firm last week. The filings didn't specify the recipient of the stock, which were owned by a Grantor Retained Annuity Trust, or GRAT, for which Mr Yuan is a trustee. The shares were valued at about US$6 billion, based on Friday's closing price. The distributions are consistent with the Yuans' "typical estate planning practices", a Zoom spokesperson said in a statement.
---
Founded in 2016 by Tommy Ong, Stamped helps online merchants implement and manage customer reviews and loyalty programmes through Shopify and other e-commerce platforms.
---
"I do think we'll see good support for Asian markets today across the region," said Michael McCarthy, chief markets strategist at CMC Markets. "The reflation trade is back on. We saw bonds and stocks rallying together and a slight easing in the U.S. dollar, which also indicates improving sentiment."
---
One of the popular funds from ARK Investment Management bought shares of Roblox on its first trading day, according to Ark's daily trading disclosure.
---
Tesla's success in batteries should ensure that it remains a leader in the electric vehicle market and makes its stock a smart buy for investors, investment firm Mizuho said Wednesday.
---
The low prices allow an increasing number of people – often young, lower-income, and living outside major cities – to buy their first car. These EVs are especially popular in more rural parts of China, where more than 500 million people live but fewer than 1 in 5 have until recently owned a car. Some models are flying off lots at a pace industry executives say they've never seen before.
---
GameStop shares topped record close in the morning, suddenly shaved off nearly one-third of their value while being repeatedly halted after noon, then recovered a good bit of what was lost; other meme stocks followed a similar pattern.
---
US Secretary of State Antony Blinken will meet with top Chinese officials on Mar 18 in Alaska, the White House said on Wednesday (Mar 10) , the first high-level in-person contact between the two sparring countries under the Biden administration.
---
The National People's Congress (NPC) will approve measures to overhaul Hong Kong's election system and a policy blueprint designed to reduce China's technological dependence on the United States in a closing session set for 3pm local time on Thursday (March 11) in Beijing.
---
Homegrown bakery chain Twelve Cupcakes' co-founder Jaime Teo was fined S$65,000 on Tuesday (Mar 9) for underpaying foreign workers when she helmed the company with her then-husband Daniel Ong. 
Daniel Ong's case is pending, and he is expected to return to court at a later date.
---
According to The Associated Press, during the Tuesday (Mar. 9) presser, a reporter had asked Prayuth about a possible cabinet reshuffle. Three ministers had been jailed after getting convicted over anti-government protests leading to the 2014 military coup. Reluctant to answer the question, Prayuth said: "Is there anything else to ask? I don't know, I haven't seen it. Isn't it something the prime minister should know first?" He then abruptly stopped the press briefing, walked to a group of reporters in front of him, and doused them with disinfectant while holding a mask to his face.
---
Bren Esports recently left quite the impression on the Singaporean esports scene, as the organisation's flagship Mobile Legends: Bang Bang (MLBB) team were crowned as the game's world champions during the M2 World Championship, which was hosted in the republic back in January.
---
The Singapore Government on Thursday (March 4) urged its citizens currently in Myanmar to leave the protest-riven country as soon as they can.
A statement issued by the Ministry of Foreign Affairs (MFA) also asks Singaporeans to avoid travelling to Myanmar, where civilians protesting the Feb 1 military coup have clashed with security forces across the country.
---
Looking for a comprehensive guide to investing? Check out the FH Complete Guide to Investing and FH REITs Masterclass for Singapore investors.
2021 Stock Watch: Support the site as a Patron and get stock market updates. Like our Facebook Page and join our Telegram Channel for weekly updates!