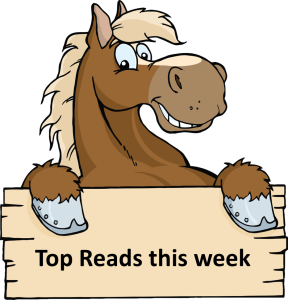 Rounding up top investing articles from around the web, including articles shared by fellow investors in the Financial Horse Facebook Group.
---
Singapore-based Sea Ltd is to be included in the MSCI Singapore Index while Suntec Real Estate Investment Trust (Suntec Reit) will be deleted as of the close of May 27, 2021. This comes after MSCI announced in November 2020 that foreign listings will become eligible for the MSCI Singapore Indices from the May 2021 SAIR, after the Singapore market met the foreign listing materiality requirements.
---
Mr Khaw Boon Wan, 68, the incoming chairman of SPH Media Trust, its new non-profit media entity, said that this would press the newsrooms to answer a "higher call" to quality journalism and keep them on their toes to produce quality content. "I have strong views about pricing and subscription because if the objective is just to chase eyeballs (readership), then the easiest is to make it free… What is the objective? The objective is — you want quality journalism, quality content," the former Cabinet minister said on Wednesday (May 12).
---
As health officials struggle to persuade hesitant Americans to take Covid-19 vaccines, Ohio Gov. Mike DeWine (R) introduced a plush new incentive Wednesday: $1 million cash payments, randomly doled out to five lucky Ohioans who have received at least one vaccine shot.
"I know that some may say, 'DeWine, you're crazy! This million-dollar drawing idea of yours is a waste of money,'" the governor said on Twitter. "But truly, the real waste at this point in the pandemic — when the vaccine is readily available to anyone who wants it — is a life lost to Covid-19."
---
In an update on Wednesday (May 12), the operator, a joint venture between Singapore rail operator SMRT and Malaysian public transport firm Prasarana, said these system works are "progressing well". Four of the contracts were for core systems, with Chinese firm CRRC Zhuzhou Locomotive taking charge of the rail link's rolling stock and the Malaysia and Singapore subsidiaries of Siemens Mobility handling the signalling system and platform screen doors.
---
The fully digital experience will offer home buyers and investors exclusive access to narrated virtual tours of more than 25 of the latest private property projects, as well as a series of 40 property-related webinars.
Find out about the Singapore Property Show 2021 webinar topics and properties on offer at sps2021.99.co.
---
Tesla CEO Elon Musk tweeted that the electric vehicle maker would suspend car purchases using bitcoin, citing environmental concerns.
As much as $365.85 billion was wiped off the entire cryptocurrency market though it did pare some losses. Bitcoin, ether and XRP were all sharply lower.
Musk said Tesla will not be selling any bitcoin and intends to use it for transactions "as soon as mining transitions to more sustainable energy."
---
It's often overlooked in favor of its lustrous cousin gold, but the price of silver has jumped over 70% in the last year
Leading commodity strategists saying the rally is likely to continue as the global economy reopens.
Silver was trading around $27 an ounce on Wednesday, a 74% rise from a year ago when the spot price was around $15.5 per ounce. Gold prices have risen 6.4% in a year.
---
The Philippines' largest fast food chain, Jollibee Food Corp., which is controlled by billionaire Tony Tan Caktiong, plans to buy back $250 million of the dollar-denominated perpetual bonds that the company issued last year to fund its international acquisition spree. To refinance the debt, Jollibee said it will raise as much as 12 billion pesos ($250 million) through the sale of up to 12 million preferred shares, including oversubscription, at 1,000 pesos each. The share sale is subject to shareholder and regulatory approvals.
The share sale is part of Jollibee's plan "to restructure its financial obligations in order to strengthen its balance sheet, spread the maturity of its financial obligations and reduce its foreign exchange risks," the company said in a statement to the Philippine stock exchange. 
---
Diem, the digital currency project backed by Facebook, has abandoned plans to secure a payment license from Switzerland's FINMA watchdog.
The organization will move its operations to the U.S. and has partnered with crypto-friendly bank Silvergate to issue a dollar-backed stablecoin.
Formerly known as Libra, Facebook's digital currency was met with much opposition from regulators when it was first announced in June 2019.
---
Autonomous driving company WeRide has raised new funds valuing the company at $3.3 billion dollars.
The Nissan-backed start-up did not disclose the sum raised but said it totalled "hundreds of millions" of dollars from venture capital investors.
WeRide is one of the many companies based in China pushing aggressively to take a lead in the autonomous driving space globally and has been testing robotaxis in Guangzhou.
---
The World Health Organization said Tuesday that it would review coronavirus data from the Seychelles, an archipelago of 115 islands in the Indian Ocean.
The health ministry said more than a third of people who tested positive for Covid-19 in the week to May 8 had been fully vaccinated.
---
Responding to questions on Pofma from Belgium, Canada, Sweden, the United States and other members, deputy director at the Law Ministry's international legal division Seraphina Fong said freedom of expression and assembly are fundamental liberties guaranteed under the Singapore Constitution, in line with international standards.
Responding to questions from Albania, Austria, Australia, Brazil, Canada, Chile and others on the death penalty, senior director at Ministry of Home Affairs' policy development division Lin Qinghui said Singapore's approach towards law and order is underpinned by adherence to the rule of law, a robust criminal justice system with tough laws and enforcement, and effective rehabilitation of former offenders.
---
"We call upon all parties to cease attacks against civilian targets and prevent further loss of lives or injuries. We strongly urge all sides to take immediate steps to de-escalate the situation and work towards a durable ceasefire," the Ministry of Foreign Affairs (MFA) said.
---
In a statement, the U.S. Customs and Border Protection said its officials at the Port of Kansas City seized 4.68 million latex gloves produced by a Top Glove unit in Malaysia with an estimated value of $690,000.
The seizure shows that there is demand for Top Glove products despite the U.S. ban first announced in July last year. Top Glove is the world's biggest glove maker and has seen global demand soar due to the COVID-19 pandemic.
---
CAAS and CAG added: "We urge all airport workers as well as staff working in Jewel to refrain from going out except for essential work or activities for the next 14 days or until they have been tested negative for Covid-19. They should also not be redeployed to other workplaces or outlets during this period.
---
In 2018, Khairul noticed a growing trend for bomboloni or Italian-style stuffed doughnuts in Malaysia. So he drove to Kuala Lumpur with Nazira where they attended a bomboloni class by a popular bakery. When they returned, they created interesting flavours like ondeh ondeh and kopi C doughnuts, which now form 99 percent of their business. During festive seasons like Hari Raya, the bakery makes classic snacks like pineapple tarts, Nutella tarts, honey cornflake cookies and sugee biscuits.
---
Shares of Pinduoduo dropped 9.1% on the news, wiping out roughly $4.3 billion of Huang Zheng's net worth. The founder of the e-commerce is now worth $42.9 billion, according to Forbes Real-Time Billionaire List, making him China's fourth-richest person.
Meituan's founder Wang Xing saw his wealth drop $2.5 billion as investors sold down shares of the food-delivery company again on Tuesday. Meituan's shares dropped another 5.3% on Tuesday, following a 7.1% decline a day earlier. Wang's net worth currently sits at $19.5 billion.
A day earlier, the Shanghai Consumer Council said in a statement that it had summonsed both Pinduoduo and Meituan for meetings. The consumer advocacy group reprimanded Pinduoduo for its poor product quality, counterfeit products and after-sales service, among others. It also condemned Meituan for refunding issues, food delivery failures and misleading content on its platform. The council's statement came amid the Chinese government's ongoing clampdown on the country's largest tech companies.
---
2021 Stock Watch: Support the site as a Patron and get stock market updates. Like our Facebook Page and join our Telegram Channel for weekly updates!