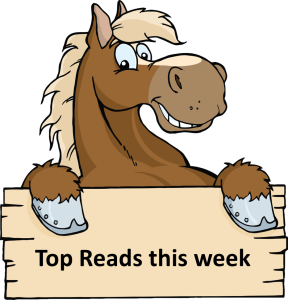 Rounding up top investing articles from around the web, including articles shared on Twitter.
FH Complete Guide to Investing – Flash SALE ends today! 
---
Public confidence in cryptocurrencies continued to shrink in Singapore, particularly after last year's unexpected series of blow ups that landed many prominent firms based here in bankruptcy and wiped out billions of investors' money.
Despite this, four in 10 people polled in a survey, or 44 per cent, said that at least a tenth of their investment portfolios consisted of crypto, showing that interest in the volatile digital asset market has not waned, or that investors may be reluctant to sell at a loss.
---
A face-to-face transaction to sell $320,000 worth of Bitcoin went awry when a quarrel broke out over who was entitled to the cash after the buyer denied having received the cryptocurrency, despite the Bitcoin network confirming the transfer.
Mr Christofle Rio, who had transferred 12.14 bitcoins to a digital wallet, eventually left the Tanjong Pagar apartment without the cash and bereft of the cryptocurrency.
He then sued Mr Malcolm Tan Chun Chuen, the man who transacted with him, for breach of contract for failing to pay the agreed price.
But Mr Tan argued that his company, Qrypt Technologies, was merely a middleman that facilitated the sale of Bitcoin from Mr Rio's company, GCXpress Commerce (GCX), to the actual buyers.
Mr Rio set up GCX in 2019 as a cryptocurrencies trading business, while Mr Tan, a disbarred lawyer, was the managing director of Qrypt, a digital assets and blockchain company.
---
Singapore's largest bank said during its annual general meeting (AGM) on Friday that it will also set up a special board committee to look into the cause of the disruption, which left many of its customers unable to carry out their online banking activities on Wednesday.
Chief executive Piyush Gupta said the disruption, the second incident in 16 months, has been sobering for DBS.
"As such a well-known digital and technology bank, this embarrasses us. We are committed to doing better," he said.
---
French restaurant Odette at the National Gallery Singapore remains the top Singapore restaurant at No. 6, inching up two spots from No. 8 in 2022. Its pastry chef Louisa Lim also won the Asia's Best Pastry Chef accolade.
Modern Singapore restaurant Labyrinth at the Esplanade Mall received the Highest Climber Award for leaping to No. 11, from No. 40 in 2022. 
Other Singapore restaurants that improved their ranking are Meta restaurant in Keong Saik Road at No. 17 (up from No. 20 in 2022), Burnt Ends in Dempsey at No. 24 (up from No. 41 in 2022), Euphoria in Tras Street at No. 25 (up from No. 56 in 2022), and Cloudstreet in Amoy Street at No. 26 (up from No. 44 in 2022). 
---
Three people will be charged on Wednesday over their alleged involvement in money mule operations relating to scams, money laundering and facilitating unauthorised access to computer material.
The police said on Tuesday that the trio – two men and a woman aged between 20 and 30 – allegedly sold or rented their bank accounts to criminal syndicates for up to $2,500 per account.
---
Israel is in a cooling off period after weeks of intense protests.
On Monday, Prime Minister Benjamin Netanyahu said he'll delay legislation that critics say would weaken the judiciary.
Some CEOs are seriously concerned about what the turmoil means for businesses in Israel.
---
Hong Kong-listed shares of Alibaba climbed at the open on Wednesday after the company announced a significant overhaul to split its company into six business groups.
The company in its announcement said that the move is aimed to "unlock shareholder value."
The decision to split into different units means each will be managed by its own leadership and executive board, and can pursue independent fundraising and IPOs when they're ready.
The company said the move aims to "unlock shareholder value."
The six business groups are:
Cloud Intelligence Group: includes company's cloud and artificial intelligence activities;
Taobao Tmall Commerce Group: online shopping platforms including Taobao and Tmall;
Local Services Group: covers Alibaba's food delivery service Ele.me as well as its mapping;
Cainiao Smart Logistics: houses Alibaba's logistics service;
Global Digital Commerce Group: includes Alibaba's international e-commerce businesses including AliExpress and Lazada;
Digital Media and Entertainment Group:includes Alibaba's streaming and movie business
---
The U.K. government has published a white paper for the artificial intelligence industry.
It calls on regulators to come up with "tailored, context-specific approaches that suit the way AI is actually being used in their sectors."
AI, which contributes an estimated £3.7 billion to the U.K. economy, must comply with existing laws and not discriminate against individuals or create unfair commercial outcomes, the government said Wednesday.
The arrival of the recommendations comes as generative AI tools such as ChatGPT have driven a wave of demand for the technology.
---
Commenting on comparisons between Singapore and Hong Kong as financial hubs in Asia, Mr Shanmugam said that both economies benefit from each other's growth and bring vibrancy to the region.
The minister was speaking at the South China Morning Post's China Conference: Southeast Asia in Singapore, with Hong Kong Financial Secretary Paul Chan in attendance.
He said that the topic of Singapore versus Hong Kong has been "rather hyped up" in the media, with the narrative being that only one can benefit at the other's expense.
---
China's chip industry will be "reborn" as a result of U.S. sanctions, Eric Xu, rotating chairman at Huawei, said Friday.
Over the past few years, Washington has attempted to cut China and Chinese firms off via sanctions and export restrictions.
Xu confirmed that Huawei, along with other domestic firms, jointly created electronic chip design tools required to make semiconductors sized at 14 nanometers and above.
---
Singapore shoe label Pazzion was born out of founder-director Tom Ng's penchant for shoes.
After graduating and spending a few years working in sales, the mechanical engineer decided to heed his entrepreneurial calling and launched a men's shoe store in 2002. The store did well but upon realising that there was a market for affordable, well-crafted ladies' footwear, he decided to change his business focus.
In 2005, the first Pazzion store was opened at Marina Square offering a range of trendy women's footwear. His leap of faith paid off and more stores followed shortly after.
Today, Pazzion has 10 physical stores, an online store and franchises in several Asian countries such as Malaysia, Thailand, India and Japan. The company has also started to expand into China, exclusively selling shoes through e-commerce channels.
In 2019, the company made another bold move with the launch of Pazzion cafe at Takashimaya and Jewel Changi Airport. It also launched its Lifestyle Collection in 2021 during the COVID-19 pandemic, offering sustainable homeware, scented soy candles and sanitisers.
Looking for a comprehensive guide to investing? Check out the FH Complete Guide to Investing, Stocks Masterclass and REITs Masterclass for Singapore investors.
2023 Stock Watch: Support the site as a Patron and get stock market updates. Like our Facebook Page and join our Telegram Channel for weekly updates!
Join Financial Horse's Investing Community!