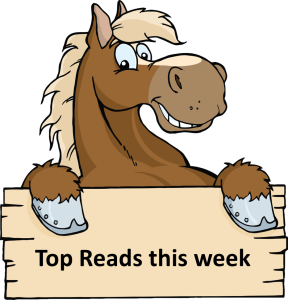 Rounding up top investing articles from around the web, including articles shared by fellow investors in the Financial Horse Facebook Group.
---
The much-delayed air travel bubble between Singapore and Hong Kong is set to take off on May 26, authorities announced on Monday (Apr 26). There will be one flight a day in each direction and capped at 200 passengers per flight for the first two weeks.
Stricter conditions will also be in place. This includes travellers having to remain in Singapore or Hong Kong in the last 14 days prior to departure, excluding any time spent in quarantine or stay-home notice.
---
Strong growth is expected for the manufacturing sector, which has been a bright spot over the past year, as the robust upswing in the global technology cycle continues to boost electronics production.
On the other hand, prospects for the worst-hit sectors, including air transport and accommodation, have "deteriorated somewhat" amid a global surge in COVID-19 infections and the emergence of more contagious strains.
Across other sectors, construction activities should be supported by a backlog of projects and an anticipated pick-up in demand this year although manpower shortages and rising material costs are challenges in the near term.
---
PROPERTY developers in Singapore should brace themselves for cooling measures ahead, UOB Kay Hian (UOBKH) said, as the odds of policy action have "manifestly increased". "Waiting for the Sword Of Damocles," said the report this week.
---
Primary 6 pupils will not need to achieve perfect scores to get into top secondary schools when the new PSLE scoring system takes effect this year, based on entry scores for 139 secondary schools released on Tuesday (April 27) by the Education Ministry. Under the new scoring system, first announced in 2016, each standard-level PSLE subject will be scored using eight bands known as Achievement Levels (AL). Each pupil will be given AL scores from 1 to 8 for each subject, instead of grades like A* to E. A pupil's total PSLE score will be the sum of the AL of each of the four subjects, with the best possible total score being 4.
The entry scores released on Tuesday show that top schools such as Raffles Institution and Raffles Girls' School (Secondary) have entry scores ranging from 4 to 6, while entry scores for other popular schools such as Anderson Secondary School range from 4 to 10, and 6 to 11 for Crescent Girls' School.
---
Grab Holdings, Southeast Asia's most valuable tech unicorn, is going public in New York following a blockbuster US$39.6 billion merger with a blank cheque company.
Uber and Lyft's share price performance since IPO has shown investors remain cautious about the future of ride-hailing given the industry's pioneers remain loss-making ventures. Grab itself remains unprofitable but said in January that its ride-hailing business broke even across all markets last year. Its group revenue rose 70 per cent in 2020, and the company cut its monthly earnings before income tax, depreciation and amortisation spending by 80 per cent over the course of the year. In January, the company said it expects food delivery to reach break even by the end of this year.
Moody's Investors Service and S&P Global Ratings both expect Grab to remain loss-making over the next two to three years. Grab itself is projecting positive earnings before income tax, depreciation and amortisation (Ebitda) of US$500 million in 2023.
Grab's biggest market is Indonesia, where it faces stiff competition from rival Gojek and was the country worst hit by the coronavirus pandemic. However, no single market accounts for more than a third of its business.
The company also is using the super app concept – multiple services via a single phone app – to become more integrated into consumers lives: its digital wallet, for example, was used to distribute pandemic relief funds by the Indonesian and Malaysian governments.
---
Companies in banking, accounting and financial services dominate the list, reflecting the strength of the banking sector in Singapore and its resilience during the pandemic, said LinkedIn.
---
The London-based bank is weighing options that would see it give up some of the 21 floors it leases at Marina Bay Financial Centre Tower 1 in the business district, according to people familiar with the matter, who requested not to be named because the matter is private.
An option for the bank is to cut a minimum of four floors – the equivalent of about 80,000 sq ft – one of the people said. The plans are under discussion and subject to change, the people said.
---
EYES will be on Singapore banks' acquisition plays in the region as the trio release their first-quarter results, with asset quality largely stable following the expiry of debt holidays. Higher dividends are also on the horizon with banks having signalled their ability to commit to more payouts this year. Analysts expect at least a 50 per cent dividend payout ratio, subject to MAS guidance.
---
In his first 100 days as president, Joe Biden has made one thing clear — he wants to make sure the U.S. outcompetes China on a number of fronts, with technology being front and center.
Biden has called for billions of dollars of investments in key technology areas from semiconductors to artificial intelligence.
While maintaining Trump-era sanctions on Chinese companies, Biden has looked to form strategic alliances on technology with allied nations.
---
The Fed on Wednesday declined to let up on its easy money policy despite an economy that it acknowledged is accelerating.
As expected, the U.S. central bank decided to keep short-term interest rates anchored near zero as it buys at least $120 billion of bonds each month.
---
Apple reported a blowout quarter on Wednesday, announcing companywide sales up 54% higher than last year, and significantly stronger profits than Wall Street expected.  
Apple did not issue official guidance for what it expects in the quarter ending in June.
Apple authorized $90 billion in share buybacks.
---
Spotify founder and CEO Daniel Ek told CNBC he is "very serious" about wanting to buy English soccer club Arsenal.
"I have secured the funds for it," said the 38-year-old Swedish billionaire and longtime Arsenal supporter. "I'm prepared that this could be a long journey."
Arsenal owner Stan Kroenke has said he's not interested in selling the London-based club, which he took full control of in 2018.
---
Mark Zuckerberg spent the majority of Facebook's Wednesday earnings call outlining the company's e-commerce strategy as it prepares for life post-iOS 14.5.
Online shopping will be crucial to how the social media company grows its ad business following Apple's update to the iPhone and iPad operating systems that will enable users to pick which apps are allowed to track their activity on their devices.
Facebook wants to facilitate more sales of products and services on its own apps as a method of reducing its reliance on Apple.
---
Dogecoin (DOGE) price surged as much as 20% on Wednesday after Tesla (TSLA) boss Elon Musk called himself the "Dogefather" on Twitter (TWTR) ahead of his appearance on US comedy show SNL.
It is not the first time the billionaire has influenced cryptocurrency markets. Musk has previously also sent supportive tweets about flagship crypto Bitcoin. 
His involvement in price spikes have led to speculations that he is being investigated by US regulators for potential market manipulation. 
---
Investors in an alleged billion-dollar nickel trading scam in Singapore are not expected to recover their losses, court documents state, as fraud and forgery claims stack up against Envy Group director Ng Yu Zhi. Lee Si Ye, deputy managing director of Envy Group – a cluster of Singapore-based companies accused by state police of defrauding investors – says in court documents seen by GTR that the companies are "likely to become unable to pay their debts as they fall due".
The scheme involved Envy Group companies purchasing nickel at a discount from Australia-based supplier Poseidon, which would then be sold onto other parties including BNP Paribas and Singapore-based trading company Raffemet, Lee says. The majority of the receivables from those on-sales would be sold onto investors, who were offered returns of around 15%. In effect, Lee says, those investors were providing Envy with funds used to purchase nickel, with the opportunity to withdraw or roll over profits after 30 days. However, according to charges filed by Singapore police in March, the forward contracts with Raffemet did not actually exist. Sources familiar with the matter tell GTR that BNP Paribas has never had any trading relationship with Envy Global Trading or Envy Asset Management.
---
As of 11.59pm last Friday, all long-term pass holders and short-term visitors who have travelled to India in the last 14 days are not allowed to enter Singapore. This includes visitors who transit in India and those who had earlier obtained approval for entry into Singapore. 
---
A possible Covid-19 cluster has surfaced at Tan Tock Seng Hospital, with a nurse infected and likely infections in a doctor and three patients in a general ward. She received her first dose of the Covid-19 vaccine on Jan 26 and the second dose on Feb 18.
The vaccine is effective in preventing symptomatic disease for the vast majority of those vaccinated, but it is possible for vaccinated individuals to get infected, said the ministry in a statement.
---
MasterChef Singapore has crowned its second champion – engineering student Derek Cheong. The 24-year-old, whose parents are hawkers, says the win brings him one step closer to a lifelong dream of opening his own restaurant.
---
Unlike the two other stores at Alexandra and Tampines, the Jem outlet in Jurong is the first here for the furniture retailer to be located in a shopping mall and the first small concept store in South-east Asia.
The outlet will feature digital solutions not found at the other locations, such as a fully cashless store and a click-and-collect service for its restaurant to minimise queues.
---
Looking for a comprehensive guide to investing? Check out the FH Complete Guide to Investing and FH REITs Masterclass for Singapore investors.
2021 Stock Watch: Support the site as a Patron and get stock market updates. Like our Facebook Page and join our Telegram Channel for weekly updates!