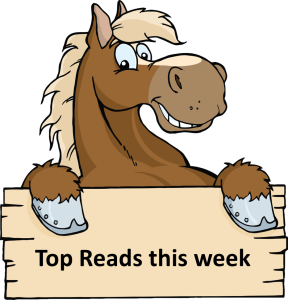 Rounding up top investing articles from around the web, including articles shared by fellow investors in the Financial Horse Facebook Group.
---
Singapore Airlines (SIA)'s net loss narrowed to S$662 million for the fourth quarter to March, from S$732 million in the corresponding period a year ago. But, it will tap the additional mandatory convertible bonds to raise a further S$6.2 billion, given international air travel remains severely constrained and recovery trajectory is still unclear.
The carrier was awash in red ink for the financial year 2021, chalking up a record net loss of S$4.3 billion in its "toughest year in its history", said SIA in a financial results filing on Wednesday.
---
"Facebook, Twitter and SPH Magazines are required to carry the correction notice to all end-users in Singapore who use Facebook, Twitter and HardwareZone.com," said MOH in a press release.
---
Zhang Yiming, co-founder of ByteDance, will step down as CEO and transition to a new role, the company said on Thursday.
Another co-founder, Liang Rubo, who is currently head of human resources, will take over as CEO of ByteDance globally.
The move comes after a tumultuous nine months for ByteDance after it was dubbed a national security threat by former President Donald Trump's administration last August.
"There are still many things that we need to improve, and I think someone else can better drive progress through areas like improved daily management. The truth is, I lack some of the skills that make an ideal manager," Zhang said in a note to employees.
"I'm more interested in analyzing organizational and market principles, and leveraging these theories to further reduce management work, rather than actually managing people. Similarly, I'm not very social, preferring solitary activities like being online, reading, listening to music, and daydreaming about what may be possible," he said.
---
The flagship cryptocurrency fell to more than three-month lows on Wednesday, dropping to about $30,000 at one point.
The recent slide is a reversal from the dramatic rise that started in the second half of last year.
Part of the reason for bitcoin's weakness seems to be at least a temporary reversal in broader acceptance for cryptocurrency, as well as regulatory concerns and weakness in more speculative areas of financial markets.
---
Based on open interest in CME bitcoin futures contracts, the firm said large investors are shifting away from bitcoin after favoring the digital currency over gold beginning last fall.
"The bitcoin flow picture continues to deteriorate and is pointing to continued retrenchment by institutional investors," JPMorgan wrote in a note to clients. "Over the past month, bitcoin futures markets experienced their steepest and more sustained liquidation since the bitcoin ascent started last October."
The Singapore-headquartered company reported that first quarter revenue climbed 147% to $1.8 billion compared to a year ago. Its e-commerce unit Shopee contributed $922 million, while digital entertainment arm Garena accounted for $781 million.
Despite the strong revenue growth, Sea remained in the red, with its net loss widening to $422 million in the first quarter from $281 million a year ago. The company's operating expenses doubled as the company stepped up marketing efforts to capture market share.
Sea is competing with rivals Grab and the newly merged GoTo for supremacy in the race for the Southeast Asian super app. It has been aggressively expanding its e-commerce business across the region, particularly in Indonesia where it recently launched ShopeeFood delivery service, while scaling its digital financial services.
---
dvanced Micro Devices Inc. unveiled a $4 billion stock buyback plan, its first repurchase authorization since 2001, underscoring the chipmaker's confidence in the future of its business. 
The buyback will be funded by cash from operations, the company said Wednesday in a statement. The program, equal to about 4% of AMD's market value, has no termination date. "Our strong financial results and growing cash generation enable us to invest in the business and begin returning capital to our shareholders," Chief Executive Officer Lisa Su said in the statement.
---
The trial casts a further shadow over the career of a man who as president from 2007 to 2012 bestrode the national and global stage. Earlier this year, Sarkozy was convicted of corruption in a separate case. Prosecutors allege that Sarkozy's conservative party splurged nearly double the €22.5 million permitted under electoral law on lavish campaign rallies, and then hired a friendly public relations agency to hide the cost.
---
To pardon or not to pardon Samsung scion Lee Jae-yong, that is the question troubling South Korean president Moon Jae-in. Lee, vice-chairman of Samsung Electronics and the de facto head of the whole Samsung Group, was thrown behind bars in January for embezzlement and bribery.
Samsung has been lobbying for his release, emphasising that they need him out to lead the country's largest conglomerate amid growing global competition. South Korea has a history of granting presidential pardons to politicians and business leaders jailed for corruption, traditionally on political anniversaries.
---
Archegos Capital Management's collapse left major banks out of pocket. If policymakers leave private funds under-regulated, others may be on the same path to threaten the wider banking system. For the average American dealing with the ravages of life under Covid, the story of Bill Hwang and Archegos may seem like just another Wall Street fat cat who got too greedy. But there may be many more Archegos-size risks – hidden from regulators, lawmakers and traders alike – now threatening to spark the next financial crisis.
---
The offices of the state attorney general and city district attorney are separate and, according to National Public Radio (NPR), have historically been rivals. The fact that they are now co-ordinating their efforts underscores the high profile of their investigation.
The New York State Attorney General, Letitia James, clearly believes that there is enough at play to warrant moving the investigation from a civil to a criminal one. When combined with the ongoing examination of the former president's tax returns by the Manhattan District Attorney, Cy Vance, Mr Trump is looking at a complex and tangled legal battle ahead — one which he remains adamant he shouldn't have to face but which he now almost certainly cannot avoid.
---
The 300m SEG Plaza in the southern city of Shenzhen near Hong Kong began swaying in the early afternoon on Tuesday, prompting people inside and those on the streets below to flee. Emergency management officials quickly ruled out an earthquake as the cause of the wobble in the tech hub's Futian district.
---
In tandem with MAS's licensing announcement in December last year, Grab announced Charles Wong as the CEO of the digital bank and noted it will fill around 200 roles in its digital banking team. Wong had spent close to two decades with Citi and was most recently the Managing Director of its retail banking arm.
The standout news was Sea's e-commerce arm Shopee acquisition of Indonesian lender Bank Kesejahteraan Ekonomi (Bank BKE) in January, intending to transform the latter into a digital bank.
Eyebrows were raised when the consortium headlined by Greenland Financial beat out more established players including Razer to clinch the DWB license. Shanghai Daily reported in April Greenland Financial was preparing for a separate stock listing. Its parent company, state-owned real estate company Greenland Group is currently listed on the Shanghai Exchange.
---
"Customisation didn't exist when we started the business," said founder 46-year-old Sabrina Tan, who invested S$1 million of her own money to launch Skin Inc in 2008. "By launching the world's first supplement bar and customised cocktail serum with the ability to fit up to 10 active ingredients for a personalised touch, we set the bar for innovation in one of the most competitive categories in beauty."
The retail business, which is notoriously cutthroat, requires a laser focus on the entrepreneur's part, she added. "Know who you serve and why you serve them – when you make decisions, you should be centred on this. If you do it for the money or other reasons, you will lose focus and eventually fail."
---
Some employees at the Emergent BioSolutions plant in Baltimore failed to shower or change clothes, according to a memo released Wednesday by a key House committee.
It is required when working in the factory and likely played a role in ruining millions of Johnson & Johnson's Covid-19 doses, the committee said.
Inspections of the facility conducted last year also flagged problems with mold, poor disinfection of plant equipment and inadequate training of employees.
---
It was a banner year for SoftBank founder Masayoshi Son, who reclaimed the No. 1 spot after more than doubling his net worth to $44.4 billion. Successful IPOs of food-delivery app DoorDash and Coupang, Korea's Amazon, sent SoftBank shares soaring, making Son this year's biggest gainer in dollar terms. Meanwhile, rising demand for Uniqlo's comfortable everyday clothing, well-suited for working from home, boosted apparel billionaire Tadashi Yanai's fortune by nearly 90%. With $42 billion, Yanai is now the second richest after topping the list for the past two years.
Overall, 36 fortunes were up with a dozen listees notching gains of more than $1 billion. Five among them more than doubled their net worths, including Shigenobu Nagamori, founder of motor manufacturer Nidec, who enters the top five for the first time with $9 billion. The biggest percentage gainer was Shintaro Yamada, founder of Mercari, a used-goods marketplace site, which benefited from an online buying boom.
Despite the pandemic, Japan minted new wealth. Five new entrants make their debut on the list—four billionaires and one family fortune. They include Taichiro Motoe, lawmaker and founder of e-signature service bengo4.com; Itaru Tanimura of online medical services provider M3; Takanori Nakamura of cloud services firm Rakus; and Shirou Terashita of IR Japan, an investor relations and shareholder advisory firm. The fifth was the Uchiyama family of Lasertec, which makes testing equipment for the latest generation of semiconductor chips.
---
China's offer to host Israeli-Palestinian peace talks is a bid to expand its influence in the Middle East as the new administration in Washington works out its playbook, analysts said.
During a virtual meeting of the 15-member UN Security Council on Sunday, Chinese Foreign Minister Wang Yi again called for an immediate ceasefire between the two sides and for Israel to lift its blockade and siege of Gaza as soon as possible. Wang also urged the US to stop "obstructing" the council in taking action on the conflict, and to support its efforts to ease tensions and to find a political resolution. China took over as rotating chair of the council at the beginning of May.
---
Looking for a comprehensive guide to investing? Check out the FH Complete Guide to Investing and FH REITs Masterclass for Singapore investors.
2021 Stock Watch: Support the site as a Patron and get stock market updates. Like our Facebook Page and join our Telegram Channel for weekly updates!