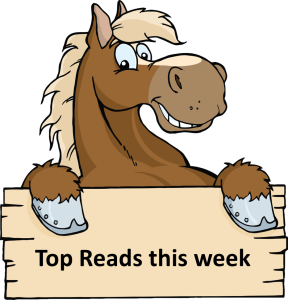 Rounding up top investing articles from around the web, including articles shared by fellow investors in the Financial Horse Facebook Group.
---
Singapore's consumer prices rose in May, driven mainly by higher services inflation and a smaller decline in the cost of retail and other goods, data showed on Wednesday (Jun 23). This is the fourth straight month that Singapore's core inflation has remained positive.
MAS and MTI said external inflation has risen amid the recovery in global oil prices and "turnaround in producer price inflation in the major economies". "While there are some upside risks, the upward pressure on global inflation should ease in the latter part of this year," they said. "Surplus oil production capacity should cap the extent of oil price increases, while continued negative output gaps in some of Singapore's major trading partners should moderate import price pressures."
In Singapore, overall inflation is expected to remain elevated at around current rates in the near term and ease in the second half of the year as base effects fade, the authorities added.
---
In its investment outlook for the second half of 2021, Credit Suisse predicted the world economy will grow 5.9% this year and 4% in 2022.
The economic expansion will be led by vaccine rollouts, fiscal stimulus, and a broadening services recovery, the bank said.
The United States is set to grow at a rate of 6.9% this year, the Eurozone is expected to expand by 4.2% while Asia ex-Japan is predicted to grow 7.5%.
---
Singapore's millionaire density – or percentage of millionaires in the total population –  was 5.5 per cent in 2020, the second-highest in Asia after Hong Kong's 8.3 per cent, the report said. The Republic's Gini coefficient – a more broad-based measure of wealth inequality – was at 78.3 in 2020, much higher than Japan's 64.4, South Korea's 67.6 and Taiwan's 70.8. 
The wealth share of the top 1 per cent in Singapore was almost 34 per cent at the end of 2020, compared with 18 per cent in Japan, 24 per cent in South Korea and 28 per cent in Taiwan. 
Globally, Singapore ranked 11th in terms of millionaire density, with about 1,361 ultra-high-net-worth adults with net worth exceeding US$50 million (S$67 million) in 2020.
Even in the midst of a pandemic, the world gained 5.2 million millionaires last year as the rich cashed in on surging stock and house prices. The report highlighted the contrasting fortunes at the top and the bottom, as those  on lower earnings suffered job losses and a drop in income due to the pandemic's economic fallout.
---
Borrowers who are unable to resume full loan instalment repayments by the end of the relief periods should approach their lenders early to work out longer term repayment solutions, it added.
"We must pivot away from industry-wide credit reliefs to more selective support measures tailored to individual borrowers' circumstances," said MAS managing director Ravi Menon. "This final extension will provide support for remaining borrowers still affected by the restrictions. With continued economic recovery and transition to an endemic Covid-19 situation, loan repayments must start normalising so as to minimise debt accumulation," he said.
---
Kim, 55, has come a long way. He grew up in one of Seoul's poorest neighborhoods, the son of a pen factory worker and a hotel maid with a grade-school education. The third of five children, and the eldest son, he and his siblings were raised in a one-bedroom apartment by their grandmother as their parents worked to feed them. Kim paid his way through college by offering private tutoring, sometimes skipping meals to save money. In March, Kim signed the Giving Pledge, a campaign launched in 2010 by Bill Gates, Melinda Gates and Warren Buffett to encourage wealthy people to give away at least half their wealth.
Before starting Kakao in 2010, his first venture was Hangame, an online game developer, which merged with a search company to form what's known today as Naver, Korea's other internet giant. Kim launched Hangame after spending five years grinding away inside Samsung's IT services group until the first dot-com bubble lured him away.
---
The billionaire said many people have asked him over the last three of four years what SoftBank Group is, with some saying him they like him "very much" as an entrepreneur but not as an investor.
Son said he would describe SoftBank as a "capital provider for the information revolution" in the 21st century in the same way that Mayer Amschel Rothschild was a capital provider for the industrial revolution in the 19th century.
In the industrial revolution, manpower was replaced by machines, Son said. "In the information revolution, AI will be the one replacing machinery," he said.
---
U.S. semiconductor giant GlobalFoundries will invest over $4 billion to expand its Singapore wafer plant and ramp up capacity as it attempts to tackle the global microchip shortage.
New York-traded electric-vehicle (EV) maker Xpeng has received the green light from the Hong Kong stock exchange to list in the city, according to people with knowledge of the matter, the latest homecoming share sale by a Chinese company. Xpeng could raise as much as US$2 billion in Hong Kong as soon as this year, the people said, asking not to be identified as the information isn't public. Details could still change as deliberations are ongoing, the people added. A spokesperson for the Chinese carmaker declined to comment.
---
Starlink, which is currently operated by Elon Musk's SpaceX, allows people to connect to the internet via a satellite dish that is placed on or near their property.
Musk said he will only publicly list the satellite broadband service when its cash flow is more predictable.
SpaceX President Gwynne Shotwell said last year that Starlink could be spun off from SpaceX for an initial public offering.
---
"'Silent pneumonia' is one of the most serious consequences of COVID-19, where seriously ill people can feel generally well, despite damaged lungs and dangerously low levels of oxygen," Temasek Foundation said. Singapore Post will also distribute a leaflet with a redemption tab to each household letterbox between Jun 28 and Jul 3. Residents can take the leaflet to collect the oximeter between Jul 5 and Aug 5 at more than 300 participating supermarket and pharmacy outlets across the island. Information on the collection points and operating hours are available at www.stayprepared.sg/oximeter.
---
China's bitcoin crackdown intensified over the weekend, with authorities in the hydropower-rich Sichuan province ordering crypto miners to shut down operations.
According to reports, more than 90% of China's bitcoin mining capacity is estimated to be shut down.
Though it may not be good news for bitcoin miners in China, others could stand to benefit.
---
The sell-off was sparked by the People's Bank of China urging China's largest banks and payment firms to crack down harder on cryptocurrency trading, the latest tightening of restrictions on the sector by Beijing.
"The underlying fundamentals of the crypto-asset world have not changed and this correction was more of a when, not if," said Iqbal Gandham, vice president of transactions at Ledger, a digital asset management solution. "Any asset class which sees a meteoric rise in the same way as we have seen in crypto is expected to correct. The situation in China has perhaps exacerbated this, along with the increased rate of adoption of altcoins by new users, following tweets of various crypto personalities."
---
China plans to send its first crewed mission to Mars in 2033 as it continues to boost its space ambitions in a battle with the U.S.
China is planning regular crewed missions to the Red Planet and wants to build a base there.
Space is an area China wants to lead as part of a broader technology battle with the U.S.
---
Eccentric antivirus software company founder John McAfee was found dead of a suspected suicide in a jail in Barcelona, Spain.
McAfee died shortly after Spain's National Court approved his extradition to the United States to face federal criminal tax evasion charges.
He was arrested last October at the international airport in Barcelona on those charges, which are pending in Tennessee.
McAfee was separately charged in Manhattan federal court in an alleged "pump-and-dump" scheme involving cryptocurrencies.
---
The billionaire investor Warren Buffett said he is resigning as a trustee of the Bill and Melinda Gates Foundation, and has donated half his wealth to philanthropy since pledging 15 years ago to give away his fortune from running Berkshire Hathaway.
Buffett, 90, said in a Wednesday statement he has been an "inactive trustee" for years at the foundation, but fully supported Chief Executive Mark Suzman and that their goals were "100 per cent in sync." He did not explain why he is resigning, while noting he has given up all directorships outside Berkshire, reducing his workload.
---
So while you might know how to avoid MLMs yourself, do you know how to spot someone who's fallen in with an MLM? I've devised a handy-dandy guide to the types of MLMers you tend to meet, how to spot them and how to deal with them.
While I believe the best approach to an MLMer is generally to disengage, I also think it's helpful to remember that people caught up in MLMs often got that way because they themselves are desperate. Verbal abuse is never the answer, even when a good firm talk is.
Remember, MLMs are much easier to get into than they are to get out of – both mentally and financially. You have no obligation to save anyone from an MLM, but you do have an obligation to protect yourself. Keep calm and be vigilant!
---
Speaking in open court for the first time in the case, she accused her father of controlling her "100,000%". She said she had been denied the right to have more children, and put on the psychiatric drug lithium against her wishes. Jamie Spears was granted control over her affairs by court order in 2008.
---
Looking for a comprehensive guide to investing? Check out the FH Complete Guide to Investing and FH REITs Masterclass for Singapore investors.
2021 Stock Watch: Support the site as a Patron and get stock market updates. Like our Facebook Page and join our Telegram Channel for weekly updates!