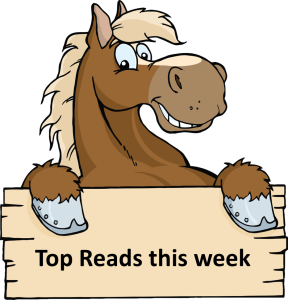 Rounding up top investing articles from around the web, including articles shared by fellow investors in the Financial Horse Facebook Group.
---
At least 70 police reports were lodged against online cryptocurrency trading platform Torque, run by Singaporean businessman Bernard Ong, with investors claiming millions lost in cryptocurrencies.
Three days before the Chinese New Year holidays last month, retail investors were told that one of Torque's employees had apparently violated the company's rules and that his unauthorised trading activities had led to significant losses in their trading accounts.
Shares in dual-listed Chinese companies fell sharply on Thursday in Asia after the U.S. securities regulator adopted measures that would kick foreign companies off American stock exchanges if they do not comply with U.S. auditing standards. The move by the Securities and Exchange Commission (SEC) adds to the ongoing and unprecedented regulatory crackdown in China on domestic technology companies, citing concerns that they have built market power that stifles competition. The Holding Foreign Companies Accountable Act, signed into law by then-President Donald Trump in December, is aimed at removing Chinese companies from U.S. exchanges if they fail to comply with American auditing standards for three years in a row.
---
Losses accelerated as the Hong Kong government suspended Covid-19 vaccinations using BioNTech doses until further notice, as health officials indicated more than 50 instances of defective packaging such as cracked and leaked vials.
"Market sentiment is very weak. There is broad selling pressure across sectors," said Stanley Chan, director of research at Emperor Securities. "Investors are worried that a slowdown in Hong Kong's vaccination roll-out would affect prospects of economic recovery and the opening up of borders."
---
Shares of Chinese smartphone maker Xiaomi plunged 4.4% by Thursday afternoon in Hong Kong. The losses came despite the company reporting a 36.7% rise in its fourth-quarter net profit on Wednesday.
Investors will also monitor other technology stocks in the region after the sector sold off overnight stateside, with the tech-heavy Nasdaq Composite falling 2.01% to 12,961.89.
---
• No more than 75 per cent of employees who are able to work from home should be at the workplace at any point, up from 50 per cent now.
• Employers to support as many employees to work from home as possible.
• No limit on the proportion of an employee's working time that can be spent at the workplace.
---
People aged 45 to 59 years old can start registering their interest to be vaccinated against COVID-19 with immediate effect, as the Government expands its vaccination programme to younger age groups. They may register their interest at vaccine.gov.sg, and they will receive an SMS with a personalised URL allowing them to book their appointments online.
---
43.6 per cent of respondents said that immigration increases unemployment. This is lower than those who thought so in Hong Kong (52.9 per cent), Malaysia (55.7 per cent) and Taiwan (65 per cent). In comparison, less than 30 per cent of respondents in Japan and South Korea agreed with the statement.
---
"These Arrow UCAVs, accompanying the manned aircraft on a mission, can act as baits for lethal surface-to-air missiles, engage enemy fighters, jam enemy communications and radars, and seek and destroy enemy targets or surface-to-air missile sites," it said.
---
After logging yearly losses since listing on the Hong Kong stock exchange in 2017, Singapore-U.S. gaming peripherals maker Razer finally turned the corner in 2020. The company, co-founded by Singaporean entrepreneur Tan Min-Liang, on Wednesday reported a net profit of $5.6 million for the year ended December, reversing its $84.2 million loss in 2019, as it vowed to expand its offerings beyond gaming and into digital financial services. Like other new economy businesses that rode the wave of faster digitization last year amid the coronavirus pandemic, Razer saw its business benefit as the COVID-19 health crisis kept people at home.
---
Mr Jude Chan, who works for Deliveroo Singapore, is among the hundreds of riders globally in line for a one-time payment of $18,500 – should the company get listed on the London Stock Exchange.
---
There are about 900 licensed plumbers in Singapore, of which over three-quarters are above the age of 50, SPS president Tan Wee Teck said at the signing ceremony at the NTUC Centre in Marina Boulevard. "If the trend continues, then you might not have enough plumbers to actually serve the population," he said.
---
Mr Colin Low Hsien Yang will succeed Mr Tan Boon Khai,  who was appointed as chief executive of JTC Corporation (JTC) on Sep 1, 2020. 
Mr Low, 44, is currently the chief executive officer of Frasers Hospitality Trust, a hospitality real estate investment trust listed on the Singapore Exchange.
---
Singapore's core inflation turned positive for the first time in a year, driven by an increase in services costs and higher food inflation, data showed on Tuesday (Mar 23). Core inflation – a key policy consideration for the central bank – excludes the price of private transport and accommodation.
---
Ng Yu Zhi, 34, director of Envy Asset Management and Envy Global Trading, was charged on Monday (March 22).
Over a period of more than three years, at least S$1 billion has allegedly been invested in the two companies to purportedly finance nickel trading activities. 
The police said in a statement that investors were promised varying returns, which averaged 15 per cent, over an investment period of three months.
The Monetary Authority of Singapore (MAS) said that it is concerned with the scale of the alleged investment fraud scheme and is working closely with the Commercial Affairs Department (CAD), which is under the police force, to ascertain the number of individuals and companies that may have suffered losses.
---
Giant tech stocks are finally due for a prolonged cooling-off period and investors need to start adding more value stocks, such as banks, oil firms and retailers, to their portfolios as the economy recovers. The so-called FAANGs have been market leaders for several years running. But the stunning surge for tech could be coming to an end.
Several top investment experts think that the volatility for tech will continue. Jeff Gundlach's DoubleLine just put out a new paper declaring that value investing is not dead.
"Given the protracted, more-than-decadelong run of growth relative to value, it is logical to consider a reallocation of some of that capital away from growth and into value," said Emidio Checcone and Brian Ear, portfolio managers of the DoubleLine Equity Value Strategy fund, in the report.
---
Big banks in Asia are poised for a comeback as the global economy recovers. Share prices of some major banks have soared — some by more than 30% this year, and estimates from data analytics firm Refinitiv show further upside.
Banks are among the so-called cyclical stocks that rise and fall as the economy rises or falls. They dropped out of favor over the past year as Covid-19 hit global growth, and as falling interest rates squeezed their margins.
---
Retail investors are holding back from using their $1,400 stimulus checks to buy stocks, says data firm VandaTrack.
The average retail investor has underperformed the S&P 500 by 11% since mid-February, prompting a "hibernation".
So-called re-opening names and crypto proxies may be at risk during the slower buying period.
---
---
Perhaps it's no surprise that the riskiest Robinhood stock of all is the company that started the Reddit frenzy, GameStop (NYSE:GME). Shares of the video game and accessories company are up nearly 4,700% over the past year, but offer 93% downside, if Wall Street's consensus is correct.
Movie theater chain AMC Entertainment (NYSE:AMC), which has risen in lockstep with GameStop for much of the past two months, is also on Wall Street's naughty list. Putting aside the $0.01 price target recently issued by one analyst, the Wall Street consensus is that AMC will lose three-quarters of its value over the next year.
---
---
Having joint bank accounts can lead to power imbalances and a loss of autonomy, Orman said. The bestselling author and her partner, K.T., short for Kathy Travis, have been together for around 20 years, and have never opened a joint bank account. Orman recommends using a simple equation to determine how much money each person will contribute to household expenses.
---
Underwater World Singapore (UWS) was fined $105,000 on Tuesday (March 23) over lapses in safety measures that investigators found after a stingray fatally stung one of its divers in 2016.
UWS, which was owned by Haw Par Leisure and ceased operating in June 2016, had been convicted of an offence under the Workplace Safety and Health Act.
---
He noted that Minister-in-charge of Muslim Affairs Masagos Zulkifli said in Parliament two weeks ago that the Government is "empathetic". "What does he mean, when he says Government is empathetic? It is that we understand the feelings of those who wish nurses to be allowed to wear the tudung. It is to signal flexibility. He didn't say no," Mr Shanmugam explained.
---
Singapore launched its first locally designed rail standards on Tuesday (Mar 23) to improve the way train lines are managed, maintained and upgraded. This could help keep operations financially sustainable and enhance passenger service as more rail lines open in Singapore.
---
Looking for a comprehensive guide to investing? Check out the FH Complete Guide to Investing and FH REITs Masterclass for Singapore investors.
2021 Stock Watch: Support the site as a Patron and get stock market updates. Like our Facebook Page and join our Telegram Channel for weekly updates!