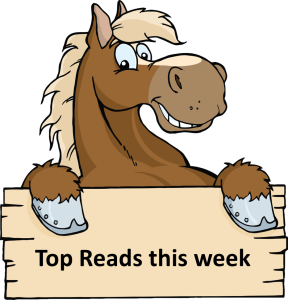 Rounding up top investing articles from around the web, including articles shared by fellow investors in the Financial Horse Facebook Group.
---
Banks are facing billions of dollars in losses after a little-known US investment firm, Archegos Capital Management, defaulted last week on margin calls, forcing a brutal near US$30 billion (S$40.4 billion) stock fire sale.
In an era of easy money, Archegos was able to borrow so much that its failure created shockwaves large enough to ripple across global financial markets.
New York-based Archegos was set up by Mr Bill Hwang, formerly a stock analyst with storied hedge fund Tiger Management, founded by legendary fund manager and US billionaire Julian Robertson.
Archegos' meltdown was triggered last week after some of its portfolio stocks witnessed a significant price fall. This in turn triggered margin calls from the banks. Archegos' failure to meet those calls forced big banks, including Nomura, Credit Suisse, UBS, Deutsche Bank, Goldman Sachs and Morgan Stanley, to liquidate its stock holdings at deep losses.
---
Goldman Sachs liquidated US$10.5 billionworth of stocks in block trades on Friday, part of an extraordinary spree of selling that erased US$35 billion from the values of bellwether stocks ranging from Chinese technology giants to US media conglomerates. The Wall Street bank sold US$6.6 billion worth of shares of
Baidu, Tencent Music Entertainment Group 
and Vipshop Holdings before the market opened in the US, according to an email to clients seen by Bloomberg News. That move was followed by the sale of US$3.9 billion of shares in ViacomCBS, Discovery, Farfetch, iQiyi and
GSX Techedu, 
the email showed.
---
In spite of the Covid-19 pandemic, a total of 82 Housing Board flats were sold for at least $1 million last year, compared with 64 in 2019.
The first such sale was recorded in July 2012 for a 150 sq m executive apartment in Block 149 Mei Ling Street in Queenstown. Three months later, in October 2012, a 163 sq m executive maisonette in Block 194 Bishan Street 13 was sold for $1.01 million.
---
"Nowadays, however, interior designers tend to overuse concrete finishes in residential projects, applying it all over the space from living room to bathroom, stretching from floor to ceiling, to achieve the industrial look. The result is a dull atmosphere with cold concrete floor and stark grey walls which is not conducive for living. Furthermore, when a concrete floor is wet, it is usually slippery and poses a safety hazard to people, especially the elderly," Tan cautioned.
---
The wife of a Singapore tech founder paid 128.8 million Singapore dollars, about $95.6 million, for a house on the exclusive Nassim Road, according to the property website EdgeProp.
The home sits on a 32,160-square-foot lot next to the British High Commission on Nassim Road, Singapore's most prestigious road that's lined with embassies and multimillion-dollar mansions. Jin Xiao Qun, who's married to Shi Xu, the founder of Nanofilm Technologies International, bought the property from the businesswoman Oei Siu Hoa, who's also known as Sukmawati Widjaja, per the report.
---
Malaysia has paid more than S$102 million in compensation to Singapore for the terminated Kuala Lumpur-Singapore High-Speed Rail (HSR) project, ministers from both countries said on Monday (Mar 29). 
The payment of S$102,815,576 (RM320,270,519) has been made to Singapore for costs incurred for the development of the HSR project, and in relation to the extension of suspension of the project, Singapore's Transport Minister Ong Ye Kung and Malaysia's Minister in the Prime Minister's Department (Economy) Mustapa Mohamed said in a joint statement.
"The two countries reached an amicable agreement on the amount following a verification process by the Government of Malaysia. This amount represents a full and final settlement in relation to the termination of the bilateral agreement," the statement read.
---
Financial institutions will have to cease issuing Sibor-linked financial products and Swap Offer Rate (SOR) derivatives by the end of September this year.
The freshly announced timeline is to further push the industry towards the Singapore Overnight Rate Average (Sora) as the main interest rate benchmark.
---
A new study has found that there is a tech talent crunch in Southeast Asia, including Singapore
In particular, there is a shortage of engineers and product managers
In both types of roles, those in Singapore are paid the highest compared to their regional counterparts
American and Chinese tech companies are more likely to pay above-market rates for tech talent, the report said
Hiring for technical roles is a challenge regionally due to competition from larger firms such as Lazada and Grab
---
Lim Oon Kuin, the founder of collapsed oil trading firm Hin Leong Trading Pte Ltd, is expected to face another 23 charges of forgery-related offences soon, Singapore's prosecution said.
Owned by O.K. Lim and his children, Hin Leong was set up in 1973 and was once one of Asia's top oil traders. It racked up some $4 billion in debt after a crash in oil prices last year exposed years of losses and alleged fraud by the Lim family.
Accounting firm PwC, which was appointed Hin Leong's judicial manager by the court, said in a report last year the company had overstated the value of its assets by at least $3 billion.
---
Singapore unveiled its plans on Wednesday to allow special purpose acquisition companies (SPACS) to raise money in the city state as it seeks to be the go-to-market in Asia for one of the planet's hottest fundraising trends.
The so-called blank check companies have proven extremely popular in the United States. Still, they have not taken off in Asia following a series of high-profile collapses in Malaysia and South Korea, as well as lingering regulatory concerns about the structure of the investment vehicles.
Under the proposed rule changes, SPACs would be required to have a minimum market capitalisation of S$300 million (US$223 million) and would only be able to list on the Singapore Exchange's (SGX) mainboard. That would be a higher minimum threshold than SPAC listings on the New York Stock Exchange or Nasdaq.
---
Singapore's benchmark Straits Times Index has climbed around 12.2% so far this year to become one of Asia's top performers.
The STI ended 2020 as the worst performer in Asia after losing 11.8%.
Still, the Taiwan Stock Exchange Capitalization Weighted Stock Index or TAIEX slightly edged out the STI with a 12.4% gain this year to take the top spot in Asia.
---
April is typically a good time for stocks, but the first 10 days could be especially bullish.
Bank of America technical research strategist Stephen Suttmeier says late March into April is a bullish seasonal opportunity, based on historic trading patterns.
The S&P 500 is poised to move higher and the next resistance area could be 4,065 to 4,080, Suttmeier said.
---
Shares of Lei's smartphone maker Xiaomi finished the day with a modest gain of 0.6%, after the company said Tuesday evening that it plans to invest about $10 billion into manufacturing electric cars over the next decade. Lei said Xiaomi would pursue the plan through a wholly owned subsidiary, which he described as his last major startup project.
"I will personally oversee this [EV business]," the billionaire said. "I look forward to the future where there is a Xiaomi car running on every road globally."
---
Chinese fintech firm Bairong Inc. slumped on its debut in Hong Kong, the second listing in the financial hub this week to disappoint following a global selloff in China's technology sector.
Shares of the artificial intelligence-powered technology platform closed 16% lower on Wednesday, making it the worst debut among IPOs exceeding $500 million in Hong Kong in three years. The company had priced its shares at HK$31.80 each in the IPO offering, the high end of its indicated range.
The fall comes after video streaming service Bilibili Inc. slipped on its debut on Monday while Baidu Inc. – which debuted just last week – is trading around 15% below its listing price.
---
H&M and other fashion brands have been under fire in China for statements voicing concern about allegations of labour violations in cotton fields in the far west region.
Chinese celebrities and tech firms pulled partnerships with H&M, Nike, Adidas, Burberry and Calvin Klein. H&M was even erased from Chinese shopping apps.
"We are working together with our colleagues in China to do everything we can to manage the current challenges and find a way forward," H&M said in a statement. "We are dedicated to regaining the trust and confidence of our customers, colleagues, and business partners in China," it said.
Australian Olympians were the latest to be embroiled in the row on Wednesday as the country revealed its uniforms for the upcoming Tokyo Games.
---
Deliveroo shares plunged around 30% shortly after the London Stock Exchange opened Wednesday.
The food delivery app — founded and led by American entrepreneur and former Morgan Stanley analyst Will Shu — has become one of the best-known start-ups in the U.K.
But Deliveroo has been plagued by worries over the risks to its business model if regulators crack down on the gig economy.
---
Saudi Arabia's crown prince announced that state-backed oil giant Saudi Aramco and petrochemical firm SABIC will fund the majority of a 5 trillion riyal ($1.3 trillion) private sector investment plan for economic diversification.
Shares of Saudi Aramco, listed on the Saudi stock exchange, traded more than 1.8% higher on Wednesday.
---
"As the use of digital payments and digital currencies accelerates, the introduction of Checkout with Crypto continues our focus on driving mainstream adoption of cryptocurrencies," PayPal chief executive Dan Schulman said in a blog post. "Enabling cryptocurrencies to make purchases at businesses around the world is the next chapter in driving the ubiquity and mass acceptance of digital currencies." 
Merchants get paid in standard money, with PayPal converting cryptocurrency to US dollars to settle transactions at the time of sale, according to the Silicon Valley-based company.
---
While the rest of Singapore was in a cloud of confusion about cryptocurrency, Yusho Liu — the co-founder and CEO of Coinhako — took a different stance and saw it as a burgeoning business opportunity that was worth tapping on.
After all, all startup ideas begin with a problem, he mused. Together with his army buddy Gerry Eng, the two started dabbling in bitcoins but the process to buy one was arduous back then.
They flew over to San Francisco, and Boost VC paid for their lodging and funded them for six months. At the end of the accelerator programme, they also managed to get additional funding during Demo Day from Tim Draper (father of Adam Draper, who is a prominent Silicon Valley investor) and a few other angel investors.
"All in all, funding-wise, we got about $200,000 in 2014 and only recently we got $1 million from strategic investors. All our investors are from the States."
---
Singapore Press Holdings (SPH) announced on March 30 that it is undergoing a "strategic review to consider options for its various businesses", with the objective of unlocking and maximising long-term shareholder value.
Former editor of Today and The New Paper, PN Balji told Mothership that "unlocking shareholder value" must mean that the company is looking to break off the under-performing media business so that its other relatively successful businesses in property and student accommodation can push up share price.
Henson also pointed out that while SPH's digital circulation has been going up, the company does explain how this growth compares to revenue from subscriptions and advertisements, aside from repeatedly saying how the latter has been in "structural decline".
---
The Singapore Medical Association (SMA) and Life Insurance Association Singapore (LIA) are at odds over the mechanics of Integrated Shield Plans
SMA issued a position statement decrying that the insurers had formed "highly exclusive" medical panels and disrespected fee benchmarks
SMA also complained that insurance premiums had increasingly been used for non-healthcare cost items
LIA's comeback alluded to "over-treatment" by medical providers
It also criticised SMA for using misleading analysis 
---
For one client, he planned a dinner for six aboard a yacht in late February. They sailed to Lazarus Island, an uninhabited island south of Singapore's main island, where they had a meal of rustic French cuisine alongside a full open bar with cocktails, Champagne, wine, and beer.
Virtually every five-star hotel in Singapore, whether Raffles Hotel or The Fullerton Hotel, started offering staycation packages. The society magazine Tatler has been publishing a staycation review series at hotels including the Marina Bay Sands and Capella Singapore Sentosa.
Though the city-state had its worst recession on record in 2020, its property market has been on fire, with home prices at a two-year high as Singaporeans and foreign nationals snap up homes. Sunita Gill, the CEO and founder of the real-estate firm Singapore Luxury Homes, said she'd seen sales of landed luxury homes and penthouses "pick up a lot" during the pandemic as newly remote workers seek larger spaces.
---
Looking for a comprehensive guide to investing? Check out the FH Complete Guide to Investing and FH REITs Masterclass for Singapore investors.
2021 Stock Watch: Support the site as a Patron and get stock market updates. Like our Facebook Page and join our Telegram Channel for weekly updates!