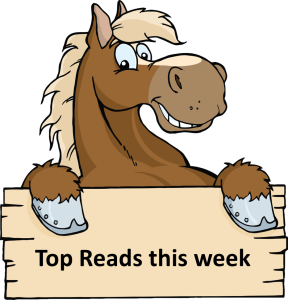 Rounding up top investing articles from around the web, including articles shared by fellow investors in the Financial Horse Facebook Group.
---
Established since 2011, Singapore O&G Limited is a leading healthcare service provider dedicated towards delivering premier quality medical services to women's & children's health and wellness.  Following its recent FY2020 results, Investor-One held an exclusive live interview session for the members of ShareInvestor with Singapore O&G's Chief Executive Officer, Mr. Eric Choo, to understand more about the business and what is in store for retail investors.  
---
Company Insights is a monthly webinar where we feature insights of 2 small and mid caps companies in Singapore that you can potentially include in your watchlist.    
Recap on Ho Bee Land 
Revenue growth of 1.53% for FY2020 despite COVID-19 pandemic.
Sharp rise in free cash flow, highlighting the strong cash generations from its operations.
An attractive candidate for privatisation, given the discount in valuation. (Ownership: 76.8%) (PB Ratio: 0.5 times)
Potential spinoff its commercial properties.
Potential Divestment of Sentosa Properties, contribution to topline growth. 
---
Shares of Genting Singapore rose 1.2 per cent on Wednesday amid heavy trading, after the operator of Resorts World Sentosa was revealed to be one of two qualifying parties for the Yokohama integrated resort (IR) request for proposal (RFP).
---
JBS SA employees started returning to US meat plants on Wednesday (June 2), a day after the company's beef operations stopped following a ransomware attack, disrupting meat production in North America and Australia. 
The Federal Bureau of Investigation on Wednesday attributed the attack to " REvil and Sodinokibi," which experts have said are two names for the same hacking group with ties to Russia, and said it was "working diligently to bring the threat actors to justice."
---
Tensions between the two countries soared in recent months and deteriorated sharply after Australia supported a call for a global inquiry into China's handling of Covid-19.
China has since taken several measures restricting Australian imports.
"Exports to China have predictably collapsed in the areas hit by sanctions, but most of this lost trade seems to have found other markets," said Roland Rajah, lead economist at the Lowy Institute.
---
At least two private healthcare operators are considering offering WHO-approved vaccines, including China's Sinovac shots, which was approved for emergency use by the World Health Organization (WHO) on Tuesday (Jun 1). WHO's list of approved COVID-19 vaccines for emergency use includes viral vector vaccines from Johnson & Johnson and Oxford-AstraZeneca as well as the inactivated virus vaccines from Sinopharm and Sinovac.
---
But they also flagged potential areas of concern like the under-declaring of results, with one expert suggesting that the authorities regulate such kits and integrate them into government health systems.
These kits, which are already in use in places such as South Korea, the United States and Europe, will be available at pharmacies in Singapore soon, said Prime Minister Lee Hsien Loong on Monday. He added that they will be simple to use and not as uncomfortable as the polymerase chain reaction (PCR) test.
---
 Airlines will be responsible for ensuring that returning Singapore citizens and permanent residents (PRs) have a valid negative COVID-19 test, said the Civil Aviation Authority of Singapore (CAAS). All airlines flying into Changi Airport have been informed of the new requirement, said CAAS airport operations regulation and aviation security director Margaret Tan, responding to queries from CNA.
---
Tesla is recalling 734 units of its Model 3 car produced in 2019 and shipped to China, the State Administration for Market Regulation said, citing a recall plan from the automaker.
The announcement follows recalls of tens of thousands of Tesla vehicles in China and the U.S. in the last several months.
The cars either have a seat belt or tire-related problem, the regulator said.
---
The Chinese yuan has strengthened to three-year highs against the U.S. dollar, spurring concerns about the competitiveness of Chinese exports.
The People's Bank of China made a rare announcement Monday that financial institutions will need to increase the ratio of their foreign exchange deposits.
On Wednesday, the central bank set the yuan's midpoint fix weaker against the U.S. dollar, reversing six straight trading days of stronger fixings.
---
China will hand out 40 million renminbi ($6.2 million) of its digital currency to citizens in Beijing in a lottery.
Residents of the Chinese capital can use two banking apps to apply to win one of 200,000 so-called red packets as part of the lottery containing 200 yuan each.
China has yet to do a nationwide rollout of the digital yuan, which it has been developing since 2014, but is instead focusing on trials in the form of lotteries around the country.
---

---
Singapore and the 10 other members of the Comprehensive and Progressive Agreement for Trans-Pacific Partnership (CPTPP) agreed on Wednesday (June 2) to start inducting Britain into the pact.
---
In April, 92,100 residents were unemployed, of whom 82,800 were citizens. This was down from 95,500 unemployed residents in March, according to the MOM's Labour Market Advance Release for the first quarter, which did not include a figure for citizens. In a Facebook post, Manpower Minister Tan See Leng said: "While I am thankful that our various partners and stakeholders have worked with us collectively to boost job matches and keep unemployment rates on a downward trend, I am also mindful that our unemployment rates remain elevated."
---
Singapore's PropertyGuru plans to acquire rival platforms in Malaysia and Thailand in a bid to cement its position as Southeast Asia's dominant online housing marketplace. The real estate technology portal said on Monday it will buy all of the shares in the units of Australia's REA Group that run competing platforms iProperty.com.my and Brickz.my in Malaysia as well as thinkofliving.com and Prakard.com in Thailand.
---
Oil prices continued to rally Wednesday, and analysts expect prices to continue to rise this summer, possibly spiking to $80 per barrel or higher.
The rise in prices comes as the demand outlook continues to strengthen. At the same time, the world is now dipping into oil inventories built up last year.
OPEC+ agreed to stick to its schedule to raise output, but a wild card for the global energy picture remains U.S. producers.
---
Retail investors — many active on Reddit's WallStreetBets forum — led the AMC rally, and AMC executives have taken note. On Wednesday, the company announced a new portal to connect with individual investors and offered free popcorn, exclusive screenings and other perks to those who hold its stock.
Wednesday's wild trading activity comes even after an investment firm reportedly sold off its stake in the company. On Tuesday, AMC revealed it sold 8.5 million newly issued shares to Mudrick Capital, the latest in a series of capital raises for the stock. The hedge fund later sold all of its AMC stock for a profit that same day, according to Bloomberg News.
---
A threefold jump in the market cap of Penang-based engineering services firm UWC to $1.6 billion in the past year has put cofounders Ng Chai Eng and Lau Chee Kheong on the list for the first time. Their company, which makes automated testing equipment for semiconductors, is seeing surging orders from booming global chipmakers. Rising demand is also coming from makers of virus extraction machines used for Covid-19 testing.
---
Singapore's IGlobe Partners closed its latest venture-capital fund, which plans to invest $100 million in startups focusing on synthetic biology, fintech and technologies for smart cities.
---
Bank executive Sherlyn Ler had initially booked a confinement nanny but opted for The Clover Suites instead after being impressed by its professional care standards.
---
IHG Hotels and Resorts, in partnership with Hotel Properties Limited (HPL) have announced the first Voco hotel to open in southeast Asia on Singapore's popular Orchard Road. The existing 423-room hotel is to rebrand from Hilton Singapore to Voco Orchard Singapore.
---
A burnt-out container ship that had already caused Sri Lanka's worst maritime environmental disaster was in imminent danger of sinking on Wednesday (June 2) with several hundred tonnes of oil still in its fuel tanks, the Sri Lankan navy said. The MV X-Press Pearl, carrying hundreds of tonnes of chemicals and plastics, burned for 13 days within sight of the island's coast before rescue workers finally managed to extinguish the blaze on Tuesday.
---
Looking for a comprehensive guide to investing? Check out the FH Complete Guide to Investing and FH REITs Masterclass for Singapore investors.
2021 Stock Watch: Support the site as a Patron and get stock market updates. Like our Facebook Page and join our Telegram Channel for weekly updates!