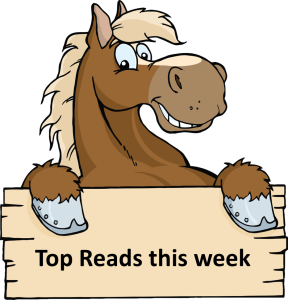 Rounding up top investing articles from around the web, including articles shared in our Reddit Community: r/SingaporeInvestments.
Financial Horse uses ShareInvestor WebPro in some of our stock analysis and you can take this chance to try out the platform yourself!
From 10 – 14 August, ShareInvestor is running a limited time period where you can redeem vouchers, access 1 month free or enjoy discounts.
This is ShareInvestor's best promotion yet for 2021. Find out more here!
---
Chinese state media, including the Communist Party's flagship newspaper, toned down their criticisms of the video-game industry on Wednesday (Aug 4) after a harshly worded piece had a day earlier triggered a plunge in shares of Tencent Holdings and other companies in the sector.
Instead of calling video games "spiritual opium," as a Tuesday article in the Economic Information Daily had, the People's Daily published an editorial in its overseas edition that stressed the need for government, schools, families and broader society to work together to better protect children from excessive gaming. Because the People's Daily is controlled by the Communist Party's Central Committee, its positions on issues are widely seen as reflecting the views of China's most senior leaders.
---
Singapore Prime Minister Lee Hsien Loong again warned the United States and China to de-escalate their tensions, saying both powers presumed incorrectly they would win in any conflict.
"The reality is, neither side can put the other one down," Lee said on Tuesday, speaking by video link to the Aspen Security Forum. "I think that is a possible misunderstanding on both sides." The US is not in terminal decline, as some in Beijing believe, Lee said. Equally, "China is not going to disappear. This is not the Soviet Union". "I don't know whether Americans realise what a formidable adversary they would be taking on if they decide that China is an enemy," he said.
---
Analysts who cover Keppel Corp have given the company's offer to privatise the non-media assets of Singapore Press Holdings (SPH) nods of approval, with most upgrading their target valuations for Keppel to above $6.
Keppel on Monday offered to acquire SPH after the company hives off its media business. If approved by SPH shareholders, the restructuring of the media business is expected to be completed by the end of the year. Keppel's offer, if also approved by regulators and shareholders, will be concluded soon after.
In exchange for 100 per cent of SPH's non-media assets, Keppel's total outlay will amount to $2.2 billion, comprising $1.08 billion in cash and the remainder in units of Keppel Reit. As part of the transaction, SPH will concurrently distribute 45 per cent of its stake in SPH Reit to its shareholders and retain 20 per cent of the Reit units. This will form part of the acquisition by Keppel.
SPH Reit holds the Paragon shopping mall in Orchard Road, while Keppel Reit has interests in prime office properties such as Marina Bay Financial Centre and Ocean Financial Centre.
The implied consideration for each SPH share is $2.099, representing an 11.6 per cent premium to SPH's last traded price of $1.88 a share on July 30.
---
This Rental Support Scheme (RSS) payout will be equivalent to half a month of rent for the period of May 14 to 29.
"We will provide the rental support directly to tenants, without going through their landlords. This lets tenants receive the cash promptly and reduces compliance burden for landlords," he said in the post.
---
EuroSports is known for the Lamborghini, Alfa Romeo and Touring Superleggera brands it distributes here.
EuroSports reported net losses of $3.9 million for the financial year 2018, but narrowed its losses to $178,000 in FY2019. For FY2020, the group posted a $2.3 million profit.
Shares of the Catalist-listed company tumbled after trading began on Friday. At 9.10am, they were down three cents or 12 per cent to 22 cents, with a heavy 131 million shares changing hands. On Thursday, the counter closed 4.2 per cent higher at 25 cents, for a gain of about 50 per cent to date this year.
---
The deal, one of the biggest semiconductor takeovers ever seen, was announced last September to much fanfare, although competition regulators around the world soon announced plans to investigate the acquisition.
Probes were launched in the U.S., the U.K., China and Europe after companies like Qualcomm, Microsoft, Google and Huawei complained that the deal was bad for the semiconductor industry.
The U.K. is reportedly considering blocking the deal on national security grounds, while China and Europe's probes are reportedly subject to delays.
---
Singapore is fourth in the global ranking compiled by UK price comparison website Money.co.uk. It shares the spot with the United States and Australia, with 378 and six unicorn companies respectively, and also with a six-year-11-month average for unicorn businesses to reach US$1 billion in valuation.
The top country for unicorn startups was China, which produced 155 unicorn companies that took an average of five years and 10 months to reach US$1 billion valuations. This was followed by Hong Kong with five unicorn companies and an average of six years and one month.
---
The Monetary Authority of Singapore has granted preliminary approval for one of the city-state's first cryptocurrency exchanges, allowing Independent Reserve to operate as a regulated provider for digital payment token services.
Established in Australia in 2013, Independent Reserve embarked on its international expansion plans in late 2019, setting up its first overseas operations in Singapore to provide digital asset exchange and OTC trading services.
---
United States Vice President Kamala Harris will visit Singapore and Vietnam in a fortnight's time, Prime Minister Lee Hsien Loong said on Tuesday (Aug 3), adding that such high-level visits to the region are "greatly valued".
Ms Harris' visit to Singapore, made at the invitation of Mr Lee, was announced last week. It will be her first official visit to the country.
---
OCBC Q2 profit jumps 59% on-year, falls 23% on quarter
United Overseas Bank pofit up 43%, flat on quarter
Trading income declines after strong first quarter
Banks post big drop in loan losses on the year
---
Rising costs of construction is the top potential risk factor that may temper sentiment in the next six months, a poll among senior executives of real-estate firms has found. Increasing construction costs were flagged by 87 per cent of respondents as the biggest potential risk to adversely impact market sentiment in the next six months. Next was rising inflation and interest rates, which was highlighted by 63 per cent of respondents.
Concerns of possible government intervention to cool the market remained a concern for 62.5 per cent of those polled, although there were fewer executives who felt it would be a potential risk for the six months ahead.
When it comes to future launches and sales, more than half (54 per cent) of developers surveyed in Q2 expect "moderately or substantially" more units to be launched in the next six months.
Nearly two-thirds (63 per cent) project prices of new launches to be moderately or substantially higher in the next six months, NUS+RE said.
---
Food and beverages firm Del Monte Pacific said on Wednesday (Aug 4) it would delay the initial public offering of its Philippine unit, as the country reels from a surge in coronavirus cases.
Del Monte Philippines in April filed for an offering that could raise up to 44.1 billion Philippine pesos (US$888.8 million), making it the second-largest share offering in the Philippines. But rising cases of the Delta variant of coronavirus cases and corresponding volatility in the Philippine Stock Exchange have led Del Monte Pacific to defer the listing "until conditions improve".
---
Daily Covid-19 cases are rising again in China as the delta variant spreads across the country.
State media Xinhua News Agency reported that authorities have urged people to limit travel and avoid gatherings, while Wuhan city — where the coronavirus first emerged — will test all residents.
Economists are concerned that strict measures by the government to control the outbreak would hurt the Chinese economy.
---
A woman helped Nigerian scammers move more than $2 million out of Singapore, providing them with over 20 bank accounts to receive their criminal proceeds. Rohaiza Alap, 46, even recruited other people to act as money mules.
---
llies of Tan Sri Muhyiddin Yassin have mooted clinging on to power in a minority government, after up to a dozen Umno MPs withdrew their support for the beleaguered Malaysian premier.
This comes as the Prime Minister is due to chair a Cabinet meeting on Wednesday (Aug 4) minus at least one Umno minister, who resigned on Tuesday, as well as have an awkward pre-Cabinet audience with the King, Sultan Abdullah Ahmad Shah, who last week issued a stern rebuke of the government.
The Ministry of Health (MOH) has apologised for the delays in taking people under quarantine orders to government facilities, following complaints about the process and confusion over the information given to affected individuals.
---
A team led by Professor Dean Ho, director of the National University of Singapore's Institute for Digital Medicine, had used an artificial intelligence (AI) platform and live virus testing to derive an optimal combination of drugs with the correct dosages to treat Covid-19. The team had collaborated with DSO National Laboratories to set up the platform last April.
Prof Ho said drug dosing requires a level of precision that cannot be arbitrarily derived – an issue which AI seeks to address. The platform, named IDentif.AI, had identified antiviral drug remdesivir, together with lopinavir and ritonavir, which are drugs used to treat patients with human immunodeficiency virus (HIV).
---
This week, the fast-food chain announced that they would be collaborating with Singaporean actor Ben Yeo to introduce a Crispy Hainanese Chicken Burger which is supposed to taste like our favourite Chicken Rice. 
---
Looking for a comprehensive guide to investing? Check out the FH Complete Guide to Investing and FH REITs Masterclass for Singapore investors.
2021 Stock Watch: Support the site as a Patron and get stock market updates. Like our Facebook Page and join our Telegram Channel for weekly updates!