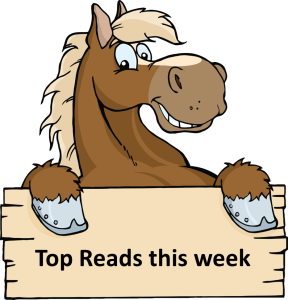 Rounding up top reads from around the web, including articles shared by fellow investors in the Financial Horse Facebook Group.
---
US stocks again sold off sharply on Thursday as worries about coronavirus mounted. The S&P 500 posted its worst day since August 18, 2011, and the three main indexes fell into correction territory. Stocks are on track for their worst week since the financial crisis.
The Dow (
INDU
) dropped 1,191 points, or 4.4% in its worst one-day point drop in history. The index has fallen more than 10% below its most-recent peak, putting it in correction.
The S&P 500 (
SPX
) closed down 4.4% and finished the day below the 3,000 point mark. The index is also in correction territory.
The Nasdaq Composite (
COMP
) ended down 4.6%, more than 10% below its latest peak.
All three indexes are on track for their worst week since the fall of 2008, the midst of the financial crisis.
In the United Kingdom, the FTSE 100 (
UKX
) also fell into correction territory Thursday. This is the market's first correction since December 2018.
---
In addition to using the downtime to restructure its processes and upskill workers, Singapore needs to relook its supply chains from labour to materials to ensure the country is not overly dependent on any single source or market, he said. 
---
In the eight years that Mr William Ding has been running his Singaporean eatery in Beijing, there has been no other more challenging time than now. Like other food and beverage businesses across the country, Mr Ding's popular restaurant, Vanda Room, has been forced to shut since the coronavirus outbreak took hold of the country. He now does only deliveries while waiting for approval from his landlord to resume his dine-in service.
"If this drags on, both large and small F&B players will find it hard to be sustainable," said the 48-year-old Singaporean, whose revenue now is about 15 per cent of his usual. "People aren't going out or eating out. They mostly cook at home now."
---
A sum of   $100 million over five years has been set aside to build simulation facilities on all train lines in Singapore to improve rail reliability. Such facilities, resembling command centres, let operators simulate anything from a track fault to cyber security threats against the line.
---
Fiji and Singapore became the first two countries to deposit their respective instruments of ratification of the United Nations Convention on International Settlement Agreements Resulting from Mediation on Tuesday (Feb 25). The treaty, known as the Singapore Convention on Mediation, will allow countries to enforce mediated settlements across borders. The treaty was named after Singapore to recognise its role in developing and negotiating it. 
---
The rivalry between Asia's two main international financial hubs usually centres on business and finance. But since the coronavirus outbreak, Hong Kong and Singapore's competition has acquired a new dimension: their ability to deal with epidemics.  The differences can be summed up by the leaked audio recording of Singapore's trade minister mocking the Hong Kong leader Carrie Lam for wearing a surgical mask at a press conference, as her government sought to conserve supplies for those fighting the coronavirus. Chan Chun Sing said that if senior Singapore officials had done the same, "everybody [would] panic, I can guarantee you our hospital system would have broken down".
---
Billionaire investor Warren Buffett kicked his stock-buyback programme into high gear, spending US$2.2 billion (S$3 billion) on repurchases in the last three months of 2019, the most ever in a single quarter – and he's looking to buy even more.
---
Shares of Walt Disney fell 2 per cent on Wednesday after the media giant's surprise move to replace top boss Bob Iger raised questions on Wall Street if his successor Bob Chapek had sufficient experience in the entertainment business.
---
Papa John's shares tumbled more than 10% Wednesday after the company said it has temporarily closed 50 franchised stores in China as a result of the coronavirus.
The company has seen a countrywide sales impact year to date, with sales in China down mid- to low double digits year over year, CEO Rob Lynch said in an interview with CNBC.
Meanwhile the company is grappling with an increasingly competitive fast food landscape where food beyond pizza is readily available for delivery at the drop of a hat.
---
The Centers for Disease Control and Prevention on Wednesday confirmed the first possible "community spread" of the coronavirus in the U.S.
The CDC doesn't know exactly how the patient, a California resident, contracted the virus.
The case was picked up by clinicians in the public health system, the agency said.
---
"Cross-border travel, and to a lesser extent cross-border e-commerce growth, is being impacted by the Coronavirus," the company said in a statement on Monday after the bell. The company said its first-quarter revenue growth will be about two to three percentage points lower than previous guidance.
---
"Show enthusiasm, show you've done research, and show you want to come in there and make a contribution," he says.
"The cover letter may be one way you can break out, but a far better way to receive consideration if you're an imperfect candidate is via reference," Siegel says. "Roughly 19% of the people who are getting hired are doing it because they had a friend recommend them."
---
Focus on companies that have plenty of cash in the bank and little or no debt. Invest in companies that are reporting strong growth in revenue with plenty of opportunity for long-term expansion. These stocks can not only survive a recession, but they tend to lead the charge when the next bull market begins. 
With that said, here's why apprehensive investors should consider Shopify (NYSE:SHOP), PayPal (NASDAQ:PYPL), and Microsoft (NASDAQ:MSFT).
---
"The coronavirus will wind up being the bottom for China. I realize this sounds like it's coming out of left field. But this outbreak could be occurring at the end of the Chinese bear market," said Mark Galasiewski, chief strategist of the Asia-Pacific region for Elliott Wave International.
Galasiewski thinks that top Chinese tech firms — companies like Baidu (BIDU), Alibaba (BABA) and Tencent (TCEHY) — are good values that have held up relatively well during the coronavirus sell-off.
The coronavrius outbreak may also give a boost to homegrown Chinese drugmakers, according to Brad Loncar, CEO of Loncar Investments and creator of the Loncar China BioPharma ETF (CHNA).
It may seem counterintuitive. But the coronavirus outbreak could spark an eventual big boom in major Chinese stocks as the People's Bank of China seems ready to take whatever steps necessary to keep the economy from slowing more dramatically.
---
Four out of five Singaporeans interviewed by This Week in Asia said their pessimism boiled down to salaries not matching up to costs, and a sense that wages were stagnant.
Asked to put their finger on why there is a sense of general malaise about the future, scholars such as Irene Ng from the National University of Singapore (NUS) said this was the inevitable result of a maturing economy.
Ng, an associate professor of social work, said: "The era of miracle growth is over, and the widespread universal policies of mass housing and mass education in the past have given way to greater stratification, even in these public goods of housing and education."
---
Change your mindset: Formal education does not guarantee success or wealth. If you love sales, for example, take an online course that will strengthen your skills in that field. Bill Gates has credited much of his success to reading 50 books a year. Ask a money expert to teach you about investing in stocks.
Middle class people tend to operate with a scarcity mindset: They believe there will never be enough of something. As a result, they're extremely conservative with their finances; they fear that if they lose money, they won't be able to make it back.
The rich get richer by using their money to make even more money — without much additional effort. They factor in the risks involved in this strategy, knowing that while gains can be sudden and staggering, there will also be losses along the way.
The multimillionaires of the world are constantly studying their investments —both the good and the bad. They know that the more experienced they become, the smarter they'll get, and the easier it'll be for them to replace money lost in high risk deals.
---
The price of Bernie Sanders's agenda could be his biggest general-election weakness. But his rivals haven't yet forced him to explain how he'd cover the full cost.
Bernie Sanders faced more pointed attacks last night over his potential vulnerabilities than he ever has at a debate. But the blustery and disorderly session once again failed to fully explore what could be the Vermont senator's greatest general-election weakness: the massive size and scope of his spending and tax proposals, which, depending on the estimate, would cost $50 trillion to $60 trillion over the next 10 years. That would roughly double the size of the federal government, an unprecedented increase outside of wartime.
---
Looking for a comprehensive guide to investing? Check out the FH Complete Guide to Investing for Singapore investors.
Stock Watch 2020: Support the site as a Patron and get market updates. Like our Facebook Page and join the Facebook Group to continue the discussion!