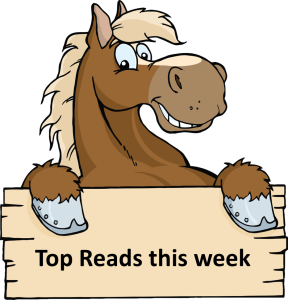 Rounding up top reads from around the web, including articles shared by fellow investors in the Financial Horse Facebook Group.
---
MAS reiterated the Government's forecast for the economy to shrink by a record 5 per cent to 7 per cent this year because of the coronavirus pandemic. It said the economy will post above-trend growth for 2021 due to the effects of the low base in 2020. "The path ahead remains clouded with uncertainty," MAS warned in its twice-yearly macroeconomic review released on Wednesday. "Some pockets of the economy, particularly the travel-related and some contact-intensive domestic services, are not expected to recover to pre-pandemic levels even by the end of next year."
---
Robinsons announced on Friday (Oct 30) that it will be closing its two remaining stores at The Heeren and Raffles City Shopping Centre, as well as its outlets in Malaysia. The department store said that the decision came due to the significant weakening of demand for large-scale department store concepts, with reports showing a 32 per cent drop in department store sales in July. As the shutters fall on the 162-year-old company, TODAY takes a look back at some interesting facts about one of Singapore's oldest retailers.
---
Goldman Sachs Singapore will pay US$122 million (S$165 million) to the Singapore Government for its role in the 1Malaysia Development Berhad (1MDB) bond offerings corruption scandal. The penalty is believed to be the largest imposed on a financial institution here, and will be paid by Goldman's local unit to the Singapore Government's Consolidated Fund within five working days of Thursday (Oct 22). The Singapore payment is part of the nearly US$3 billion that parent Goldman Sachs has agreed to pay after its Malaysia unit said it would plead guilty to violating foreign bribery laws, drawing a line under a saga that has dogged the investment banking giant for years.
---
A passport-free system for residents will be rolled out progressively from 2022
In the meantime, iris and facial scanning clearance has been in place since July 2020
This will replace fingerprinting as the primary mode of identification
---
TikTok has plans to hire about 3,000 engineers over the next three years, mostly in Europe, Canada and Singapore, the company told Reuters on Tuesday (Oct 27). The move shows that the popular short-video app has not given up on its expansion plans despite lingering uncertainty over its ownership. US President Donald Trump has ordered China's ByteDance to divest TikTok amid concerns over the safety of the personal data it handles.
---
A representative for Las Vegas Sands confirmed it was in very early discussions about a sale and that nothing has been finalised. A sale would concentrate Sands' casino portfolio entirely in Macau and Singapore, where it owns Marina Bay Sands. They are the two larger casino markets for Mr Adelson, who ranks as one of the world's richest people, with a fortune estimated at US$29.7 billion. The United States was already a small and shrinking part of his business, accounting for less than 15 per cent of revenue last year.
---
Ford blew away Wall Street expectations as well as the company's forecast earnings for the third quarter.
The top and bottom beats were on stronger-than-expected demand during the coronavirus pandemic.
---
US stock futures sagged, pointing to more losses on Wall Street later, while in Europe, the Stoxx 50 index of top eurozone shares hit its lowest in four months.
Surging cases in France may bring another national lockdown, which hit the euro, the oil price and French banking stocks in particular.
"Markets have already begun to price in further lockdowns – partial or complete ones," Milan Cutkovic, market analyst at Axi said.
---
Citi Private Bank's David Bailin told CNBC that now is a time when investors can rotate out of technology stocks and into sectors that hinge on an economic reopening.
The stock market will have a "relief moment" in 2021 when a vaccine is announced, a second fiscal stimulus is released, and the outcome of the presidential election is clear, Bailin said. 
The chief investment officer is recommending investors seek out value stocks, financials, emerging markets, and healthcare stocks. 
---
Stocks were taking a beating Wednesday, in part over worry about the state of stimulus talks.
Joe Biden's polling lead in the presidential race complicates the issue.
Investors worry that should the Democrat win, President Donald Trump would have little incentive to push through a deal in a lame-duck period.
---
Kweichow Moutai leads decline in liquor makers after reporting weaker-than-consensus third-quarter earnings; rival Wuliangye Yibin slips in tandem
Hangzhou Hikvision's results beat expectations, providing support for security-related stocks
---
Thanks to the huge scale and potential of China's fintech landscape, Ant Group is poised to raise about US$34.5 billion in the world's largest share offering, beating Saudi Aramco's previous record of US$29.4 billion. Ahead of the IPO, the company will be valued at about US$280 billion. To tap both Chinese and global investors, Ant Group is listing its shares both in Shanghai and Hong Kong. It is due to begin trading in Hong Kong on Nov 5. The Shanghai debut has yet to be announced. Alibaba, which currently owns a third of Ant Group, spun off Alipay in 2011. The company was later rebranded as Ant as the company expanded the range of its financial services.
---
Lee Kun-hee, the ailing chief of the sprawling Samsung empire, has died in Seoul on Sunday, the company announced. He was 78. The second-generation heir of South Korea's largest conglomerate had been in a coma following a heart attack in 2014. Lee is perhaps most famous for telling his executives to "change everything but your wife and kids," in a 1993 declaration, when he announced management reforms. With nearly three decades at the helm, Lee transformed Samsung into the leading manufacturer of smartphones, smart TVs and memory chips.
---
Australian shares have fallen sharply, after global markets tanked overnight on worries about surging COVID-19 infections worldwide and the possibility of a disputed US election result. The Australian dollar is buying 70.6 US cents. Overnight, it sank (-1.3pc) as low as 70.39 US cents and 70.4 Japanese yen, due to rising demand for "safe haven" currencies.
Many of the weakest stocks on the ASX were gold miners like Westgold Resources (-8.2pc), Northern Star Resources (-5pc) and Saracen Mineral (-4.9pc). The worst performers also include Afterpay (-4pc), Seek (-5.9pc) and Unibail Rodamco Westfield (-4.8pc). On the flip side, Adbri (+1.9pc), Mesoblast (+1.6pc), Whitehaven Coal (+1.5pc) and Viva Energy (+1.4pc) were the best performers. ANZ shares dropped (-2.3pc) after revealing its full-year profit slumped 40 per cent to $3.6 billion. Some of Australia's biggest companies posted significant losses: Commonwealth Bank (-0.2pc), Westpac (-1.7pc), NAB (-1pc), BHP (-2pc), Rio Tinto (-1.8pc), Fortescue Metals (-0.2pc) and CSL (-0.4pc).
---
While 2020 has been a lousy year for the financial stocks in general, the stock exchanges have held up reasonably well, outperforming the banks and the real estate investment trusts. Despite a tough economic environment, initial public offerings (IPOs) have been strong, and commission-free trading platforms like Robinhood have contributed to increased volumes.
Nasdaq (NASDAQ:NDAQ) recently announced strong third-quarter earnings. The capital markets environment has been favorable, with 105 IPOs listed on the Nasdaq during the quarter, the most in a decade. In addition to earnings, Nasdaq announced the retirement of its Michael Ptasznik as CFO and the appointment of Senior Vice President, Controller, and Chief Accounting Officer Ann Dennison to the role. Finally, the company announced a quarterly dividend of $0.49 per share. The company has been buying back stock as well, purchasing $186 million worth of stock in the first nine months of the year.
---
Singapore's unemployment rate rose to 3.6 per cent in September but at a slower rate compared to previous months, as the country reopened from a COVID-19-induced slowdown. Even then, officials warned that labour market conditions will stay soft amid the prolonged economic downturn. 
---
IT is still too early to confirm the impact of planned ExxonMobil global job cuts on the petrochemical giant's 4,000-strong workforce in Singapore, said a local spokesperson. That is even as news broke on Thursday of the management's decision to let go 15 per cent of the workforce worldwide over two years – or about 14,000 people in all. This includes 1,900 in the United States, where ExxonMobil is headquartered. ExxonMobil on Friday posted a net loss of US$680 million for the third quarter to Sept 30, narrowing from US$1.1 billion in the second quarter and reversing the year-ago profit of US$3.2 billion.
---
Shi Xu moved to Singapore in the early 1990s, hoping for financial stability and job security. Now the former academic and his wife are multimillionaires after their nanotechnology company debuted in the city-state. Nanofilm Technologies International Ltd., which provides solutions for smartphones and other electronics, opened at S$2.77 ($2.03) from its initial public offering price of S$2.59 a share and rose as much as 17% before closing up 12%. Shi's fortune, mainly made up of the 53% Nanofilm stake he holds with his wife, has surged to $916 million, according to the Bloomberg Billionaires Index. The company declined to comment on the couple's wealth.
 Japan has eased travel curbs for China, Australia, South Korea and six other countries and regions, Foreign Minister Toshimitsu Motegi said on Friday (Oct 30), as Tokyo steps up efforts to revive its economy while preventing the spread of the coronavirus. Japan lowered its infection risk advisory level for Thailand, Singapore, Taiwan, New Zealand, Brunei and Vietnam, besides China, South Korea and Australia, to level two from level three, telling its citizens to avoid non-urgent, non-essential trips.
---
A main contractor of the Land Transport Authority (LTA) will replace 150km of power cables and more than 100 circuit breaker components along the Tuas West Extension, after some faulty parts led to a disruption of train services on Oct 14. More than 120,000 commuters along the North-South, East-West and Circle lines were affected by the evening peak-hour disruption.
---
Looking for a comprehensive guide to investing? Check out the FH Complete Guide to Investing and FH REITs Masterclass for Singapore investors.
Stock Watch 2020: Support the site as a Patron and get market updates. Like our Facebook Page and join the Facebook Group to continue the discussion!