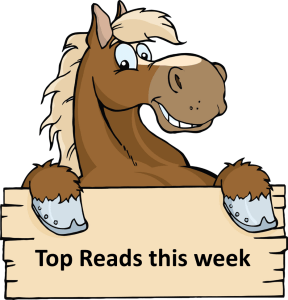 Rounding up top reads from around the web, as shared by fellow investors and myself in the Financial Horse Facebook Group.
---
Asian share markets were subdued amid thin holiday trade although the dollar found support as investors pared expectations for a U.S. rate cut this year while oil prices loitered near one-month lows on oversupply fears.
---
We can see that Keppel REIT does have institutional investors; and they hold 55% of the stock. This implies the analysts working for those institutions have looked at the stock and they like it. But just like anyone else, they could be wrong. It is not uncommon to see a big share price drop if two large institutional investors try to sell out of a stock at the same time.
---
MX50 is a global diversified late-stage technology fund, which invests in market leading private companies in the US and Asia. According to founder Chen, this strategy offers significant upside potential and limited risks compared to traditional venture capital. "There are not a lot of late-stage pre-IPO secondary funds in the market. We believe we can leverage our platform business, which has been around for five years, to help investors take advantage of the in-transparent secondary pre-IPO market."
MarketX, with operations in different parts of the world including the US and China, recently soft-launched in Singapore. Explaining the rationale behind the Singapore launch, she said the city-state has garnered a lot of attention for being the new financial centre of Asia. "We want to position ourselves as the go to platform for pre-IPO investing for Family Offices and private funds. We have establishment in Silicon Valley and China already and would like to expand our footprint in Southeast Asia, and Singapore is our first stop in the region."
---
A handful of executives at SoftBank Group Corp are weighing the idea of an initial public offering for its Vision Fund, the US$100 billion behemoth that has invested in technology companies ranging from Uber Technologies Inc to WeWork Cos. A listing of any sort would be unusual for a venture firm, but the Vision Fund has operated outside of traditional venture parameters since its debut in 2016. It dwarfs other funds in size and invests more broadly than most venture funds, including in mature companies like chipmaker Nvidia Corp.
---
Messaging giant Slack filed for a so-called direct listing last week. It's a considerably cheaper method of going public in which only existing shares are sold, no cash is raised for the company, and bank underwriters that help market the deal are cut out. Slack is following a small group of other companies that have chosen this route. The only large scale one being Spotify, which did a direct listing last year.
---
Toyota Motor's Silicon Valley-based venture capital arm has launched a second $100-million fund to invest in artificial intelligence and robotics technologies, the Japanese automaker said Thursday. The new fund at Toyota AI Ventures will bring the total assets under its management to more than $200 million.
---
According to a recent report by Fidelity Investments, the crypto industry will see an increase in institutional-based cryptocurrency investments in the coming five years. The report was released followed a survey that took into account feedback from 441 institutional investors. The institutional investors ranged from hedge funds, pensions as well as endowments.
---
Net profit was down by 14.2 per cent year-on-year to S$54 million for the three months to March 31, while revenue rose by 6 per cent to S$596.8 million on contributions from the enterprise business, which includes cybersecurity. But operating expenses swelled by 9.4 per cent to S$524.7 million, as the cost of running cybersecurity services nearly tripled from S$13.5 million to S$37.8 million.
Starhub had previously announced at the latest full-year results that StarHub would switch from a fixed to a variable dividend policy because it needs to invest the cash. StarHub plans to pay out at least 2.25 Singapore cents each quarter, for nine Singapore cents in the full year, with any extra to come in the last quarter.
---
In what is likely the first case of a Singapore developer going bust since the Asian Financial Crisis, the party behind two unfinished projects has been put under receivership – sparking fears that there may be other such cases.
---
Berkshire Hathaway has been buying Amazon shares and the purchases will show up in a regulatory filing later this month. Buffett, Berkshire's chairman and chief executive officer, said "one of the fellows in the office that manage money" made the purchases, a reference to investment managers Todd Combs and Ted Weschler.
---
Till next time, Financial Horse, signing out! 
Enjoyed this article? Do consider supporting the site as a Patron and receive exclusive content. Big shoutout to all Patrons for their generous support, and for helping to keep this site going! 
Like our Facebook Page and join the Facebook Group to continue the discussion! Do also join our private Telegram Group for a friendly chat on anything investing related!