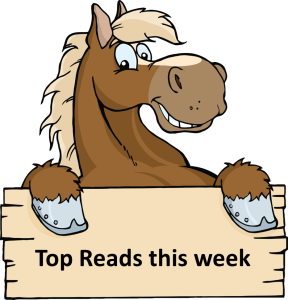 Rounding up top reads from around the web, including articles shared by fellow investors in the Financial Horse Facebook Group.
---
While the manufacturing and financial sectors are more optimistic for the July to September period as compared with the previous three months, other industries such as construction and services remain downbeat for the coming months, according to the Singapore Commercial Credit Bureau's (SCCB) latest quarterly survey released on Tuesday (June 9). Overall business sentiment continued in contractionary territory for the third quarter at -5.16 percentage points, inching up from the previous quarter's all-time low of -7.88 percentage points. All six indicators of the study – volume of sales, net profits, selling price, new orders, inventory levels and employment levels – reported negative numbers, the same as for the previous quarter.
---
The Federal Reserve left interest rates unchanged and near zero on Wednesday as the central bank projected a slow economic recovery from the pandemic-induced recession. In their first economic projections this year, Fed officials indicated that they expected the unemployment rate to end 2020 at 9.3 percent and remain elevated for years, coming in at 5.5 percent in 2022. Output is expected to be 6.5 percent lower at the end of this year than it was in the final quarter of 2019.
The new forecasts predict a much slower path back to economic strength than the Trump administration — and perhaps the stock market — seems to expect as the economy climbs out of a virus-spurred downturn. The Fed skipped its quarterly economic summary in March as the pandemic gripped the United States, sowing uncertainty as business activity came to a near standstill. "The projections highlight what a long slog the recovery will be," Steven Friedman, senior macroeconomist at MacKay Shields, said in a note.
The Fed said that it would continue buying government-backed debt "at least at the current pace" to sustain smooth market functioning, and that it "will closely monitor developments and is prepared to adjust its plans as appropriate."
---
Prime Minister Lee Hsien Loong addressed the nation on Sunday (Jun 7) on Singapore's future in a post COVID-19 world. His speech is the first in a series of national broadcasts from Jun 7 to Jun 20, when Cabinet ministers will lay out plans to lead the country out of the economic crisis.
---
Concessions offered so far during circuit breaker are small, ranging from just S$3,000 for a one-bedroom unit to S$100,000 for a terrace house
---
Markets are on a "runaway tear" and have created a "bubble-like environment" similar to the one seen in 2000, said David Sokulsky of Concentrated Leaders Fund.
Following a massive sell-off in March as the coronavirus pandemic swept across the globe, stocks have surged despite economic concerns.
Jonathan Sheridan of Fiig, said the "huge risk-on tone" in markets "puzzles me," given the underlying economic data. He also flagged the risk of bankruptcies in the future and recommended that investors improve the quality of their investment portfolios. 
---
Antiviral drug remdesivir has been granted conditional approval to be administered to COVID-19 patients in Singapore who are severely ill, the Health Sciences Authority (HSA) said on Wednesday (Jun 10).
---
Next week, 23 healthy volunteers here will be involved in a clinical safety trial for an antibody drug that is hoped to be a viable treatment for patients with Covid-19, a disease that has killed more than 400,000 around the globe so far. Infectious diseases expert Ooi Eng Eong, who co-founded Tychan, the biotech company behind the treatment, told the media in a video conference on Wednesday (June 10) that if trials prove successful, the drug could in future also be used to render temporary protection against infection by the coronavirus, as antibody drugs tend to be effective for about two to three weeks a dose. This being the case, the drug — now known as TY027 — could perhaps be used to protect frontline healthcare workers against any potential exposure of the Sars-CoV-2 coronavirus that causes Covid-19, or travellers when they head to countries with high community transmission of the respiratory disease, he said.
---
Mr Wong, who co-chairs the COVID-19 multi-ministry task force, was responding to media queries after Putrajaya said that talks are under way to allow Malaysians in Johor Bahru to commute to Singapore and back for work. Speaking at a press conference, Mr Wong said that negotiations with Malaysia was part of ongoing discussions with different countries.
---
Singapore Airlines (SIA) and SilkAir passengers flying from selected cities in Australia and New Zealand are now allowed to transit through Changi Airport. SIA announced on its website that such transit flights are only for outbound journeys and will take effect from Thursday (Jun 11). 
---
Foreign workers are expected to bear the brunt of the 200,000 redundancies economists forecast will be made in the city state by the end of the year
Some have already seen their jobs disappear, while others struggle to make ends meet as employers faced with a looming recession look to cut costs
---
Australian Prime Minister Scott Morrison said that he would not be intimidated or give into coercion when asked on Thursday whether Australia would keep taking hits on exports from major trading partner China.
Diplomatic tensions between China and Australia have worsened after Australia called for an international inquiry into the source and spread of the coronavirus, angering Beijing. China has in recent weeks banned Australian beef imports and imposed tariffs on Australian barley.
---
Australian officials and leading universities on Wednesday (Jun 10) rejected China's claims students should be "cautious" in choosing to study Down Under because of concerns over racist incidents during the COVID-19 pandemic. The advisory was the latest in an escalating dispute between Beijing and Canberra that was deepened by Australia's call for an independent inquiry into the origin and handling of the coronavirus in central China last year.
Australian universities are already facing massive losses as an indefinite coronavirus border closure locks out the foreign students who pump billions of dollars a year into the sector. Beijing's travel advice was largely symbolic but could interfere with a proposal to create a "secure corridor" for overseas students to return to Australia. Education is Australia's fourth-largest export – behind iron ore, coal and natural gas – with more than 500,000 international students enrolled last year, bringing about A$37 billion into the economy.
---
Looking for a comprehensive guide to investing? Check out the FH Complete Guide to Investing and FH REITs Masterclass for Singapore investors.
Stock Watch 2020: Support the site as a Patron and get market updates. Like our Facebook Page and join the Facebook Group to continue the discussion!