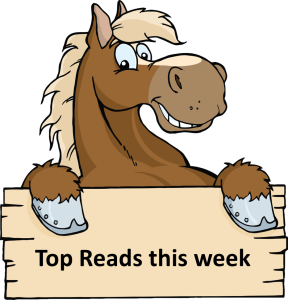 Rounding up top reads from around the web, including articles shared by fellow investors in the Financial Horse Facebook Group.
---
Flights from Singapore to Hong Kong on Nov 22 were sold out on Wednesday (Nov 11) several hours after Singapore's Transport Ministry announced the start date of an air travel bubble between the two cities.
---
United States President-elect Joe Biden is perhaps most fondly remembered by Singaporeans for his surprise pit-stop at Adam Road hawker centre while he was on his first official visit to the Republic as vice-president in 2013. At the hawker centre, he and his son-in-law, Mr Howard Krein, drank $3 lime juice, posed for photographs and stopped to chat with diners.
---
Shares in Alibaba (
BABA
) and JD.com (
JD
) have plunged more than 10% each in Hong Kong trading since Tuesday, putting both stocks on track for their worst week ever. The plunge has wiped 756 billion Hong Kong dollars ($97
billion) off the market value of Alibaba, the e-commerce giant founded by billionaire Jack Ma. Rival JD.com has lost 201 billion Hong Kong dollars ($26 billion). Meituan, which offers services similar to Groupon and Yelp, and gaming company Tencent (
TCEHY
), have also shed billions of dollars in market value. All told, the four stocks have lost a combined $255 billion, based on the value of their Hong Kong shares, according to Refinitiv data.
Alibaba set a new sales record for the annual Singles Day shopping event.
Singles Day is typically a 24-hour shopping event that takes place on Nov. 11 in China, but this year Alibaba and JD.com began their huge discounts from Nov. 1.
Alibaba said gross merchandise value (GMV) surpassed 372.3 billion yuan ($56.42 billion) as of 12:30 a.m. Beijing time on Wednesday. That figure is not final.
But Alibaba and JD.com's stocks plunged after Beijing released draft rules on Tuesday that, for the first time, defines what constitutes anti-competitive behavior.
---
Hong Kong-listed shares of Chinese tech giants Alibaba and Tencent dropped 9.8% and 7.39%, respectively. JD.com also fell 9.2% while Meituan declined 9.67%.%. That came after China's State Administration for Market Regulation on Tuesday announced a set of draft guidelines aimed at curbing monopolistic behavior on internet platforms.
Quarantine-free leisure travel between Hong Kong and Singapore will start on Nov. 22, it was announced. Still, shares of major airlines that may benefit from the move were mixed in Wednesday trade.
---
Shares of major tech companies helped drive the gains. Apple rose 3 percent, Microsoft was up 2.6 percent and Amazon rose 3.4 percent. Shares of such companies, with dominant positions in parts of the economy that are largely immune to the impact of the pandemic, have emerged as popular places for investors to put their cash amid the disruptions this year. But smaller tech firms that stand to benefit from pandemic-induced lockdowns — so-called stay-at-home stocks — also outperformed on Wednesday. Etsy was the best-performing stock in the S&P 500, rising more 9 percent. Zoom Video rose nearly 10 percent. Shopify jumped almost 7 percent.
Pharmaceutical stocks were also big gainers on Wednesday, with the Swiss firm Roche and the French company Sanofi both trading higher. Shares in Pfizer, which on Monday announced strong results for its potential coronavirus vaccine, were down slightly for the day but remain up by nearly 6 percent this week.
But investors largely abandoned companies reliant on a near-term economic improvement, suggesting they may see more headwinds over the coming months. Delta Air Lines and United Airlines fell 5.5 percent and 3.9 percent. American Express, whose affluent customers have drastically reduced business and leisure travel amid the pandemic, fell 4.2 percent. The shopping center owner Simon Property Group fell 6.9 percent, and the chain restaurant owner Darden dropped 5.5 percent.
Many of those companies, however, were merely giving back some of the outsize gains logged since Monday, when Pfizer announced that its potential coronavirus vaccine was more than 90 percent effective according to early data. Such a high efficacy rate was much better than many had expected, raising the prospect of a faster transition to economic normalcy.
---
Singapore Airlines' share price rose as much as 21 per cent during intraday trading to a five-month high on Tuesday (Nov 10), as markets rallied on news that a vaccine candidate was 90 per cent effective in treating COVID-19 patients, fuelling hopes for a return to normal. SIA's share price rose to a high of S$4.15, before closing up 14 per cent at S$3.91. This is the first time since June that SIA's share price has risen above S$4 .
On Monday, US drugmaker Pfizer said its experimental COVID-19 vaccine was more than 90 per cent effective, a major victory in the fight against a pandemic that has killed more than a million people and battered economies. Airline shares in Asia jumped in hopes that people may be able to travel again, with Japan Airlines increasing by more than 20 per cent and Cathay Pacific by 14 per cent.
---
Lyft's revenue falls, but the company says riders are slowly returning.

Hopes for a return of the 737 Max and a vaccine have Boeing's shares rallying.

United Airlines will return to J.F.K. after a five-year absence.

A European agreement helps clear the way to spend stimulus money.

AMC offers private theater rentals to attract moviegoers.

Spotify goes deeper into podcasting with the $235 million purchase of Megaphone.

Beyond Meat tumbles after an unexpected loss and McDonald's entry into plant-based products.

Stocks halt their rally with the S&P 500 just short of a record.
---
With so much suffering from pandemic fallout, we have also observed how investors so quickly rewarded stocks whose business models aligned with remote work and life.  Zoom, Peloton, Nintendo, Teledoc, and Netflix easily fit that description. However, there have also been a multitude of firms that presciently adopted technologies that would become essential to Covid-world success, and those who pivoted, stretched and even reconfigured their pre-pandemic strategy, product lines, and services in ways that were unthinkable a half year (or a lifetime) ago. 
---
About 6,370 jobs are on offer in the manufacturing sector, with one in 10 from the hard-hit marine and offshore sub-sector. These make up over 60 per cent of the more than 10,400 job, traineeship and training opportunities available as at the middle of last month, said the Ministry of Manpower (MOM) in its weekly jobs situation report on Monday (Nov 9). At  6,370, the number of jobs available is almost double the 3,200 openings in the sector at the end of August.
Within the sector, electronics, precision engineering and food manufacturing had the greatest number of available openings. Of the jobs available now, seven in 10 are for professionals, managers, executives and technicians (PMETs).
---
Royal Dutch Shell's pivot away from crude oil towards a low-carbon slate of fuels will cost Singapore 500 jobs and half of the processing capacity on Pulau Bukom in the next three years. Shell Singapore said on Tuesday (Nov 10) that the 1,300-strong Bukom workforce will be cut to 1,100 by the end of 2021, and downsized further to 800 in another two years. The reduction in crude refining capacity – to 250,000 barrels a day from the current level of 500,000 – will be achieved at a faster pace, probably in the next year or two, Ms Aw Kah Peng, chairman of Shell Companies in Singapore, told The Straits Times.
---
The Economic Development Board announced plans on Thursday (Nov 12) to launch Tech.Pass, which is planned to put Singapore ahead in the global race to attract highly skilled technology professionals in fields such as e-commerce, artificial intelligence and cyber security.
---
Twenty-one men and women from the unregistered local chapter of a secretive South Korean church were arrested for allegedly being members of an unlawful society, said the Ministry of Home Affairs (MHA) on Wednesday (Nov 11).
---
Singapore can go ahead with phase three of its reopening only if three key conditions are met, Education Minister Lawrence Wong said on Tuesday (Nov 10). "There may be a chance we can do it before the end of the year. If not, we will roll over to January or sometime early next year," he added. "It's more important that we do it right than we rush into phase three and end up with bad consequences down the road."
---
The framework will only apply for a Singapore law governed contract signed before 25 March 2020 which has at least one party with a place of business in Singapore. These contracts may be leases or licences for non-residential immovable property; hire purchase and conditional sales agreements for commercial equipment or commercial vehicles; rental agreements for commercial equipment or commercial vehicles; the sale and purchase of goods and service. Certain contracts will be excluded from the framework such as consumer, employment, insurance and financial service contracts.
If the proposed framework is passed in parliament, it will take effect for only a limited period of six weeks to allow businesses to assess whether they wish to renegotiate their contracts, according to a report. They will have to serve notice on their counterparties when they decide to renegotiate contracts – they will have four weeks to renegotiate the terms. If disagreement arise, they can refer to a panel of assessors to resolve the dispute.
---
The first shipments of a vaccine co-developed by Singapore researchers are expected in the first quarter, said Arcturus Therapeutics – the American pharmaceutical company working with Duke-NUS Medical School scientists on the vaccine – yesterday, as it announced positive preliminary results from the early-stage clinical trials being conducted in Singapore.
The Economic Development Board (EDB) is pumping in some US$45 million (S$61 million) into the manufacture of the vaccine, which will be used for the purchase of equipment, materials and services related to the vaccine's manufacture, said Arcturus.
---
Premium Japanese supermarket chain Meidi-Ya is to open its largest store yet in Singapore this month. Located at Millenia Walk, the flagship store spans two stories, occupies a 24,000sqft area and is scheduled to open on November 25, hosting a bakery, food hall and Japanese restaurant. 
---
Some Grab users had trouble paying for their 11.11 hauls in the early hours of Wednesday (Nov 11), as the app's e-payment feature ran into issues. 
---
THE sun has set on Singapore's first licensed solar energy retailer Sun Electric Power (SEP). The electricity retailer for mid-size and large businesses is under liquidation after commodity house RCMA Asia won the bid in court to wind up the firm in September, The Business Times has learnt. (see amendment note)  
RCMA pushed to wind up the firm on the basis that SEP was unable to pay some S$7.5 million, which mostly entailed "incentive payments" for assuming SEP's market making role in the electricity futures market, as it was cash flow and balance sheet insolvent, according to court documents.
---
"They still want stability and progress, job security and opportunities for themselves and their children," he said. "But increasingly, Singaporeans want other things too," he said. This includes being able to participate more actively in shaping society, having more checks and balances, more alternative voices, and scrutiny of government policies. "These expectations and desires will only grow with every generation of Singaporeans," he said, although he added that the 66-year-old party must continue representing all Singaporeans, and not just a segment of the population.
---
Looking for a comprehensive guide to investing? Check out the FH Complete Guide to Investing and FH REITs Masterclass for Singapore investors.
Stock Watch 2020: Support the site as a Patron and get market updates. Like our Facebook Page and join the Facebook Group to continue the discussion!