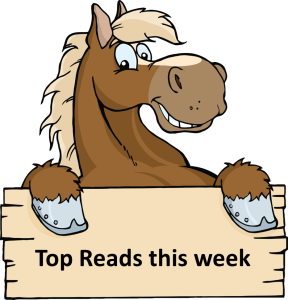 Rounding up top reads from around the web, including articles shared by fellow investors in the Financial Horse Facebook Group.
---
The first cohort of local volunteers has been dosed with a coronavirus vaccine jointly developed by Duke-NUS Medical School and United States pharmaceutical company Arcturus Therapeutics. Arcturus said in a statement on Tuesday (Aug 11) that this first phase of the trial involved volunteers aged between 21 and 55, who were injected with a single shot of the vaccine. Lunar-Cov19 contains genetic material called mRNA, which encodes part of the virus. Injected into a person, it causes the body's cells to begin manufacturing a protein similar to that of the virus, allowing the body to recognise and learn to fight it.
---
Although the Inter-Agency Taskforce has completed the testing of all workers in the dormitories, there are currently about 22,800 workers – including the 800- who are still serving out their quarantine period. These workers will be tested when their quarantine ends, and the ministry expects the daily case counts to remain high in the coming days, before tapering off.
---
Singapore has entered its worst recession since independence
However, consumer spending seems alive and well
Economists say that the pandemic has affected the lower-income more
Government support has also helped prop up consumer spending
---
The COVID-19 Voluntary Release Scheme is also open to cabin crew members who are on probation, and will come with payouts and benefits, an SIA spokesperson said on Wednesday (Aug 12). It is not applicable to trainee crew members. The scheme was introduced in light of the adverse impact of COVID-19 pandemic and a "slower projected trajectory recovery for international air travel", the spokesperson added. 
---
Singapore's three largest banks last week reported a sharp fall in second-quarter net profits compared to a year ago as they padded up reserves in anticipation of the challenges that lie ahead.
DBS Group Holdings, Oversea-Chinese Banking Corp and United Overseas Bank warned that the global environment remains uncertain even as economies reopen from coronavirus lockdown measures.
They said they could set aside more funds for potential loan losses given the weakened business conditions and risk of further Covid-19 outbreaks.
---
Philippine President Rodrigo Duterte may be injected with Russia's coronavirus vaccine as early as May 2021, a presidential spokesman reportedly said Thursday.
Duterte had earlier this week volunteered to participate in trials for the Russian vaccine, even as scientists and health experts questioned the safety and effectiveness of the drug that has not been extensively tested.
The Philippines is among a handful of countries that will take part in a more extensive "phase three" trial for the vaccine, and reportedly aims to begin those trials in October.
---
Latin America and the Caribbean have become a new global epicenter of the pandemic, and the United Nations warned several countries in the region are "now among those with the highest per capita infection rates worldwide."
"The outlook is pretty uninspiring," Alberto Ramos, head of Latin America economic research at Goldman Sachs, told CNBC's "Street Signs Asia."
"We expect to climb out of a very deep hole during the second-half of the year and throughout 2021," he added.
---
Hong Kong stocks posted their second straight day of gains as investors piled into battered traditional sectors like banking, real estate and airlines, sending the benchmark to its highest level in a week. "Money flowed into old economy stocks today, including banking and aviation," said Kenny Wen, wealth management strategist at Everbright Sun Hung Kai. "I think partly [it was] due to the latest development on a virus vaccine."
---
Britons woke up this morning to news that the UK economy shrunk by 20.4% in the second quarter, the worst slump on record and the biggest drop of any major global economy. The crash follows a 2.2% contraction in the first quarter, meaning the economy is officially in recession. The country's finance minister, Rishi Sunak, said the figures "confirm that hard times are here."
---
HSBC Private Banking is overweight growth stocks and quality large caps, including telecoms and tech. Global Chief Market Strategist Willem Sels will not be "chasing that rotation into low quality, overly cyclical sectors."
---
About 50% of the company's revenue comes from sales away from home: think of bars, restaurants, and stadiums. Certainly, Coca-Cola has felt the impact of social distancing and closures. In the second quarter, revenue under U.S. generally accepted accounting principles (GAAP) declined by 28% from the year before to $7.2 billion. Some of this revenue will come back as governments relax restrictions and allow restaurants and bars to fully reopen. However, during a downturn with high unemployment, people will undoubtedly cut back on this discretionary spending. Coca-Cola is a solid cash-flow generator. Even in a tough first half, its operating cash flow was $2.8 billion. Granted, this is down from last year's $4.5 billion, but not too bad considering the circumstances. After spending $536 million on capital expenditures, this still left plenty of free cash flow to pay a dividend that currently yields 3.4%.  Coca-Cola is a Dividend Aristocrat, a group of S&P 500 companies that have raised their dividends annually for at least 25 consecutive years. Coca-Cola has done so for 58 straight years.
---
Consumers in the Chinese city of Shenzhen have been urged to exercise caution when buying imported frozen food after a surface sample of chicken wings from Brazil tested positive for coronavirus, according to a statement from the local government. The positive sample appears to have been taken from the surface of the meat, while previously reported positive cases from other Chinese cities have been from the surface of packaging on imported frozen seafood.
---
Hong Kong tycoon Jimmy Lai – the most high-profile person to be detained under a controversial new security law – has warned young protesters they need to be "more cautious" now. Mr Lai, who has been a prominent pro-democracy voice and a supporter of protests that erupted last year, owns Apple Daily, one of Hong Kong's most-read newspapers.
---
The bigger fallout may be Apple's sales in China if its iPhones aren't allowed to download Chinese messaging apps. WeChat has more than one billion users worldwide but says the US only accounts for 2% of its revenue. Tencent, the world's largest gaming firm, downplayed Mr Trump's executive order when it reported its second quarter results on Wednesday. It saw a 37% rise in profits.
---
Sea Ltd. has quietly become the world's best-performing large-cap stock, stoking a debate on Wall Street over whether the Singapore-based gaming, e-commerce and payments company is the next great internet colossus or just Exhibit A in a global tech bubble that's destined to burst.
---
Tesla Inc on Tuesday (Aug 11) announced a five-for-one stock split to make its share price less expensive for individual investors – and that sent the electric carmaker's shares up 7 per cent in extended trade.
---
Hon Hai Precision Industry Co. Chairman Young Liu said it's gradually adding more capacity outside of China, the main base of production for gadgets from iPhones to Dell desktops and Nintendo Switches. The proportion outside the country is now at 30%, up from 25% last June.
---
Looking for a comprehensive guide to investing? Check out the FH Complete Guide to Investing and FH REITs Masterclass for Singapore investors.
Stock Watch 2020: Support the site as a Patron and get market updates. Like our Facebook Page and join the Facebook Group to continue the discussion!