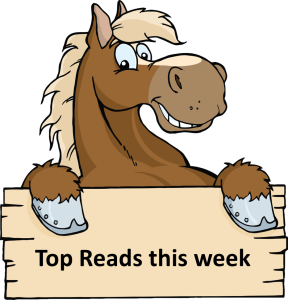 Rounding up top reads from around the web, including articles shared by fellow investors in the Financial Horse Facebook Group.
---
In my view, the low interest rates represent the dominant characteristic of the current financial environment, creating the dominant consideration for investors: the lowest prospective returns in history (for the reasons described on pages 4-6). Thus I've dusted off a presentation I've been giving in recent years called "Investing in a Low-Return World." At its end, after laying out much of the above, I conclude by enumerating the strategic alternatives for investors:
Invest as you always have and expect your historic returns. Actually, this one's a red herring. The things you used to own are now priced to provide much lower returns.

Invest as you always have and settle for today's low returns. This one's realistic, although not that exciting a prospect.

Reduce risk in deference to the high level of uncertainty and accept even-lower returns. That makes sense, but then your returns will be lower still.

Go to cash at a near-zero return and wait for a better environment. I'd argue against this one. Going to cash is extreme and certainly not called for now. And you'd have a return of roughly zero while you wait for the correction. Most institutions can't do that.

Increase risk in pursuit of higher returns. This one is "supposed" to work, but it's no sure thing, especially when so many investors are trying the same thing. The high level of uncertainty tells me this isn't the time for aggressiveness, since the low absolute prospective returns don't appear likely to compensate.

Put more into special niches and special investment managers. In other words, move into alternative, private and "alpha" markets where there might be more potential for bargains. But doing so introduces illiquidity and manager risk. It's certainly not a free lunch.
None of these alternatives is completely satisfactory and free from downside. But in my view there are no others.
---
A K-SHAPED recovery for the Singapore economy seems the most likely outcome, with IT, advanced manufacturing and financial services leading the way, while other sectors are likely to suffer a more prolonged impact, economists told The Business Times (BT). IT, advanced manufacturing, financial services likely to lead the way, add economists. There is a darker aspect to the K-shaped recovery, economists warned, one that highlights a widening income gap.
---
The global aviation industry will take at least two years to recover from the coronavirus pandemic and mass travel to return, Singapore's Transport Minister Ong Ye Kung said, stressing the importance of developing a widely available and effective vaccine to help countries open their borders. "When a vaccine is widely available around the world and people gain confidence to travel again and visit other countries, then we will have aviation back on its feet, almost fully," Ong said an interview with Bloomberg Television. "How long that will that take, I can't make a guess, I would say minimally a couple of years."
---
Dr. Soumya Swaminathan, WHO's chief scientist, said health workers, frontline workers and the elderly will likely get vaccinated first.
She added that the world will hopefully have at least one safe and effective coronavirus vaccine by 2021, but it will be available in "limited quantities."
"There will be a lot of guidance coming out, but I think an average person, a healthy young person might have to wait until 2022 to get a vaccine," she said.
---
Electric cars will be built at a highly automated factory in Singapore, marking the return of automobile manufacturing here and incorporating first-of-its-kind features. "I am happy that Hyundai has chosen Singapore to locate your newest facility. It is an investment of almost $400 million, and may produce up to 30,000 vehicles per year by 2025, five years from now," said PM Lee.
---
As the economic recovery from the COVID-19 pandemic continues, corporate earnings should continue to roll in better than expected, according to UBS. And those better-than-expected earnings will help drive stocks higher, even as the market deals with volatility related to the uncertainty of another fiscal stimulus deal, setbacks in the race for a COVID-19 vaccine, and election-related headlines. 
"Higher taxes would be used to fund Democrats' spending priorities on infrastructure, green energy incentives, and healthcare coverage expansion," UBS said, adding that Biden's agenda in a blue wave scenario would "boost economic growth because new government spending would exceed the increase in taxes."
UBS concluded that "the continued economic recovery from the pandemic will be the dominant market driver in 2021, with policy clarity, a new round of stimulus, and a successful vaccine helping propel the market higher."
---
Seven people were charged with corruption on Wednesday (Oct 14) in a case linked to Keppel FELS. Three men at the centre of the charges each faces 46 counts of abetment. Alvin Lim Wee Lun, Goh Ngak Eng and Rajavikraman Jayapandian are accused of conspiring with one another to corruptly obtain S$879,900 in bribes from three subcontractors. The alleged offences took place between 2014 and 2017, according to the Corrupt Practices Investigation Bureau (CPIB).
---
KHAZANAH-BACKED family attraction KidZania Singapore, now under liquidation, owes S$53.4 million to more than 1,000 parties including businesses and government agencies in Singapore, The Business Times (BT) has learnt.
---
Bytedance's office expansion will help the world's most richly valued start-up to anchor itself in Singapore, where it plans to invest several billion dollars. The move will support Bytedance's hiring spree, as it plans to add hundreds of jobs over the next three years in the city-state, people familiar have said.
---
Aviation and tourism industries are a worry, especially with an expected slow recovery in travel, Mr Ravi Menon, managing director of the Monetary Authority of Singapore (MAS), said at a virtual event hosted by the Institute of International Finance on Monday (Oct 12). About 10 per cent to 20 per cent of the economy faces scarring from the virus, he said.
Mr Menon said he is aware of the risks of prolonging support, but the key is to taper the exit without pulling out the rug too suddenly. Singapore has not seen the full extent of the crisis yet, he said, with more bad loans and bankruptcies expected through to the start of 2021. There is also a question of whether banks need to raise more capital.
---
DEVELOPERS in Singapore sold 1,329 new private homes in September, 5.8 per cent more than the 1,256 units in August. It is the highest sales volume notched since July 2018's 1,724, and marks the fifth consecutive month of increase in monthly sales since the "circuit breaker" in April 2020. The figure is also 4.6 per cent higher than the 1,270 units sold in September 2019.
---
Work is progressing on a fair tenancy framework that will establish industry norms on tenancy practices and terms, with an update expected in the coming months, Trade and Industry Minister Chan Chun Sing said yesterday. A committee comprising representatives of various business associations is seeking legislation to address what it claims is a growing power imbalance tilted in favour of landlords. Its proposals include rental data transparency and a dispute resolution channel.
---
A total of 23 Genting Cruise Lines sailings, each with a maximum capacity of 1,700 passengers, are scheduled for November and December. The Singapore Tourism Board announced last Thursday (Oct 8) that round-trip cruises without ports of call will take place under a pilot programme.
---
The phased reopening of Singapore's border with Malaysia brought some welcome relief for landlords last month. Rents and leasings for both Housing Board (HDB) flats and condominium units rose after August's rental volumes hit their lowest point in 12 months, according to flash data yesterday.
Singapore is expected to announce its first air travel bubble with Hong Kong, sources told The Straits Times. This means that people will be able to travel between the two locations without the need to be quarantined, subject to conditions including testing negative for Covid-19.
---
Bank of America said it generated $20.45 billion in total revenue, missing the $20.8 billion estimate of analysts surveyed by Refinitv.
Profit in the quarter slumped 16% to $4.9 billion, or 51 cents a share, edging out the 49 cents estimate.
Shares of the firm dropped 3.8%.
Its net interest income fell by $2.1 billion from a year earlier to $10.2 billion. CEO Brian Moynihan had said the key figure will likely bottom in the third quarter.
---
Goldman Sachs posted third-quarter results that crushed analysts' profit estimates on stronger-than-expected results in bond trading and asset management.
The firm generated $3.62 billion in profit, or $9.68 a share, exceeding the $5.57 per share estimate of analysts surveyed by Refinitiv.
Companywide revenue of $10.78 billion topped the estimate by more than $1 billion, driven by the trading and asset management divisions.
Shares of the bank gained 0.6% after rising 2.2% earlier in premarket trading.
---
Tesla CEO Elon Musk tweeted that the price of the Model S is being reduced again, the second time this week.
The latest price cuts another 3.5% off the purchase price for U.S. customers.
---
Mapletree North Asia Commercial Trust (MNACT): It has received interim payments totalling HK$263 million (S$46 million) in insurance claims for property damage and revenue loss due to business interruption to its Festival Walk mall in Hong Kong. The mall had suffered extensive damage from civil unrest in the city last year, causing the MNACT's largest asset to be closed for months. MNACT units fell S$0.01 or 1.1 per cent to close at S$0.92, before the announcement.
Singapore Press Holdings (SPH): The media and property group's shares sank on Wednesday as the board slashed dividends after SPH fell into the red for the first time. The counter dipped below S$1 to 99.5 Singapore cents minutes after the opening bell, although it regained some momentum later and ended the day at S$1, shedding S$0.05 or 4.8 per cent from Tuesday's close.
CapitaLand: Its wholly-owned lodging business unit, The Ascott Limited, has secured 12 more properties in China in the last three months. Revenue from its operating properties in the country have also almost fully recovered to pre-Covid-19 levels, said Ascott in a press statement on Thursday. Shares of CapitaLand closed flat at S$2.81 on Wednesday.
Medtecs International: The medical products supplier's shares had an upbeat morning on Wednesday thanks to its stellar third-quarter earnings, but the stock's gains were rapidly lost in the late afternoon. Amid heavy volumes traded, the Catalist-listed counter finished the day at S$1.36, down S$0.12 or 8.1 per cent.
---
The rebound was due mainly to the manufacturing sector that grew by 2 per cent year on year in the third quarter, a reversal from the 0.8 per cent contraction in the previous quarter, the ministry said.
Ms Selena Ling, head of treasury research and strategy at OCBC, said: "While third-quarter GDP growth was slightly weaker than our forecast of -6.5 per cent year on year, nevertheless the silver lining was manufacturing."
MTI data showed that the construction sector shrank by 44.7 per cent, extending the 59.9 per cent plunge in the previous quarter. 
The services producing industries also contracted, down 8 per cent year on year, though better than the 13.6 per cent decline in the second quarter.
---
Forty-one of 50 Hang Seng Index members dropped in morning trading amid report on US proposal to blacklist Alibaba's affiliate Ant Group
In China, Yihai Kerry Arawana and Shanghai Holystar Information Technology rallied on their debut; Big Hit Entertainment, the agency managing BTS band, surged in Seoul debut
---
The global economic collapse caused by the coronavirus won't be as severe as estimated earlier, the International Monetary Fund predicted Tuesday, thanks to strong government intervention world-wide and a swift recovery in China.
The world's gross domestic product is forecast to decline by 4.4% this year, not as sharp as the 5.2% drop the IMF projected in June but still the most severe downturn since the Great Depression. World output will grow 5.2% in 2021, down from an earlier estimate of 5.4%.
China, where the pandemic originated, will be the only major economy to grow this year, the IMF predicted. The world's No. 2 economy is forecast to expand 1.9% in 2020, compared with growth of 6.1% last year. China's growth will accelerate to 8.2% next year, the IMF said.
---
Looking for a comprehensive guide to investing? Check out the FH Complete Guide to Investing and FH REITs Masterclass for Singapore investors.
Stock Watch 2020: Support the site as a Patron and get market updates. Like our Facebook Page and join the Facebook Group to continue the discussion!