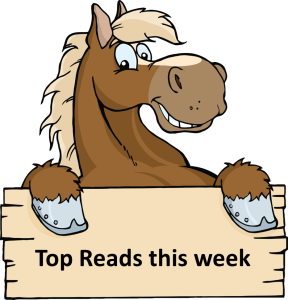 Rounding up top reads from around the web, including articles shared by fellow investors in the Financial Horse Facebook Group.
Last day for the FH Course CNY Promo! Check it out here.
---
Asian markets fell on Tuesday (Jan 28) on rising concern about the impact of global travel bans associated with China's deadly coronavirus even as some stocks involved in preventative health spiked.
Shares of airlines and travel agents were sharply lower amid freezes on travel into and out of the world's second largest economy, while companies with an indirect exposure to Chinese consumer spending abroad, such as casinos and luxury retailers, also tumbled.
---
The Nasdaq roared back from its two-day sell-off, but a handful of its biggest names are showing signs of strain.
Amazon, Netflix, eBay, Cisco and Starbucks are among those stocks in the Nasdaq 100 in or about to enter a correction — a drop of 10% or more from 52-week highs. Nearly one-third of the Nasdaq 100 is in a correction or worse.
---
Individual sectors and companies with heavy exposure to China also remain vulnerable.
Pusz cautioned against comparisons to the SARS outbreak in 2003. Back then, Chinese consumers accounted for less than 10% of luxury goods sales. Now, they account for one third.
The prime culprit is lifestyle "creep." A fatter paycheck makes people feel richer, so they feel empowered to buy that fancy car or bigger house, said Steve Wendel, head of behavioral science at Morningstar. But as their expenses grow, they risk falling behind on retirement savings if they stick to saving the same proportion of their income.
---
Kakeibo, pronounced "kah-keh-boh," translates as "household financial ledger." Invented in 1904 by a woman named Hani Motoko (notable for being Japan's first female journalist), kakeibo is a simple, no-frills approach to managing your finances.
What sets kakeibo apart, however, is that it doesn't involve any budgeting software, apps or Excel sheets. Similar to bullet journaling, it emphasizes the importance of physically writing things down — as a meditative way to process and observe your spending habits.
According to the kakeibo method, you must ask yourself the following questions before purchasing any non-essential items — or the things you buy on impulse, but might not necessarily need:
Can I live without this item?
Based on my financial situation, can I afford it?
Will I actually use it?
Do I have the space for it?
How did I come across it in the first place? (Did I see it in a magazine? Did I come across it after wandering into a gift shop out of boredom?)
What is my emotional state in general today? (Calm? Stressed? Celebratory? Feeling bad about myself?)
How do I feel about buying it? (Happy? Excited? Indifferent? And how long will this feeling last?)
---
"Rule of 72" as of one of three essential personal finance topics to understand (the other two being compound interest and the time value of money). "The Rule of 72 can give you an idea of how many doubles you'll get in your lifetime. With more time, a lower interest rate may give you enough to nail your goals. With less time, you may need a higher interest rate."
The formula is simple: 72 / interest rate = years to double
---
One-third of the investors already allocate 25% to 50% of their portfolio to ETFs.
Active ETFs and ESG ETFs are both poised to see inflows most investors this year, according to a survey from Brown Brothers Herriman and ETF.com.
Disruptive technology is a major theme for ETF investors.
---
Why can't the market's top hedge fund managers stay on top for very long?
"Funds don't have track records, but fund managers do."
– Alexander Green
"There's no such thing as the goose that lays the golden egg forever."
– Jim Simons, manager of Renaissance Technologies hedge fund
---
Bloomberg's fourth-annual ranking of the largest environmental, social and governance funds with five-year track records, shows sustainable investing isn't just for do-gooders. It's a money-making opportunity that's gaining popularity. Assets managed by the 75 retail funds in the survey climbed more than 34% to $101 billion last year as socially conscious money managers bet sustainable investing will help them find new growth opportunities.
"It turns out companies that generate strong business results by helping their customers with energy efficiency, solve some of our biggest sustainability challenges, and companies that are productivity leaders by reducing their resource consumption are performing well," Funk said.
---
Kobe Bryant told CNBC in 2016 he wanted to be remembered more for investing in 20 years than he did basketball. 
Bryant started a venture capital firm Bryant Stibel in 2013 with Jeff Stibel, officially launching the firm by ringing the New York Stock Exchange bell in 2016.
Bryant had expressed interest in eventually owning an NBA team, similar to his idol Michael Jordan.
---
Looking for a comprehensive guide to investing? Check out the FH Complete Guide to Investing for Singapore investors.
Stock Watch 2020: Support the site as a Patron and get market updates. Like our Facebook Page and join the Facebook Group to continue the discussion!