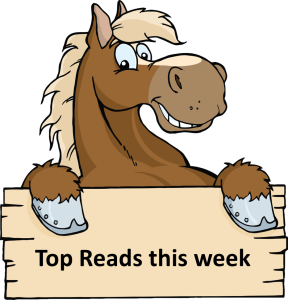 Rounding up top reads from around the web, including articles shared by fellow investors in the Financial Horse Facebook Group.
---
Singapore has put in place stringent processes to assess the safety of the vaccines we bring in:
Ensure they comply with the World Health Organization's guidelines and international standards


Health Sciences Authority (HSA) is reviewing scientific and clinical evidence in detail; and is in constant consultation with global benchmark regulatory authorities


Expert Committee on COVID-19 Vaccination is assessing how best to deploy the vaccines across all population segments to achieve optimal health outcomes for Singapore and Singaporeans
---
Hawker culture in Singapore has been officially added to the Unesco Representative List of the Intangible Cultural Heritage of Humanity. In virtual proceedings that took place on Wednesday night (Dec 16), a 24-member international committee unanimously accepted Singapore's application. The successful nomination means Singapore now has its first item on the intangible cultural heritage list, which currently has 463 entries including yoga in India and Belgian beer.
---
I wanted to share 3 quick thoughts, and then talk briefly about the implications for Singapore investors.
The start of the end of COVID (faster than expected)
6 to 12 months more of COVID restrictions – What is the economic impact?
The "easiest" recession in Singapore's history?
---
This adds up to 152,794 workers here who have been infected with the coronavirus, or 47 per cent of 323,000 dorm dwellers, said the Ministry of Manpower (MOM) and the Ministry of Health (MOH) in a joint statement on Monday.
---
A Ministry of Manpower (MOM) spokesman told The New Paper that it has received feedback from employment agencies here that the Indonesian authorities are enforcing a "zero placement fee policy" from Jan 1 next year. The ruling means employers must now pay this fee to enable new Indonesian FDWs to come to Singapore debt-free.
---
Dr Kevin Cheong, chairman of the Association of Singapore Attractions, said the move to allow approved tourist attractions to increase their operating capacity from the current 50 per cent to up to 65 per cent is significant. Much hinges on the roll-out and take-up rate of a vaccine, which will eventually pave the way for borders to be reopened once confidence in governments' ability to manage the virus returns, he said.
---
But academics and real estate experts said that while the Government can decree the mix of housing type with relative ease, tackling the significant profits home owners could glean from selling a Build-To-Order (BTO) flat in a prime location is another beast altogether.
---
THE Over The Top (OTT) streaming business may be challenging, but Chinese streaming giant iQiyi is expanding out of its home market with "eyes wide open" to the challenges.
---
The Self-Employed Person Income Relief Scheme (SIRS) paid out about S$1.8 billion to nearly 200,000 eligible individuals between April and December this year, the Ministry of Manpower (MOM) and National Trades Union Congress (NTUC) said on Wednesday (Dec 16). The scheme – aimed at supporting the self-employed through the COVID-19 pandemic – provides three cash payouts of S$3,000 each to self-employed people with less means and family support.
---
Last month, after granting 10 extensions, the High Court finally put an end to the supervised restructuring, approving an application by a group of unsecured bank creditors to place the company under interim judicial management. Suspicious that details of another potential investor surfaced every time the company came to ask the court for an extension, the ruling judge suspected some sort of gamesmanship was at work.
---
NEW private home sales in November rose to 767, up 18.9 per cent from October's 645 as buyers of all stripes pin their hopes on the vaccine to revive economic activities. Well heeled buyers joined in – the number of new homes sold above S$2,000 per sq foot (psf) rose to a nine-month high, from 53 units in March to 393 units in November this year, said Christine Sun, OrangeTee & Tie's head of research and consultancy.
---
A former Shell employee who was part of a syndicate that routinely embezzled millions of dollars' worth of gas oil from the Pulau Bukom manufacturing site for sale to other vessels pleaded guilty to his involvement on Tuesday (Dec 15).
---
MSCI Inc. became the third index provider to delete some Chinese stocks from its benchmarks, after the Trump administration banned U.S. investments in companies with links to the Chinese military. The firms include China Railway Construction Corp, China Spacesat Co., China Communications Construction Co., CRRC Corp., Hangzhou Hikvision Digital Technology Co., Dawning Information Industry Co. and Semiconductor Manufacturing International Corp, according to a statement late Tuesday. The deletions will take effect at the Jan. 5 close. MSCI will publish its final list at the end of December to reflect any changes to Chinese firms sanctioned by the U.S.
---
Consumer Discretionary Stocks for 2021 Why? Consumer discretionary stocks suffered under economic shutdowns in 2020, and they stand to gain after the Covid-19 vaccine makes social events safer and more accessible.
Energy Stocks for 2021 Why? Because the world runs on power, and green power in particular is primed to be rewarded.
Healthcare Stocks for 2021 Why? If 2020 has made anything clear, it's the value of rapid healthcare innovation. Experts and analysts think leaders in this sector are currently undervalued.
Technology Stocks for 2021 Why? Experts expect habits formed during the pandemic, like delivery services and online shopping, to persist during the recovery. That's why they favor tech names that provide e-commerce infrastructure and the information technology companies that support these changed behaviors.
Industrial Stocks for 2021 Why? Because folks might finally be, in the words of Southwest Airlines, "free to move about the country," and that means more travel (note that airlines are considered part of the industrial sector). If e-commerce continues to remain strong, as many anticipate, shipping-related industrials may also benefit.
---
Shares of discount e-commerce platform Wish sank on the San Francisco-based company's first day of trading, breaking a streak of blockbuster trading debuts as experts warn that investors could simply be trying to book quick gains. Founded in 2010 by now-billionaire Peter Szulczewski, Wish reported 108 million monthly active users at the end of last quarter and $1.9 billion in sales last year in its prospectus from late November.
---
Cloud computing capped a decade of rapid growth during the 2010s with a pandemic — a global crisis that sent the cloud from cutting-edge technology to essential business service. Organizations around the globe have been scrambling to adopt cloud-based operations to support remote workers and slim down costs. In fact, according to tech researcher Gartner (NYSE:IT), cloud computing is expected to be among just a handful of industries that grew in 2020, with global spending increasing 6% from 2019 and topping $250 billion. But this story is far from over, as the cloud will remain an important part of the digital economy in the decade ahead. To that end, IBM (NYSE:IBM), Magnite (NASDAQ:MGNI), and Veeva Systems (NYSE:VEEV) look like timely buys right now.
---
A United States Air Force veteran made international headlines earlier this year after learning that the watch he originally bought for scuba diving nearly 50 years ago for less than a month's wages (around US$350) is now worth over US$700,000 in today's market. Half a century later, that 1971 Rolex Cosmograph Daytona Oyster – along with its original case, packaging, warranty papers and receipts – has been appraised at 2,000 times its original sticker price, easily beating any equivalent stock market investment, thanks in part to its pristine condition and to the Daytona's notorious association with the late actor Paul Newman.
---
1. Re-examine core assumptions. First and foremost, you should have a look at all the businesses within your portfolio and rigorously re-examine their investment theses.
2. Explore new growth catalysts
3. Revisit risk factors
4. Boost dividend certainty
5. Keeping some cash handy
---
Bitcoin surpassed US$21,000 (S$27,900) for the first time, another milestone in what's been an eye-popping rally for the controversial digital asset this year.
---
DBS Digital Exchange will be the world's first cryptocurrency exchange backed by a traditional bank, says DBS chief Piyush Gupta
It will allow Bitcoin, Ether, XRP and Bitcoin cash to be traded against the Yen, US, Singapore and Hong Kong dollars and may be in business from next week
---
Prime Minister Lee Hsien Loong will be on local leave for two weeks from today, his office said in a statement yesterday. No acting prime minister will be appointed during this period as he will remain contactable.
---
Looking for a comprehensive guide to investing? Check out the FH Complete Guide to Investing and FH REITs Masterclass for Singapore investors. XMAS PROMO right now!
Stock Watch 2020: Support the site as a Patron and get market updates. Like our Facebook Page and join the Facebook Group to continue the discussion!