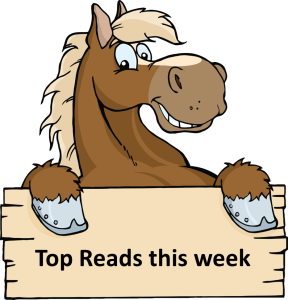 Rounding up top reads from around the web, including articles shared by fellow investors in the Financial Horse Facebook Group.
---
Most businesses and social activities will be allowed to resume from Friday. Under phase two, retail outlets will be allowed to reopen with safe distancing measures in place, and food and beverage (F&B) dine-in will also be allowed, although there must not be more than five diners per table. 
---
Singapore's stock exchange is on course for another dismal year of delistings as scarce liquidity and governance scandals undermine its efforts to compete with regional rival Hong Kong. Nine companies have dropped off the Singapore Exchange this year, or are in the process of doing so, according to Dealogic data, while just five companies have listed, putting this on track to be the second year in a row when more businesses have left the market than joined. Analysts say that these departures have become a persistent problem for Singapore thanks to low liquidity and valuations, with frequent accounting and governance scandals at quoted companies eating away at investor confidence.
---
DOMESTIC electronics exports were usually the culprit but this time the knock-out punch came from non-electronic shipments, which brought Singapore's key non-oil domestic exports down 4.5 per cent in May – the NODX's first monthly drop this year.
---
Singapore's unemployment rate climbed to its highest in a decade and total employment registered its sharpest quarterly decline in the first quarter of this year, as the labour market felt the early effects of COVID-19. According to the latest labour market report released by the Ministry of Manpower (MOM) on Monday (Jun 15), the overall unemployment rate crept up from 2.3 per cent in the previous quarter to 2.4 per cent. The unemployment rate among Singapore citizens rose from 3.3 to 3.5 per cent, and among residents  – or Singapore citizens and permanent residents – from 3.2 per cent to 3.3 per cent.
---
Companies found to have "disguised their retrenchments" might have their Jobs Support Scheme wage subsidies and work pass privileges revoked, Minister for Manpower Josephine Teo said on Thursday (Jun 4). Retrenchments are guided by manpower laws, and employers are obliged to pay the retrenchment benefits spelt out in employment contracts or collective agreement, she said. "Even during the COVID-19 period, whatever the termination of employment is called, an employee is presumed to have been retrenched if the employer cannot show a plan to fill the vacancy any time soon," Mrs Teo said in Parliament on Thursday. 
---
Deyi Tan, managing director and economist at Morgan Stanley, said a second wave of coronavirus outbreak — if any — will likely be more manageable as policymakers have learnt to handle such situation. 
"A double dip is not in our base case, we do acknowledge that as economies reopen, daily new cases will rise," she said. A "double dip" refers to a situation in which an economy picks up following a period of decline, but weakens again after that.
Worries that a second wave of infections would once again derail the global economy have heightened as an increasing number of countries are easing restrictions that were imposed to contain the coronavirus outbreak.
---
Indonesia surpassed Singapore as the country with the most number of coronavirus infections in Southeast Asia as the world's fourth-most populous nation ramped up testing across the archipelago to contain the pandemic. Confirmed new cases jumped 1,031 in the past 24 hours, taking Indonesia's total to 41,431, Achmad Yurianto, a health ministry official, said at a briefing in Jakarta. That exceeded Singapore's tally of 41,216, official data showed. The nation's death toll stood at 2,276, also the highest in Southeast Asia.
---
A 32-year-old man and a 62-year-old woman have been arrested for their suspected involvement in a series of e-commerce scams involving the sales of tickets for Universal Studios Singapore (USS), concerts and events. The pair are mother and son, said police on Wednesday (Jun 17), adding that they are believed to be involved in at least 450 cases amounting to more than S$110,000. 
---
Federal Reserve Chairman Jerome Powell said recent economic improvement could be jeopardized if Congress curtailed support to workers displaced and businesses shuttered by the coronavirus pandemic. Despite a gain in payrolls last month, Mr. Powell said 25 million workers remain dislodged from their jobs. "It would be a concern if Congress were to pull back from the support that it's providing too quickly," he said during a virtual hearing before the House Financial Services Committee on Wednesday.
---
Chinese officials cancelled hundreds of flights in and out of Beijing, restricted movement and renewed closures of businesses and schools as they battled to contain a fresh wave of new coronavirus cases in the nation's capital. Health officials on Wednesday reported 31 new confirmed cases in Beijing for Tuesday, bringing the city's six-day total to 137 since the most recent cluster of infections first emerged on June 11—most of which are tied to Xinfadi, a sprawling meat and vegetable wholesale market in Beijing.
---
A Bangladeshi national who was reported among the new COVID-19 infections on Sunday (Jun 14) was Singapore's first imported case in more than a month. The Bangladeshi national arrived in Singapore on Jun 10 to seek medical treatment that is not related to COVID-19, according to the Ministry of Health (MOH).
---
Saving jobs is the government's first priority, and this is not just an economic issue but a social priority, Mr Tharman said. "We will do all we can to prevent people from being out of work for long, so they can stand on their own feet and retain their sense of dignity. Good jobs are also at the heart of our whole approach to building a cohesive society and tempering inequalities," he said. However, given the uncertainty in the global economy, unemployment is likely to "rise significantly" over the next year, if it is simply left to market forces, he pointed out. Hence, the government is working with companies to take on Singaporeans through temporary assignments, attachments and traineeships during this down period, while waiting for permanent jobs to open up.
---
Winson Oil Trading has started legal proceedings against Standard Chartered Bank (Singapore) to claim at least US$30.4 million in payment for a diesel cargo it sold to Hin Leong Trading, court documents showed. The case is among several disputes between counterparties of Hin Leong and banks on payment issues arising from oil deals with the Singapore-based trader, which has been placed under judicial management to restructure billions of dollars of debt.
---
PEC predicted that fuel demand will remain "under pressure" during the second half of this year because of the ongoing economic fallout from the coronavirus, a day before ministers were due to assess world markets. While there will be a "gradual recovery" in the global economy, it won't compensate for the slump during the first six months of this year, the Organization of Petroleum Exporting Countries said in its latest monthly oil market report. The slow resumption of flights will constrain jet-fuel consumption, and high unemployment will restrict gasoline use, it said. The organization kept its annual forecast for global oil demand unchanged, projecting that consumption will slump this year by 9.1 million barrels a day, or about 9%.
---
Chinese e-commerce giant JD.com jumped 5.75 per cent higher on its Hong Kong debut on Thursday, after raising almost US$4 billion in an initial public offering that was the world's second biggest this year. The firm opened at HK$239, compared with its listing price of HK$226.
---
Researchers based at Harvard have been tracking spending patterns using credit card data. They found that people at the bottom of the income ladder are now spending nearly as much as they did before the coronavirus pandemic. "When the stimulus checks went out, you see that spending by lower-income households went up a lot," said Nathan Hendren, a Harvard economist and co-founder of the Opportunity Insights research team. However, the wealthy are not matching them. "For higher-income individuals, that spending is still way far off from where it was prior to COVID and it has not recovered as much," Hendren said. That's potentially crippling because consumer spending is a huge driver of economic activity.  The wealthy aren't holding back because they don't have the money. They have a lot of discretionary income and before the pandemic were spending a significant chunk of that going to nice restaurants, the theater, or traveling and staying in nice hotels. Those are precisely the things that have been off-limits since the coronavirus hit. That makes this very different from an ordinary recession, when spending on higher-touch services doesn't dry up so quickly. 
---
Former national security adviser says in new book that president withheld Ukraine aid for political favors, asked Chinese president to help him win 2020 race. President Trump's decision-making consistently prioritized his re-election and his family's well-being ahead of the national interest, according to a new book from his former national security adviser, John Bolton, who describes "obstruction of justice as a way of life" inside the Trump White House and denounces what he says is the president's penchant to "give personal favors to dictators he liked." In a scathing account of his 17 months working for the president, Mr. Bolton describes Mr. Trump as "stunningly uninformed,".
---
Sometime on Monday (Jun 15), an Indian army patrol skirmished with Chinese troops in the Galwan River Valley, high in the Himalayas. According to reports, no guns were involved, but the fight left at least 20 Indian soldiers dead from injuries caused by stones, makeshift clubs, and falls down the steep cliffs of the valley. Although standoffs and even fistfights between Chinese and Indian troops have been relatively common in recent years, there have been no deaths on the disputed border for decades. 
---
Looking for a comprehensive guide to investing? Check out the FH Complete Guide to Investing and FH REITs Masterclass for Singapore investors.
Stock Watch 2020: Support the site as a Patron and get market updates. Like our Facebook Page and join the Facebook Group to continue the discussion!