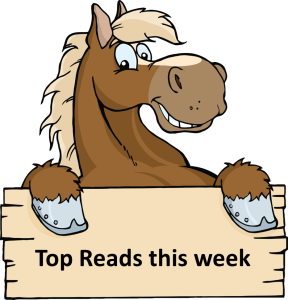 Rounding up top reads from around the web, including articles shared by fellow investors in the Financial Horse Facebook Group.
---
In a ministerial statement on Monday (Aug 17) carried via live broadcast, Mr Heng said that as the global economy remains very weak and measures such as the JSS are ending soon, it is timely to look at three areas: continue to support jobs and create new ones; provide further support for sectors that are hit the hardest; and position Singapore to seize growth opportunities in a post-Covid-19 world. He added that some measures will be extended, such as the JSS to help firms retain local workers, and the Covid-19 Support Grant (CSG) for Singaporeans who are unemployed or have suffered significant income loss.
---
China's top diplomat is on a visit to Singapore and South Korea in what could be viewed as a bid by the nation to improve ties with its Asian neighbours amid deteriorating relations with the US. Mr Yang Jiechi, a member of China's powerful Politburo and head of the Chinese Communist Party's foreign affairs office, is in Singapore on a two-day visit ending on Thursday (Aug 20) at the invitation of the Singapore Government, said the Chinese Foreign Ministry.
---
Shares of Medtecs International Corp., a maker of medical apparel, traded for just a few Singapore cents at the start of the year before the pandemic roiled financial markets. Now they're up almost 5,000%. Supernormal demand for essential reusable hospital garb, disposable personal protective equipment and workwear helped the Taipei-headquartered company's net income grow about 100 times in the six months ended June 30 from the previous year. The stock is the top performer for Singapore and among the best in the global health-care supply sector for 2020.
---
 Zoom Video Communications has opened a new data centre in Singapore, its first in Southeast Asia, it said on Tuesday (Aug 18). Use of Zoom's video conferencing services has surged as huge numbers of people across the world work from home because of COVID-19 curbs, but the company has also come under fire over privacy and security issues.
---
 General Electric said it had signed two new agreements valued at over US$1.2 billion with the Iraqi Ministry of Electricity, to undertake maintenance programmes across key power plants in the country and bolster its transmission network.
---
Six Singapore companies, including the Singapore Exchange (SGX), made this year's Forbes list of top 200 listed businesses in the Asia-Pacific with less than US$1 billion (S$1.36 billion) in sales.The other five companies in Singapore that made it to the list are AEM Holdings, which designs and manufactures semiconductor test handlers; Eggriculture Foods; engineering services company Khoon Group; Snack Empire and Union Gas.
---
Of the S$4.4 billion spent since mid-June, S$1.1 billion was used for operating expenses, maturing fuel-hedging trades and ticket refunds from canceled flights due to the coronavirus pandemic, the airline said Wednesday. About S$2 billion was used to repay a bridge loan facility, S$900 million to service debt and S$200 million to buy aircraft.
---
We have observed a degree of substitutability between the two policy dimensions that shape macro outcomes: Successful public health interventions reduce the cost, risk, and complexity of the needed economic policy response. However, where virus control is lacking, aggressive economic policy can offset shortcomings in health care policy.
The U.S. is a case in point. Hopes that rich nations would easily control the virus were quickly dashed as it became clear that a specific mix of institutional capabilities — including health policy, government coordination, communication, and support in civil society — mattered more than economic heft.
However, despite this public health outcome, the U.S. has fared somewhat better economically in 2Q than Europe where public health outcomes are widely seen to be better. The key driver of this outcome is the speed, depth, and breadth of the U.S. economic policy response that dwarfed European efforts. Economic policy capacity has effectively offset shortcomings on the health side.
---
Stocks tumbled on Wednesday, with an early rally quickly fading after minutes of the Federal Reserve's latest meeting showed that policymakers remained worried about the economy and said more spending by Washington would be critical to a recovery.
Target was the best performing stock in the S&P 500, jumping nearly 13 percent after the company reported a surge in sales in the second quarter. Online sales nearly tripled from the previous year and its profit rose 80 percent to nearly $1.7 billion. Read about the earnings report here.
Apple touched a $2 trillion valuation, the first U.S. company to do so. 
Airbnb said on Wednesday that it had confidentially filed to go public, taking a key step toward one of the largest public market debuts in a generation of "sharing economy" start-ups.
---
"It is our hope that these countries will work together, this administration and in years to come, to find ways to have a collaborative relationship," McMillon told "Mornings with Maria." "We want to be able to do business in China. I know a lot of American businesses and farmers want to as well."
Walmart shared earnings on Tuesday. The retailer's profit spiked 79% in the three months through June as more Americans ordered goods online while riding out the COVID-19 pandemic from home.
---
U.S. President Donald Trump is threatening to slap TikTok-style sanctions on more Chinese companies and Alibaba Group Holding Ltd., as the largest of them all, may be next in line. But the bigger challenge for the internet giant is coming from its own backyard for now. Alibaba's long-standing dominance in China's e-commerce sphere is under steady erosion from JD.com Inc. and Pinduoduo Inc., while in social retail channels Tencent Holdings Ltd. and TikTok-owner ByteDance Ltd. are vying for merchants and buyers like never before after Covid-19 spurred online shopping.
China's economy is among the world's fastest to recover from the pandemic, aided by strict virus control measures and a rebound in industrial output and consumer sentiment. No. 2 online retailer JD rode this bounce-back to its fastest pace of sales growth and new customer additions in two years.
---
President Donald Trump this month signed executive orders that could hit the operations of China's most valuable start-up ByteDance and Tencent, the country's second-largest tech company by market capitalisation. On Monday, Washington moved to cut off Huawei's access to its global suppliers, which some say could prove lethal for the Chinese telecoms group. But despite mounting political pressure to unveil commensurate restrictions on US businesses in China, Beijing has historically been reluctant to retaliate. Analysts think officials will continue to hold back, as they are reluctant to upset the economic benefits and innovation US companies bring to China.
---
Huawei relies on foreign-made semiconductors to power its 5G telecommunications gear. British officials cited the uncertainty to the company's supply chain as a key reason for banning Huawei from the United Kingdom's 5G network last month.
Qualcomm (
QCOM
) had 
reportedly
 been lobbying the US government to grant it a license to sell chips to Huawei, arguing that Huawei generates billions of dollars in sales for Qualcomm and helps the US firm fund development of new technologies, according to The Wall Street Journal.
Micron (
MICR
), another US chipmaker, had obtained a license to supply some memory chips for Huawei's smartphones, after the company was barred from buying US tech and parts last year. But David Zinsner, Micron's senior vice president and chief financial officer, warned in an earnings call in June that the company was "seeing an impact from the recent restrictions imposed on Huawei."
---
Australian farmers have called on the Morrison government to "nurture" the trading relationship with China after wine became the latest agricultural export to be targeted by Beijing.
---
China reported the largest number of new stock investors in five years in July, as millions of individuals rushed into a buoyant share market, boosting trading turnover and brokerage earnings. The number of new investors in mainland Chinese shares totaled 2.4 million in July, the most since June 2015, the peak of China's massive stock bubble that later burst, according to official Securities Times.
---
Johnson & Johnson will buy Momenta Pharmaceuticals for about $6.5 billion in cash to bolster its portfolio of treatments for autoimmune diseases.
The deal gives J&J's Janssen unit access to Momenta's experimental therapy, nipocalimab, being tested for myasthenia gravis, a neuromuscular disease that causes weakness in muscles.
The drug is being developed to treat diseases where the body's own antibodies attack or damage proteins and cells.
---
The Federal Reserve's policymaking body released minutes Wednesday of its July 28-29 meeting and expressed concern about the coronavirus's continuing impact on the economy.
On policy matters, committee members expressed skepticism over using bond purchases to control the government bond yield curve.
Markets reacted to the downbeat economic outlook and negative comments about yield curve control, sending stocks and bond yields lower and the dollar higher.
Officials also discussed "outcome-based" forward guidance, or using specific targets on inflation and unemployment before raising rates. However, the minutes did not indicate a timetable for when that might happen.
---
Looking for a comprehensive guide to investing? Check out the FH Complete Guide to Investing and FH REITs Masterclass for Singapore investors.
Stock Watch 2020: Support the site as a Patron and get market updates. Like our Facebook Page and join the Facebook Group to continue the discussion!