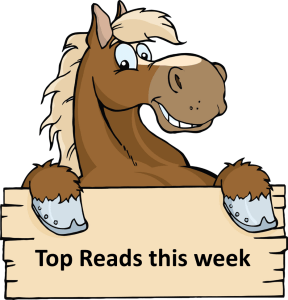 Rounding up top reads from around the web, as shared by fellow investors and myself in the Financial Horse Facebook Group.
---
If you're in your 20s or early 30s, there's still time to set aggressive investment goals. The first step is to understand what your excuses (or what I call "invisible scripts") really mean.
Invisible script: "There are so many stocks out there, so many ways to buy and sell stocks, and so many people giving different advice. It feels overwhelming."
What it means: "I want to hide behind complexity." Any new topic is overwhelming (i.e., diets,  workout regimens or parenting). The answer isn't to avoid it — it's to pick a source of information and start learning.
---
I was really excited by last year's Temasek's Astrea IV Bonds. In fact, since this site was created, the 2018 Astrea IV Bonds was the only investment to have ever received a full 5/5 Financial Horse Rating. That's how much I like them.
So imagine my surprise when I was given a heads up that there will be a new round of Astrea bonds coming, Astrea V! I knew that there was a lot of talk about a new round of Astrea bonds, but still, this was like Christmas come early.
---
Lendlease is a integrated construction, engineering and property company listed on the Australia stock exchange (ASX).
The preliminary assets will involve:
some of their Australian shopping centers
a major Singapore mall (suspect it would be 313 Somerset
a Milan office building
It is likely the shopping centers will be picked out of the Lendlease sub-Regional Retail Fund. This is a open ended unlisted whole sale proeprty fund that invest in subregional shopping centres and owns 5 in NSW and Western Australia. Lendlease interest is 10% in this fund but they hold 20% voting rights.
---
CIMB's top picks for 2H 2019:
ComfortDelGro
ST Engineering
Keppel Corporation
UOL Group
UOB
CapitaLand Commercial Trust
Mapletree Commercial Trust
Suntec REIT
---
The impact of the Trump administration's threats to choke Huawei Technologies Co. reverberated across the global supply chain on Monday, hitting some of the biggest component-makers.
Chipmakers including Intel Corp., Qualcomm Inc., Xilinx Inc. and Broadcom Inc. have told their employees they will not supply Huawei until further notice, according to people familiar with their actions. Alphabet Inc.'s Google cut off the supply of hardware and some software services to the Chinese mobile phone equipment giant, another person familiar said, asking not to be identified discussing private matters.
---
Private sector economists say initial hopes for the Singapore economy to recover in the second half of 2019 have dimmed now that global technology firms have been swept up in the trade dispute between the United States and China.
The latest setback for the economy comes as Singapore's official economic growth forecast was slashed on Tuesday (May 21), and the Republic recorded its weakest growth in a decade.
The trade war between the world's two biggest economies has broadened into a "tech war", noted Maybank Kim Eng economist Chua Hak Bin, after the US banned its companies from doing business with Chinese firm Huawei unless they have the necessary licences.
This would put additional pressure on the electronics cluster in Singapore, which has already been winding down from its cyclical peak over the past few quarters, noted economists.
---
Despite the trade war between China and the US ramping up in the last week, oil prices have remained relatively stable since the beginning of the month. A recent report notes that the "global energy investment has stabilized, this was the third year in a row the power sector attracted more investment than the oil and gas industry." Worldwide investment in the energy sector surpassed US$1.8 trillion in 2018, ending three years of consecutive declines. China continues to be the investment hub of choice, with America edging higher thanks in part to more spending on upstream supply.
---
WeWork may be losing money, but its parent company plans to spend even more — this time, by investing in real estate. The We Company announced the launch of ARK, a real estate acquisition and management operation with the goal to own stakes in buildings where it operates coworking space. Historically, the company signed long-term leases but did not own buildings it operates in.
---
The parent company of South Korean cryptocurrency exchange Upbit has invested almost $50 million in blockchain startups since March 2018. Dunamu, which created a dedicated investment subsidiary, Dunamu & Partners, at the same time last year, has given cash to a total of 26 businesses.
South Korea has recently seen some large blockchain and crypto-related investments. Last month, a Japanese fund funneled $200 million into the operator of fellow exchange Bithumb. Meanwhile, another platform, Korbit, could ultimately find itself under the control of Disney Corp if a related $13.2 billion equity deal goes ahead.
---
Till next time, Financial Horse, signing out! 
Enjoyed this article? Do consider supporting the site as a Patron and receive exclusive content. Big shoutout to all Patrons for their generous support, and for helping to keep this site going! 
Like our Facebook Page and join the Facebook Group to continue the discussion! Do also join our private Telegram Group for a friendly chat on anything investing related!