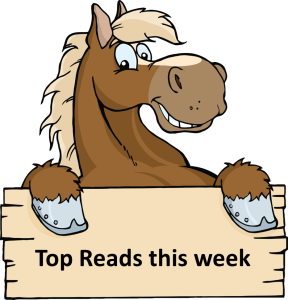 Rounding up top reads from around the web, including articles shared by fellow investors in the Financial Horse Facebook Group.
---
Chinese financial technology group Ant has unveiled plans for a stock market debut that may raise a record $30bn (£23bn). The company, affiliated with online retail giant Alibaba, says it will sell shares in Hong Kong and Shanghai. The announcement comes amid rising tensions as the Trump administration cracks down on Chinese firms. While many in the West won't have heard of Ant, it is best known in China for the mobile payments powerhouse Alipay.
---
Singapore's markets have "done really badly" so far in 2020 and are currently "undervalued," according to UBS Global Wealth Management's Kelvin Tay.
In particular, he noted that major banks dominating the index are "trading close to book valuations" — a "signal" to be buying into the country's market.
Goldman Sachs' Timothy Moe, however, argues that too much of a focus on banking stocks may prove to be a detriment for markets as the emphasis shifts toward "technology and so-called digital economy stocks."
---
U.S. Federal Reserve Chairman Jerome Powell is expected to introduce a new pandemic-era tool to combat the economic impact of Covid-19 and foster inflation in the U.S.
Investors will monitor oil prices after oil rigs and refineries were shut ahead of a massive hurricane approaching Texas and Louisiana. 
On the coronavirus front, biotech firm Moderna announced Wednesday that its potential coronavirus vaccine generated a promising immune response in elderly patients during an early stage clinical trial.
---
The Government will raise the salary criteria for Employment Passes (EPs) and S Passes amid weak labour market conditions, Minister for Manpower Josephine Teo said on Wednesday (Aug 26). Currently, those on Employment Passes need to earn at least S$3,900 a month, while S Pass holders earn a minimum of S$2,400 a month.
---
The United States on Wednesday (Aug 26) blacklisted 24 Chinese companies and targeted individuals it said were part of construction and military actions in the South China Sea, its first such sanctions move against Beijing over the disputed strategic waterway.
---
Rio Tinto, the world's biggest iron ore miner stopped short of firing any of its leadership for the legal destruction of two historically significant sacred caves in Western Australia state in May — against the wishes of Aboriginal Traditional Owners — which sat on top of a high grade ore body it planned to mine.
The destruction sparked public outrage and an Australian government enquiry that senior Rio leadership faced earlier this month and which also sparked calls from some investors for better senior accountability.
---
The crowd surrounded flustered embassy officials and grew raucous, even as a police vehicle arrived. The new requirements from China, instituted after dozens of passengers from Singapore tested positive in virus tests after landing there, highlights the fragility of tentative travel arrangements established by countries to boost economic activity and help the ailing aviation industry.
It's also a blow to Singapore's efforts to kick start international travel amid the pandemic, fuelled by its reliance on the aviation sector as an international hub. The city-state was one of the first to establish a corridor with the world's second-biggest economy, and is negotiating arrangements with other major trade partners like Japan.
---
Singapore is working on green lane travel arrangements with several countries. It is in talks to resume essential business travel with Japan, with officials tasked to finalise an agreement by early September.  Singapore will also begin discussions on a reciprocal green lane with Indonesia, said MFA on Tuesday, after Foreign Affairs Minister Vivian Balakrishnan met his Indonesian counterpart Retno Marsudi during her visit to Singapore.
---
Sats: The ground handler and food solutions provider will continue to reduce its headcount after swinging into loss for its fiscal first quarter, it said in a conference call on Monday without specifying the final reduction. Sats shares closed $0.16 or 5.5 per cent higher at $3.08 on Monday. Sats' headcount has already dropped to 13,500 at end-June from 16,700 a year ago.
GuocoLand: The real estate developer's full-year net profit halved to $114.1 million, largely due to the absence of fair-value gains on investment properties. GuocoLand proposed a dividend of $0.06 per share for the fiscal year ended June 30, 2020. The counter rose $0.01 or 0.7 per cent to finish at $1.40 on Monday, before the results were released.
Axington: The Singapore Exchange's regulatory arm has "engaged" Axington's continuing sponsor over how it has assessed the "experience, expertise, character and integrity" of its chairman Shen Che. Ms Shen and the Loh cousins Nelson and Terence Loh – Axington's controlling shareholders – are embroiled in a scandal over doctoring photos of former US president Barack Obama for marketing collateral uses. On Monday, the stock fell nearly 22 per cent at the start of trading but ended the day at $0.22, down 2.2 per cent.
Aspen: The Catalist-listed Malaysian firm on Monday saw its shares soar 80.5 per cent or 16.5 cents to an intraday high of 37 cents – a record since its initial public offering in July 2017. After trading hours, Aspen said the trading activity might have been caused by its Aug 12 announcement on its plans to diversify its property business to include glove manufacturing and distribution.
Avarga: It is exploring opportunities relating to paper manufacturing, which include the expansion and/or potential listing of said business, Avarga said on Monday night in response to the bourse operator's queries about its trading activity. Shares in the mainboard-listed firm jumped as much as 33.1 per cent on Monday, before closing at 19.5 cents, up 4.1 cents or 26.6 per cent.
Singapore Airlines: Its budget carrier Scoot has modified one of its A320ceo aircraft to carry cargo in the cabin by removing all seats. The move doubles the aircraft's cargo-carrying capacity to nearly 20 tonnes, Scoot said in a press statement on Monday.
Koufu Group: The food and beverage player wants to expand its Supertea and R&B Tea brands to the Philippines, and has given Shakey's Pizza Asia Ventures the rights to retail them under a master franchise agreement. Shares of Koufu fell 0.5 cent or 0.7 per cent to close at 67.5 cents on Monday, before the announcement.
---
Singaporean cousins Nelson Loh and Terence Loh have been involved in more than 30 companies between them, as shareholders or directors. One of the newest, the Bellagraph Nova Group (BN Group), is now in the news for its reported bid for Newcastle United Football Club. On its website, BN Group is described as an "established consortium with diverse investment holdings across multiple industries such as healthcare, financial holdings, consumer technology and luxury lifestyle". It says it has "31 entities" and a "combined US$12 billion revenue" and is "headquartered in the glitzy no. 10 Place Vendome, Paris, France". The sum is equivalent to S$16.5 billion.
---
Even with the latest drop, the Monetary Authority of Singapore (MAS) will likely maintain the slope, width and centre of the policy band for the Singapore dollar nominal effective exchange rate (S$NEER), Terence Wu, currency strategist at OCBC Bank, told The Business Times.
---
The Wirecard scandal has continued to widen and now threatens to engulf top politicians, regulators and auditors in Germany. Former Wirecard chief executive officer Markus Braun was re-arrested in July as German prosecutors said the company knew about massive losses as early as 2015.
---
The number of reported crimes climbed 11.6 per cent in the first half of 2020
The increase was primarily due to a spike in scams, particularly those committed online 
The police said that criminals capitalised on the Covid-19 crisis to find new victims 
But physical crimes, such as theft and housebreaking, decreased
---
Haidilao founder Zhang Yong tops the list again this year, adding US$5.2 billion (S$7.1 billion) to his net worth. His wife Shu Ping, who is co-founder and director of Haidilao International Holding, is listed together with him this year. The couple leads the pack with a combined net worth of US$19 billion.
Mr Li Xiting, co-founder and chairman of Shenzhen Mindray Bio-Medical Electronics, came in second with a net worth of US$17.8 billion. He is a new entrant to the list, propelled by his company's soaring share prices due to a surge in demand for its ventilators amid the pandemic. Both Mr Li and Mr Zhang are naturalised Singapore citizens.
Paint tycoon Goh Cheng Liang of Nippon Paint, tech mogul Eduardo Saverin and real estate siblings Robert and Philip Ng of Far East Organization took the third, fourth, and fifth spots respectively in this year's edition of the Forbes Singapore Rich List.
---
The new outlet, located at Marina Bay Sands, will be the first Apple store in the world that sits on water. It will be housed in a sphere floating on Marina Bay, taking over the space previously occupied by Avalon nightclub from 2011 to 2016. 
---
After the police discovered an illegal 18-person gathering at the flat she shared with her fiance, a woman fought bitterly with her fiance and dissolved the engagement. Cassie Ong Shi Hong, 32, was fined S$4,000 on Wednesday (Aug 26) for one charge of permitting people not from her household to enter her flat for a social gathering. A second charge of meeting the 16 guests in her Compassvale Crescent flat for a social gathering was taken into consideration.
---
Looking for a comprehensive guide to investing? Check out the FH Complete Guide to Investing and FH REITs Masterclass for Singapore investors.
Stock Watch 2020: Support the site as a Patron and get market updates. Like our Facebook Page and join the Facebook Group to continue the discussion!