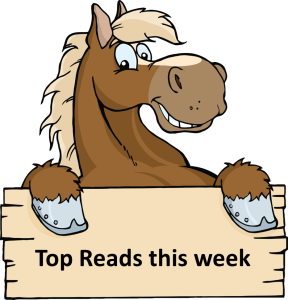 Rounding up top reads from around the web, including articles shared by fellow investors in the Financial Horse Facebook Group.
*Promo* We're running a huge GE Promo for the REITs MasterClass right now. Sign up now and you also get free 3 months access to the highest tier of Patron (worth $150).
We've also added a completely new 2020 Case Study series, where I do detailed case studies on S-REITs as 2020 plays out. We just added a 20 page case study on Mapletree Industrial Trust the past week. Buy now and get lifetime access to the rest of the case studies as they come out! ?
Take your REITs investing to the next level with the MasterClass!
Find out more here.
---
Times of crisis have tended to see a flight to safety instead, with voters preferring to stick with the tried and tested ruling People's Action Party, as happened after the 2001 downturn caused by the bursting of the dot.com bubble and the Sept 11 terrorist attacks. "For Singaporeans, the economy is what drives politics. Voters' selection of a political party or candidate to represent them is predicated on how they can revitalise or even stabilise the economy, and generate jobs for Singaporeans," Dr Tan said.
In the 2001 General Election, held during a period when Singapore was in a recession triggered by the dot.com crash, the PAP won with a landslide 75.3 per cent share of the votes. This was more than 10 percentage points higher than in the 1997 polls. Likewise, in the 1997 polls, which took place in the early phase of the Asian financial crisis, the PAP won 65 per cent of the votes, a 4 percentage point increase from the 1991 General Election.
---
Temasek chief executive officer Ho Ching announced the delay in a Facebook post on Thursday morning (July 2). The company, which managed $313 billion as of March 2019, was set to release the report this month. The delay comes at a challenging time for Temasek, which saw its public equity holdings take a beating in the first quarter. It has also made several major commitments to support portfolio companies such as Singapore Airlines.
In her post, Ms Ho said Covid-19 has forced companies around the world to delay their financial results, noting that many of Temasek's portfolio companies have multinational operations. "Although we didn't anticipate a Covid pandemic, the economic indicators had become worrisome since last year," she wrote, adding that the company had made plans to build up its balance sheet. "Clearly, Covid is now a bigger problem than we had expected."
---
PAYMENT delays among firms in Singapore have risen for another quarter, with retail and services posting the highest jumps out of all sectors, amid the economy's coronavirus-induced partial lockdown. According to the Singapore Commercial Credit Bureau (SCCB), slow payments, defined as those made at least 30 days above terms, increased to 45.78 per cent in Q2, up 3.20 percentage points from 42.58 per cent in Q1, which had marked a near three-year low. 
---
Property investment sales in Singapore slumped in the first half of this year amid the coronavirus pandemic, though the market showed signs of stabilising in the second quarter, a report from Cushman & Wakefield on Thursday (July 2) showed. Investment sales for January to June fell 45 per cent to $6.13 billion from $11.24 billion in the year-ago period, according to preliminary data compiled by the real estate consultancy.
---
Market sentiment was also boosted by signs that China's factories are slowly gathering steam, with the Caixin/Markit manufacturing PMI rising to 51.2, compared with expectations for 50.5.
Singapore Exchange (SGX) ended 15 Singapore cents lower, at S$8.19, in spite of news that it will be launching FTSE Taiwan Index – which covers nearly 80 per cent of Taiwan's listed companies by market capitalisation – to replace MSCI Taiwan Index. Some analysts are expecting to see some upside for SGX, which has seen its share price battered by news that rival Hong Kong exchange had struck a deal for a suite of MSCI equity indexes similar to those offered here.
---
According to data compiled by The Business Times (BT) blue-chip stocks recorded stronger gains in June, with the STI constituents' total market capitalisation inching up 3.9 per cent to S$457.5 billion, compared to S$440.2 billion a month earlier. This was led by the local lenders – DBS, OCBC and UOB – that were among the top 10 gainers for June. Head of research at Phillip Securities Research Paul Chew told BT: "Gainers were essentially the banks as a result of the relaxation of the lockdowns that relieved some of the stresses on the domestic economy."
Malaysian glove maker Top Glove emerged as the sole non-STI counter among the top 10 gainers. Its capitalisation gained S$953.7 million, as it continued to ride on investors picking up medical plays.
---
SINGAPORE'S biggest trading partner has become the latest country joining a pledge to keep supply chains open during the novel coronavirus pandemic. China on Thursday became the 12th country to put its name to a joint ministerial statement on trade connectivity.
---
Reuters first reported on Thursday that some 20 banks with operations here – including lenders with significant trade-finance exposure such as HSBC, DBS, OCBC and other European banks – have set up a working group to propose new guidelines, citing unnamed sources. This group is aiming to lift the standards behind lending practices and improve transparency in the sector, and comes amid some cases of defaults of trading firms amid a historic plunge in oil prices, Reuters reported. The most high-profile collapse in recent times is that of Singapore's oil trading giant Hin Leong Trading, with Hin Leong also admitting that US$800 million in losses from futures trading had allegedly been hidden away.
---
Academics have cited low liquidity and valuations for the many companies that have delisted over the past decade and a half. Local industry figures also point to the 2013 penny-stock crash, which wiped S$8bn ($6bn) from a market that had been fuelled by false trading in a few shares.
---
Singapore has started to hand out Bluetooth-enabled contact tracing devices as part of its measures to slow the spread of the coronavirus. The so-called TraceTogether tokens are an alternative to the government's contact tracing smartphone app.
---
Singapore on Friday eased restrictions further, and allowed more business and social activities to resume including shopping at physical retail stores, as well as dining in at food and beverage outlets.
But retailers are not hopeful the move will do much to help their already struggling businesses, said Rose Tong, executive director of Singapore Retailers Association.
The Singapore economy has been badly hit and is expected to shrink by between 4% and 7% this year, according to the government's forecast.
---
They are: the Flower Dome at Gardens by the Bay; Jurong Bird Park; River Safari; Singapore Zoo; the ArtScience Museum, the casino and SkyPark observation deck at Marina Bay Sands; Universal Studios Singapore, S.E.A. Aquarium and the casino at Resorts World Sentosa; Madame Tussauds wax museum on Sentosa; trampoline park Bounce and virtual reality arcade Zero Latency. Most will be restricted to no more than 25 per cent of their operating capacity at any one time, and access to the casinos will be limited to existing members and annual levy holders only for the time being, STB said.
---
Details here. 
---
Nearly all of the largest U.S. banks said Monday that they performed well enough on the Federal Reserve's most-recent stress test to maintain their current quarterly dividend.Goldman Sachs, Bank of America, Morgan Stanley, JPMorgan Chase and Citigroup all said they will maintain their current dividend. Wells Fargo said the Fed's assessment of its business will warrant a reduction to its quarterly payout. 
---
About 370 protesters were arrested in Hong Kong on Wednesday — 10 of them were apprehended for breaching the new security law just one day after it took effect.
Whether the new law affects Hong Kong's attractiveness as a leading financial center will depend on the implementation of the legislation, said Tim Summers, a senior fellow at think tank, Chatham House.
---
Russians have overwhelmingly voted in favor of changes to the country's constitution.
The changes will enable President Vladimir Putin to potentially stay in power up to 2036.
Critics have said there were numerous voting irregularities. 
---
Youth unemployment also increased in May from the previous month.
Some economists expect worse figures going forward as governments reduce their benefits.
At the height of the sovereign debt crisis, the euro area had an unemployment rate of just above 12%.
---
Federal Reserve policymakers agreed broadly to make full use of the tools at the central bank's disposal to help foster a recovery from the recession triggered by the coronavirus pandemic, minutes of the US central bank's last policy meeting showed.
The readout on Wednesday (Jul 1) of the policy discussion, at which policymakers unanimously voted to keep interest rates near zero amid an economic slump caused by the novel coronavirus epidemic, also showed Fed officials anticipate the worst economic downturn since World War Two and they have no intent to let up on providing stimulus for the foreseeable future. "Members noted that they expected to maintain this target range until they were confident that the economy had weathered recent events and was on track to achieve the Committee's maximum-employment and price-stability goals," the Fed said in the minutes of the Jun 9-10 meeting.
The Fed has repeatedly said the US economic outlook remains highly uncertain and reiterated that a full economic recovery hinges on the virus, which has killed more than 127,000 people in the United States, being brought under control.
Since the meeting, a surge in US infections has led several policymakers to warn that signs of a nascent economic recovery over the last few weeks could already be under threat as hard-hit states halt or reverse the re-opening of their economies.
---
Looking for a comprehensive guide to investing? Check out the FH Complete Guide to Investing and FH REITs Masterclass for Singapore investors.
Stock Watch 2020: Support the site as a Patron and get market updates. Like our Facebook Page and join the Facebook Group to continue the discussion!