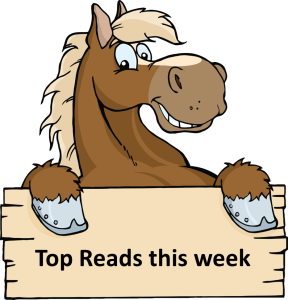 Rounding up top reads from around the web, including articles shared by fellow investors in the Financial Horse Facebook Group.
---
On Thursday, before the stock market opened, we saw most of the tech stocks selling off. This could be just because traders want to take some profit off the table. However, if we see some upward momentum slowing from tech stocks, they will pull the S&P 500 index lower as well. Key Upcoming Catalysts: As early as September – AstraZeneca vaccine Phase 3 results are due. In November – Moderna, Pfizer PFE -2.2% vaccine Phase 3 results expected. U.S. Stimulus Negotiations – Date TBA
---
Wall Street's 'fear gauge' is soaring again, as investors spooked by Thursday's market decline rushed to load up on options protection, but analysts said the intensity of the move in volatility does not necessarily point to a market crash. A part of the recent climb in the VIX has to do with how VIX futures and the spot index converge at monthly futures expiration dates. With the U.S. election nearing, there is a big gap between the VIX, which only covers a 30-day period, and longer-dated futures that cover the election. It would take a big downward move in the price of volatility futures to narrow that gap, something that is unlikely to happen with market anxiety high as the election approaches, Frederick said.
---
Expectations for future volatility in the Nasdaq 100, a benchmark dominated by Apple and a handful of other tech giants, soared to a 16-year high relative to the rest of the market this week, ahead of a sharp market sell-off that hit stocks on Thursday. Apple, Microsoft, Amazon and Alphabet were all hit by the sell-off.

---
"Do not doubt. Do not fear. Jewel will shine again. Changi will thrive again. SIA will be a great way to fly once more. Our economy will prosper anew." PM Lee Hsien Loong told Parliament on Wednesday (Sep 2) that Singapore will emerge stronger after the COVID-19 crisis.
---
Companies will not be allowed to practise wanton discrimination against local workers because in the current difficult economic climate, it is "all the more important" that Singaporeans are given fair opportunities to find meaningful work, said Second Minister for Manpower Tan See Leng in Parliament on Monday (Aug 31).
---
Saying that he asked himself all the time what future contingencies there could be that would require the use of the reserves, Mr Heng noted that in past years, Singapore has already had to confront the Asian financial crisis, the severe acute respiratory syndrome (Sars) outbreak and the global financial crisis. The current Covid-19 crisis remains far from over and, in fact, is becoming more serious, he said in the debate on the President's Address. Responding to an exchange between Prime Minister Lee Hsien Loong and Workers' Party chief Pritam Singh on the role of the reserves in funding social spending, he said: "I think we must expect that panics and crashes will continue to happen in the global economy."
---
Mr Singh, speaking for the first time in a parliamentary debate as Leader of the Opposition, called for the Ministry of Manpower (MOM) to publish the names of "recalcitrant" employers who do not give locals a fair chance in hiring and promotion. MOM had recently placed 47 companies on the Fair Consideration Framework (FCF) watchlist for discriminatory hiring practices. A wealth management firm on the watchlist was found to have almost three-quarters of its professionals, managers, executives and technicians (PMETs) of the same nationality, he noted.
---
PropertyGuru Group, the South-east Asia property technology company, has raised another $300 million from global investment giants TPG Capital and KKR, both of which are existing investors. "The additional investments from TPG and KKR will enable us to continue building South-east Asia's property trust platform and accelerate our momentum in key markets like Malaysia and Vietnam," said chief executive and managing director Hari V. Krishnan.
---
Despite being involved in payments that amounted to over US$10.5 million (S$14.3 million), Singaporean Henry Tan failed to disclose these transactions made between his mainboard-listed company and two other companies. Tan, the founder of Trek 2000 International, the company behind the invention of the thumb drive, even attended audit committee meetings at which the topic of such transactions were under review. On Monday (Aug 24), the 63-year-old, who was also known as Henn Tan, was fined $80,000 after pleading guilty to two charges under the Securities and Futures Act.
---
With 4.25 million subscribers, Tan Jian Hao is the country's most popular YouTuber off the back of listicles such as '17 Types of Students in an Online Class'
The YouTuber says he never meant to make social media his full-time job, until a client paid him US$11,000 to promote an app in 2014; now he has a staff of 30
---
Surbana Jurong's international chief executive officer Teo Eng Cheong has resigned to pursue other interests, said the urban and infrastructure consultancy on Wednesday (Sept 2). Mr Teo, 54, a former top civil servant, joined Surbana Jurong in January 2016. He is married to Manpower Minister Josephine Teo. He will leave Surbana Jurong on Sept 30. The company, which is owned by Temasek, Singapore's investment company, did not say who will succeed him.
---
Tiger 21, a group 800+ investors averaging more than $100 million in assets each, says they're sitting on a record cash pile representing 19% of their holdings. That's a spike from the 12% level, where that figure has been for the past few quarters. "Members are deeply concerned about the gap between Wall Street and Main Street and are therefore acting defensively to keep cash balances high," Tiger 21 Chairman Michael Sonnenfeldt said. "While members are conservatively positioned, as experienced entrepreneurs, they are also preparing to pounce on opportunities wherever they are. Having cash is the asymmetry of having protection on the downside but waiting for opportunities on the upside."
---
Li Ka-shing's Hong Kong business empire may be struggling, but he's managed to remain the city's richest man. That's largely thanks to an early bet on Zoom Video Communications and Solina Chau, his long-time confidante who co-founded the billionaire's venture-investment arm. The tycoon, who's best known for building some of the most iconic skyscrapers to dot Hong Kong's skyline, first invested in the video-conferencing app in 2013. The 92-year-old now holds 8.5 per cent of the San Jose, California-based company, a stake that's worth US$11 billion, or one-third of his wealth.
---
Cloud-related software ETFs are trading near their highest levels on record, with the First Trust Cloud Computing ETF (NASDAQ:SKYY) up around 90% since its March low as accelerated enterprise digitization trends resulting from the COVID-19 pandemic boosts demand for cloud-based offerings.
---
Payment processing giant Mastercard (NYSE:MA) is a great potential investment as a result of its highly profitable, easily scalable, and time-tested business model. Like Mastercard, Visa (NYSE:V) is a card-based payment processor that has stood the test of time thanks to a toll-collecting business model executed at global scale. PayPal Holdings (NASDAQ:PYPL) is a great financial services growth stock. Unlike Visa and Mastercard, PayPal's primary business is online payment processing rather than card-based processing.
---
Many investors mistake Microsoft (NASDAQ:MSFT) for a pure technology play in a great growth mode, which could be traded for quick gains. But in our view, Microsoft is also a great income stock to buy and hold over the long run. Consumer staple giant Procter & Gamble (NYSE:PG) is a great income stock worth stashing in a buy-and-hold portfolio, where it can sit quietly and earn growing pay-outs. The world's largest maker of both consumer and pharmaceutical health-care products, Johnson & Johnson (NYSE:JNJ), meets all three requirements. The company has raised its dividend every year for the past 58 years.
---
CNBC's "Halftime Report" discuss why there are reasons to stay bullish on the market, citing the power of the Federal Reserve and the scientific community working on a coronavirus.
---
Baillie Gifford, Tesla's largest outside shareholder, has reduced its position in the electric auto maker after the company's rapid share appreciation made it an outsized influence on the firm's holdings.
A filing with the Securities and Exchange Commission on Wednesday showed that the U.K.-based fund group now owns less than 5% of Tesla, down from 6.32%, according to data from FactSet.
"We intend to remain significant shareholders for many years ahead. We remain very optimistic about the future of the company," Baillie Gifford's James Anderson said.
---
Shares of DraftKings rose 8% on Wednesday after the company said Michael Jordan is joining the betting company as a special advisor to the board of directors. Jordan, a member of the National Basketball Association Hall of Fame, will have an equity interest in the company as part of the deal. He is the current chairman and owner of the Charlotte Hornets franchise.
---
Investors — even market bulls — who are trying to figure out what will break the market's momentum are just about at a loss for arguments.
Strategists are withdrawing S&P 500 targets because there is no precedent to how high valuations can go with low rates and essentially unlimited quantitative easing.
---
A person on a poorly ventilated Chinese bus infected nearly two dozen other passengers with coronavirus even though many weren't sitting close by, according to research published on Tuesday (Sept 1) that offers fresh evidence the disease can spread in the air. Health authorities had initially discounted the possibility that simply breathing could send infectious micro-droplets into the air, but did a U-turn as experts piled on pressure and evidence mounted.
---
India has banned 118 apps with links to China, saying they were "hostile to national security." 
Major gaming titles from companies including Tencent and NetEase were on the list, as well as apps from other Chinese technology giants like Baidu and Alibaba affiliate, Ant Group.
The latest app ban comes as tensions flare up between China and India over the disputed Himalayan mountain border in the region of Ladakh.
---
Looking for a comprehensive guide to investing? Check out the FH Complete Guide to Investing and FH REITs Masterclass for Singapore investors.
Stock Watch 2020: Support the site as a Patron and get market updates. Like our Facebook Page and join the Facebook Group to continue the discussion!