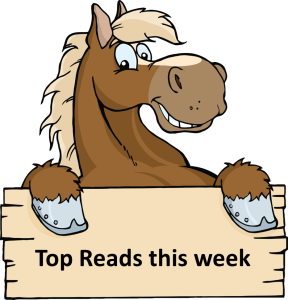 Rounding up top reads from around the web, including articles shared by fellow investors in the Financial Horse Facebook Group.
---
Asian stocks extended a global stock rally on Wednesday (June 3) as investors continued to bet on a quick economic recovery from the coronavirus pandemic despite massive unrest across the United States.
Global stocks are trading at a three-month high as businesses continue to reopen around the world and manufacturing gauges show economies stabilizing following coronavirus shutdowns. That's despite a slew of risks still on the horizon, including tense US-China relations that may jeopardize a hard-won trade deal.
---
Policymakers "will need to consider negative interest rates" in getting the U.S. economy back to health, St. Louis Fed economist Yi Wen said in a paper.
Most Fed officials have doubted they would go negative like Japan and parts of Europe.
The analysis is not binding in any way on the Fed, and Chairman Jerome Powell recently said he doesn't see below-zero policy rates as "an appropriate tool."
---
The yield on the benchmark 10-year Treasury note jumped more than 7 basis points higher to 0.752% and the yield on the 30-year bond rose 6 basis points to 1.543%. Yields move inversely to prices.
Wall Street rallied on Tuesday and the
momentum looks set to continue
, as the prospect of businesses reopening outweighs concerns about the spread of the Covid-19 pandemic, rising U.S.-China tensions and nationwide civil unrest following the death in police custody of George Floyd, an unarmed black man.
---
With six out of the seven new community cases announced on 3 June being asymptomatic, it is clear there are hidden reservoirs of Covid-19 infections in the community, experts said. On 3 June, the Health Ministry announced seven cases in the community, with an 81-year-old woman the only Singaporean among them. She tested positive for the virus on Tuesday after she began showing symptoms on May 29. She is unlinked to other cases.
---
One of Singapore's top political leaders said the city-state faces a "major and urgent challenge" in the next six months to a year, warning of more job losses ahead amid the coronavirus outbreak. The comments from Tharman Shanmugaratnam came after he chaired the first meeting for a council that included business groups and government leaders to seek new job opportunities to cope with the slowdown. "But we have to be realistic," the senior minister and coordinating minister for social policies said in a Facebook post. The "sheer uncertainty" in the global economy means "we will have far fewer new job openings than jobs being lost — over the next year, and beyond that if we are unlucky," he said.
---
A drive-through site for COVID-19 swab tests has been launched in Singapore to test "priority groups" for the coronavirus, with three other hospital sites also ready to operationalise it. Located at One Farrer Hotel, the drive-through facility is being used to "ensure the continuity of critical functions and services", the Health Promotion Board (HPB) said on Tuesday evening (Jun 2) in response to queries from CNA.
---
The Singapore-China "fast lane" arrangement will start on Jun 8, and approved travellers must take a COVID-19 swab test within 48 hours before departure. Users of the fast lane between China and Singapore will bear the cost of the pre-departure polymerase chain reaction (PCR) test, and obtain a certificate of having tested negative for the coronavirus. In addition, travellers must adhere to a controlled itinerary that is supervised by the host company or government agency for the first 14 days.
---
When Daviest Ong turned up unannounced at the door of his family's flat in Whampoa last week, his reunion with his parents and elder sister was a teary affair peppered with hugs. The 24-year-old was finally home after 68 days in isolation with COVID-19. 
---
SGX's derivatives ecosystem today boasts of a community of 112 firms, including 65 trading members and 26 clearing members. Talks are underway with more global players interested in SGX's derivatives trading and clearing membership. Potential players include leading international online brokers, and financial institutions listed in the US and China.
"This has served local and global investors well in accessing Asia and meeting their risk management and investment needs," Mr Chey said. He was responding to queries from BT after index provider MSCI signed a licensing agreement with Hong Kong Exchanges and Clearing, which will effectively lead to many derivatives moving from Singapore to Hong Kong next year. SGX will continue to offer equity derivatives based on the MSCI Singapore index.
---
Alibaba-owned Lazada said its online grocery sales in Singapore increased four times since the city-state introduced restrictions in early April to blunt the spread of the coronavirus outbreak. Lazada's online supermarket delivery business in Singapore is RedMart, which it acquired in November 2016. RedMart's unique visitors on a daily basis have increased more than 11 times, according to Lazada Singapore CEO James Chang.
---
The Singapore stock market's relatively late entry into bull territory could bode well for its staying power even as the rally in global equities starts to look a bit stretched.
The Straits Times Index entered a technical bull market Wednesday, climbing more than 20 per cent from its March 23 low. While the benchmark gauge is still down more than 15 per cent this year, bullish option bets and record flows in an exchange-traded fund tracking local stocks show sentiment is improving.
UBS Group became the latest fan of the South-east Asian nation's shares, upgrading its view to overweight in a report Thursday, citing the reopening of global economies, a recovery in oil prices, attractive valuations and the government's ability to contain the damage caused by the coronavirus pandemic.
---
With a pandemic causing financial markets to tank and lots more uncertainty still on the horizon, investors have been flocking to keep their cash in Singapore, with bank deposits in foreign currencies reaching an all-time high of S$26.9 billion in April. In fact, such deposits have been steadily increasing since July, last year, data from the Monetary Authority of Singapore shows. 
---
Every third dollar changing hands on Singapore Exchange is because of someone buying or selling units in a real estate investment trust (Reit). But has the city's Reit mania gone a bit too far? The pathogen is reshaping habits: Mundane transactions will move online, but experiential sales, including luxury and mass-market fashion, may turn physical with a vengeance. People will use shopping excursions to signal wellness — not so much to others as to their own locked-down psyches. In the post-pandemic world, Singapore Reits could more deftly stretch their profits if they stop singing from the hymn book of cutthroat capitalism and embrace a more trusting relationship with tenants.
---
After an eight-week break, workers from a few essential infrastructure projects led by building solutions group ISOTeam will be returning to their work sites today. These projects have been given the go-ahead to restart on the first day after the circuit breaker, during which most works in the construction sector came to a halt. Critical and time-sensitive projects such as MRT works will be prioritised, but most construction work is unlikely to be able to resume so soon, said contractors.
---
White House health advisor Dr. Anthony Fauci said he worries about the "durability" of a potential coronavirus vaccine, saying there's a chance it may not provide long-term immunity.
If Covid-19 acts like other coronaviruses, "it likely isn't going to be a long duration of immunity," Fauci, director of the National Institute of Allergy and Infectious Diseases, told JAMA Editor Howard Bauchner.
---
Singapore may face the biggest dengue outbreak ever, warns the National Environment Agency (NEA), "unless collective community action is taken". It issued a release saying the number of weekly cases is expected to exceed the historical high of 891. The 735 cases last week was the highest in more than five years.
---
Looking for a comprehensive guide to investing? Check out the FH Complete Guide to Investing and FH REITs Masterclass for Singapore investors.
Stock Watch 2020: Support the site as a Patron and get market updates. Like our Facebook Page and join the Facebook Group to continue the discussion!