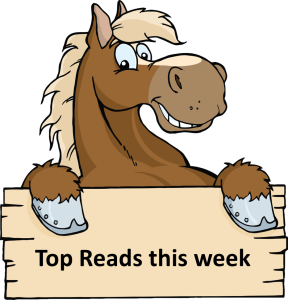 Rounding up top reads from around the web, including articles shared by fellow investors in the Financial Horse Facebook Group.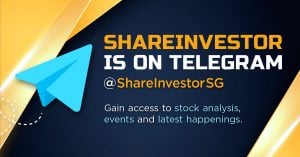 Our Partner, ShareInvestor is on Telegram! We've worked with them on a number of collaborations, and we're thrilled to help them in their goal of promoting investor education in Singapore. You can get first hand updates on a wide array of articles – from evaluating a company's financial performance, reviewing its result announcements to exclusive one-on-one interviews with C-suite management.
Subscribe here if you're interested!
---
ABC, CBS and NBC all cut away from President Donald Trump on Thursday (Nov 5) as he spoke from the White House to make an unfounded accusation that the presidential election was being stolen from him. Trump had tried to commandeer the nation's airwaves at a time when the evening newscasts are shown on the East Coast, after a day when the slow drip of vote counting revealed his leads in Pennsylvania and Georgia dwindling.
---
American voters went to the polls on Tuesday (Nov 3) starkly divided on how they see President Donald Trump's response to the COVID-19 pandemic, but in places where the virus is most rampant now, Trump enjoyed enormous support.
Most were rural counties in the Dakotas, Iowa, Kansas, Montana, Nebraska and Wisconsin – the kinds of areas that often have lower rates of adherence to social distancing, mask-wearing and other public health measures, and have been a focal point for much of the latest surge in cases. Taking note of the contrast, state health officials paused for a moment of introspection. Even as they worry about rising numbers of hospitalisations and deaths, they hope to reframe their messages and aim for a reset on public sentiment now that the election is almost over.
---
Phase three of the nation's reopening in the wake of Covid-19 could last a year or more, Health Minister Gan Kim Yong told Parliament on Wednesday (Nov 4). Mr Gan reiterated that phase three – which Singapore could move into by year-end if the virus remains under control here – would not be a return to pre-Covid days. It would last until the rest of the world has the virus under tight control or when effective treatments or vaccines are widely available, he added. This means that measures must be put in place to enable everyone to stay safe while continuing to live, work and mark major life events. Mr Gan said group size limits depend on factors such as how frequently an activity takes place, what potential risks it has, and whether additional safety measures can be implemented to mitigate such risks.
---
DBS and OCBC posted better-than-expected third-quarter earnings while setting aside more allowances against potential bad loans amid the coronavirus pandemic, joining United Overseas Bank that reported a day earlier. The local banks also struck a cautiously optimistic tone as regional economies pick up pace, and said they have ample provisions to tide through uncertainties ahead. 
Shares of all three banks rallied in the morning, more than the rise in the benchmark index. By 12:50pm, DBS Bank added 83 cents or 3.8 per cent to $22.38, and OCBC Bank rose 30 cents or 3.5 per cent to $8.93, while UOB gained 55 cents or 2.8 per cent to $20.35. The Straits Times Index was up 1.85 per cent.
DBS Group Holdings posted a 20 per cent drop in third-quarter net profit to $1.3 billion from $1.63 billion a year earlier, as it set aside higher allowances for potential bad loans and lower net interest income. 
---
IN a shock decision, the Shanghai Stock Exchange (SSE) has suspended Ant Group's listing – just two days before the world's largest initial public offering was to take place in the city and in Hong Kong.
The cancellation of the US$34 billion dual listing comes after Ant Group co-founder Jack Ma and two top executives were summoned to a meeting with regulators on Monday, according to reports.
In a statement posted on SSE's website, the exchange said: "Due to the material matters reported, your company may no longer meet the conditions for offering and listing, or the requirements for information disclosure."
---
Ant Group was forced to halt the listing after Chinese regulators withdrew their approval, citing a "significant change" in the regulatory environment but declining to provide further details. Some investors view the halt as sensible, with Ant Group's business model allowing it to charge higher fees for transactions while most of the risk in need of regulation was taken on by state-run banks. Ma also put his foot in his mouth when he blamed global regulators for focusing too much on risk and critiqued Chinese measures for stifling innovation during a conference in Shanghai on Oct. 24. The comments came just before the Communist Party's plenum to hash out the country's five and 15-year economic plans. The plenum also released new rules affecting Ant's businesses and summoned Ma to a meeting in Beijing on Monday.
Despite the public reprimand and reputational blow to the transparency of Chinese markets, other investors remained optimistic about the IPO. "What's clear to me is that the lending business will grow slower over the next few years. That, in the larger scheme of things, is net positive for the sector and Ant Group. Steady growth is good," Octahedron Capital Management founder Ram Parameswaran told Bloomberg. Investors will have learnt from Ant Group's experience to factor in the political risk in future business decisions. This will likely increase in importance, with China facing continuous pressure from the U.S. as it develops its own core technologies no matter who wins the presidential election.
---
Karl Liew, the son of former Changi Airport Group chairman Liew Mun Leong will be charged on Thursday (Nov 5) for giving false evidence and furnishing false information to a public servant, the police said on Wednesday. "Following the release of the High Court judgement and in light of the High Court's comments, the Attorney-General's Chambers (AGC) directed the police to conduct further investigations with a view to assess if any offences have been committed by the Liews," police said in a release.
---
A lack of privacy triggered by the Covid-19 lockdown, long wait times for new flats and changing values are some reasons driving young professionals to rent
While society remains largely conservative, Singapore's rising affluence is leading to a growing acceptance of cohabitation, an expert says
---
Last month's announcement that Hong Kong and Singapore have reached an in-principle agreement to establish a bilateral air travel bubble, which would restart leisure travel between them, triggered an immediate release of pent-up demand, according to research by ForwardKeys. In the week that followed, flight searches for travel from Singapore to Hong Kong, which had been flat since the beginning of the Covid-19 crisis, soared to 50 per cent of 2019 levels, while bookings jumped to 30 per cent.
---
Fifty-seven people are under investigation for allegedly breaching Covid-19 rules at unlicensed public entertainment outlets along Ubi Road 1 and Kallang Pudding Road. The police said on Wednesday (Nov 4) that they are suspected of gathering in groups of more than five and are between the ages of 19 and 66.
---
The Ministry of Health (MOH) has not received any reports of "long COVID" in Singapore thus far, Health Minister Gan Kim Yong said in a written parliamentary reply on Tuesday (Nov 3).  Long COVID refers to lingering symptoms of COVID-19 infection after a person has recovered, said Mr Gan, noting that it has been the subject of discussion as more coronavirus cases arise.
---
(SIA) announced on Tuesday (Nov 3) it had established a new arm that would offer training programmes for external businesses and organisations in the broad areas of service excellence, operational excellence, organisational innovation and digital transformation. 
---
The larger decline in September was mainly attributed to the computer and telecommunications equipment industry, where sales fell 22.9 per cent, SingStat said. The sector recorded lower sales of mobile phones compared with the high base in September last year when there were new mobile phone launches.
Other industries also recorded double-digit drops. The sales of food and alcohol tumbled 41 per cent, while takings at department stores shrank by 39.8 per cent. The sales of medical goods, cosmetics and toiletries slid 30 per cent, while sales of wearing apparel and footwear also declined, by 28.4 per cent.
But supermarkets and hypermarkets continued to prosper, with sales increasing by 17.9 per cent. Sales of furniture and household equipment also rose, by 10.9 per cent.
---
Temasek Foundation has invested in the effort to develop a Covid-19 vaccine, said Temasek International executive director and chief executive officer Dilhan Pillay Sandrasegara on Tuesday (Nov 3). He said this in response to a question on Temasek's role in helping to procure and distribute the vaccine, during a discussion at the Temasek Trust Conversation. Temasek Trust is the philanthropic arm of Singapore investment firm Temasek. Reports have also said that Temasek is among the investors who have injected US$250 million (S$340 million) through private placement in German biotech firm BioNTech, which is developing a Covid-19 vaccine.
---
Around 52,000 Singaporeans earn less than S$1,300 monthly after "including Workfare supplements and CPF (Central Provident Fund) contributions", said Senior Minister of State for Manpower Zaqy Mohamad in Parliament on Tuesday (Nov 3).
The figure includes 30,000 full-time Singaporean employees working in areas such as food services, cleaning and retail, and 22,000 self-employed workers, said Mr Zaqy in response to opposition Member of Parliament (MP) Jamus Lim, who had asked how many Singaporeans made less than S$1,300 a month. 
Four in five of these Singaporeans have up to post-secondary qualifications and more than a third of them are aged 50 and above, reflecting that low-wage workers tend to be older and have a lower education profile compared to the current generation, said Mr Zaqy. According to Mr Zaqy, low-wage workers also receive other kinds of support from the Government, including GST vouchers and financial assistance under ComCare. 
---
DBS Group Research has downgraded SIA Engineering (SIAEC) to "hold" from "buy" with a lowered target price of S$1.60 from S$2.40 previously, as recovery for the group's maintenance, repair and overhaul (MRO) business will be slower than anticipated. DBS analysts Suvro Sarkar and Jason Sum said in a research note on Thursday that recovery in flight traffic remains very slow at Changi Airport, which is the main base for SIAEC's line maintenance operations. The absence of a domestic aviation market in Singapore will also continue to constrain the group's earnings recovery over the next few quarters, they added. "Eventual recovery to pre-Covid-19 levels could take as long as 2023/24 for the MRO sector," they said.
---
MARKS & Spencer (M&S) Singapore has opened a new outlet at Waterway Point, amid the impending winding-up of Robinsons Singapore, with whom it shares a parent in the Al-Futtaim group. The store opened last Saturday and is a "pop-up" that will operate for the next six months, The Business Times (BT) has learnt.
M&S had confirmed to BT last Friday that it had no intention of closing its "thriving business" in Singapore. Yet, the franchise appears barely profitable of late, having made a profit after tax of S$101,613 in 2018, down from S$2.9 million a year ago. In the UK, the British brand on Wednesday reported the first loss in its 94 years as a publicly listed company, largely due to a decline in clothing sales amid the Covid-19 pandemic.
---
Looking for a comprehensive guide to investing? Check out the FH Complete Guide to Investing and FH REITs Masterclass for Singapore investors.
Stock Watch 2020: Support the site as a Patron and get market updates. Like our Facebook Page and join the Facebook Group to continue the discussion!