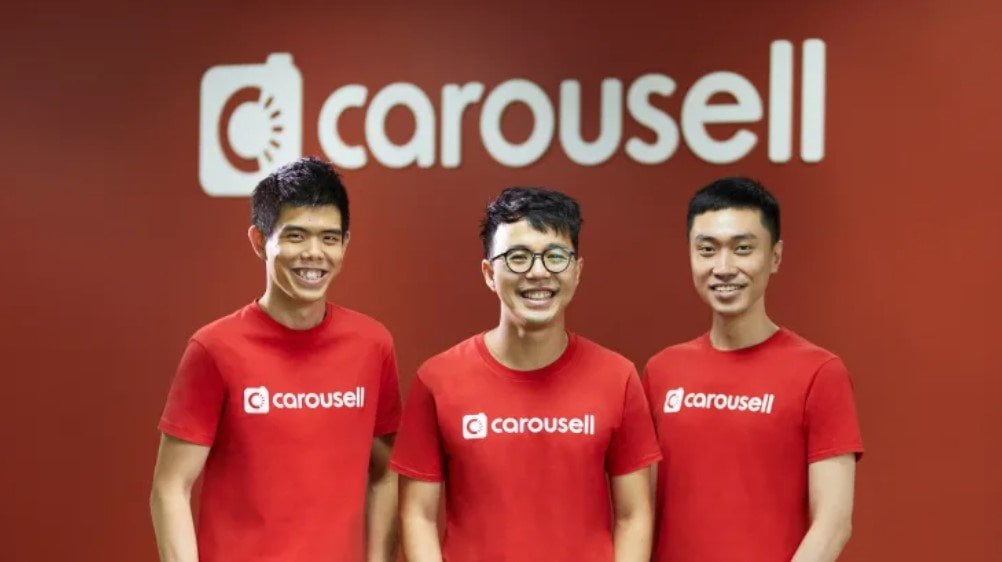 This article was submitted by a Guest Contributor. The opinions expressed in this publication are those of the Guest Contributor.
Carousell is one of Singapore's most well-known startup unicorns, synonymous with buying and selling new and secondhand goods.
It has come a long way since its inception in 2012, when the startup was awarded a $7,000 Venture Ideation Grant by NUS Enterprise to develop a C2C mobile-based marketplace app. Today, it's a unicorn in the online classifieds space, present in seven markets and valued at US$1.1 billion.
An IPO is the next milestone the company is gunning for. In January, Bloomberg reported that Carousell was in talks to list in the US at a potential US$1.5 billion valuation. They are planning to list via a SPAC deal through a merger with a blank-check company L Catterton Asia Acquisition Corp.
However, earlier this month Bloomberg reported the merger fell through after the parties failed to reach an agreement. One factor was the bearishness in the stock market.
Although Carousell's next steps are uncertain, it's worth taking a deeper look at how they got to this point. In this article we'll explore:
Carousell's origins: How three friends from NUS started a mobile-first classifieds app
Monetisation efforts: Carousell is one of the most popular shopping apps, but one key issue they've faced is monetising their user base
Mergers & Acquisitions: How Carousell is shoring up key verticals ahead of their IPO
A short history of Carousell
Carousell was founded by three university friends – Quek Siu Rui, Marcus Tan and Lucas Ngoo. The trio did an internship stint in Silicon Valley while they were studying at NUS. They were intoxicated by the entrepreneurial spirit there.
Everywhere they went, from coffee shops to trains, people were talking about startups, apps and the latest technology. They also attended talks by people like Jack Dorsey of Twitter. They were captivated by these stories from people who were so passionate about technology and solving problems at scale.
Coming back to Singapore, they abandoned plans to go down the conventional path of investment banking and management consulting. They learned how to build apps instead.
The trio wanted to build an online classifieds app that would help to declutter the mountain of stuff they've accumulated. The crux of the idea was to build a mobile-first version of US-based classifieds platforms like eBay and Craigslist.
The reason was guided by a simple question: how can we reduce the time it takes to list a product?
For decades, when newspapers dominated the classifieds business, it would take a few days for an ad to show up in the papers. Then came the internet. Online classifieds like Craigslist cut that time to 30 minutes. You'd take a picture with a camera, transfer the file to a computer, connect to the internet and upload the listing.
As smartphones began to hit mass adoption, the founders aimed to build an app that allowed users to upload a listing within 30 seconds. Snap, list, sell.
After bringing the idea to a hackathon and receiving good feedback to the idea, the trio decided to work on the app full time upon graduation, launching the app three months later. Over the years, Carousell went on to attract additional funding from major investors such as Rakuten, Golden Gate Ventures, Naver and 500 Startups.
Then in September 2021, Carousell hit its biggest milestone. It raised $100 million in fresh funds from STIC Investments. This brought its valuation to US$1.1 billion – finally reaching unicorn status nine years after its founding.
How Carousell makes money
In 2020, Carousell reported a revenue of US$40.6 million. Although this represented a 3x increase from 2019, "recommerce" is still fundamentally different (and smaller) compared to e-commerce.
To give context to their performance, let's compare Carousell's performance to Shopee during the same period. The e-commerce company booked more than 21x revenue than Carousell…in one quarter.
Although it's a bit of an unfair comparison, it does demonstrate how despite its sizeable user base, monetising its core service has always been a struggle. In the first half of 2020, Carousell saw more than a billion dollars worth of transactions on its platform.
Carousell's network effects enable it to quickly connect buyer and seller, but it gets cut out from the most important part – the transaction. For everyday buyers and sellers, fulfilment and payment are usually made outside the platform.
As such, most of their revenue comes from advertising. Sellers can buy various packages to increase their visibility on the app and drive traffic to their listings.
It also set up a marketing platform, Carousell Media Group, to enable direct advertising similar to the Google and Facebook model. With its data on users' preferences, Carousell's website claims to allow advertisers to target precise audiences, from "environmentally conscious shoppers, rev heads, property nuts, tech geeks, sneaker freaks, young parents and many many more".
Lastly, Carousell is free for most users. But it started charging listing fees for high-value categories like properties, jobs, services and automobiles. This strikes a balance for the company. On one hand, it ensures everyday users can continue using the service for free, while monetising listings in the business or professional realm.
Pursuing growth through mergers and acquisitions
Over the years, Carousell has pursued growth in two key areas: expanding its presence regionally and focusing on higher-ticket categories – such as automobiles, property and luxury.
For the most part, it has done so through mergers and acquisitions.
701Search
On 21 November 2019, Carousell merged with 701Search, a close competitor owned by Telenor Communications, one of the world's largest telecom companies.
701Search owned leading marketplace apps across the region, including Mudah in Malaysia, Cho Tot in Vietnam and OneKyat in Myanmar. These were leading marketplaces in their respective markets, and the merger helped to speed up consolidation in the region.
The merger had an immediate impact on Carousell's top line, as it was likely to be the biggest reason for the company's 3x increase in revenue in 2020 versus the previous year.
Auto
One of Carousell's key verticals is automotive. The category generates much higher transaction volumes compared to most of the other items sold on Carousell. Despite heavy competition from the likes of Carro and Carsome, the vertical could unlock a lot of growth for the company. In Southeast Asia, the total addressable market for used cars is estimated to be US$61.1 billion.
Autos have been a strategic priority for the company at least since 2016, when Carousell acquired Singaporean used car marketplace and dealership tool app, Caarly. In 2018, it acquired OneShift, which allowed the company to expand its automotive content and dealership network.
Carousell also added financing capabilities to its platform through its subsidiary Revo Financial and other banks.
Put together, these acquisitions strengthened Carousell's capabilities through a car owner's entire journey. Users can rent cars or motorbikes when they're not ready to purchase a car yet. They can browse auto-content when researching a new vehicle. They can then buy or sell a car on Carousell, and use the workshop or accessories category as a vehicle owner.
Today, the auto vertical has grown to become the Group's biggest contributor – accounting for a third of total revenue.
Property
If Carousell's strategy is to double-down on high-value verticals, none brings a bigger basket size than property. In February, The Business Times reported that the company was in talks to buy property marketplace 99.co.
Although Carousell and 99 Group have not verified these plans, the acquisition does fit its growth strategy.
99 Group is also a Southeast Asia-focused marketplace, and the acquisition would strengthen Carousell's expansion plans in its key markets. The deal would enable Carousell to compete with a leading property marketplace PropertyGuru.
Fashion
In October 2021, Carousell acquired Ox Street, a Singapore-based marketplace for authenticated sneakers and streetwear. By tapping on Ox Street's domain expertise, the deal deepens Carousell's reach in a segment appealing primarily to Gen Z users. It also allows the company to generate more revenue by providing value-added services such as authentication – which is critical for luxury goods.
This May, Carousell also announced its purchase of Refash, another Singapore-based company that operates an online and retail store selling second-hand clothes. The deal further cements Carousell's position as a place for "thrifters" – Refash says it has processed over 5 million items from over 300 fashion labels.
Conclusion
Carousell attempted to go public at a very difficult time. The market volatility has been particularly unkind to loss-making tech companies, and this probably contributed to the potential deal falling through.
If Carousell wants a successful debut, it needs to demonstrate it can monetise its vast user base. Their series of acquisitions reveal clues about how it plans to get there.
This article was submitted by a Guest Contributor. The opinions expressed in this publication are those of the Guest Contributor.
For more investing content, follow Financial Horse on Social Media!