A couple of weeks ago, I wrote an article on Prime US REIT.
Back then, Prime US REIT was trading at $0.61, which works out to a 11.5% dividend yield, and 0.71x Price/Book.
But I said that I'm not a buyer of Prime US REIT because of the dismal macro conditions (central banks in inflation fighting mode means interest rates will go up rapidly).
And on the REIT level, there were 3 points that stood out for me:
Mapletree selling down Prime REIT after purchase of SPH
Track record of Sponsor is quite 50/50
Possible refinancing risk
Prime US REIT since my article
Since my article on 11 Sept, Prime US REIT has continued to drop.
As of 30 Sept, Prime US REIT has dropped to $0.515.
It now trades at a 13.5% dividend yield, and 0.60x book value.
This is very close to COVID lows in March 2020:
Prime US REIT's Investor Relations responds to Financial Horse
Well, after the article, Prime US REIT's Investor Relations team reached out for a friendly chat.
They also emailed across some of their comments on the points that I raised.
For full transparency, I'm going to publish their replies below, as it provides an alternative perspective to my article.
If you're keen to buy, I do suggest reading my original article. Then read the response from Prime US REIT's Investor Relations team.
And decide for yourself!
Response from Prime US REIT's Investor Relations Team set out below, pictures are added by me for more colour:
Mapletree selling down Prime REIT after purchase of SPH
Response from Prime US REIT's Investor Relations Team:
There are ownership limit rules (per the trust deed).
The sell-down as we understand it (after takeover of SPH by Cuscaden), was to ensure that the ownership was within those limits.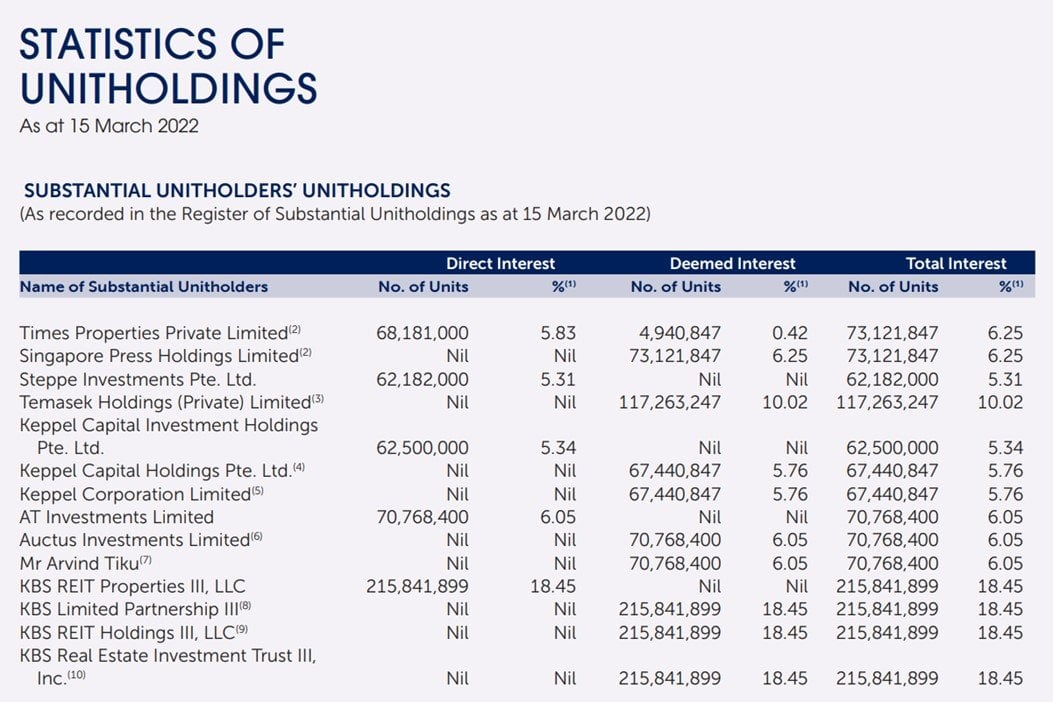 Large ownership by Private Wealth
Response from Prime US REIT's Investor Relations Team:
Similar to other listed companies and REITs, annual report disclosures on top 20 largest shareholders/unitholders are typically registered holders and taken from CDP list. It is common that this list shows a number of depository agents/nominee banks, and it may not represent the underlying ultimate beneficiaries.
Depository agents and nominee banks do not only hold units for private wealth. Many institutional investors and global investment firms' units are often held under various depository agents and nominee banks.
PRIME was also included into FTSE EPRA Nareit Global Real Estate Index (Global Developed Index) with effect from 20 September 2021 and is a constituent in a number of other indices, according to Bloomberg data. Many institutional funds, especially index funds, track these indices and invest in its stocks.  
We would also like to add, that
PRIME have had 2 equity raises since IPO (US$120m raise in Feb 2020 and a US$80m raise in June 2021). Both events were oversubscribed in multiples, with strong demand particularly from institutional investors. We continue to see new institutional ownership as we track our shareholder register periodically.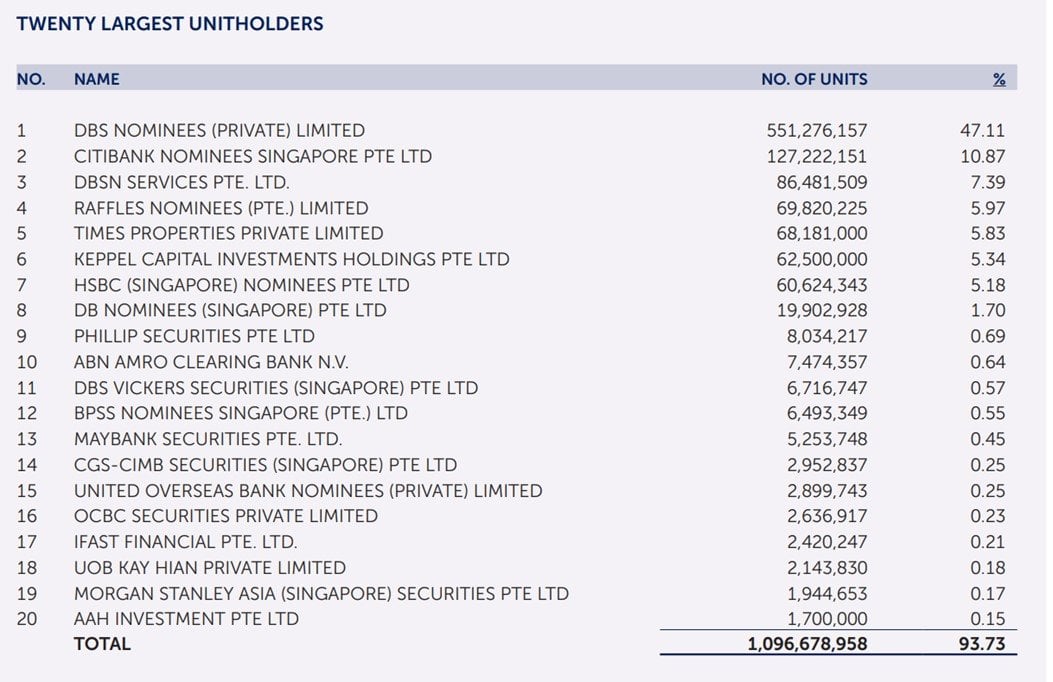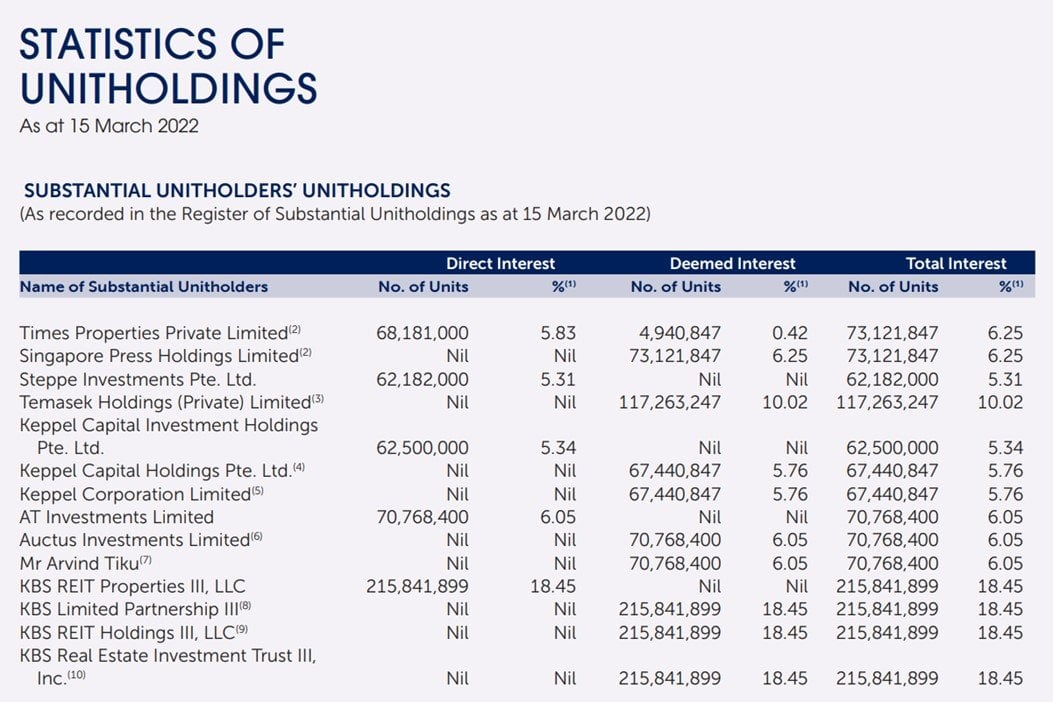 Possible refinancing risk
Response from Prime US REIT's Investor Relations Team:
Financing
We have about US$222mil of undrawn credit facility available as at 30 June 2022.
We have had great support from our lending banks since IPO, having upsize our main credit facility twice (once in Feb 2020 and again in June 2021) to the current level as at June 2022.
Our leverage ratios are well managed, and we will look for opportune market windows to refinance this debt – for which we have till July 2024 to refinance. 
Interest Rates
86% of PRIME's debt is fixed rate or swapped from floating to fixed rates.
18% of the June 2022 debt is hedged through to 2024, 51% has hedges in place through to 2026, and a further 17% is fixed through to 2029. This means that, notwithstanding the partial debt maturity in 2024, out of the 86% fixed/hedged, close to 70% of total debt stretches to 2026 and beyond.
Swaps in place (for the 51%) that will hedge PRIME's exposure to LIBOR benchmark fluctuations beyond the debt maturity in 2024 through to till 2026.
Additionally, 17% of the debt remains fixed through to 2029.
(Refer: PRIME's 1H2022 presentation slides, slide 7)
PRIME's underlying fundamentals remained robust (Below recap as at 30 June 2022).
1H2022 DPU increased 5.7% year-on-year
Occupancy held steady about 90%
Consecutive 8th quarter of positive rental reversion (2Q2022: 10.9%)
Consistent healthy rent collections above 99%
Healthy average lease (WALE) of 4 years
High portion of debt (86%) fixed or hedged
As always, this article is written on 30 Sep 2022 and will not be updated going forward.
Weekly macro updates and market commentary are available on Patreon.
If you are keen, my full REIT and stock watchlist (with price targets) is available on Patreon. You can access my full personal portfolio to check out how I am positioned for the coming downturn too.
Trust Bank Account (Partnership between Standard Chartered and NTUC)
Sign up for a Trust Bank Account and get:
$35 NTUC voucher
Whole bunch of freebies – A free packet of rice (1kg), a free Kopitiam Kaya Toast set, a $1.99 Double Mushroom Swiss at Burger King, and 50% off KFC Zinger Set just to name a few.
1.0% base interest on your first $50,000 (up to 1.4%)
 Fully SDIC insured as well.
It's worth it in my view, a lot of freebies for very little effort.
Full review here, or use Promo Code N0D61KGY when you sign up to get the vouchers!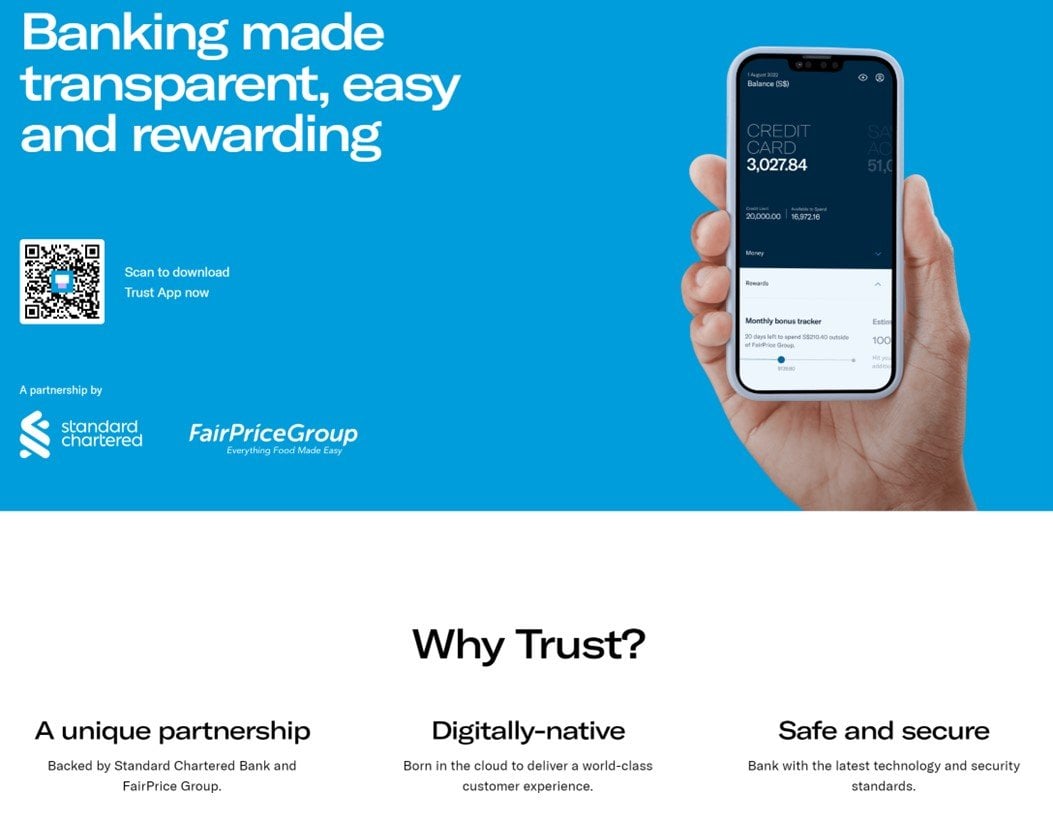 Looking for a low cost broker to buy US, China or Singapore stocks?
Get 100 USD in Apple Shares with Webull, a zero commission broker.
Get a free stock and commission free trading with MooMoo.
Get a free stock and commission free trading with Tiger Brokers.
Special account opening bonus for Saxo Brokers too (drop email to [email protected] for full steps).
Or Interactive Brokers for competitive FX and commissions.
 Looking to buy Bitcoin, Ethereum, or Crypto?
Check out our guide to the best Crypto Exchange here.
 Do like and follow our Facebook and Instagram, or join the Telegram Channel. Never miss another post from Financial Horse!
Looking for a comprehensive guide to investing that covers stocks, REITs, bonds, CPF and asset allocation? Check out the FH Complete Guide to Investing.
Or if you're a more advanced investor, check out the REITs Investing Masterclass, which goes in-depth into REITs investing – everything from how much REITs to own, which economic conditions to buy REITs, how to pick REITs etc.
Want to learn everything there is to know about stocks? Check out our Stocks Masterclass – learn how to pick growth and dividend stocks, how to position size, when to buy stocks, how to use options to supercharge returns, and more!
All are THE best quality investment courses available to Singapore investors out there!
FYI – We just launched the FH Property Series. Everything you need to know to buy a property in Singapore, completely free of charge.