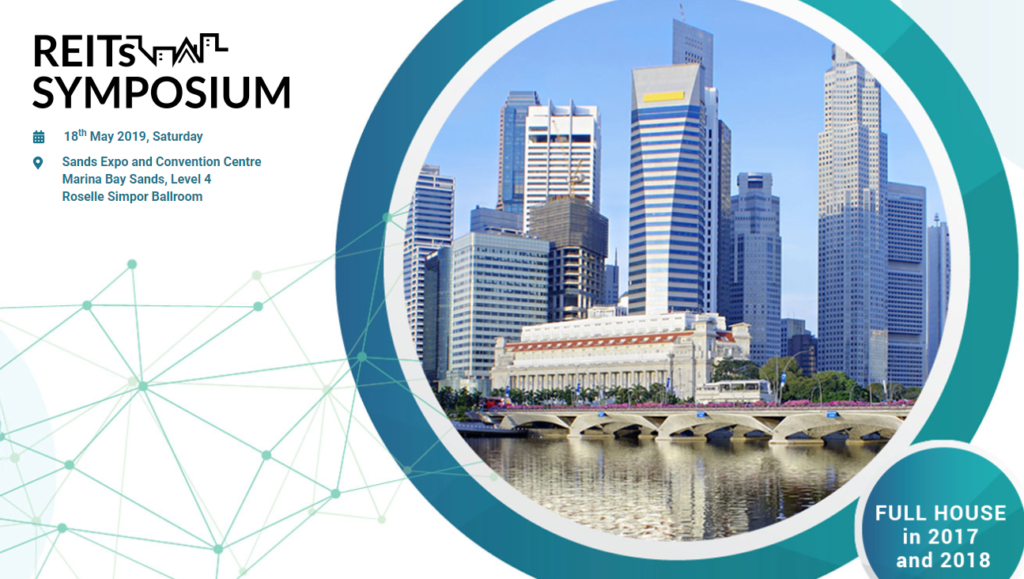 So ShareInvestor reached out to me recently on the REITs Symposium that they're organising on Saturday, 18 May 2019. It the Saturday right before Vesak Day (which falls on the Monday), so it's basically the first day of a 3 day long weekend. 🙂
Anyway, I've always been a huge supporter of local initiatives (I think there should be way more of such events), so I was more than happy to help.
Basics: REITs Symposium 2019
I was at the REITs Symposium one or two years back. Very simply, it's a full day event at Marina Bay Sands where they invite all the bigger REITs down to give a presentation, and invite some prominent executives and VIPs for a panel discussion.
The Investor Relations (IR) teams from the bigger REITs will also each have a booth there (much like the PC show), so you also get the chance to ask them questions if you're so inclined.
The REITs that will be at REITs Symposium 2019: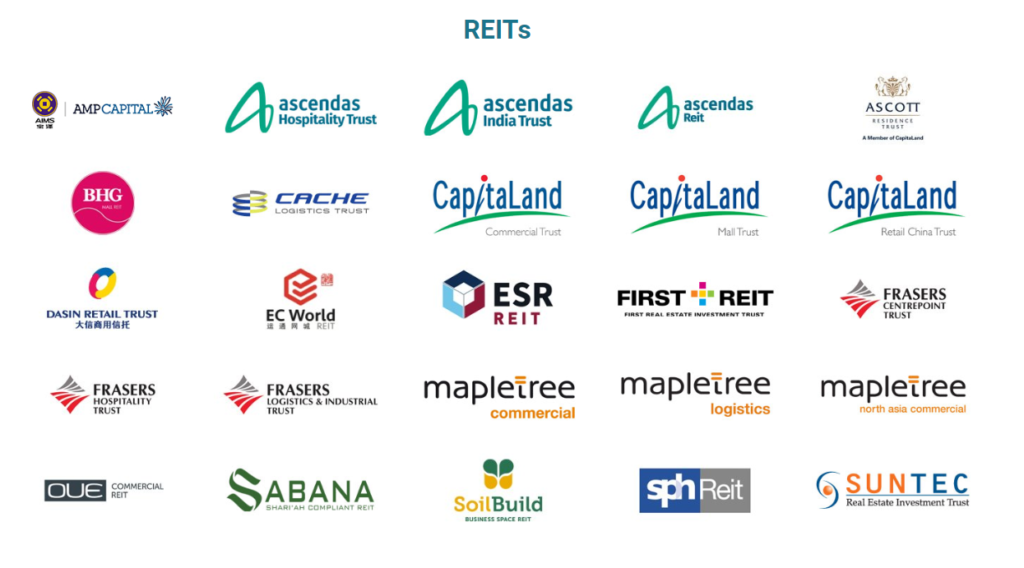 Timetable
I've set out the timetable for the event below
9.00 am – 9.15 am – Opening Speech by ShareInvestor and REITAS
9.15 am – 9.30 am – Guest of Honor Loh Boon Chye CHIEF EXECUTIVE OFFICER, SINGAPORE EXCHANGE
9.30 am – 10.00 am- Presentation by Frasers Logistics & Industrial Trust
10.00 am – 10.30 am – Break
10.30 am – 11.00 am – Presentation by Keppel
11.00 am – 11.30 am – Presentation by PhillipCapital
11.30 am – 12.00 pm – Presentation by Ascendas Industrial Trust
12.00 pm – 1.30 pm – Lunch
1.30 pm – 1.40 pm – Lucky Draw
1.40 pm – 2.10 pm – Presentation by Ascott Residence Trust Management Limited
2.10 pm – 2.40 pm – Panel Discussion #1 – REITs: Still a Viable Investment?
2.40 pm – 3.00 pm – Break
3.00 pm – 3.30 pm – Presentation by Nikko Asset Management
3.30 pm – 4.00 pm – Presentation by EC World REIT
4.00 pm – 4.30 pm – Break
4.30 pm – 5.00 pm – Coming soon!
5.00 pm – 5.30 pm – Panel Discussion #2 – Insights to Best Performing Singapore REITs
5.30 pm – 5.45 pm – Guess the REITs
And the list of VIPs is set out below.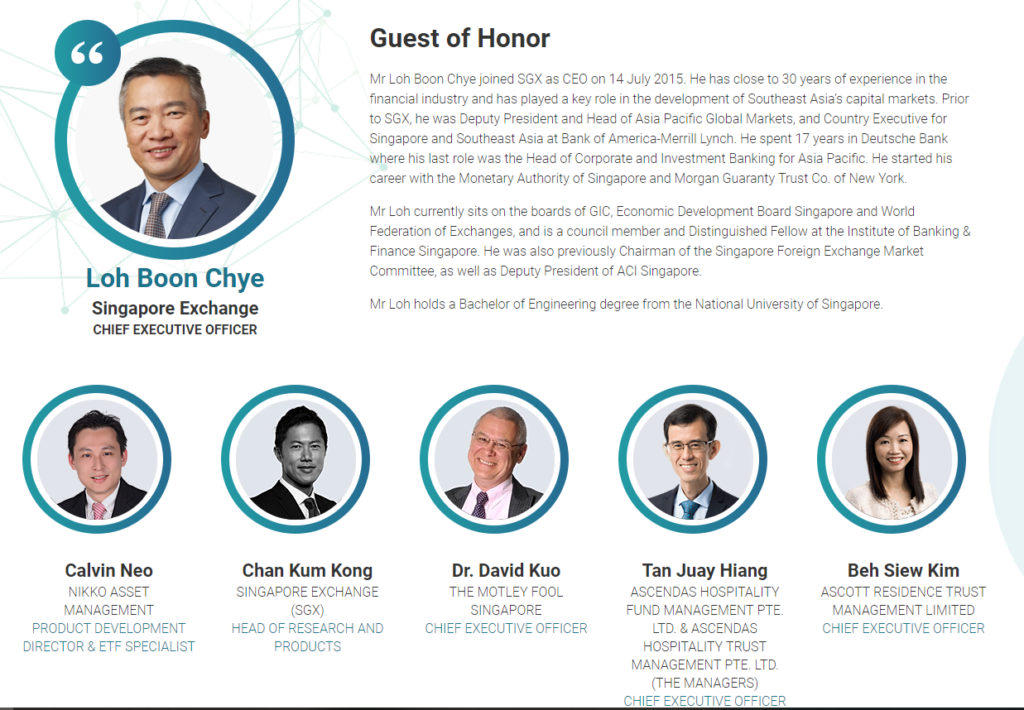 What to expect?
Photos from last year's event so you know what to expect.
Some other interesting tidbits about this event:
More than 75% of S-REITs will be present
Face time with the REITs managers
2 way communication during panel discussions – attendees can post their questions online
Aside from a main stage, there will be a "side stage" focused on REITs 101 – educating beginner investors to kick start investing in this asset class such as how to evaluate the metrics of a REIT
Is it worth your time?
Of course the million dollar is going to be whether it's worth your time to make the way down to the event.
Personally, I've always found that it helps to hear from the management team themselves. I find that it helps to listen to them speak, to listen to what they have to say, how they say it, and how they react to questions. I've found this to be helpful in attaching a human side to the REIT I'm investing in, beyond just the hard financials and valuations.
Of course, if you're a big institutional fund investor throwing S$50 million around a pop, you could probably schedule a meeting with the REIT CEO and they'll come down to your office.
For retail investors like us though, we're stuck with things like AGMs and EGMs, which are also tricky because they're usually held on weekdays, and it's hard to make your way down if you're working a full time job (are you seriously going to take half day leave just to attend an AGM?).
The next best thing really, is an event like this.
You get to hear presentations from the management team, and you also get to speak to the IR teams in person to ask any burning questions you may have.
The panel discussion is always great too. I've always liked panel discussions because it's a quick way to expose yourself to multiple, differing points of view, something that is incredibly important in investing. The more you disagree with a fellow investor, the more you should listen to what he has to say, because he just may have seen something that you haven't.
The new side stage on "REITs 101" could be interesting as well. It's probably going to be quite basic, but it never hurts to hear what they have to say.
Details
The details of the event are set out below:
Date: 18 May 2019 (Saturday)
Time: 9am to 6pm
Venue: Sands Expo and Convention Centre, Marina Bay Sands, Level 4, Roselle Simpor Ballroom
Ticket Price:
Note: On-site tickets will be priced at $20 (excluding carpark coupons) so if you are meaning to go, it's probably best best to buy it before the event.
Promo Code 
Anyway ShareInvestor is throwing in a freebie this year for Financial Horse readers.
For the first 30 signups who quote "financialhorse" at the promo code section when signing up, there will also be a mystery gift worth $25 which is redeemable at ShareInvestor's booth on the day of the event.
Of course, I did ask ShareInvestor what the gift was but they absolutely refused to share, those sneaky fellas! So if it sucks we all know who to blame ;).
But jokes aside, if you're attending the REITs Symposium 2019, you might as well just use the financialhorse promo code and see what you get. Who knows, it might really turn out to be something amazing worth S$25, which would be worth more than the cost of your ticket itself.
Registration Link: http://reitsymposium.com/
Update from ShareInvestor
So ShareInvestor reached out to update on the events that they have in store for the REITs 101 side stage:
| | |
| --- | --- |
| Time | Program |
| 10.15am – 10.30am | REITs vs Physical Properties |
| 12pm – 12.15pm | Metrics to Evaluate a REIT Part 1 – Yield |
| 1.15pm – 1.30pm | Metrics to Evaluate a REIT Part 2 – Price/NAV |
| 2.45pm – 3pm | Metrics to Evaluate a REIT Part 3 – Gearing Ratio |
| 4pm – 4.15pm | Building a Diversified REIT Portfolio |
As well as the panel discussions:
Panel Discussion #1 – REITs: Still a Viable Investment?
– Chan Kum Kong, SGX
– Analyst
– Kenny Loh
– Chia Nam Toon, ARA
Moderator: Nupur, REITAS
Panel Discussion #2 – Insights to Best Performing Singapore REITs
– Anthony Ang, Sasseur REIT
– Paul Chew, PhillipCapital
– David Kuo, The Motley Fool
– Calvin Neo, Nikko AM
Moderator: Dinesh, DollarsAndSense
---
Till next time, Financial Horse, signing out!
Enjoyed this article? Do consider supporting us and receiving additional exclusive content. Big shoutout to all Patrons for their generous support, and in helping keep this site going!
Like our Facebook Page for more great articles, or join the Facebook Group to continue the discussion!