After our recent review on Moomoo, quite a few readers have asked that we do a review for Tiger Brokers as well.
Both have very similar user interfaces, fees, and free Apple Stock when you sign up.
How competitive is Tiger Brokers vs Moomoo, Interactive Brokers, Saxo and FSMOne today?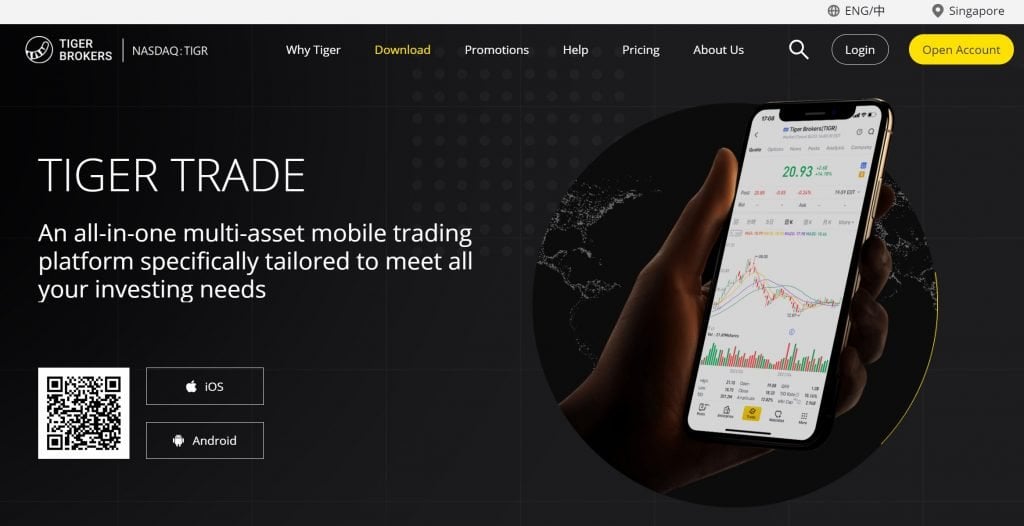 What is Tiger Brokers?
Tiger Brokers is listed in the NASDAQ under UP Fintech Holding.
It's market cap is $2.6 billion, significantly lower than Moomoo (Futu) with a $14.7 billion market cap.
Tiger Brokers is backed by some very strong investors though, including Interactive Brokers, Xiaomi, ZhenFund, and investor Jim Rogers. 
Tiger Brokers Referral Code / Sign Up Bonus (worth $250)
If you're new to Tiger Brokers, you can get 60 commission free trades, and 1 free Apple share (worth $200) if you sign up and fund $2000.
It's a very good deal frankly.
Referral link below, but I would strongly suggest reading the entire review first before deciding if Tiger Brokers is appropriate for you (or if you want to go with Interactive Brokers, Moomoo or Saxo): Tiger Brokers Referral Code / Sign Up Bonus
Tiger Brokers Fees – US, Hong Kong and Singapore markets
Let's start with the Fees.
The full Fees schedule is set out below.

The thing to note about Tiger Brokers is that there are 2 levels of fees (just like Moomoo):
Commission Fee (to buy the stock)
Platform Fee (to use Tiger Brokers)
Let's say you buy an Apple stock in the US.
You need to pay Commission Fee of minimum $0.99, and Platform Fee of minimum $1.
In total, you pay about $2+ USD to buy the share.
You do get 60 commission free trades when you sign up now, which is a lot of free trades.
Tiger Brokers Forex Fees
Forex Fees are about 0.3% give or take, which is in line with Moomoo and Saxo.
It's ok, but won't be comparable to the market leader which is Interactive Brokers.
At Interactive Brokers you get the interbank spot rates + a $2 fee.
Example – Fees for Tiger Brokers vs Moomoo vs Interactive Brokers
To give an example, here are the fees if you trade on Hong Kong (Tencent), Singapore (DBS), and US (Apple) below.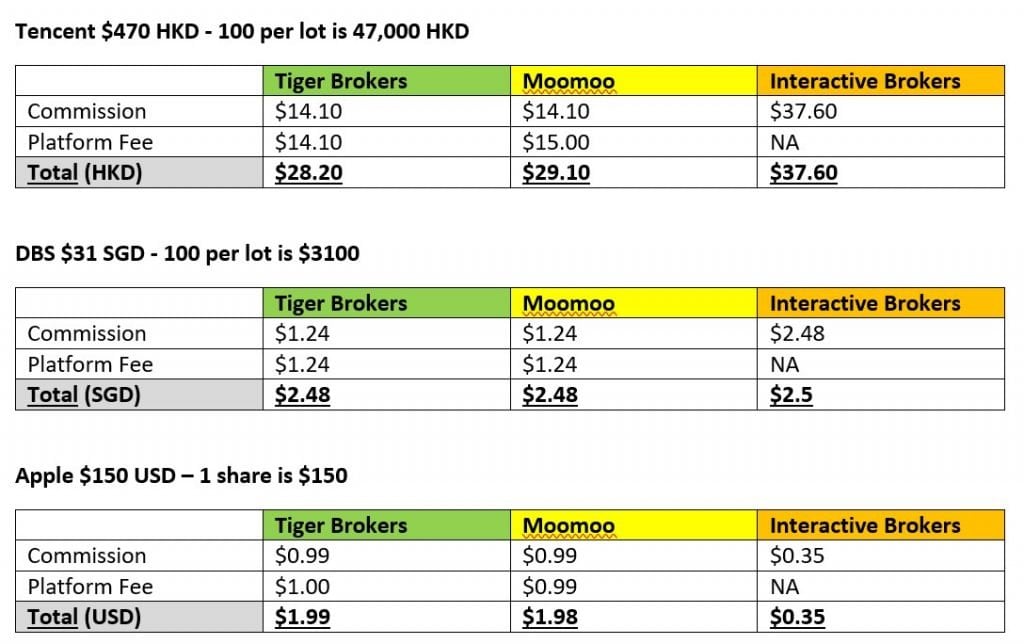 Long story short – they are all very competitive against each other.
Both Tiger Brokers and Moomoo are very competitive for Hong Kong and Singapore, while Interactive Brokers is very competitive for US stocks.
How does Tiger Brokers compare against Saxo, Moomoo, Interactive Brokers and FSMOne?
I've compared the fee schedule against the other big brokers – Moomoo, Interactive Brokers, Tiger Brokers and FSM One above.
To sum it up:
Tiger Broker's fees are very close to Moomoo
Tiger Brokers is cheaper than FSMOne
Tiger Brokers is cheaper than interactive brokers in some areas (HK and China), but more expensive in other areas (US and Europe)
Tiger Brokers Fees vs Moomoo Fees
You can take a closer look at Moomoo's fees below.
Tiger Brokers has almost identical fees – which is clearly not a coincidence.
It's funny because before Moomoo came into the market, Tiger Brokers had higher fees.
After Moomoo came in, Tiger Brokers adjusted their fees downward to match Moomoo. And they also added the referral code for a free Apple stock – Exactly like Moomoo.
Who said competition isn't great for the consumer?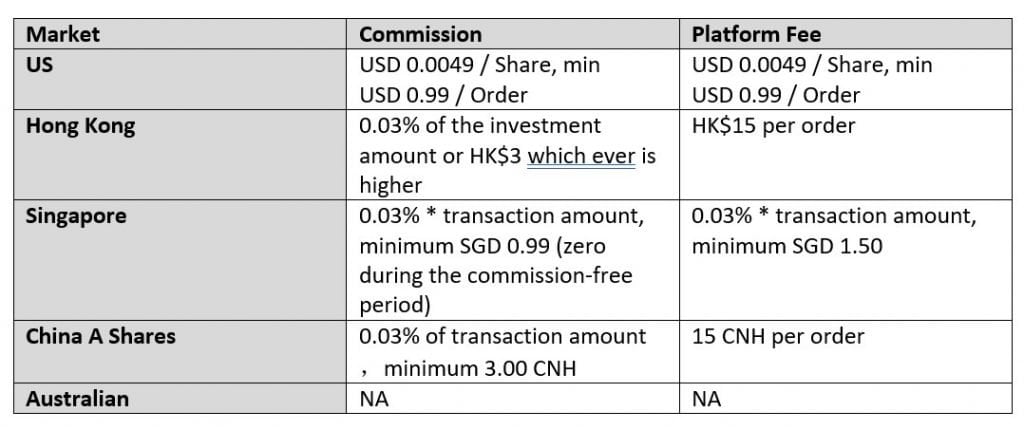 Tiger Brokers vs Saxo vs Moomoo vs Interactive Brokers vs FSMOne?
But long story short – every single broker on the list above is very competitive in terms of fees.
And if you want dirt cheap fees, Tiger Brokers, Moomoo, Saxo and Interactive Brokers are about as cheap as it gets. Almost all are running referral promotions now with a sign up bonus and free trades during the promotion period.
The days of paying your broker $25 plus $2 a month to buy US shares are over. As long as you're on one of the brokers above, the fees you're paying is very competitive.
If you're still on a broker like DBS Vickers or POEMS for your US/HK stocks, it's probably time to switch.
$25 commission per trade in 2021 is just daylight robbery.
Tiger Brokers – Custodian Structure and not CDP for SGX stocks
If you're buying Singapore shares on the SGX – It's important to note that Tiger Brokers uses a Custodian Structure instead of CDP.
This is the same for all the other cheap broker on the list above – Interactive Brokers, Saxo, Moomoo etc. It's how they achieve the low fees for SGX stocks
So the shares are legally held with Tiger Brokers, and not in your name.
Whether you prefer CDP or Custodian is really a personal call.
Personally for me I like to hold my long term positions in CDP, because it makes receiving annual reports, rights issues, preferential offerings etc much easier. When you hold shares in custodian these things can be tricky, and it's hard to attend an AGM/EGM because your name is not on the official list of shareholders.
But frankly, if you're just holding trading positions, and don't expect to hold them more than a few months, I would say go for a custodian structure and enjoy the cheaper fees (Tiger Brokers, Moomoo, Interactive Brokers etc).
If you want CDP access, DBS Vickers Cash Upfront is one of the cheapest at $10 per trade (only works for buy orders – $25 to sell). If you really want to save fees you can use FSMOne to sell via CDP for the $10 sell orders. You do need to fill in the paperwork to link FSMOne to your CDP account though.
Margin Rates for Tiger Brokers (vs Interactive Brokers vs Moomoo)
Margin rates for Tiger Brokers are really high – not competitive in this market.
It's the same story for Moomoo (Futu)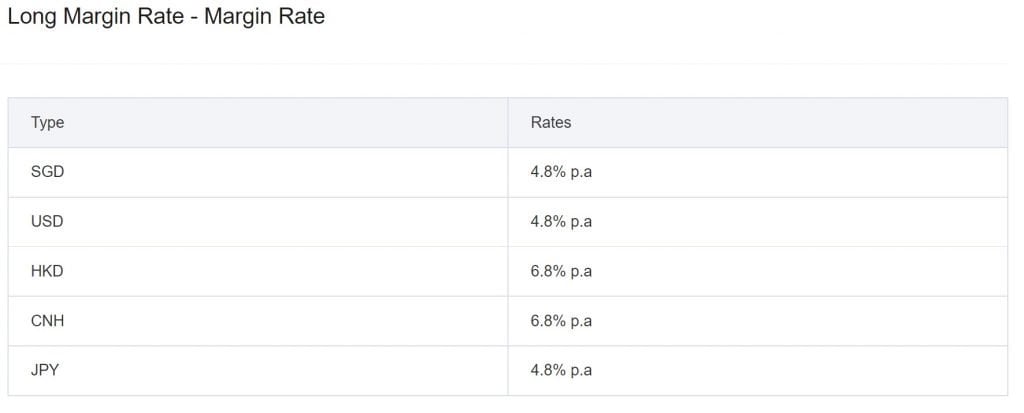 If you want to use margin go with Interactive Brokers which has very, very competitive margin rates.
Options Trading on Tiger Brokers
Tiger Brokers has tools for basic options trading as well, just like Moomoo.
It's sufficient if all you need to do is buy a bunch of deep out of the money call options on Gamestop.
But if you want to do serious options trading, or execute more sophisticated strategies, it's probably not going to be enough.
If you want a more sophisticated options trading platform, I would suggest sticking with Interactive Brokers.
How Safe / Reliable is Tiger Brokers? MAS Licensed? SIPC Insured?
I've had a couple of questions about the reliability of brokers like Tiger Brokers, given that it is China backed broker.
Just like Moomoo – What I would say is that Tiger Brokers is Nasdaq listed, and they are also MAS licensed. This does reduce the risk of something going bad.
U.S. securities in your account are also protected up to $500,000 by Securities Investor Protection Corporation (SIPC).
But frankly, there is no stock broker in this world that is zero risk.
In today's world, there's always an element of counterparty risk, unless the shares are legally held in your name.
Even with Interactive Brokers I wouldn't say the risk is zero.
If you're concerned, I would say use a few brokers, and spread your money around. No need to put your entire life savings into any 1 broker. It's what I do as well.
Should you transfer your existing shares into Tiger Brokers?
Another frequent question I get is whether it's worth it to transfer your existing shares into Tiger Brokers.
Maybe you already have a bunch of Google shares in POEMs. But you're sick of paying the $2 a month custody fee.
Does it make sense to pay to transfer your existing shares into Tiger Brokers?
My personal view is that it's not worth the time and effort.
I personally have my stocks split over 5 or more brokers. I don't see a compelling need to have all my stocks in one broker, since I track them via an Excel spreadsheet anyway.
In fact there's even diversification benefits to having multiple brokers – you avoid having all your eggs in one basket.
You never know what technical or regulatory issue will come up in the next market crisis.
But ultimately it's a personal call – some investors like the convenience and ease of tracking with having all their stocks with one broker.
Personal Experience with Tiger Brokers
In the name of "market research" I have opened stock broking accounts with literally all the brokers out there – Saxo, Interactive Brokers, Tiger Brokers, moomoo (Futu), DBS Vickers, Standard Chartered Online Trading, FSMOne etc.
You name it, and I probably have an account with them.
After playing around with all the online trading platforms, my personal experience is:
Tiger Brokers is the closest to Moomoo in terms of User Experience and UI. The main difference is that Tiger Brokers is more gamified, and in my view easier to use / navigate.
All the functions are very easy to locate, and it didn't take long to get up to speed.
All in, it's a very comfortable and functional broker to use.
Contrast that with something like Interactive Brokers where it does take some time to get up to speed, because the functions are less intuitive.
Personal View – Is Tiger Brokers a good online trading platform to use?
The way I see it, all 4 brokers below are very competitive among each other:
Tiger Brokers
moomoo (Futu)
Saxo
Interactive Brokers
There are pros and cons for each, but you won't go too wrong picking from any of the 4 stock brokers.
I personally have accounts with all 4 brokers, and I buy using from all of them, with Saxo and Interactive Brokers as my main accounts.
What if you're starting fresh today – Which Stock Broker to pick?
If you're starting fresh today, I would say:
Casual Investor – Tiger Brokers or moomoo (Futu)
Serious Investor – Interactive Brokers
Mix of the two – Saxo
But like I said, all 4 are very competitive, and it ultimate boils down to personal preference.
If you're on the fence, just open an account with all 4 and play around a bit. With Singpass it literally takes 5 mins to open an account these days.
Play around the user interface, and decide which one works best for you. Some people like the cute gamified version of Tiger, some the more serious version from Interactive Brokers and Saxo, some the functional layout of moomoo.
Figure out what works for you.
Interactive Broker waives their inactivity fee
In case you missed it, Interactive Brokers announced they will be waiving their $10 a month inactivity fee (previously it was $10 a month if your account value was below $100k USD.
With this change, Interactive Brokers becomes very competitive even at smaller amounts, and is definitely worth checking out.
The Interactive Brokers interface is more complex than moomoo or Tiger Brokers though, and it does take some getting used to. There's also no free Apple stock if you sign up, which is almost $200 worth of value right there.
With Tiger Brokers, you get 60 free commission trades, and a free Apple stock, collectively worth almost $250. That's a big plus point in favour of Tiger Brokers.
If you're still on a DBS Vickers / POEMs and paying $25 per trade + $2 a month for US share, it's really time for a new broker.
Tiger Brokers Referral Code / Sign up Bonus (worth $200)
Registration:
500 Tiger Coins (loyalty points that you can redeem for gifts)
Account Opening
60 Commission-Free Trades (within 180 Days)
5 Commission-Free Trades for Futures (within 30 Days)
First Deposit ≥ SGD 2,000        
1 FREE Apple share (worth $200)
Stock Voucher of SGD5
Tiger Brokers Referral Code / Sign Up Bonus
moomoo Singapore Referral Code:
Get 1 free Apple share (worth $200) you're new to MooMoo and fund $2700.
Moomoo Referral Code / Sign Up Bonus
Saxo Singapore Referral Code / Promotion
If you fund $3000 and make 1 stock trade, you also get $100.
Link is below, drop me an email at [email protected] for the next steps!
Referral Link: Financial Horse x Saxo Affiliate Link
Interactive Brokers Referral Code / Promotion
Interactive Brokers Referral Code
Join Financial Horse's Investing Community!