It's been a while since we've done a post on REITs.
I love REITs, so let's remedy that today.
We're going to take a look at Singapore REIT prices as they stand today, and pick out the 3 best REITs to buy at today's prices.
Lots to cover, so let's jump right into it.
BTW – we share commentary on the COVID crisis every weekend, so please sign up for our mailing list, its absolutely free.
It's a weekly newsletter that goes out every Sunday, and rounds up the week's posts so you never miss anything.
Don't forget also to join our Telegram Channel!
[mailmunch-form id="928667″]
Criteria for REITs
The criteria today is very simple:
To make the most money (capital gains / distribution all fine), with a 4 to 6-year investment horizon
Risk appetite is medium to high
And from there, all the S-REITs listed on the SGX today are fair game.
How to analyse REITs?
How to analyse REITs is a 20-hour course in itself (and we do have a REITs Masterclass on this).
Very simply though, we look at:
Quality of real estate
Quality of Sponsor
Price
Operational and financial metrics
Now do note that this article is based on prices as at 27 August, and will not be updated going forward. My latest thoughts are available on Patron.
Which is the best class of REIT? – Hospitality / Industrial / Retail / Commercial
Let's say all I care about is making money.
Leaving aside all the issues about concentration risk and diversification, which is the class of REITs I would want to go for to maximise my gains?
Industrial REITs
Industrial / Logistics / Data Centers REITs are fairly immune from the impact of COVID-19. In fact, you can even argue that COVID-19 has been a very powerful tailwind for them.
The problem though, is pricing. Many of them are back to all time highs, or very close to.
This limits the potential upside, especially when the other property sectors are trading at depressed valuations.
Hospitality REITs
Hospitality REITs have the exact opposite problem.
COVID-19 has destroyed the industry. IATA estimates that global air travel will not recover to 2019 levels until 20204. That's another 3 years of sub-par growth.
There will still be domestic travel, but I would want a big margin of safety before I step into Hospitality REITs right now.
And I don't really see that in today's pricing.
Commercial (Offices) REITs
Commercial / Office REITs have also sold off quite a bit. A lot of people are predicting the death of the office.
I don't agree with this. I think in the mid term when COVID passes, the office will return.
BUT – only the high quality, well located office buildings. The lower grade, poorly located ones will suffer.
That said, short term does look really rough, so I would want REITs that are able to ride out the short term.
Retail REITs
Much like offices, retail REITs have also sold off badly. And again, I think that retail, especially the well-located ones, will remain relevant. Humans are resilient creatures, and medium term, I believe we'll find a way to utilize well located malls again.
So in today's market, I actually like commercial and retail REITs the most, based off current pricing.
3 Best REITs to buy now (2020)
And so the 3 Best REITs to buy now, in no particular order, are:
1. Mapletree North Asia Commercial Trust (SGX: RW0U)
People are incredibly bearish on Hong Kong these days.
I don't really agree with that.
I agree that the short term will be rough because of COVID19 and the US-China conflict.
I agree that the long term will be rough because structurally, China will try to shift more financial and capital markets work to onshore hubs like Shanghai or Shenzhen. This will sideline Hong Kong in the longer term.
But medium term, 3 to 5 years out, I don't think Hong Kong will be replaced.
With Hong Kong you get
Rule of law (common law jurisdiction)
Free flow of capital with the HKD
Existing financial/legal infrastructure that foreign investors are comfortable with
Proximity to the China market
This cannot be easily replicated elsewhere to the extent required to place Hong Kong.
So I think mid-term, Hong Kong will retain its status as financial center, and it will still do well.
That presents opportunity.
Mapletree North Asia Commercial Trust's portfolio is about 50% Hong Kong, 30% China (Beijing and Shanghai), 20% Japan.
There's some really nice diversification to the Hong Kong retail, that I think is underappreciated. It started out as a Hong Kong retail REIT yes, but over the years the additional of the China and Japan offices have really matured the REIT, and built it more into a North Asia version of Mapletree Commercial Trust. I really like what they've done to this REIT.
Valuations
At it's current price of $0.94, Mapletree North Asia Commercial Trust trades at 0.66 times book value.
Historical yield is 7.5% but frankly that means nothing because of COVID.
Unfortunately, at $0.94, it is only about a 20% fall from its all-time highs.
My take
A price in the mid-80s looks a lot more attractive to me, especially when it was there just a few weeks back when the Hong Kong COVID situation was bad.
COVID is not over by any chance, nor is the US-China conflict, so we may get more opportunities to add at great prices before the end of this year.
2. CapitaLand Retail China Trust (CRCT – SGX: AU8U)
China was the first country that went into COVID, and it has been the first country to emerge. Life in China is almost entirely back to normal right now, with the exception of international travel.
Short term, the supply and manufacturing sectors have recovered very strongly, almost at pre-COVID levels.
The problem though, is demand side.
Unemployment is up and will remain up, so this acts as a dampener on consumer demand. Just look at the number of sales they're running on Taobao to stimulus consumer spending.
Near term, I think this will be the biggest problem for China, since the government has been quite reluctant to engage in large debt driven stimulus. Whatever stimulus there was is targeted on the supply side rather than the demand side.
So there are short term headwinds here, especially for the retail space.
But medium to long term, I really, really like the growth prospects of China. I think if you can look 5 to 10 years out, the middle-class purchasing power in China is just going to explode. The growth story of China is going to be the defining event in the coming decades.
CRCT's portfolio is pure retail malls. About 73% are in Tier 1 cities in China – Beijing and Guangzhou. The other 24% are in Tier 2 Cities.
Valuations
At its current price of $1.14, it trades at about 0.70 times book value.
Historical yield is 6.61%, but again that really means nothing.
It's down about 30% from pre-COVID levels.
My take
The short term is and will continue to be rough, but at this price, there's a fairly decent margin of safety baked in. For the longer-term investor with holding power, I do like the risk-reward here, especially when you have the tailwind of China's middle-class growth in play.
3. Starhill Global REIT (SGX: P40U)
The first two REITs are backed by strong sponsors in Mapletree and CapitaLand. That makes them safer, but you also pay a premium for that safety.
Starhill Global REIT is backed by YTL Corporation (Malaysian conglomerate), which is definitely not in the same league as Mapletree or CapitaLand.
It's definitely riskier, but with this risk, also comes greater opportunity.
70% of the portfolio valuation is Singapore (Ngee Ann City and Wisma Atria), while the rest are malls in Australia and Malaysia. The Ngee Ann City and Wisma Atria comes with both retail and office elements.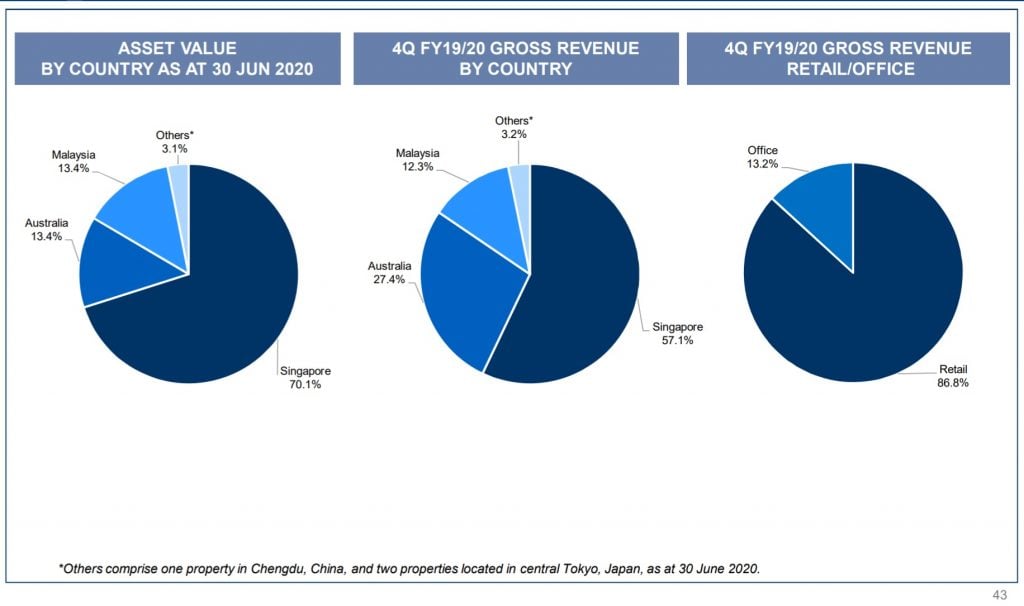 Valuations
Current price of $0.44 is a depressed 0.55 times book value.
Trailing yield is 6.7% which again I suggest you just ignore this number – all that matters is yield going forward.
It's down a massive 40% from its pre-COVID levels.
My take
The thing about Orchard malls is that they're primarily catering to tourists. With international air travel unlikely to return meaningfully until 2021/2022, that's a powerful headwind here.
That said – I went down to Orchard a couple of times recently, and both Ngee Ann City and Wisma had very strong footfalls. So perhaps the shortfall in international tourism can be made up by locals who now cannot travel overseas.
Trading liquidity is very small, and the Sponsor isn't exactly best in class, so there are risks in play that come with a smaller cap REIT like this.
At this price though, I do like the risk-reward for patient capital, that can wait around for a recovery.
REITs that narrowly missed out on making this list
I looked at quite a few REITs to come up with this list, and I want to qualify that just because a REIT isn't on this list, doesn't mean it's not good.
There are still many other fantastic REITs out there.
Here are some of the REITs that I really like, but which didn't make the list for certain reasons.
Mapletree Commercial Trust
I love Mapletree Commercial Trust. It's one of my biggest holdings in my portfolio, and I loaded up on it back in the $1.5 range when people were freaking out over lockdowns.
I still really like it at its current price, but the risk-reward has become a lot less compelling, and it's starting to look more fairly valued.
It didn't feel right including MCT as the top 3 because of the price, when other REITs are at depressed valuations. But longer term, I still really like the growth prospects of this REIT. Vivocity and Mapletree Business City are best in class assets.
CapitaLand Mall Trust / CapitaLand Commercial Trust
Much like MCT, I really like CMT and CCT as well. The problem again, was pricing – all of these have rallied a fair bit from their lows.
Lendlease REIT
Lendlease REIT was one that I seriously took a look at, because of its exposure to Orchard road malls.
In the end though, I picked Starhill Global REIT for this list because I thought Somerset 313 isn't exactly the kind of best in class asset that I wanted to hold longer term. Personally I prefer Ngee Ann City and Wisma, especially when you factor in the price (Lendlease REIT is about 0.78 times book value, vs Starhill Global REIT at 0.55 times).
Sponsor wise – I would say Lendlease probably edges out YTL Corp. They're a very decent manager especially for retail malls, and they provide a very strong pipeline in Parkway Parade and Paya Lebar Quarter (PLQ).
If they inject Parkway or PLQ into the REIT, I would absolutely buy this REIT. But without it, it's just Somerset 313 and an Italian business park, which isn't amazing at this price.
If it goes back to April lows it could be really interesting though.
Suntec REIT
In recent years, I've really started to appreciate ARA Asset Management as a Sponsor and Manager. I am genuinely quite impressed by them, which got me looking at Suntec REIT.
What I didn't really like though was the Meetings, incentives, conferences and exhibitions (MICE) exposure that Suntec REIT carries with it. It's not small too, coming in at 16% of 2019 revenue.
I don't see the MICE sector recovering for years. Almost all big events are going virtual now, and will probably stay that way for a while. That's bad news for the Suntec Convention Halls.
All goes back to pricing though, and at the right price, it could still be very attractive.
Cromwell REIT
Cromwell REIT is an interesting one.
The properties are good, and it rides on the logistics tailwind, and it's also going into data centers.
The problem though is that it's a small cap REIT, with Euro exposure, with a Sponsor that isn't exactly best in class.
This just makes it a high risk-high reward REIT, with the potential for big volatility.
You do need a healthy risk appetite for this one, but if you do, could be interesting.
Closing Thoughts
COVID19 has brought on unprecedented opportunity for the long-term REIT investor.
BTW – For those who are keen, my full REIT portfolio is available on Patron, together with my asset allocation. REITs wise I'm definitely overweight Retail now because I see the greatest risk-reward there.
You're getting the chance to pick up high quality commercial real estate, backed by strong sponsors, at fantastic discounts from book value.
We did a macro piece last week sharing our thinking that the mid term response to COVID could be inflationary in nature. If so, this will push up asset prices, and debase the value of fiat currencies.
And if you want to get out of cash, high quality commercial real estate is one of the classic asset classes that has withstood the test of time.
Short term can be rough of course, but if you stick with high quality real estate, ensure there is no risk of insolvency, I do believe there could be very powerful long term returns here.
This article is written on 27 August, and will not be updated going forward. My latest FH Stock Watch, and Personal Portfolio, can be viewed on Patron.
I would love to hear your thoughts though. Any other REITs you would add to this list?
Share your comments below!
BTW – If you're looking to get diversified exposure to S-REITs, Syfe REIT+ is a great option worth considering, better than the REIT ETFs on the market (in my view). You get exposure to 20 of the largest S-REITs, and there is no minimum investment amount or minimum brokerage fees, which makes this a good option if you're investing smaller amounts. Find out more here.
Please note that this is not intended to be financial advice. My risk appetite and investment objectives could be very different from yours. Please do your own due diligence before making any investments. If you are in doubt as to the action you should take, please consult your stock broker or financial advisor.
Full Disclosure: I am vested in all 3 REITs mentioned here – CRCT, MNACT and Starhill Global REIT.
---
Support the site as a Patron and get access to my personal stock watch list, as well as my personal portfolio allocation.
Do like and follow our Facebook Page, or join the Telegram Channel. Never miss another post from Financial Horse!
Join our Facebook Group to continue the discussion, everyone is welcome!
Looking for a comprehensive guide to investing that covers stocks, REITs, bonds, CPF and asset allocation? Check out the FH Complete Guide to Investing.
Or if you're a more advanced investor, check out the REITs Investing Masterclass, which goes in-depth into REITs investing – everything from how much REITs to own, which economic conditions to buy REITs, how to pick REITs etc.
Both are THE best quality investment courses available to Singapore investors out there!