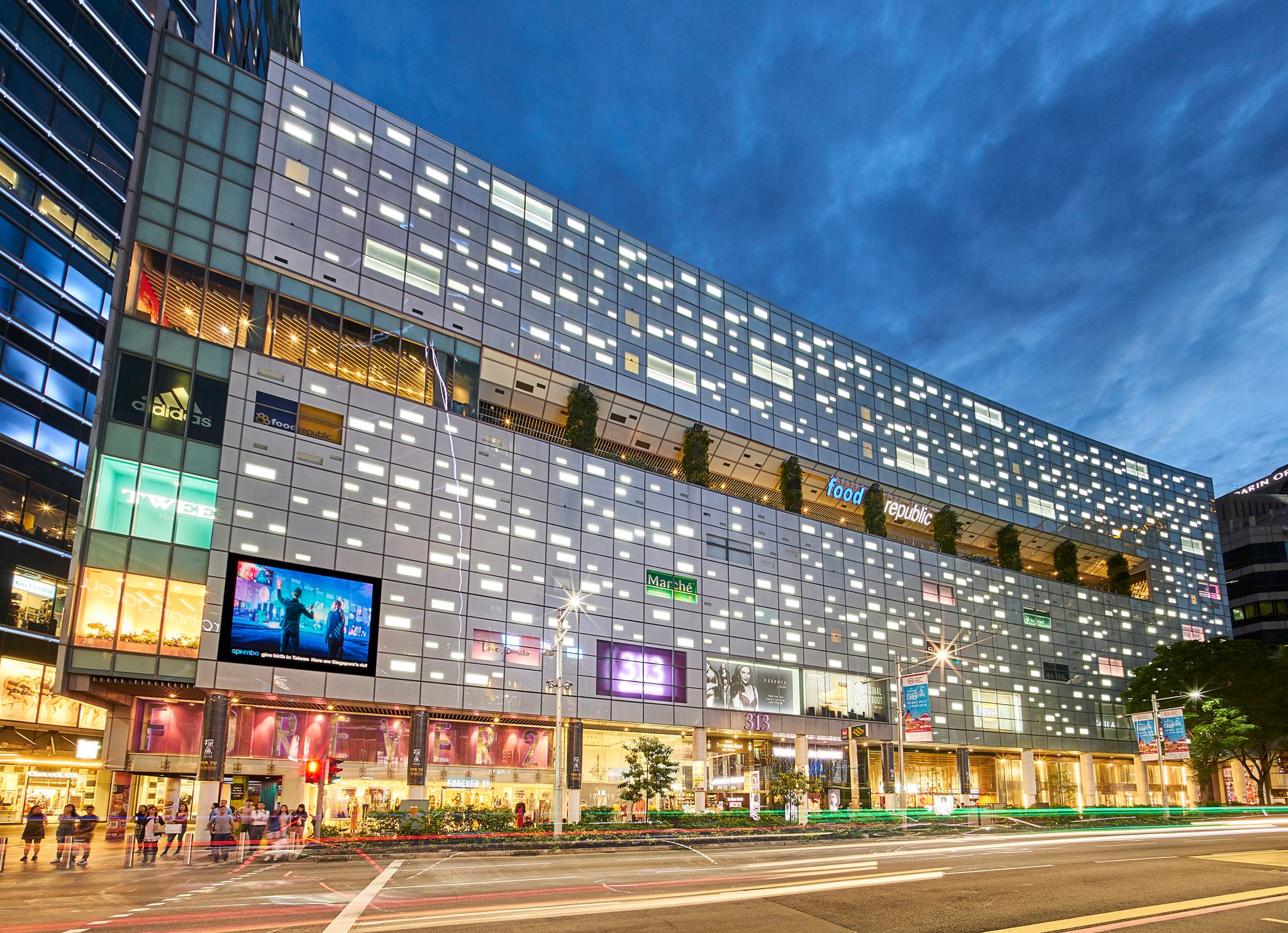 I was actually planning to do a macro piece on what the next market crash will look like today. And I mean, I love macro analysis and all, but there's only so much you can write about global PMIs, low yields, inflation etc before it starts getting stale. So boy, was I glad that Lendlease Global Commercial REIT decided to lodge it's prospectus this week. It feels good to go back to basics and flip through a prospectus and do some good old fashioned fundamental analysis.
Note: Part II of the article is out, so do check it out for my final thoughts!
Basics: Lendlease Global Commercial REIT IPO
So what is Lendlease Global Commercial REIT? It is Lendlease's first REIT, and is intended to invest in office / retail assets globally.
Very simply, think of it as the Lendlease version of Mapletree Commercial Trust. Or rather, more like Mapletree Commercial Trust, with a global mandate.
The lodgement prospectus is here for those who want to have a flip through.
The Offering Price is $0.88, and the initial properties are 313 Somerset and Sky Complex (Office Building in Milan).
Sponsor
As students of the Financial Horse Course will know, the sponsor of the REIT is probably the most important factor to look at when evaluating a REIT.
And Lendlease is a big developer. It's not the CapitaLand / Wanda kind of size, but it's still a very big and established player, with a large global footprint.
They're a huge player in Australia, so I'm actually quite surprised that there wasn't any Aussie assets in the IPO portfolio.
Anyway, because Lendlease is such a big global player, and the mandate of this REIT is retail/commercial assets (which is basically everything around the world), there actually is a huge pipeline of assets that can be injected into the REIT.
In Singapore in particular, one's that I'm really interested in are Paya Lebar Quarter, and maybe Parkway Parade. So it's a really interesting REIT from a pipeline perspective.
However, because this is Lendlease's first REIT, we can't really comment on how good a sponsor they are, and it'll take some time to build up the track record.
On the bright side, Lendlease plans to hold about 24% to 27% of Lendlease Global Commercial REIT post-listing, which is a really nice touch because of the alignment of interest it creates. It's not like some other REITs where they just use the IPO as an exit strategy.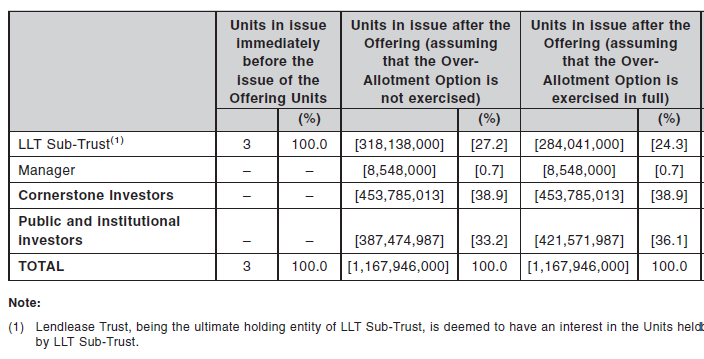 Geography
Lendlease Global Commercial REIT holds 2 assets, 313@Somerset in Singapore, and Sky Complex in Italy. The allocation is set out below, so it's about 71.5% Singapore, and 28.5% Italy.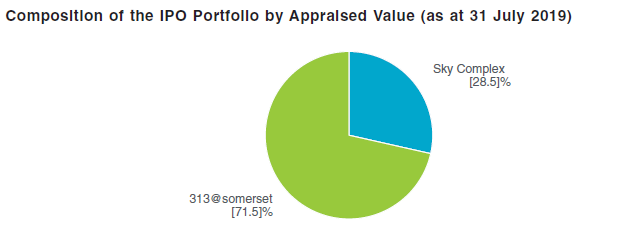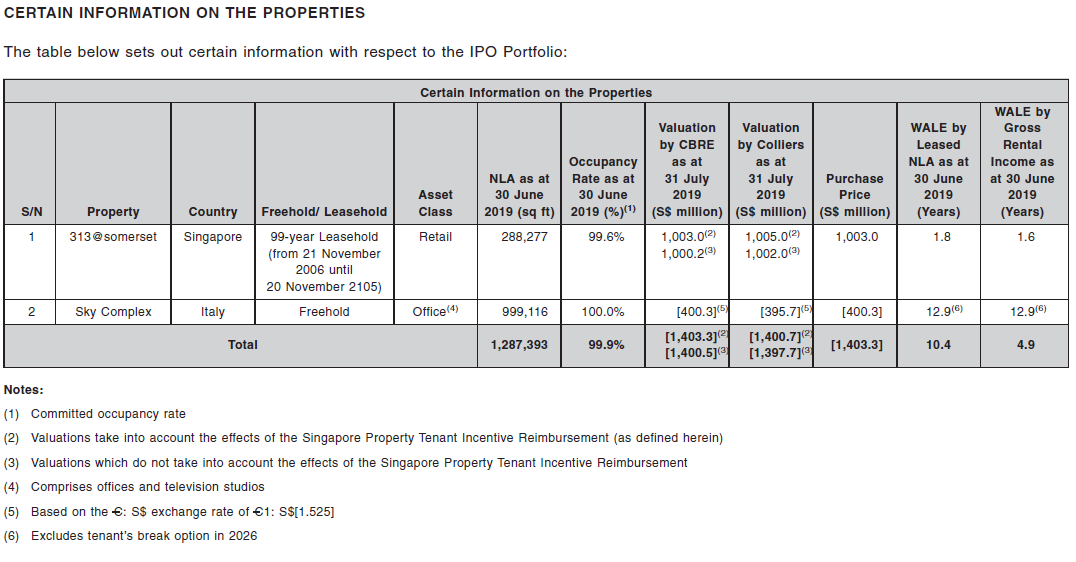 Lendlease plans to hedge the euro exposure, but the exact hedging strategy isn't disclosed, so there could be some forex risk involved. It's not completely a bad thing though, because if I'm comfortable buying an Italian property, I probably don't mind the Euro exposure.
Assets
313@Somerset
Now the assets are really interesting. I've never thought of 313@Somerset as a great mall, but when I'm flipping through the prospectus, the numbers actually look really good.
I've extracted some key bits below:
Fairly long WALE for a retail portfolio mix: The weighted average lease expiry, or WALE, denotes how long the average lease of the REIT is. Shopping malls tend to have a low WALE, because retail is fast moving, and retail tenants usually sign short leases. So Lendlease Global Commercial REIT's 4.9 year WALE is actually really long by retail standards, because the average is pulled up by the long term office lease at Sky Complex. This is a really nice touch because the retail scene may have some volatility in the short term (because of increasing competition from ecommerce and weakening shopper sentiment), so the longer WALE from the office asset helps smooth out some short term volatility.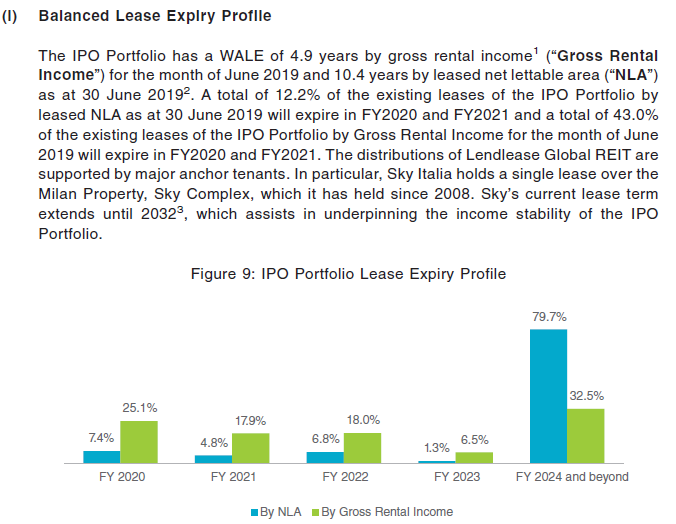 Occupancy is crazy high the past few years: That's some insane committed occupancy numbers. I mean, the lowest occupancy was in 2016, which is 99.1%?! Sky Complex is 100% committed so it does bring the average up, but a 99.9% committed occupancy as at June 2019 is just nuts.
On the flip side though, because committed occupancy is this high, the upside for the REIT may be limited, because there's just no extra space to be rented out.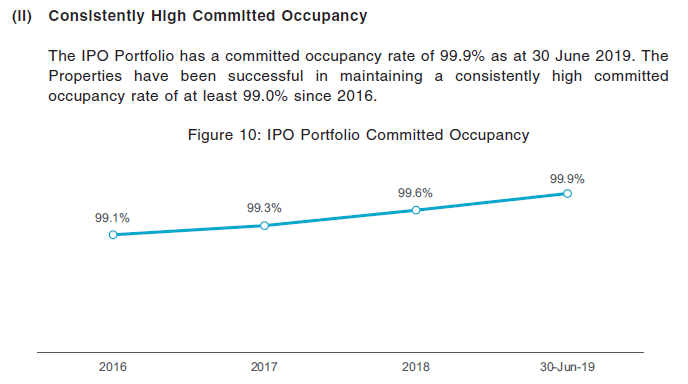 Built in Rental Escalation: Which is where the next point comes in. 13.1% of 313@Somerset and 77.7% of Sky Complex has a built-in rental escalation, which does provide some built-in upside to the Lendlease Global Commercial REIT. The 13.1% for Somerset 313 is on the low side, but I guess this is to be expected given that it's a shopping mall (retail leases usually do not have rental escalations built in).
Location
And of course, location. Every Singaporean should know where 313@Somerset is, it's right smack at Somerset MRT, which gives it a steady flow of traffic. It's almost like taking a page out of the CapitaLand Mall playbook right there, but one that I really like. Well played sir.
313@Somerset is definitely no Vivocity, but now that I think about it, it's actually not too bad an asset. The location is really nice, and with the government's plans to rejuvenate Orchard Road, there could be a fair bit of upside for this asset going forward.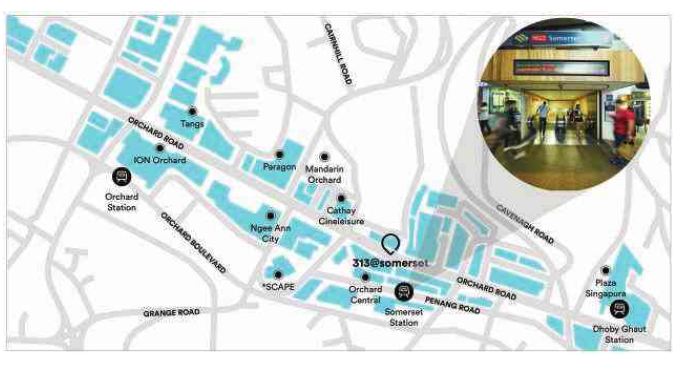 Sky Complex
Sky Complex is a really nice asset as well. It's freehold, really new (completed in 2008), and long leased out to Sky Italia on a 12 + 12 year lease.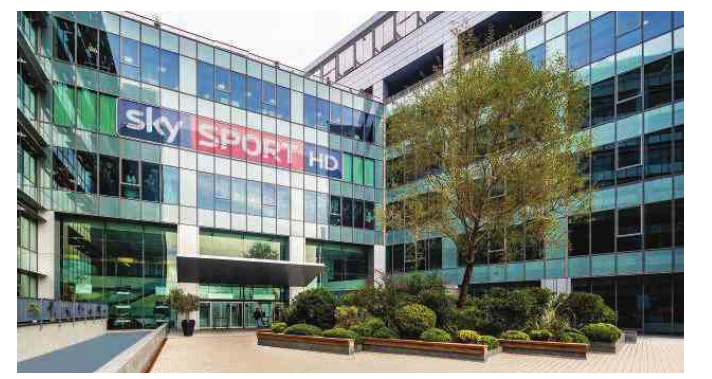 Location wise it's located near the airport and major transportation networks, which is always great. There's a lot to like about this asset actually.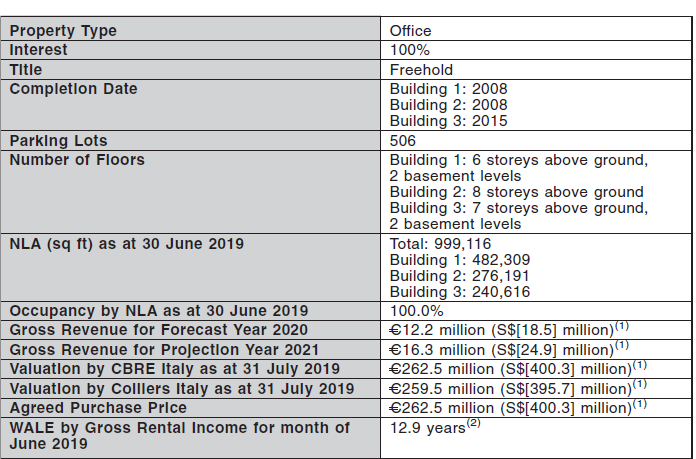 And of course, when you buy European assets you get to arbitrage the crazy low yields there. Just to illustrate, the REIT is buying Sky Complex at IPO at a 5.75% capitalisation rate (the yield on cost), while it gets to borrow from the bank at around 0.5-0.6%. That's a crazy amount of arbitrage arising from the insanely low European yields, and it's why so many big REITs like Europe (or Japan) as an investment destination these days.
Yield / Price to Book
The indicative yield for Lendlease Global Commercial REIT is 5.8% in FY2020, and 6.0% in FY2021, while NAV is $0.8134
Based on the offering price, I benchmarked Lendlease Global Commercial REIT against some other comparable retail REITs in Singapore
| | | |
| --- | --- | --- |
| REIT | Price to Book | Yield |
| Lendlease Global Commercial REIT | 1.08 | 5.8-6.0% |
| Starhill Global REIT | 0.84 | 5.88 |
| SPH REIT | 1.16 | 5.1% |
| CMT | 1.5 | 4.4% |
| MCT | 1.43 | 4.0% |
And wow, I was just blown away by the numbers. Because based purely on this, it looks like Lendlease Global Commercial REIT is hugely undervalued.
I even went to check the capitalisation rates for the underlying assets, which came in at 4.5% for 313@Somerset, and 5.75% for Sky Complex. That seems about right, and is in line with the 4.5% that SPH REIT used for Paragon, so it's not even like they played around with the valuations here.
Valuations wise, it's closest to Starhill Global REIT, but that's not a fair comparison because Lendlease Global Commercial REIT is far superior because the underlying assets are stronger, and it has a much better pipeline from the sponsor.
I actually think the fairest comparison here may be SPH REIT, and Lendlease Global Commercial REIT's 6% yield is much higher than SPH REIT's 5.1%.
So yeah, based purely on valuations, this REIT looks somewhat undervalued. It's almost as if Lendlease saw the past few disasters of a REIT IPO, and decided to leave some money on the table here to get a successful IPO. Can't say I'm complaining though.
Cornerstones
Not naming names, but after looking at the past few IPOs with *cough cough* US assets, I've somewhat become accustomed to looking at list of nobodies as the cornerstones.
And then I saw the cornerstones for Lendlease Global Commercial REIT's IPO. And I was completely mindblown.
AEW, BlackRock, Fullerton, Lion Global, Segantii. Gosh, that's almost a who's whos list of hedge funds right there.
These are some really big boys, and the fact that they're coming in so strongly on this IPO, really makes me sit up and notice this one.

Closing Thoughts: I really like this Lendlease Global Commercial REIT
When I first saw this REIT, I was actually prepared to be disappointed.
But then I was very, very pleasantly surprised by what I saw.
The assets are sound, the valuations are attractive, and the sponsor does seem to be doing what it can to make this a successful IPO. And Lendlease as an sponsor could be really interesting as well, as they have a global pipeline of assets that can be injected into this REIT.
In other words, this could actually turn out to be a Mapletree Commercial Trust Number 2, with a global mandate.
Of course, there's no way of knowing for certain how things play out, but hey, investing is all about risk-reward, and I quite like what I'm seeing here.
Unfortunately the final prospectus has not been registered yet, so we'll need to wait a couple of days for the registered prospectus (for the more technical folks, the numbers here are based on the lodgement prospectus).
The indicative timeline is set out below, with a launch of the public offer on 25 September, so we should get the registered prospectus soon.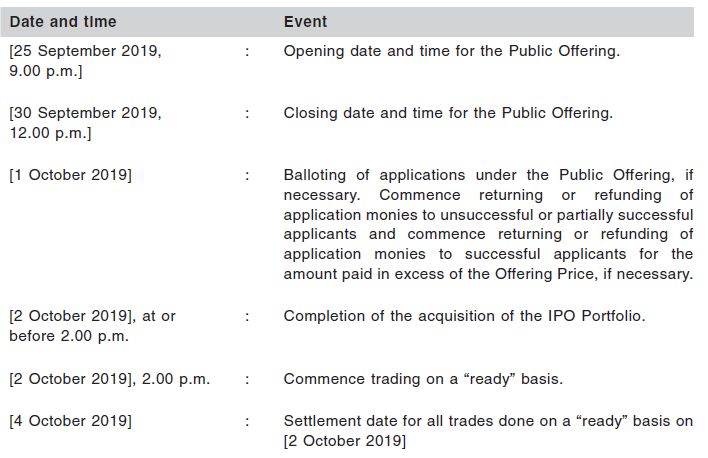 I'm quite wary of giving a Financial Horse rating without seeing the final numbers, but I know some of you guys really want it, so I would say it's between a 3.5 and a 4.5 Financial Horse rating for me right now, subject of course to any changes in the final pricing.
Personally, I actually really like this Lendlease Global Commercial REIT, and I may consider subscribing for this myself.
I'll do another article when the registered prospectus is out, just to give myself some time to internalise my thoughts, and see if there's anything I missed. I expect investor demand to be quite hot too, so perhaps I'll share my strategy for the ballot as well.
Update: Read Part II of the article here.
What do you guys think? Share your comments below!
---
Looking for a comprehensive guide to investing? Check out the FH Complete Guide to Investing for Singapore investors.
Support the site as a Patron and get market and stock watch updates. Big shoutout to all Patrons for their support!
Like the Financial Horse Facebook Page and join the Facebook Group (Singapore) or Facebook Group (China) to continue the discussion!