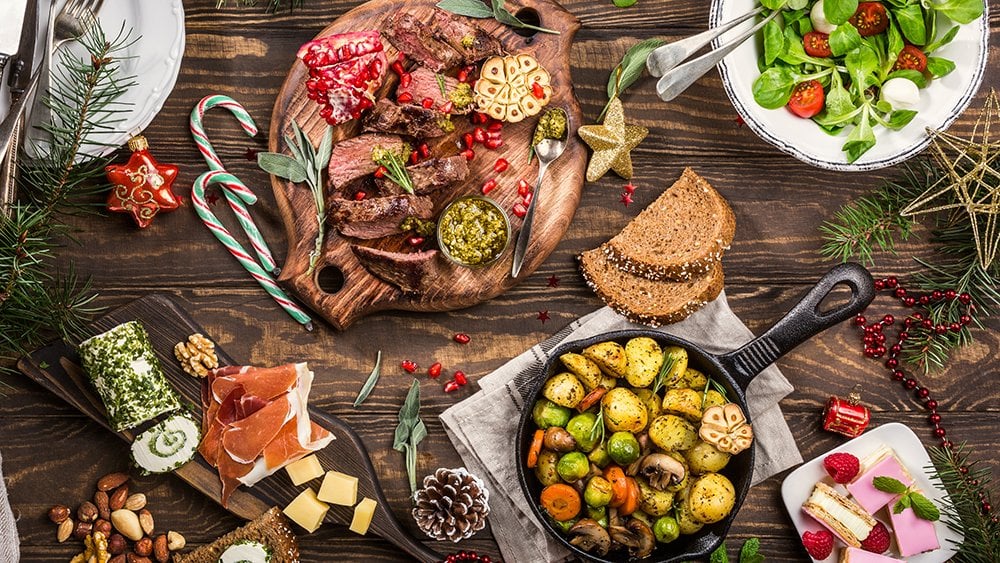 This article was submitted by a Guest Contributor.
Festive season is in full swing! 
Here are 12 of the most exciting festive dining & takeaway options to celebrate Christmas & the New Year!
1. ParkRoyal Collection Pickering – The Magic of Christmas
From now to 31 December 2021, Park Royal Pickering's Lime Restaurant will be offering a jolly assortment of holiday treats, including their classic Baked Turkey with Pineapple Shoyu Sauce, Honey and Citrus Glazed Ham and Christmas Log Cakes.
Under Lime on the Go, it offers gourmet festive takeaways.
The Festive Celebration Set of Four (S$192) has got to be the crowd's favourite. This bundle showcases a massive 2kg Roasted Turkey Breast available in any of the following three exotic flavours: Traditional, Tom Yum and Pineapple Shoyu, 1.5kg of the signature Honey Baked Ham and finally a trio of Mini Log Cakes in Black Forest, Strawberry and Chocolate Passion. If you are feeling a little fancy, consider the Yuletide Celebration Set of Four (S$218) that includes all of the above and an additional bottle of sparkling wine.
From now till 31 December 2021, selected card holders can enjoy up to 10% in savings with a minimum spend of S$50 on PARKROYAL COLLECTION Pickering's e-shop.
2. Capitol Kempinski Hotel – Kempinski Enchanted Christmas
Capitol Kempinski Hotel has a whole range of Christmas specials, including pre-order festive menus of Turkey and log cakes. 
The hotel is also offering 2 types of 3-course festive meals at its restaurants. Frieda Restaurant is offering a 3-course festive set menu of German specialities for lunch and dinner at an affordable $39++ per pax.
La Scalia Ristorante is also offering a 3 course Christmas Italian special for lunch and dinner. A special 1-litre punch served in a carafe completes the Christmas spirit.
HSBC is offering a further 15% discount off festive menus at hotel-managed restaurants till 26 December!
3. Goodwood Park Hotel
Goodwood Park Hotel, known for its high tea, is having a Christmas themed high tea set.
The hotel has designed a Christmas Carousel 2-Tier Set and a Christmas Tree 3-Tiet set for $66 Nett and $88 Nett respectively.
The 2-Tier set is housed in a circus-inspired packing which doubles as a party hat. Diners have to lift the detachable carousel tent to reveal 10 assorted petite snacks. The 3-Tier is packaged as a modern star-topped Yuletide tree, giving you 16 petite snacks.
The high tea sets are available till 26 December and Citi, DBS/ POSB, HSBC, UOB Cardmembers is offering 10% discounts to its cardholders, so take advantage!
4. Holiday Inn Atrium
Holiday Inn's buffet feast this holiday season is mouth-watering with over 40 buffet items. On top of that, the Buffet is halal-certified!
The buffet include classic favorites such as Fresh Osyters, Salmon Sashimi and Chili Crab and desserts such as Waffles and Hawker style ice cream served with Rainbow Bread or Wafer slices.
For the Christmas Menu, special additions such as Beef Stifatho, Lamb Kofta and Chocolate Banana Log Cake are on the menu.
To top it off, Holiday Inn is offering a mega discount of 50% off every adult, and 55% off for a table of 5 adults, for its buffet.
5. Sofitel Singapore City Centre ART DE NOËL – Christmas Joy
https://www.sofitel-singapore-citycentre.com/wp-content/uploads/sites/122/2021/11/Art-De-Noel-Brochure-2021.pdf
This Christmas, Sofitel's ART DE NOËL offers their luxurious festive menu both in-house and in the comfort of your home. While set menus are only available at Racine's, their Christmas Joy At Home menu offers the restaurant's classics with islandwide delivery. F
rom 5-6kg Roasted Turkey with Truffle (S$159+), 1kg Char-grilled Black Angus Tomahawk (S$148+), 1kg Mango Tart with Yuzu Curd and Almond Sablé (S$83+), to a 1kg Black Forest Pot with Dark Cherry (S$83+), the take home menu surely screams festive – not to mention the wide variety of add-ons that can be fully customised according to your preferences.
The collection is currently available at Racine's (located at Sofitel Singapore City Centre, Level 5) from 11am to 6pm daily, from now till 25 December 2021. 
6. Chico Loco
Give your Christmas a Mexican Twist with Chico Loco's festive bundle. Chico Loco is offering a $155 Loco Mexmas Dinner, perfect for sharing with friends and family.
You would be spoiled for choices with roasted options such as Herb Marinated Turkey, Smoked Maple Agave Gammon Ham and more. For $155, you are getting a good deal with a wide spread of choices. To further the Christmas spirit, consider getting their festive Blood Orange and Guava Margarita, or a Chocolate Log Cake.
7. The Fullerton Hotel Singapore and The Fullerton Bay Hotel Singapore
Fullerton Hotel is offering a wide spread of festive gourmet delights and festive takeaways this Christmas.
A traditional turkey takes inspirations from local flavours ($218 Nett) and is marinated with fragrant Indian spices and served with saffron basmati rice among other sides. The hotel also offers Australian Beef Prime Ribs if you are leaning towards more western flavours.
To end off your dinner, consider getting one of Fullerton's 3 new Yule log cake flavours, available for $75. HSBC is offering 15% off Festive Goodies, Christmas Yule and Log Cake and Takeaways till 27 December.
8. Mad about Sucre
A multi award-winning restaurant, patisserie and chocolatier all under one roof, be blown away by Mad about Sucre's festive menu this Christmas.
Curated specially for Christmas Eve and Christmas Day, the restaurant showcases exclusive menu items for lunch and dinner at S$118+ and S$198+ per guest respectively.
The Christmas pre-order menu includes a ready-to-serve 6-pax Shepherd's Pie (S$160), Boneless Smoked Gammon Ham with Pineapple and Rum Sauce (S$220.80) and Cognac Fruit Cake (S$118).
9. Hilton Hotel Stay & Dine
Hilton Hotel's famous Opus Bar & Grill is offering a sizzling flame-grilled specialities and festive semi-buffet for just $128 ++ per pax, with free flow wine.
The buffet includes chargrilled beef tenderloin, turkey roulade and freshly shucked osyters. Moreover, the buffet provides festive cheese and desserts, as well as Christmas log cakes and gingerbread-spiced gelato waffles.
If you think you'll be too full to move, then book the festive Stay & Dine to enjoy the dinner buffet and free breakfast, while enjoying a hotel stay in Orchard.
10. Swensen's
Enjoy Christmas in Singapore with one of Singapore's most iconic restaurants, Swensen's. Famous for its ice cream cakes, Swensen's has released a wide range of Christmas themed cakes.
From the all time favourite Merry Giftmas (a chocolate sticky chew ice cream cake) to Santa's Secret (pairing 2 classic ice cream flavours of Rocky Road and Salted Butterscotch Crumble).
Beyond ice cream cakes, Swensen's also carries a wide range of festive foods to complete the celebration.
11. Grand Hyatt
2021 marks the 50th anniversary of Grand Hyatt Singapore, making this year's Christmas offering extra special.
Expect classic and iconic festive dishes that have represented the hotel throughout the years and its history.
Whether you choose to dine and one of their many restaurants or enjoy a celebration at home, Grand Hyatt offers a wide selection of treats.
They are offering seasonal gourmet treats including Plant-Based Roasted Nut Load and the Blueberry Cheese Star at $58 and $68 Nett. 
Grand Hyatt also offers Roasted Whole Turkey that comes with an assorted spread of sides including roasted potatoes and organic vegetables.
Multiple banks are offering discounts for Grand Hyatt's festive menu, including HSBC's and DBS' 15% discount.
12. Mandarin Oriental Melt Cafe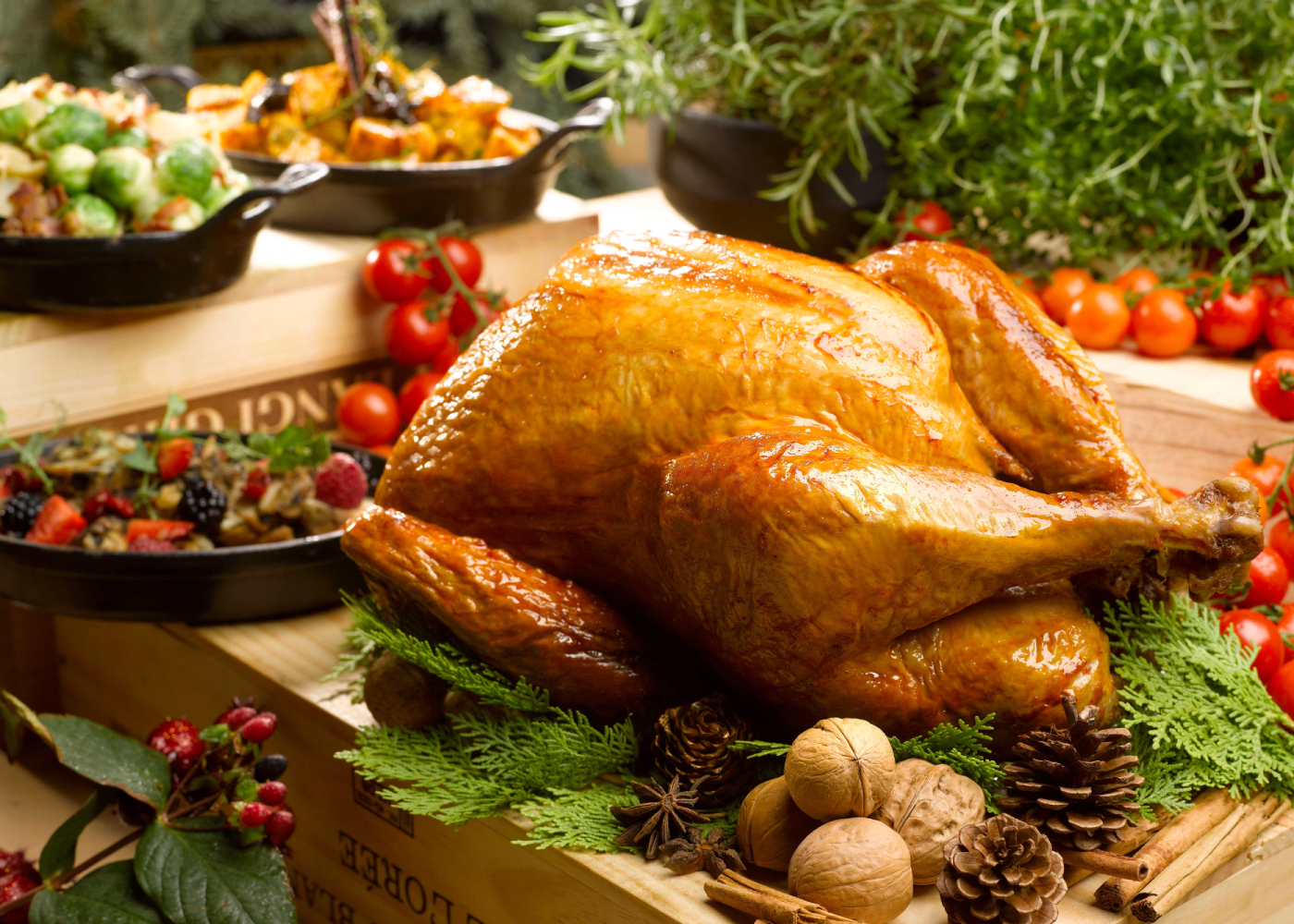 A fully curated menu just for Christmas Day itself, one can expect to be sleighed away by what Melt cafe has to offer this festive brunch. From S$238 per adult and S$88 per child aged between 7-12 years old, the award-winning restaurant has crafted an extensive menu of festive treats that both adults and kids can enjoy.
From a selection of cold cuts, cheese platter and Japanese platter, this brunch feast also showcases its very own seafood colosseum. Expect a variety of Asian to European delights including an egg station that serves scrambled eggs with winter black truffle!
Be sure to make your bookings before this becomes fully booked!
For more investing content, follow Financial Horse on Social Media!