Students graduating this year face a job market where AI innovation is advancing rapidly. Many are undoubtedly worried about staying relevant in an era of automation.
In this context, it was apt that Jensen Huang, CEO of Nvidia, gave a commencement speech at the National Taiwan University in Taipei.
Nvidia's stock has soared 197% YTD, breaking the $1T market cap in May on the back of AI demand.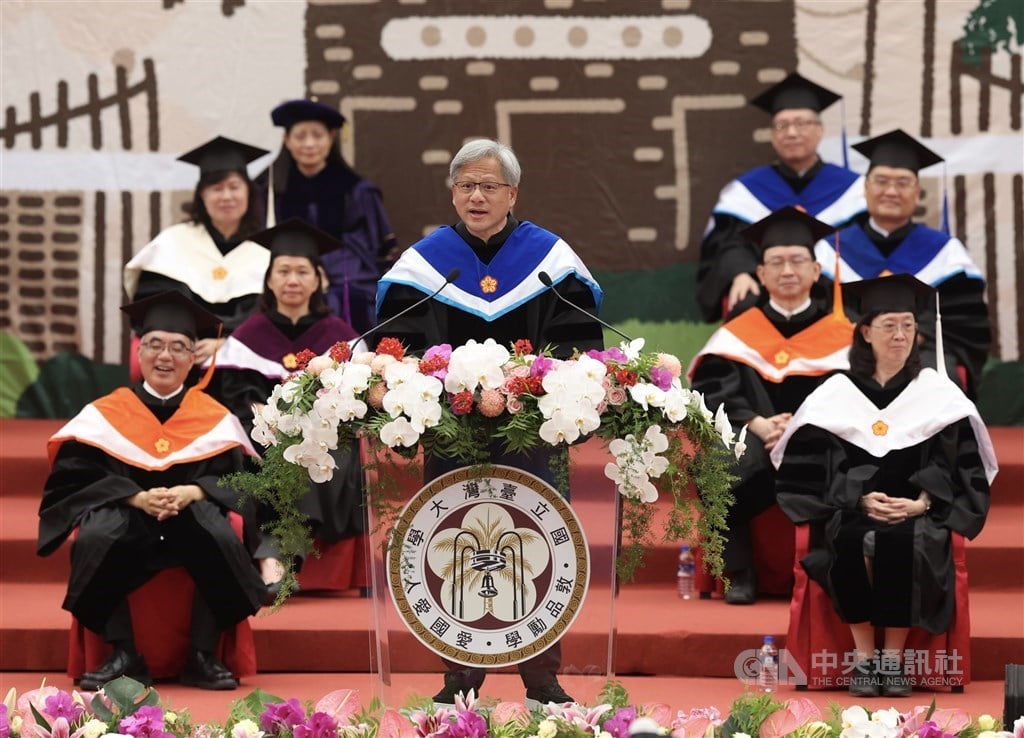 Huang told students they were starting a new technological era that would eclipse the PC, internet, mobile and cloud. "A.I. has reinvented computing from the ground up," Huang said. "In every way, this is a rebirth of the computer industry."
"Just as every generation before you embraced technologies to succeed, every company, and you, must learn to take advantage of AI and do amazing things with an AI co-pilot by your side."
Huang structured his speech into three stories. These were some of the near-death experiences Nvidia faced in its three-decade history, shaping the company today.
This article was written by a Financial Horse Contributor.
Lesson 1: Have the humility to confront failure and ask for help
In 1995, during Nvidia's early days, the startup's first big 3D chip contract was for Sega's new game console.
They won it by inventing an unconventional 3D approach.
"After one year of development, we realised the architecture was the wrong strategy. It was technically poor," Huang said. "And Microsoft was about to announce Windows 95 direct 3D, based on inverse texture mapping and triangle. Many companies were already working on 3D chips to support this standard."
Nvidia was caught in a dilemma. If they completed Sega's console, they would have built inferior technology and fallen behind the industry. But they would run out of money if they didn't finish the contract. Huang said:
"I contacted the CEO of Sega and explained that our invention was the wrong approach, that Sega should find another partner, and that we could not complete the contract and the console. We had to stop. But I needed Sega to pay us in whole or Nvidia would be out of business. I was embarrassed to ask. The CEO of Sega, to his credit and my amazement, agreed. His understanding and generosity gave us six months to live."
With the lifeline, Nvidia built RIVA 128 just as they were running out of money. The RIVA 128 put Nvidia on the map in the 3D market, saving the company. It was the turning point and catalyst to the company's success as a leader in computer graphics.
Huang's takeaway from this story: "Confronting our mistake, and with humility, asking for help, saved Nvidia. These traits are the hardest for the brightest and most successful."
Lesson 2: Endure the pain needed to realise your dream.
In 2007, Nvidia announced CUDA, a new computing model for GPUs.
CUDA aspired to be a programming model that opened up a new way of accelerating applications that required heavy computation. Think scientific simulations, machine learning and image processing. This was an ambitious goal, to put it lightly.
To put it into perspective, he said the CPU computing model had been the standard for 60 years, since the days of IBM.
Nvidia bet big on this vision — from pouring all its profit into R&D and tirelessly promoting it to developers and consumers. Huang said:
"Nvidia's profits took a huge hit. For many years, our market cap hovered just above $1 billion. We suffered many years of poor performance. Our shareholders were skeptical of CUDA, and preferred we focus on improving profitability,"
Eventually, Nvidia reached the tipping point, where developers found applications from all science domains, from CT reconstruction to particle physics. Then, in 2012, AI researchers discovered CUDA. Nvidia realised the potential of deep learning and took a huge bet on the field. A decade later, the AI revolution started, and Nvidia became the engine of AI developers worldwide.
Huang's takeaway: "We invented CUDA and pioneered accelerated computing and AI. But the journey forged our corporate character to endure the pain and suffering that is always needed to realise a vision."
Endure the pain and suffering that is always needed to realise a vision
 Lesson 3: Make sacrifices for your life's work.
In 2010, Nvidia entered the mobile chip market to help Google develop Android into a mobile computer with excellent graphics.
Nvidia's mobile chips instantly succeeded, boosting its business and stock price. But the competition quickly swarmed.
Modem chip makers were learning how to build computing chips and Nvidia was learning how to build modems. The phone market was huge and tempting but also crowded and fierce. He wanted to dedicate his company to realizing its vision and to making a unique contribution.
Rather than compete in a crowded field, Huang believed Nvidia had a unique role in the emerging field of artificial intelligence (AI), which required powerful and energy-efficient chips to run complex algorithms. Huang said:
"At the time, this was a zero-billion dollar market. To retreat from a giant phone market to create a zero-billion-dollar robotics market, we now have billions of dollars of automotive and robotics business and started a new industry…Retreat does not come easily to the brightest and most successful people like yourself. Yet strategic retreat, sacrifice, deciding what to give up is at the core, the very core, of success."
Strategic retreat, sacrifice, deciding what to give up is at the core, the very core, of success.
Conclusion
Huang closed his speech by urging students to pursue their dreams and goals passionately and urgently.
"Run, don't walk," he said. "Either you're running for food or you are running from becoming food."
WeBull Account – Get up to USD 800 worth of shares (expires 31 July)
I did a review on WeBull and I really like this brokerage – Free US Stock, Options and ETF trading, in a very easy to use platform.
I use it for my own trades in fact.
They're running a promo now with up to USD 500 free fractional shares.
You just need to:
Sign up here and fund $300 SGD
Execute 1 buy trade within 30 days of funding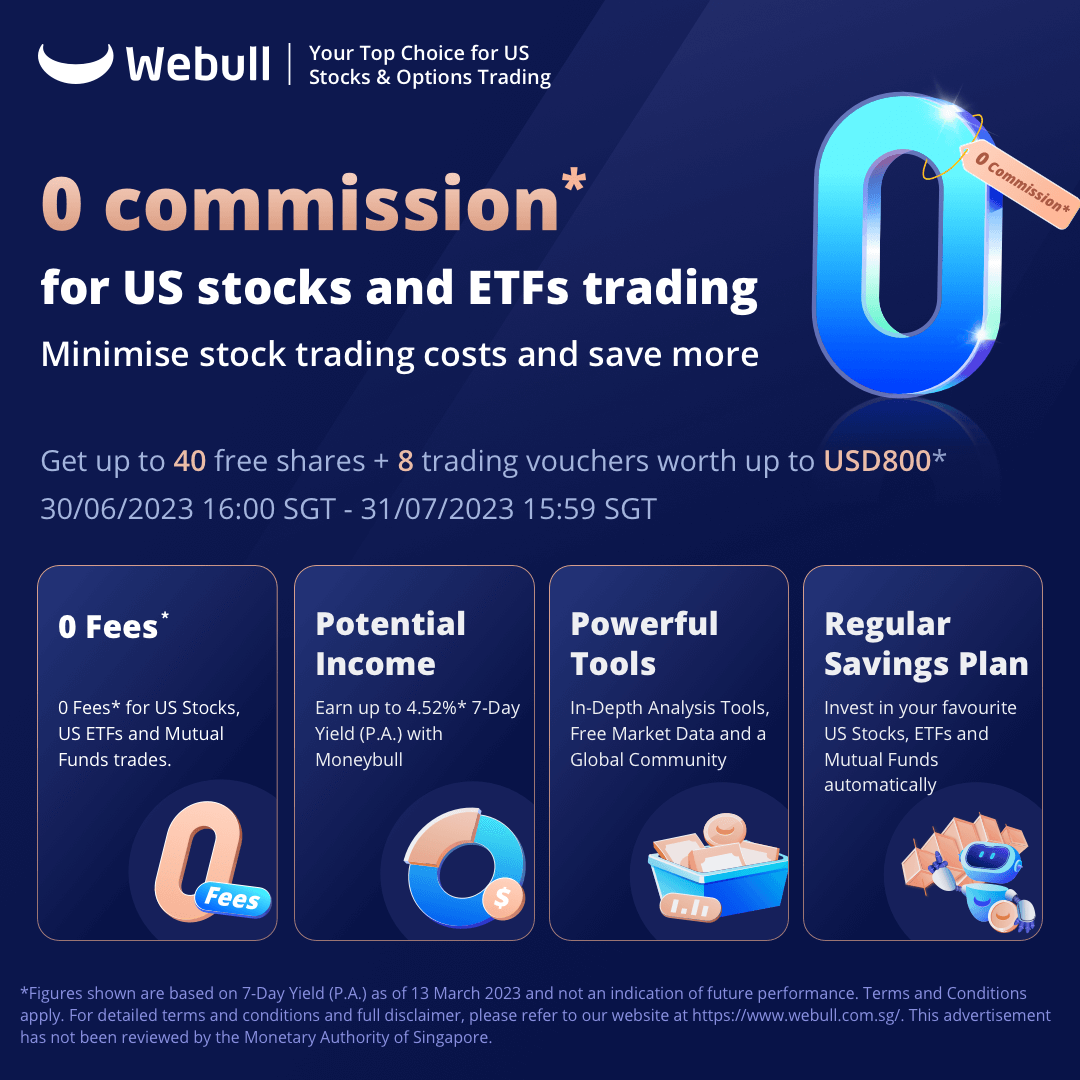 Trust Bank Account (Partnership between Standard Chartered and NTUC)
Sign up for a Trust Bank Account and get:
$35 NTUC voucher
1.5% base interest on your first $75,000 (up to 2.5%)
Whole bunch of freebies
 Fully SDIC insured as well.
It's worth it in my view, a lot of freebies for very little effort.
Full review here, or use Promo Code N0D61KGY when you sign up to get the vouchers!
Portfolio tracker to track your Singapore dividend stocks?
I use StocksCafe to track my portfolio and dividend stocks. Check out my full review on StocksCafe.
Low cost broker to buy US, China or Singapore stocks?
Get a free stock and commission free trading Webull.
Get a free stock and commission free trading with MooMoo.
Get a free stock and commission free trading with Tiger Brokers.
Special account opening bonus for Saxo Brokers too (drop email to [email protected] for full steps).
Or Interactive Brokers for competitive FX and commissions.
Check out my personal recommendations for a reading list here.