The next T-Bills auction is on 28 Sep (Thursday).
So I wanted to discuss quickly the estimated yields, and whether it is still worth applying for vs other options out there.
Now I don't know if these articles are still useful for you guys – so let me know if they are.
Otherwise I might look to reduce the frequency of these articles moving forward, given that everyone has become quite familiar with T-Bills.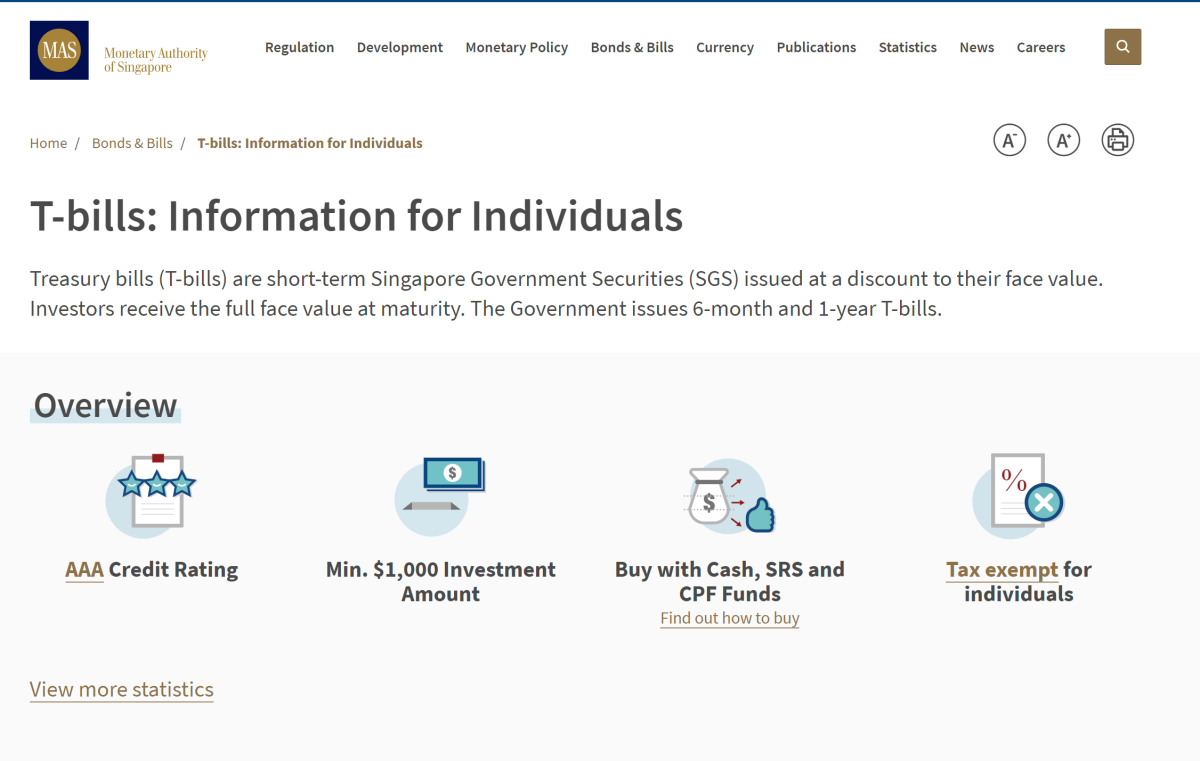 Next T-Bills auction is on 28 Sep (Thursday) – (BS23119H 6-Month T-bill)
First off – next 6 months T-Bills auction is on 28 Sep 2023 (Thursday).
If you're applying in cash do apply by 9pm on 27 Sep 2023 (Wed)
For CPF-OA you'll want to get it done by 26 Sep.
What is the estimated yield on the next 6-month T-Bills auction? (BS23119H 6-Month T-bill)
T-Bills trade at 3.73% on the open market
Latest 6 months T-Bills trade at 3.73% on the open market.
It's been pretty much flat for the whole of September, so you would expect yields to come in very close to that of the previous T-Bills auction (3.73%)
12-week MAS Bills trade up slightly at 4.04%
The institutional only 12-week MAS Bills are generally flat at 4.04%.
MAS Bills are a good indicator of the trend for T-Bills, so if you are submitting a competitive bid I do suggest taking a quick look at the latest MAS Bills pricing before you apply.
You know, just in case there are any big changes (can access it here).
T-Bills yields and demand have stabilised?
T-Bills yields have generally stabilised around the 3.7% range: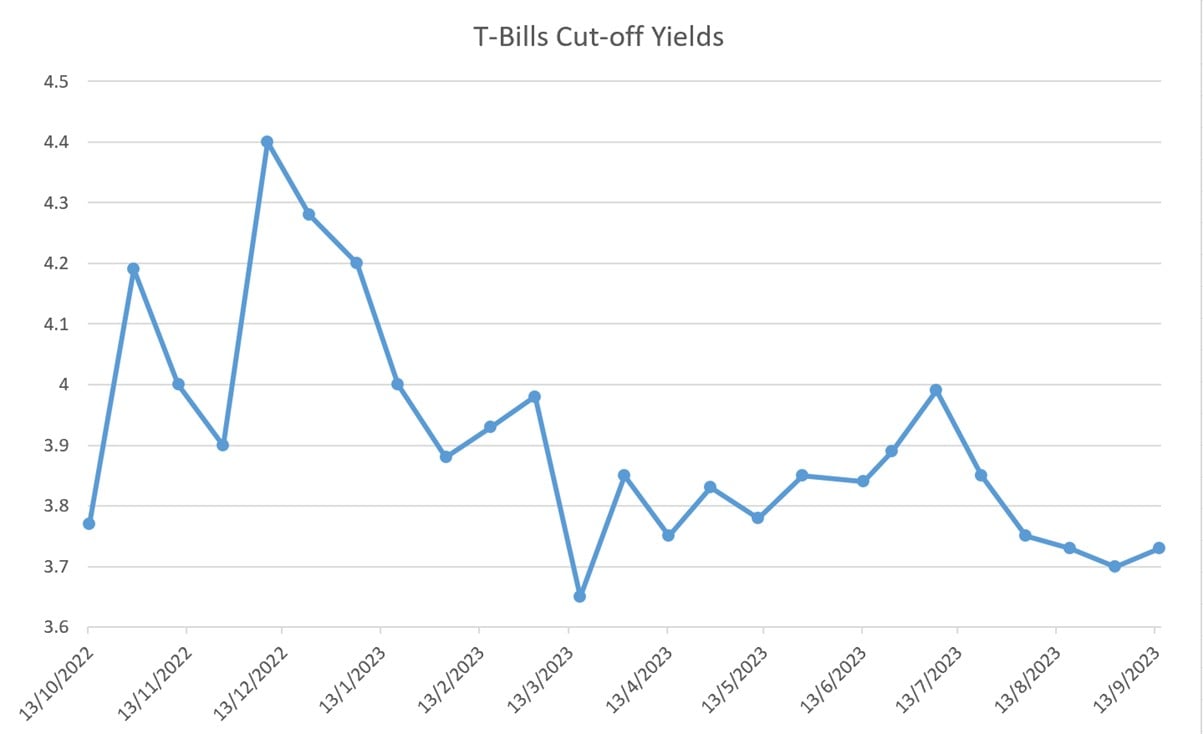 T-Bills demand has also stabilised of late: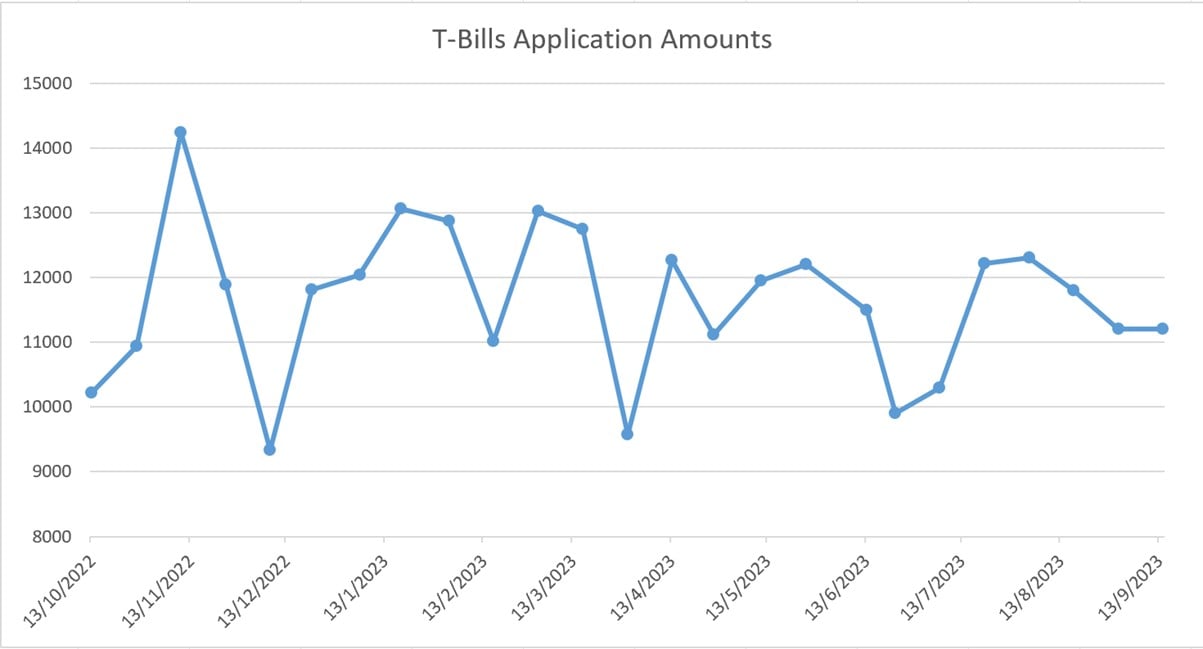 Estimated yield of 3.70% – 3.75% on the 6-month T-Bills auction? (BS23118S 6-Month T-bill)
All of the factors above indicate that we'll probably see T-Bills come in flattish vs the previous auction.
Estimated yield of 3.70% – 3.75% on the next T-Bills auction would be my base case.
As always, I encourage investors to submit a competitive bid (just in case there is a freak result and yields drop a lot).
And submit as close to the deadline as you can, so you can take a look at where market pricing is at that time before deciding on your bid.
RHB Bank Fixed Deposit – 3.68% yield
The best Fixed Deposit option I could find today is RHB at 3.60% for 6 months.
Minimum of $20,000, that steps up to 3.68% if you are premier banking.
So if you don't want to buy T-Bills, this is probably the next best thing.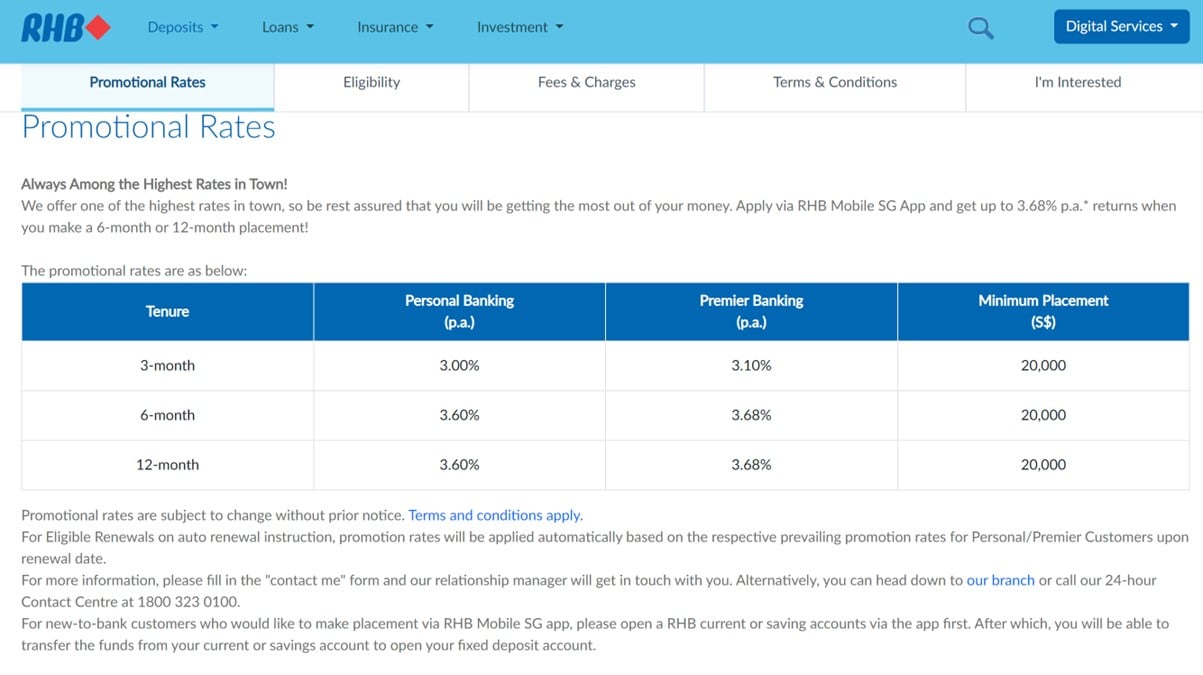 BTW – we share commentary on Singapore Investments every week, so do join our Telegram Channel (or Telegram Group), Facebook and Instagram to stay up to date!

I also share great charts & insights on Twitter.
Don't forget to sign up for our free weekly newsletter too!
What is the MariBank Savings Account?
The other alternative is the MariBank Savings Account.
I have a full review on MariBank coming out tomorrow, but here is the gist for now.
MariBank is the digital bank by Sea (Shopee).
If you recall, it was the other recipient of the digital banking licence (other was Grab's GXS)
Any amount that you put into MariBank, will earn 2.88% yield.
There is no minimum sum, no annoying hoops to jump through to earn the 2.88%.
And this being a savings account, you can withdraw any time.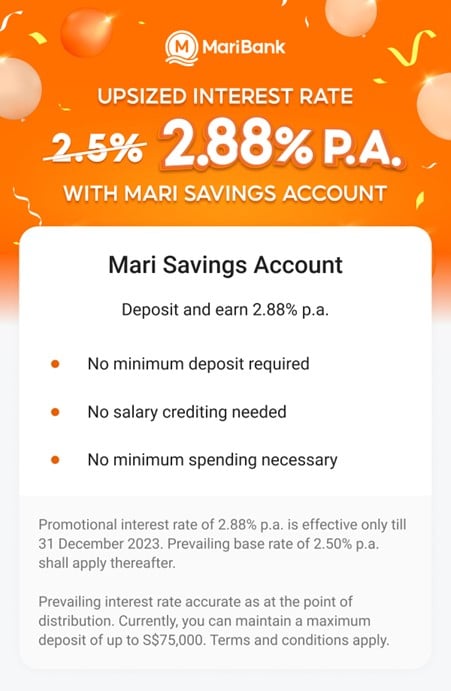 Maribank is SDIC insured (risk free)
Yes – Maribank is a holder of a Digital bank licence.
Anything up to $75,000 is SDIC insured and risk free.
Enough said.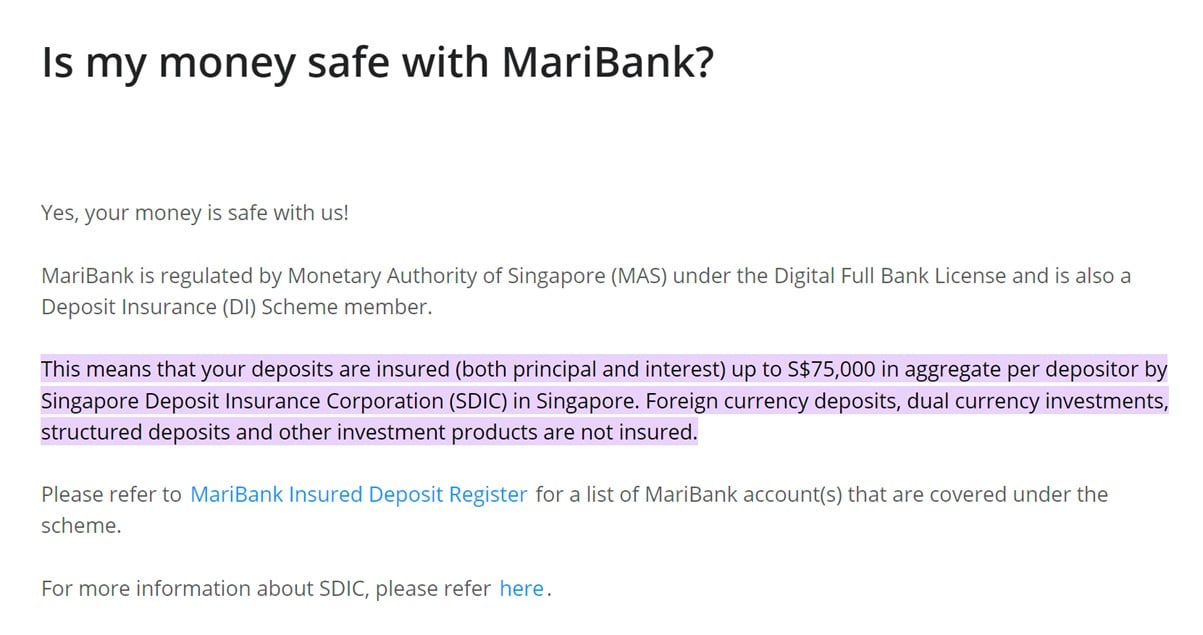 My personal views on MariBank Savings Account?
For what it's worth – I opened an account on MariBank this week, played around with it, and promptly transferred half of my funds on GXS (and some spare cash in DBS) into MariBank.
It's nothing much to shout about really, it's everything you would expect from a digital bank.
But it's 2.88% yield, SDIC insured (risk free), with no hoops to jump through, for any cash in the account.
That's a pretty decent deal for cash that is just lying around idle (but cannot compare vs T-Bills which are higher yield).
I hate that I cannot save transfer recipients on GXS Bank, and that problem is solved with MariBank.
With a higher interest rate too.
I'll probably use MariBank as the main place to park spare cash for now, that I don't want to lock up in T-Bills (working capital etc).
At least until the next better option comes along.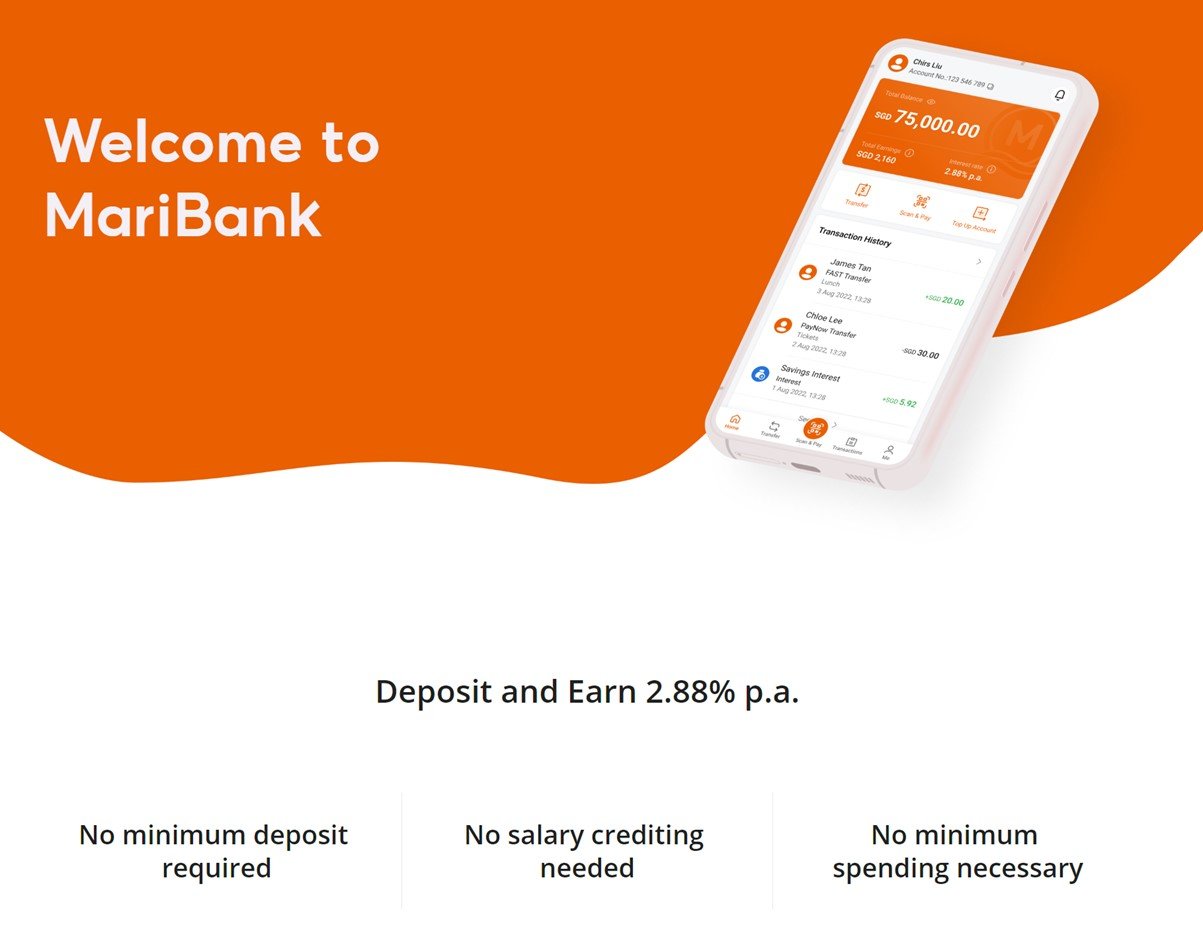 This article was written on 22 Sep 2023 and will not be updated going forward. For my latest up to date views on markets, my personal REIT and Stock Watchlist, and my personal portfolio positioning, do sign up as a Patreon.
I use Trading View for my research and charts. Get $15 off via the FH affiliate link.
I also use Koyfin for fundamental and macro research. Get a 10% discount via the FH affiliate link.
WeBull Account – Get up to USD 800 worth of shares
I did a review on WeBull and I really like this brokerage – Free US Stock, Options and ETF trading, in a very easy to use platform.
I use it for my own trades in fact.
They're running a promo now with up to USD 800 free fractional shares.
You just need to:
Fund any amount
Hold for 30 days
Trust Bank Account (Partnership between Standard Chartered and NTUC)
Sign up for a Trust Bank Account and get:
$35 NTUC voucher
1.5% base interest on your first $75,000 (up to 2.5%)
Whole bunch of freebies
 Fully SDIC insured as well.
It's worth it in my view, a lot of freebies for very little effort.
Full review here, or use Promo Code N0D61KGY when you sign up to get the vouchers!
Portfolio tracker to track your Singapore dividend stocks?
I use StocksCafe to track my portfolio and dividend stocks. Check out my full review on StocksCafe.
Low cost broker to buy US, China or Singapore stocks?
Get a free stock and commission free trading Webull.
Get a free stock and commission free trading with MooMoo.
Get a free stock and commission free trading with Tiger Brokers.
Special account opening bonus for Saxo Brokers too (drop email to [email protected] for full steps).
Or Interactive Brokers for competitive FX and commissions.
Check out my personal recommendations for a reading list here.