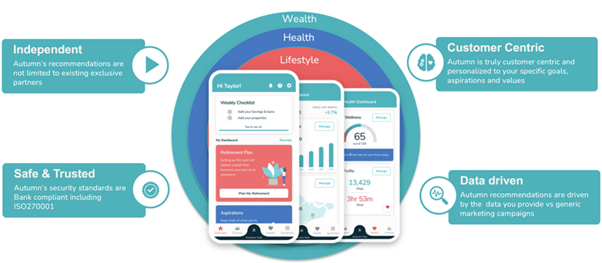 Recently we heard about a new financial planning app called Autumn, and decided to check it out.
What is Autumn?
The Autumn App is a holistic wealth and health platform that helps users plan out their life and create a future that is meaningful to them.
And the way they do it?
By giving you best-in-class tools to make that happen.
Autumn is incubated by SC Ventures, a subsidiary of Standard Chartered, so they come with very strong backing.
In fact – Autumn is the result of Standard Chartered's intrapreneurs programme which encourages employees to pitch ideas that solve real world customer problems, and Autumn was selected based on strong market validation.
Despite this, Autumn operates as an independent and neutral platform.
Naturally, I was very excited to check out the app and what they can do.
Note: This post is sponsored by Autumn. All views and opinions expressed in this post are from Financial Horse.
Why do you need to plan for retirement?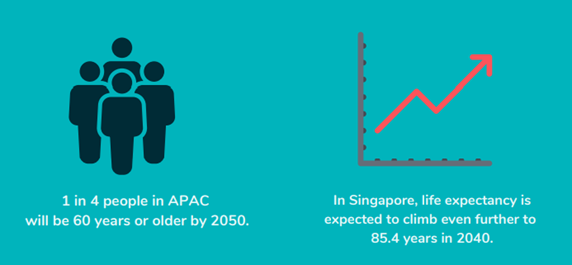 With Singapore's aging population and increased life expectancy, it is more important than ever to prepare ourselves for retirement.
According to a 2019 Standard Chartered Retirement Survey, only 43% of respondents who have started financial planning feel like they are on track for their retirement needs. This suggests that many of us may struggle in our silver years to comfortably retire.
As millennials – most of us are still struggling to buy a house and settle down, so retirement may not have crossed our mind just yet.
But it really matters, and like with all things in investing, better to start early than late!
How can Autumn Help You?
Broadly, Autumn can help you:
Track your finances clearly
Set achievable goals
Make confident investment decisions
Plan your retirement
The wealth management and retirement industry has been a stalwart in Singapore's financial ecosystem.
However, the younger generation are sometimes hesitant to embrace financial products offered by banks as they may feel that the banks' relationship managers are not fully aligned with their personal interests.
They may prefer to take more control over their finances, and consequently are keen to adopt more DIY practices in their personal finance planning.
This makes Autumn a good fit.
Track Your Finances Clearly, Set Goals, Plan for Retirement
Autumn allows you to see your net worth clearly, which helps you with goal-setting.
In fact, there's a feature within the app that lets you automatically pull savings and loan data from your various bank accounts. So, if you have a DBS account you can allow Autumn to pull the data from there and auto-populate it. Kind of like an alternative version of SG Findex.
Here at Financial Horse, we always advocate that the first step to wealth and personal finance planning is to figure out your net worth and asset allocation.
Having an App that does it for you – and continues to track your progress – is very helpful to identify your weak spots, and set clear goals.
As a platform, Autumn is not incentivized by commissions or trail income fees, and they provide independent recommendations not limited to their partners. Autumn does not endorse any specific investment, type, fund, or account.
How to use Autumn in your Daily Life?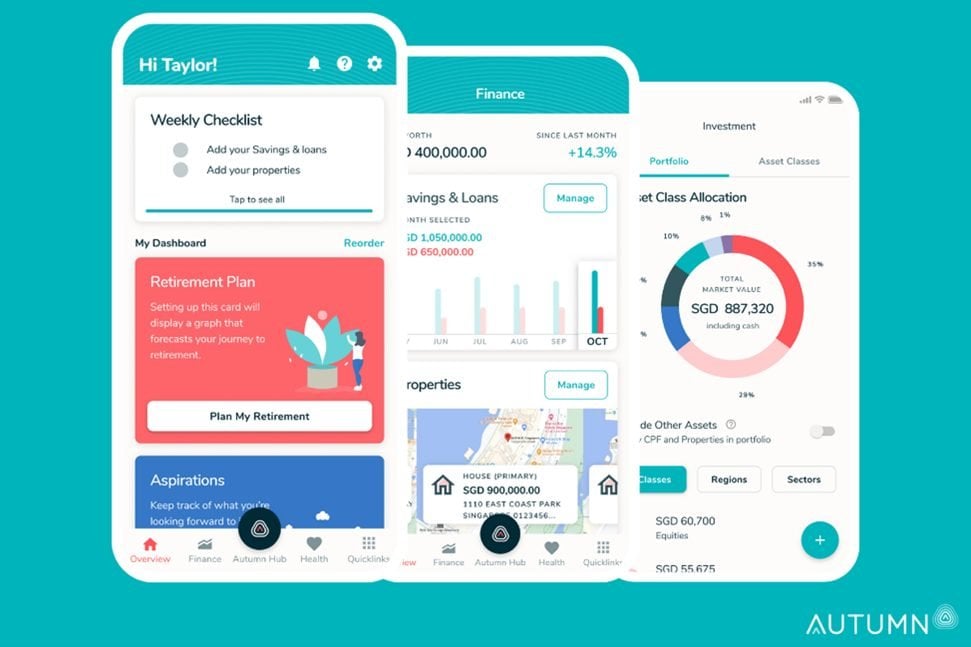 In essence, Autumn has 4 important tools that can help your financial planning:
Finance Dashboard that consists of:

Savings & Loans Card
Properties Card
CPF Card
Investments Card

Aspirations Planner
Retirement Planner
Insurance Planner
Autumn's Finance Dashboard offers you a single view of your financial assets across savings, loans, properties, CPF and investments. It aggregates your holdings across different bank accounts as well. With a clear understanding of your current status and gaps in your finances, you can then make better decisions about how you want to move forward with your financial planning.
The Investments Card provides an overview of your portfolio across asset classes, sectors and regions at a glance.
You are also provided daily updates on the market value of your investments, powered by Bloomberg.
The Aspirations Planner is well-designed and very helpful as it helps you set goals and lets you know how much you need to get there. It also showcases the financial trade-offs of upcoming expenses on your retirement plan, to help you make better spending decisions.
Additionally, a Weekly Checklist is integrated into the Autumn App to remind users to review their aspirations and stay on track with their goals.
The Retirement Planner is another helpful tool. It shows your savings trajectory and how much you need to save by your desired retirement age, and tells you whether you're on track.
Importantly, it shows you any financial surplus or deficit against your retirement needs.
You can set this up by answering a few questions such as your desired retirement age, how long you need your retirement fund to last, your current monthly income, your usual monthly expenses, total value of your savings, total loan amount and desired retirement income. Based on your current net worth, the Retirement Graph will be plotted with your projected savings so that you know if you have a shortfall or a surplus.
Lastly, the Insurance Planner helps you keep track of your various insurance plans and identify gaps in your coverage, while giving you timely reminders on your insurance premium payments.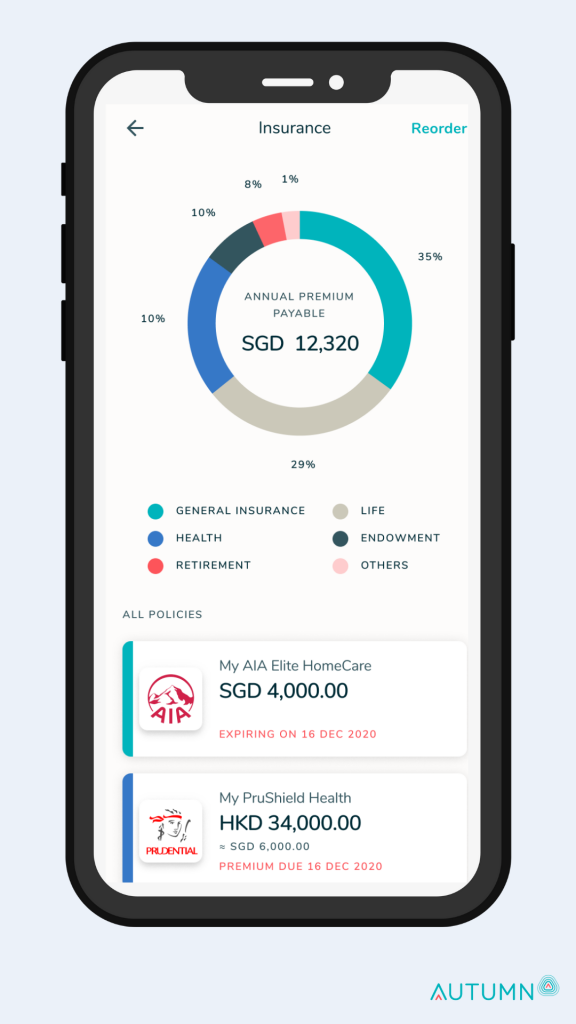 Peace of Mind – Autumn's data security features
As everything moves online, including personal finance management, one key concern is security.
Autumn takes this very seriously. Since Autumn is backed by SC, they undertake bank-level security measures (including ISO270001) to ensure users' data is carefully safeguarded.
My Personal Experience with Autumn
I downloaded the Autumn App myself and played around with it for a good week or two.
Autumn makes you fill up a bunch of questions to set up your retirement goals, fill up your income, your assets, properties and so on.
And what I found, was that actually going through this process, really helped me think through and internalise my financial situation.
It's what they say about reading something, versus doing something.
I found that forcing myself to fill up all these questionnaires about how much money I need in retirement, how much assets I hold today, and then looking at the results generated by Autumn, really did help me figure out potential shortfalls in my investment plan.
So if you haven't already done so – it's well worth going through such an exercise.
FH's take on Autumn
I really like that Autumn is backed by a major bank, but at the same time, it is run as an unbiased and independent platform.
I also love that the team working on Autumn is young and so passionate about what they do.
I really like the vision behind the Autumn App – Retirement Planning for millennials, with a whole suite of tools thrown in. I think the idea is great, and there's a lot of potential here.
As it stands – all the current features of the app are offered for free!
I pulled up the Google Play Store review, and Autumn is pretty well reviewed at 4.1 stars for their ease of use in assessing and tracking net worth.
I agree with the commenter below – Autumn has great potential, and I really want them to succeed. For now there are still some bugs and shortfalls, but the team is definitely working on them as we speak.
In fact, the team is hard at work to add new features as well, including:
An integrated Health Dashboard that tracks users' activities and well-being
The Autumn Model Portfolio that offers a recommended portfolio backed by data from Franklin Templeton. Autumn users will be able to receive insights on their model portfolio based on their risk profile and their financial data.
Autumn Academy which offers users financial literacy programmes in partnership with the Franklin Templeton Academy, to help users improve their financial knowledge
You can try out Autumn here.
Note: This post is sponsored by Autumn. All views and opinions expressed in this post are from Financial Horse.