This article was submitted by a Financial Horse Contributor.
Good news for expecting parents, there are a range of special baby bonuses + government top-ups + tax reliefs that you may be eligible for! 
What is a Child Development Account (CDA)?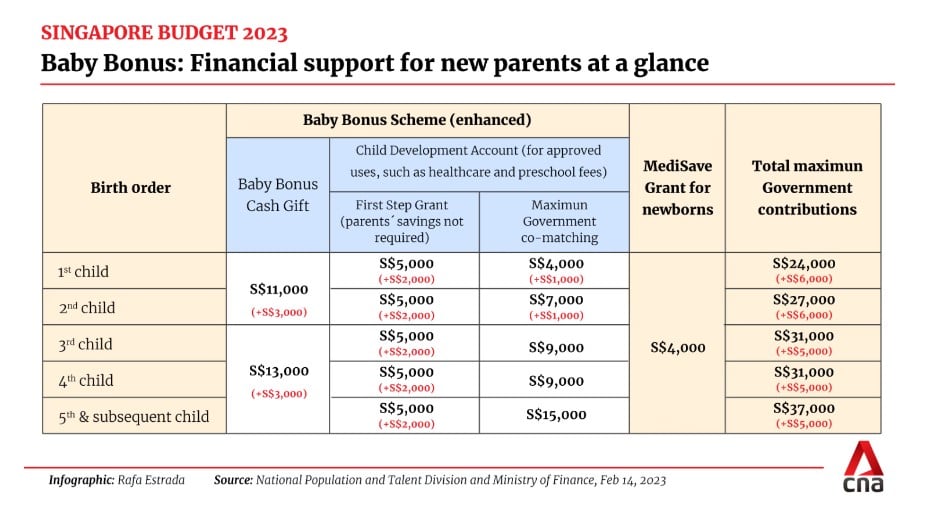 The CDA is a special savings account for your child (until 12 years old) with government matching benefits!
The First Step Grant is automatically deposited after the CDA account is opened, and the government will match dollar-for-dollar when parents save in the CDA up to the respective amounts in the table below:
You can use the CDA account to pay for educational and healthcare expenses such as:
Fees for registered childcare centres, kindergartens, special education schools and early intervention programmes
Medical expenses at healthcare institutions such as hospitals and General Practitioner clinics
Premiums for MediShield Life or MediSave-approved private integrated plans
Assistive technology devices
Eye-related products and services at optical shops
Approved healthcare items at pharmacies
Full list of approved institutions here.
What happens after 12 years old?
You can save into and use the CDA at any time before 31 December of the year your child turns 12 years old.
Any savings left in the CDA after the year your child turns 12 will be transferred to his or her Post-Secondary Education Account.
Parents who have not saved up to the co-matching cap can continue to contribute to the Post-Secondary Education Account and receive the matching amount until the cap is reached, or when the child turns 18 years old, whichever is earlier.
Which banks offer CDAs? 
You can open a CDA with DBS/POSB, OCBC or UOB.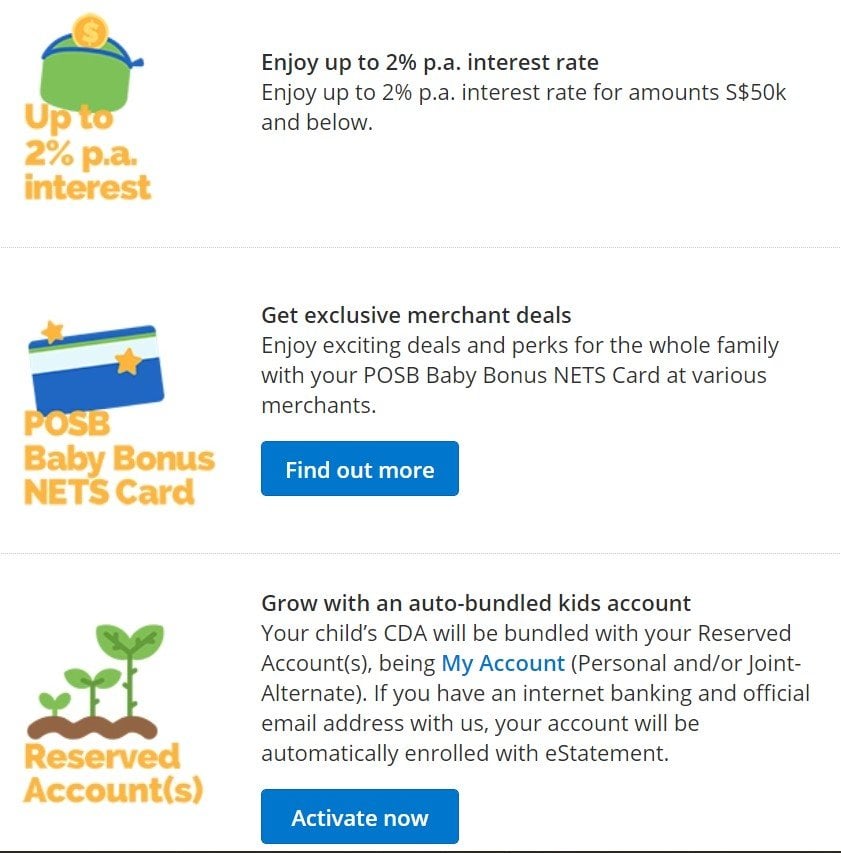 2. OCBC Child Development Account
3. UOB Child Development Account
You can register as early as 8 weeks before the estimated delivery date of your child via Baby Bonus Online.
Your child will automatically join the Baby Bonus Scheme upon birth registration and the CDA account will be opened within 3-5 working days.
Baby Bonus
The Bay Bonus Cash Gift is intended to support parents' out-of-pocket caregiving costs.
Parents will receive the Cash Gift every 6 months until the child turns six-and-a-half years.
Children are eligible for the Baby Bonus Cash Gift if they are Singapore citizens and their parents are lawfully married.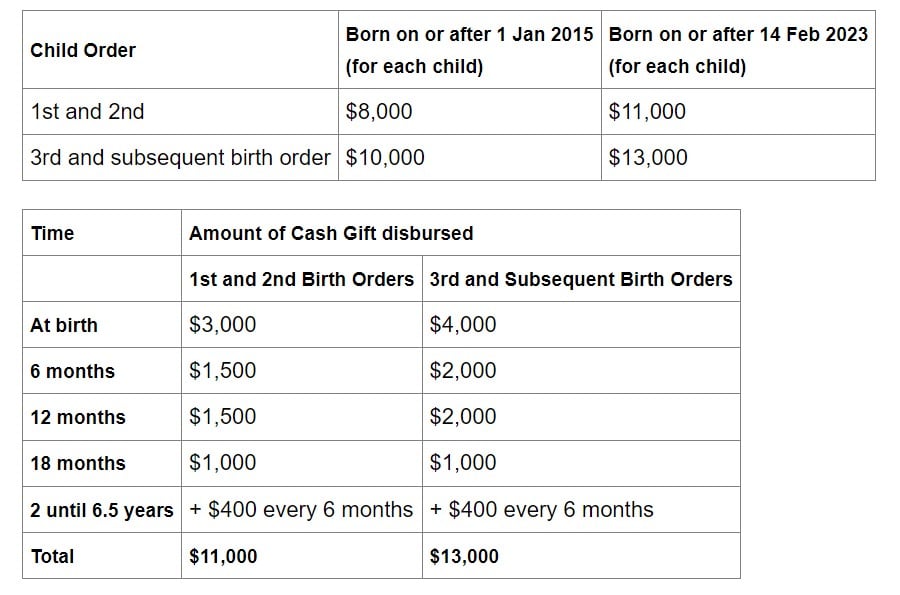 How to claim the Baby Bonus 
Check your child's eligibility at https://www.babybonus.msf.gov.sg/Pages/Home.aspx
You can join the Baby Bonus Scheme as early as 2 months before the estimated delivery date!
Maternity Leave/ Paternity Leave/ Childcare Leave
The Government-Paid Leave Schemes (e.g. Maternity Leave, Paternity Leave, Childcare Leave) help to support parents in managing their work and family responsibilities.
Self-employed parents and employers can claim for reimbursement via the GPL portal.
For eligible working mothers, up to 16 Weeks Maternity Leave (see more here)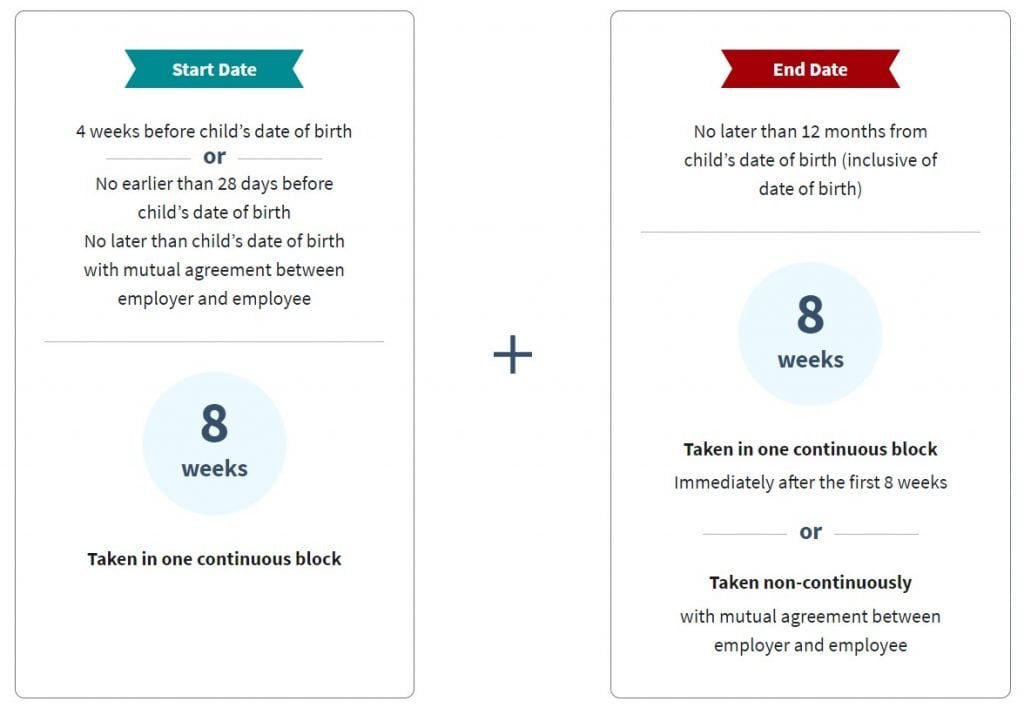 For elgible working fathers, up to 2 weeks paternity leave (see more here)
Find out more on childcare leave, maternity/paternity benefit, adoption benefit, and unpaid infant care leave here.
Parenthood Tax Rebate
If you are a parent, you may be eligible to claim the Parenthood Tax Rebate of $5,000 for your first child, $10,000 for your second child, and $20,000 for your third and subsequent child.
The child must be a Singapore Citizen at the time of birth or within 12 months thereafter.
You may share the Parenthood Tax Rebate with your spouse for each qualifying child to offset your respective income tax payable. Any unutilised Parenthood Tax Rebate can be used to offset your income tax payable in subsequent years until the tax rebate is fully utilised.
If you are a working mother who is married, divorced, or widowed, you may claim the Working Mother's Child Relief at 15% of your earned income for your first child, 20% for the second child, and 25% per child for the third and subsequent child.
Access more parenting resources here!
For more personal finance & investing content, follow Financial Horse on Social Media!