I've been accused of talking too much about "Ah Gong" stocks on Financial Horse.
So I figured for this week, let's jump back into the 21st century.
Let's talk about the Best 5 Growth Stocks to Buy for Singapore Investors in 2022.
Whether it's a Cloud play, SaaS, SASE, data analytics – all fair game.
Because who said you can't teach an old horse new tricks. 😉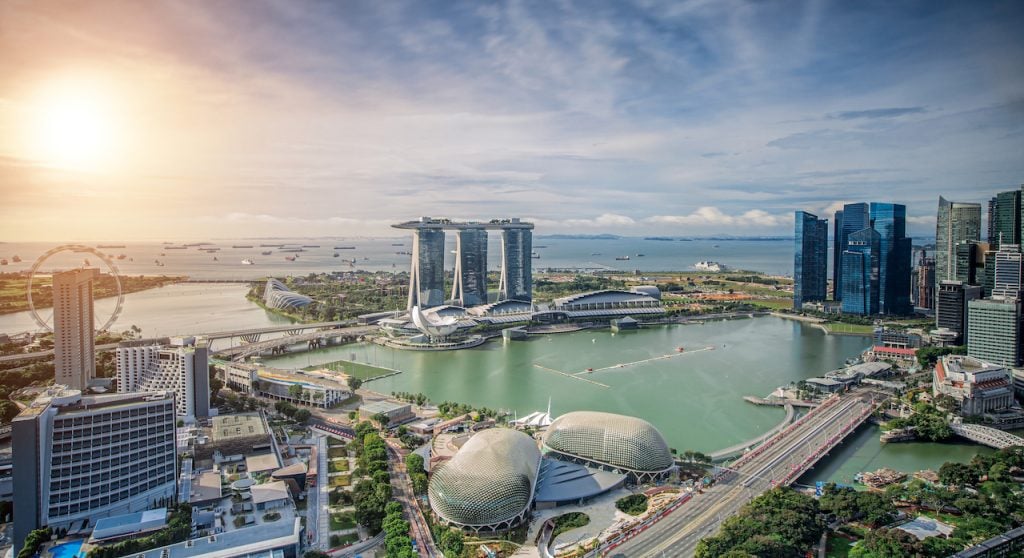 Rules for Best 5 Growth Stocks to Buy for Singapore Investors 2022
A couple of ground rules to frame this discussion:
No China stocks
Less than $50 billion market cap
3 to 5 year holding period
No China stocks
I know a lot of you think China is uninvestible.
I have my own views on that, but for the sake of today's article, we'll leave all that out. No China stocks on this list.
If you want my full China stock watch you can check out Patreon.
Less than $50 billion market cap
I get that $50 billion is a bit of an arbitrary cut-off.
But the point of this list is not to list the usual boring SEA, Airbnb, FAANG.
A stock below 50b market cap can easily 3-5x if they execute well.
Whereas when you buy Apple at $2.48 trillion, do you really think the stock is going to 3x from there.
3 to 5 year holding period
The short term is notoriously hard to predict, especially as we move into the tightening phase of this cycle.
3 to 5 years is long enough to allow the short term factors to fade away, and the true earnings potential of the company to show itself.
Best 5 Growth Stocks to Buy for Singapore Investors in 2022
Digital Ocean
Market Cap: $11.3b
Price/Sales: 29
There are 2 ways of looking at Digital Ocean.
If you love it, you'll call it the Shopify of Cloud Computing.
If you hate it, you'll call it the poor man's AWS (Amazon Web Services).
For me personally, I lean a bit more towards the former camp, which is why I aped into the stock in the 50s range.
I'm up 100% since, but I think that over a 3 to 5 year horizon, this growth stock may still have room to run.
The goal of Digital Ocean is to simplify cloud computing, for small and medium businesses.
The analogy is that using AWS (Amazon Web Services) today is like flying a jumbo jet.
There are a ton of controls and optionality, everything you can possibly need as a Fortune 500 CTO.
But as an SME you don't need all that. You just need something that is simple, cheap and works.
Digital Ocean wants to be the "Shopify" of cloud computing.
To make it so easy to use cloud computing, that the army of future developers and creators can spend their time building the business, instead of worrying about the cloud.
If they can pull off this vision, the upside is massive, because the total addressable market (TAM) for cloud computing is going to explode in the coming years. Literally every SME is going to be built on the cloud going forward.
So far at least, the performance has been keeping up:
37% year on year revenue growth,
36% growth in annual recurring revenue (ARR),
28% growth in average revenue per user (ARPU),
Rock solid growth in net dollar retention (NDR) to 116%.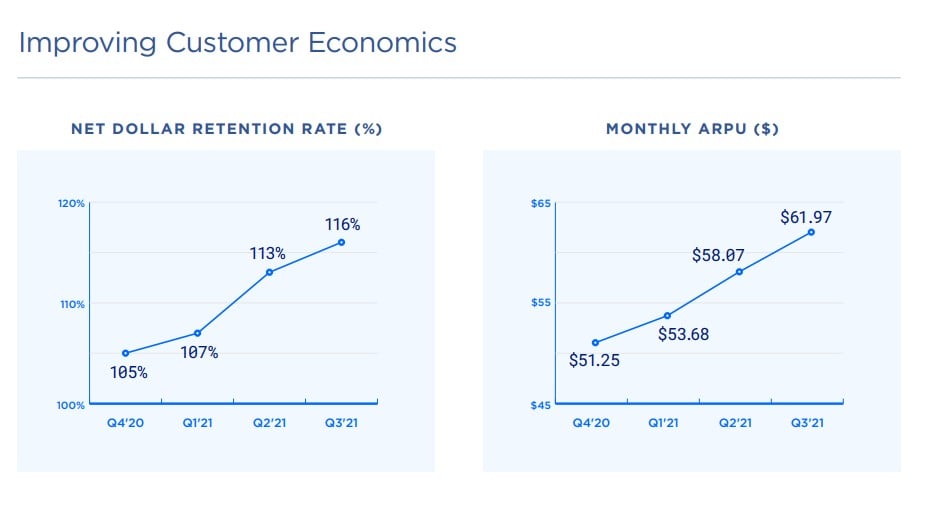 Citron Research, the former short seller turned long only, recently issued a great report on Digital Ocean that is worth checking out if you're keen on this growth stock.
For now, Digital Ocean's 37% revenue growth is powered by a marketing spend that is just 10% of their revenue.
When you compare that with other SaaS players who spend 50% of revenue on Sales & Marketing, you start to appreciate the kind of revenue upside potential here when they decide to up the marketing budget.
Oatly
Market Cap:  $8 b
Price/Sales: 19
I know I know.
The people who hate it think it's just oat milk.
The people who love it? They tell you that it's Oat Milk.
Oatly is a very controversial stock, and I recently penned a full in depth analysis for Patreons on this growth stock. So do check that out if you're keen.
To summarise, I think Oat Milk is different from Fake Meat like Beyond Meat.
I don't think fake meat works because the taste is nowhere close to real meat, and the price is too high. True meat lovers like me would never buy it (after the initial try). And true vegetarians won't buy it because it tastes too much like meat.
Whereas when you put Oat Milk in a beverage, the taste is very close to cow's milk. And there's a billion or so people in Asia who are lactose intolerant (okay maybe I exaggerate, but the point is that it's big). That's real market demand there.
As a Swedish company, Europe is their core market, with Asia and America the growth markets.
Oatly recently entered into a partnership with Starbucks to roll out Oat Milk to consumers, and apparently the demand was through the roof.
To the point where their production literally cannot keep up with demand.
Short seller Spruce Point Capital recently released a short attack on Oatly that contributed to the recent drop in short price.
The full report is here, and practically a must read if you're keen to invest.
I extract the key arguments below, which point towards:
Oatly not being environmentally friendly
Potential financial accounting issues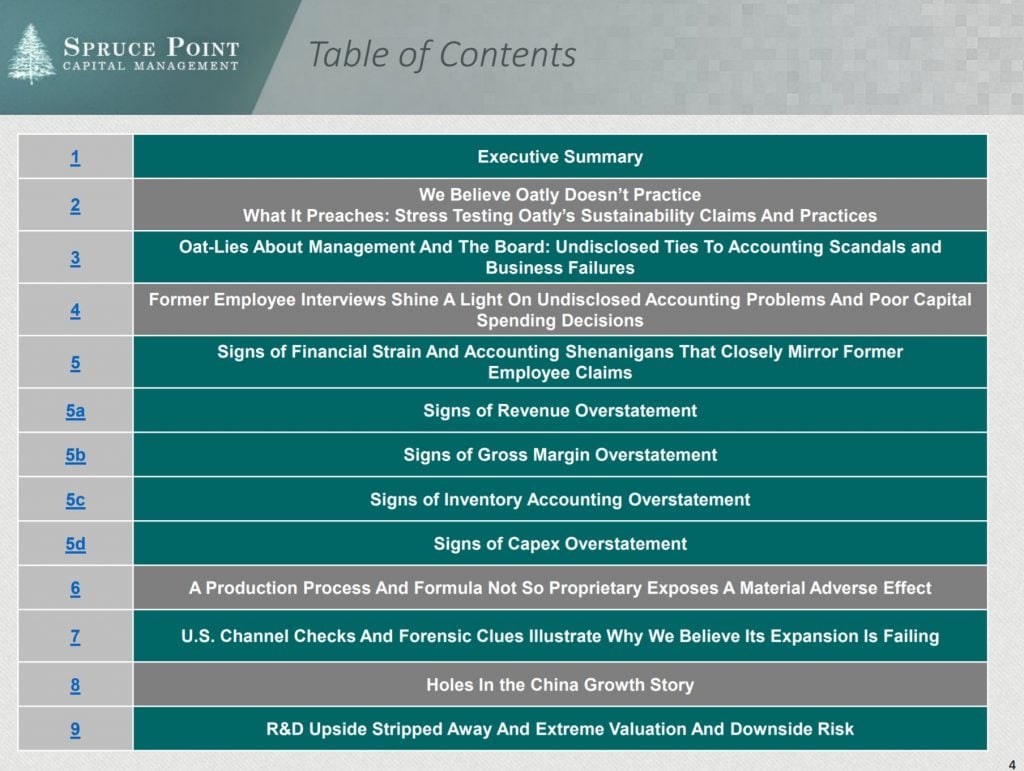 At 19 times Price to Sales, this growth stock doesn't come cheap too.
Especially when you think about the mega players like Nestle coming up with their Oat Milk competitors.
Like I said, Oatly is a controversial one.
If you like it, you like it. If you don't like it, there are a million reasons why this growth stock is tricky.
BTW – we share commentary on Singapore Investments every week, so do join our Telegram Channel (or Telegram Group), Facebook and Instagram to stay up to date!
Don't forget to sign up for our free weekly newsletter too!
[mc4wp_form id="173″]
Palantir
Market Cap: $43 b
Price/Sales: 42
I don't really know how to describe Palantir, because this company is so secretive.
There are 2 main products: Gotham, and Foundry.
Gotham is the data operating system used by defence and intelligence agencies. It collects real time data from sensors around the world (cars, drones, jets, phones etc), and combines that into 1 operating system. And it applies AI / Machine Learning to generate actionable insights. It's used by the US Air Force, Navy and Army.
In other words, this is software straight out of a James Bond movie.
Whereas Foundry is the commercial version of Gotham. It does the same thing, but for private customers. Supposedly to "allow management to make data-based decisions to optimize the business".
Because this software is used by intelligence forces, it's very, very hard to get information on it, including to understand just how good it is.
Revenue growth is very solid though, coming in at 49% year on year growth, at a 31% operating margin.
Solid growth in ARPU and customer growth as well.
The share price has gone nowhere for a whole year though, so depending on how you see it, could mean a great buying opportunity or a complete dud.
My personal view is that Palantir is a stock that requires some patience. Enterprise SaaS is a slow and steady business. Think Salesforce, not Netflix.
You won't get big flashy numbers each quarter, but each contract you lock in will stay with you for the next 10 years. Enterprise customers are sticky like that.
Zscaler
Market Cap: $46 billion
Price/Sales: 66
If not for the $50 billion rule, Crowdstrike probably would have made this list.
But instead Zscaler makes the list with its $46 billion market cap.
You'll notice that a lot of names on this list are cloud players.
And that's by design. I'm just hyper bullish on this whole sector right now.
In 2021, computing power is becoming a utility.
Think of it like electricity. When electricity was first invented, each company had their own generator.
Over time, electricity was centralised, and today you get electricity from the grid.
Exact same evolution for computing power.
At the start every company had their own inhouse server farm.
But increasingly, computing power is becoming centralised. Companies just "rent" computing power from the cloud, from players like AWS, Azure, or Digital Ocean.
In the future, every company will be a cloud company. Computing power will be something you pay per use, like electricity.
COVID and work from home has accelerate this trend by an order of magnitude. With everyone working from home, traditional centralised networks (hub and spoke) just don't cut it.
You need a whole new wave of systems designed from the group up for cloud. A whole infrastructure on security, analytics, identity verification, just to support this transition.
Things like zero trust security, and SASE (Secure access service edge).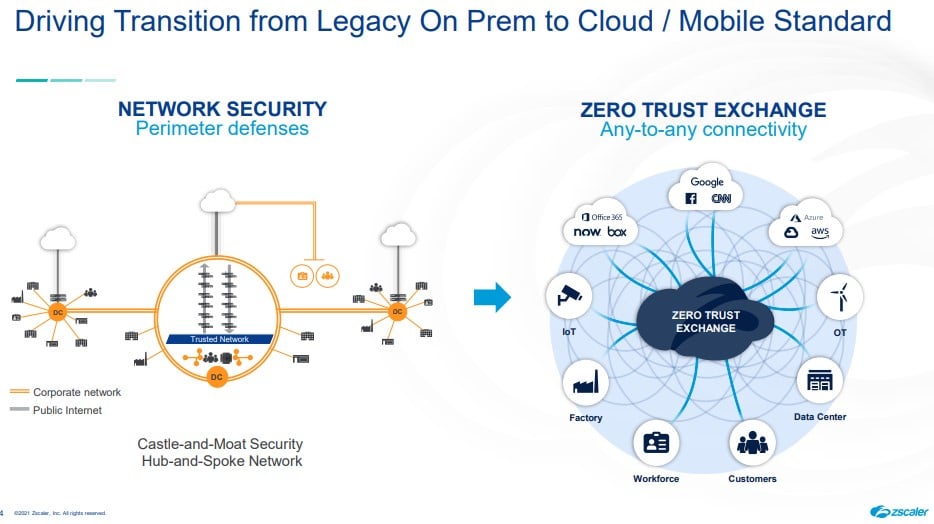 Zscaler is one of the leading names in this space, alongside names like Cloudflare and Crowdstrike.
This growth stock doesn't come cheap at 66 times Price/Sales, but almost no player in the cloud space is cheap today.
What you do get, is 57% revenue growth, 128% net dollar retention, and a net promoter score of 74. That's some ridiculous numbers there.
Cloud growth will slow down one day, but it doesn't look like we're there yet.
Cloudflare
Market Cap: $60b
Price/Sales: 135
For the final stock, I decided that be dammed with the arbitrary $50 billion market cap rule.
I've been talking about Cloudflare since it was in the $20 range, and it's one of my biggest positions today.
While players like Crowdstrike focus on security, Okta on identity verification, Cloudflare's focus is on… building a better internet.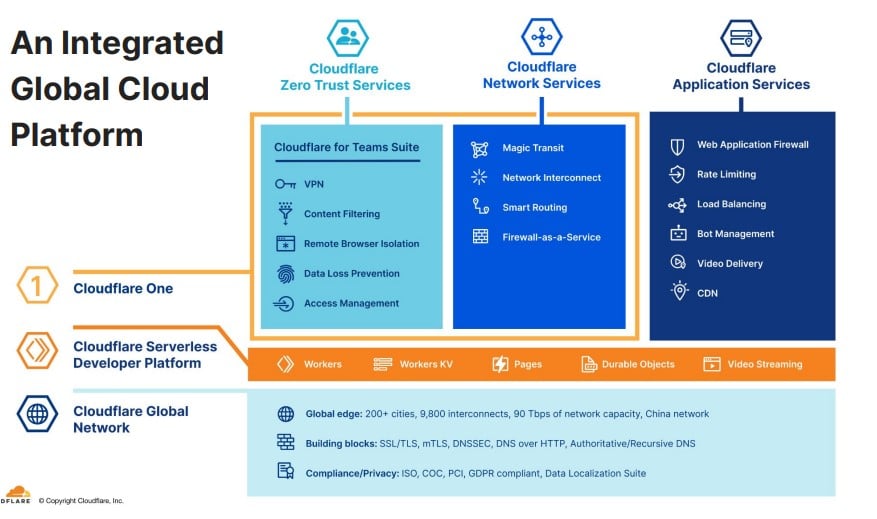 I look at Cloudflare and I'm just mindblown by the number of ways this company can evolve.
They are trying to build themselves into the backbone of the internet, and find ways to monetise that later.
Now that's a business model I can live with. Heck, even Financial Horse is run on Cloudflare.
Despite all that, the financials are still very solid, for a company that isn't even all that focussed on monetisation.
51% year on year revenue growth, 124% net dollar retention, and 69% CAGR in large customers growth.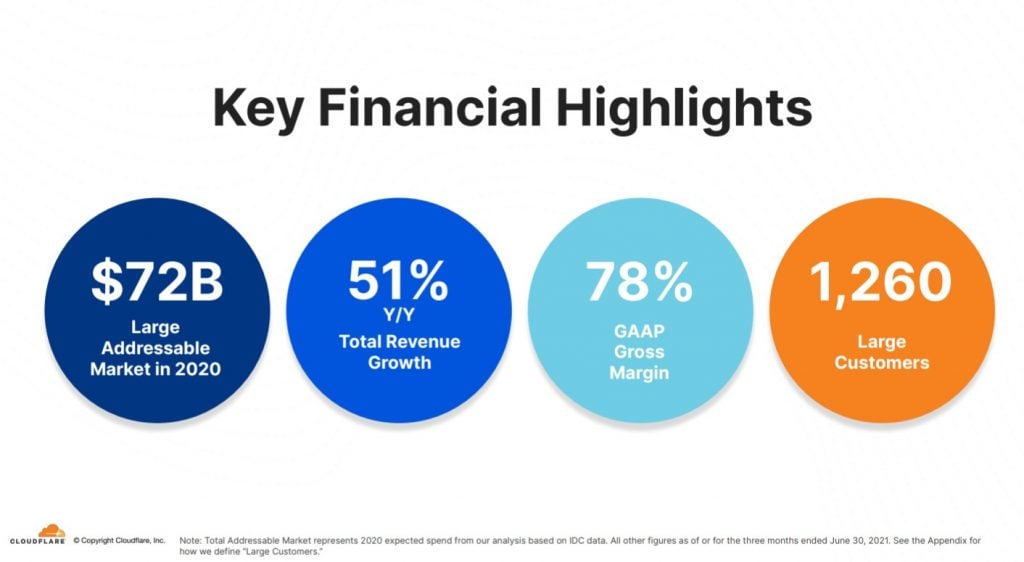 The valuations are mind boggling though.
135 times price to sales.
That said, if I could just buy 1 player in the cloud space and hold for 10 years, it's probably going to be Cloudflare. That's the amount of conviction I have in this stock.
Sure, it may sell-off short term because of rising interest rates, but that would just be a buying opportunity to me.
Honourable Mention – Other Growth Stocks to Buy in 2022 for Singapore investors
There are a lot of other fantastic growth that failed to make this list for some reason or other, so big honourable mention to them.
Cloud Players – Crowdstrike, Service Now, Workday, Datadog
In the cloud space there is Crowdstrike (Security Cloud), Service Now (Service Cloud), Workday (HR Cloud), Datadog (Data Analytics).
The future is going to be cloud centric, and every company will build their IT around the cloud.
That's just going to power massive growth for the sector in the coming years.
It's a rising tide lifts all boats scenario.
Hubspot
Hubspot is a stock I would rather not talk about because it reminds me of what could have been.
I noticed this stock at the $200 range, but I never pulled the trigger because I thought it was overvalued. ☹
Hubspot is the poor man's version of Salesforce, which is a cloud based Customer Relationship Management (CRM) platform.
In simple English, it helps you manage your relationship with your customers and sales leads. Things like their previous history with you, status or orders, contact information and so on.
iFast
It's sad that I'm doing a whole list of growth stocks and there's only 1 stock from Singapore. If there's any great growth stock in Singapore that I missed please, please let me know in the comments.
Even then I'm necessarily sure I'm that bullish on iFast.
There's a lot of potential competition in the sidelines from players like Endowus, StashAway and Syfe. All of which are very well funded from VC money.
The share price has gone sideways for the past 6 months too.
Why no Biotech Growth Stocks?
A notable absence from this list is Biotech.
I get that Biotech is on the cusp of breakthroughs that will revolutionise humanity.
Unfortunately, I just don't have the technical expertise to evaluate Biotech.
I understand a bit of cloud and Web3.0, but Biotech is just a step too far for this horse.
If any of you have good names, just let me know in the comments below!
Closing Thoughts: Tightening Monetary Policy a headwind for Growth stocks?
Full disclosure that I hold positions in many of the names above. You can check out my full portfolio and asset allocation (together with the full stock watch) on Patreon.
Just this week, the Feds announced the tapering of QE, to end completely by June 2022.
And markets are pricing in anywhere from 2 – 3 rate hikes by Dec 2022:
If so, that's going to be a massive headwind for growth stocks, and some caution is warranted.
That said, most of these growth stocks are secular plays, with the potential to grow their core business for years to come.
As investors, we can't control the macro, we can only control what we buy, and when we buy.
For solid companies with secular growth and >50% year on year revenue growth, I'm happy to buy and keep buying on declines.
As always, this article is written on 5 Nov 2021 and will not be updated going forward. Latest thoughts (and my stock watch and personal portfolio) are available on Patron.
---
Looking to buy Bitcoin, Ethereum, or Crypto?
Check out our guide to the best Crypto Exchange here.
Looking for a low cost broker to buy US, China or Singapore stocks?
Get a Free Apple stock (worth S$200) when you open a new account with Tiger Brokers and fund $2000.
Get 1 free Apple share (worth $200) you're new to MooMoo and fund $2700.
Special account opening bonus for Saxo Brokers too (drop email to [email protected] for full steps).
Or Interactive Brokers for competitive FX and commissions.
---
Do like and follow our Facebook and Instagram, or join the Telegram Channel. Never miss another post from Financial Horse!
Looking for a comprehensive guide to investing that covers stocks, REITs, bonds, CPF and asset allocation? Check out the FH Complete Guide to Investing.
Or if you're a more advanced investor, check out the REITs Investing Masterclass, which goes in-depth into REITs investing – everything from how much REITs to own, which economic conditions to buy REITs, how to pick REITs etc.
Want to learn everything there is to know about stocks? Check out our Stocks Masterclass – learn how to pick growth and dividend stocks, how to position size, when to buy stocks, how to use options to supercharge returns, and more!
All are THE best quality investment courses available to Singapore investors out there!